Strawberry White Chocolate Cheesecake
This post is sponsored by Happy Egg Co, and all opinions are my own.
Strawberry White Chocolate Cheesecake is a crowd-pleaser the whole family will enjoy! This beautiful homestyle dessert has a creamy texture with a crunchy graham cracker crust and fresh strawberries on top! This cheesecake recipe is easy to make for Easter, Mother's Day, holidays, parties and potlucks.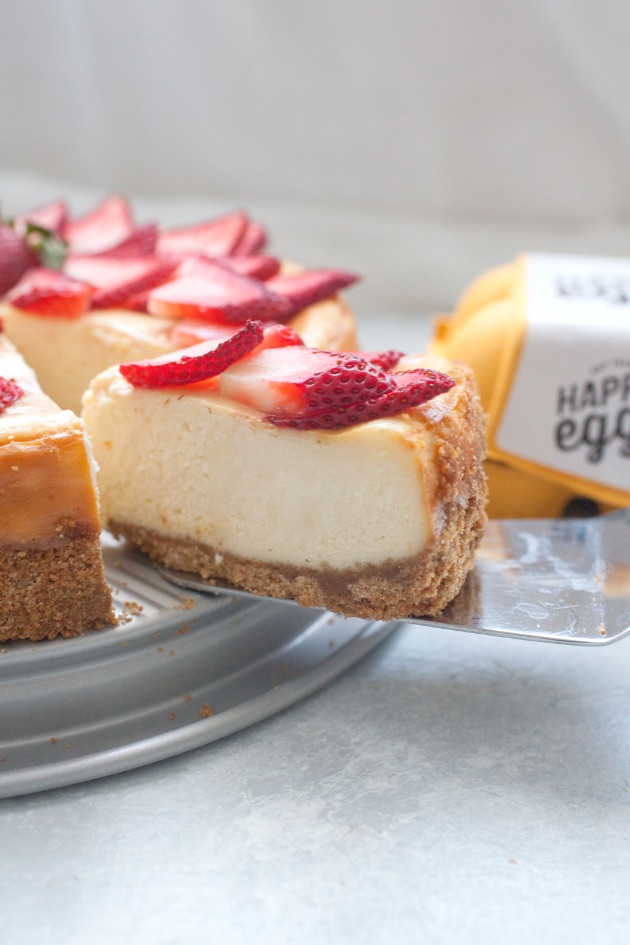 When cravings call, look no further than this easy cheesecake baked to fluffy perfection. It may be one of the best desserts you ever eat: cheesecake with berries and a hint of white chocolate.
We've made this cheesecake recipe for special occasions including Easter, Mother's Day and 4th of July with rave reviews! It's also a great family baking activity when you want to get the kids involved.
The best part? Cheesecake keeps well so you can make it several days ahead of time, so it's perfect for party menu planning. Just add the fresh strawberries before serving.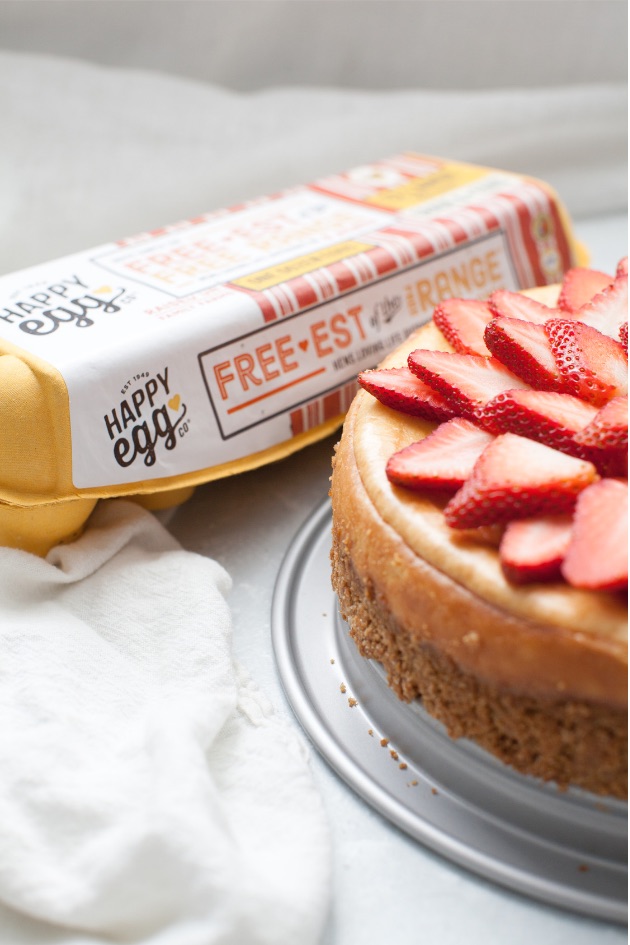 EGGS FOR CHEESECAKE
When you're making a baked cheesecake, use quality, farm-fresh eggs like those Happy Egg Co. Their hens forage freely on 30 small farms in the Ozark woodlands, producing the best taste. They're also high in protein, vitamins B & D, zinc, iron and copper, lending a nutritious boost to this dessert.
You can find nearby stores that carry Happy Eggs here. Look for their staple yellow carton in-store when shopping. They're available in Free-est of the Free Range™, Organic "Free-est of the Free Range™" and Heritage Breed.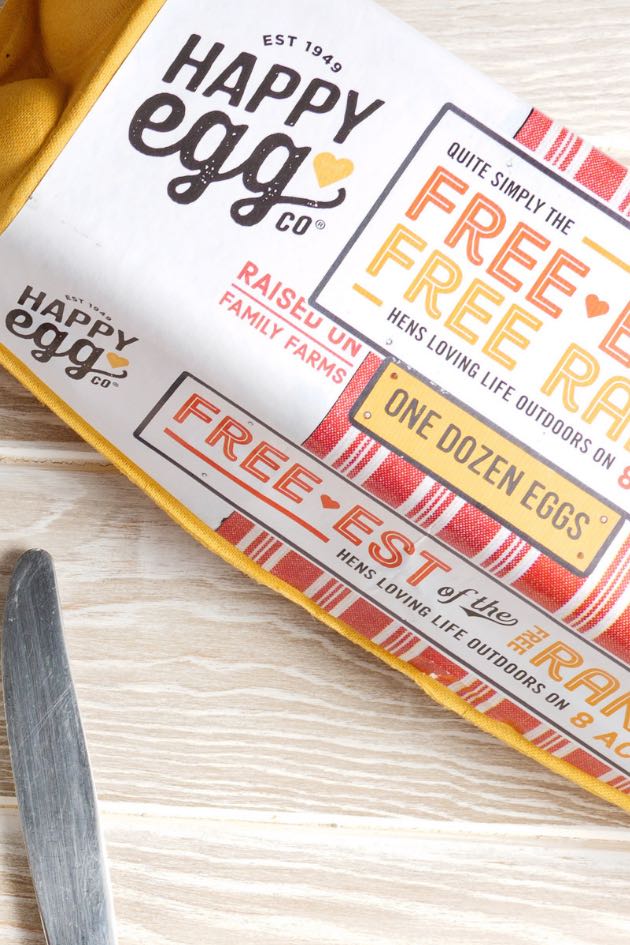 HOW TO MAKE WHITE CHOCOLATE CHEESECAKE
This white chocolate strawberry cheesecake recipe is easy to make. Here are the ingredients you'll need:
Happy Eggs: Free-est of the Free Range™ or ORGANIC "Free-est of the Free Range™" for the best flavor
Graham cracker crumbs: either buy crumbs or pulverize graham crackers
Unsalted butter
Sugar
Brick cream cheese
White chocolate: melting baking chocolate is best
Vanilla extract
Fresh strawberries
Count on about 20 minutes for preparation and an hour for baking. Also, it's important to let it cool and then chill for several hours. This step allows it to firm up and also for the creamy flavor to further develop.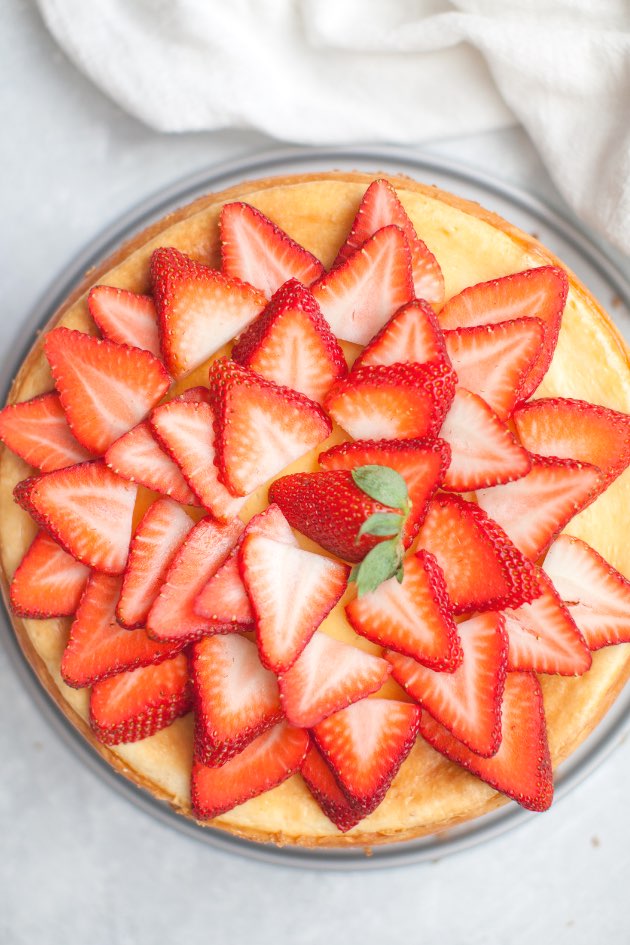 TIPS FOR MAKING CHEESECAKE
Always soften the cream cheese before use for easy blending
Bake in the lower half of the oven to minimize browning on the surface.
Consider using a water bath (see recipe) to prevent cracking on the surface of the cheesecake. Alternatively use cake strips around the edge of the pan.
Chill the baked cheesecake for at least 4 hours to firm up before cutting.
For a lighter option, consider using light cream cheese in the filling and margarine.
Can cheesecake be made ahead of time?
Cheesecake is one of the classic make-ahead desserts, and the flavor actually improves with time. You can store it covered in the fridge for up to 5 days. Any longer than that and you should wrap it tightly and freeze for up to 3 months.
Just remember to bring it to room temperature before serving for the creamiest texture. No reheating is required.
Watch How to Make White Chocolate Cheesecake:
Here's a short tutorial on how to easily make white chocolate cheesecake:
Strawberry White Chocolate Cheesecake
Strawberry White Chocolate Cheesecake is a crowd-pleaser the whole family will enjoy! This beautiful homestyle dessert has a creamy texture with a crunchy graham cracker crust and fresh strawberries on top!
Ingredients
Crust
2 cups graham cracker crumbs, 8 oz (see note)
6  tablespoons  unsalted butter,  melted
¼ cup sugar
Cheesecake Filling
32 oz cream cheese, softened (4 x 8 oz bricks)
8 oz white baking chocolate, melted
4 Happy Eggs, room temperature
½ cup sugar
2 tsp vanilla extract
Topping
1 pint fresh strawberries, hulled and sliced
Instructions
Crust
Preheat oven to 350°F (177°C) and place rack on lower third of oven. Set aside a 9-10 inch springform pan.

In a medium bowl, combine the graham cracker crumbs, sugar, and melted butter.

Press the crumb mixture into the pan to cover the bottom and up 1-2 inches of the side.

Bake for 10 minutes. In the meantime, melt the white chocolate in a double boiler simmering over low-medium heat.

Remove from oven to cool.
Cheesecake
Reduce oven temperature to 300°F (149°C). Add optional water bath (see note).

In a large bowl, beat the cream cheese with a mixer until smooth and creamy using an electric mixer, about 1 minute.

Add the sugar and vanilla and beat again until combined.

Add the eggs one at a time, beating on low speed just until combined.

Fold in the melted white chocolate with a spatula until combined.

Pour the cheesecake filling over the crust, using a spatula to smooth out.

Bake for 1 hour or until center is almost set and does not jiggle when the pan is gently shaken.

Turn the oven off and let the cheesecake cool gradually with the oven door ajar.

Once cheesecake is completely cool, run a knife along the edge of the pan. Then release the sides of the springform pan and remove.

Arrange sliced strawberries on top.

Chill for at least 2 hours to firm up before serving.
Notes
Take cream cheese out of the fridge several hours ahead of time to soften.
You can also pulverize 8 graham cracker sheets in a food processor, or by placing in a sealed ziptop bag and pounding with a mallet or rolling pin.
Replace strawberries with raspberries to make a white chocolate raspberry cheesecake.
Optional water bath: Place a large baking sheet in the oven and fill halfway with water. Before baking, wrap the springform pan tightly with two layers of aluminum foil and place in the water for even baking.
Nutrition Facts
Strawberry White Chocolate Cheesecake
Amount per Serving
% Daily Value*
* Percent Daily Values are based on a 2000 calorie diet.
Please read our nutrition disclaimer.
More Happy Egg recipes:
© TIPBUZZ. Images and text on this website are copyright protected. Please do not post or republish without permission. If you want to republish this recipe, please link back to this post. This post may contain affiliate links. Read the disclosure policy here.