A Chicken Breast is a common ingredient for many dishes. Chicken breasts are flavorful and particularly low-fat compared to dark meat chicken. Here are some handy cooking tips you can easily use to yield the most flavorful, tender and juicy chicken breast possible.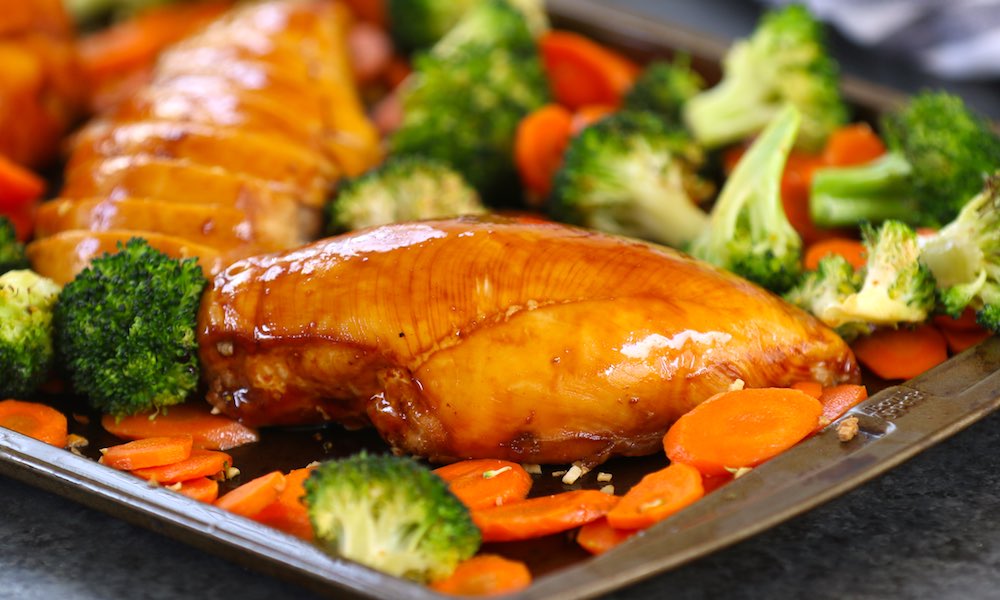 Chicken breasts tastes juicy, tender and full of flavor when cooked properly. Recipes such as Sheet Pan Chicken with Green Beans and Potatoes, Chicken Masala and Baked Chicken Fajitas are some of the most popular chicken breast recipes.
We've all had the experience of dry and tasteless chicken breasts, and they're easy to dry out because there's so little fat in chicken breasts.
MY LATEST VIDEOS
To me, the best way to cook chicken breasts is to bake them in the oven. For the slow cooker, I recommend using chicken thighs instead of chicken breasts.
How to Bake Chicken Breasts
Step 1: Brining
Brining is an important step which makes your chicken breasts extra tender and juicy.
Some store-bought chicken breasts are sold pre-brined. If that's the case, you can skip this step. To brine chicken breasts, dissolve ¼ cup salt in two quarts of water, and add in chicken breasts. Immerse the chicken completely in the solution, and let them sit for 1 hour if you have time.
If you are in a rush, you can take them out after 15 minutes. But make sure not to leave them in the solution for more than 6 hours. Before baking the chicken breasts, rinse them with cold water and then pat dry with paper towels.
Step 2: Rubbing Chicken Breasts with Oil or Butter
Rub your chicken breasts with oil or butter before baking. It will add moisture to the chicken, as well as making the seasoning stick to the breasts.
Alternatively, you can use dry-poaching technique which will yield the similar results. All you need to do is to rub butter onto a piece of parchment paper, and then use it cover the chicken with the butter side down. Press the parchment and tuck the edges.
Parchment paper acts like the chicken's missing skin, and keep the moisture stay inside of the chicken.
Step 3: Bake the Chicken Breasts
Although you can bake them the traditional way (350°F for 30 minutes), I recommend baking them at 450°F for 18 to 20 minutes. Baking them at a high temperature for a short time makes for extra tender chicken breasts.
Step 4: Allow the Chicken to Rest
This step only takes 5 minutes, but makes big difference. Don't cut your chicken right away, as some juices will be lost and the chicken will be less tender.
Instead, after taking the chicken breasts from the oven, loosely cover them with some aluminum foil to keep the heat in while the chicken breasts are resting. Let them rest for about 5 to 10 minutes and your chicken breasts will be ready to be served.
How to Tell When a Chicken Breast is Done
When clear juice just starts to seep out of your chicken breasts, it means that they are cooked through. It's best to check 5 minutes before the total bake time (peek through the oven door without opening the oven).
You'll notice a little pool of clear juice coming out from the chicken breasts, and the pool will get bigger and start to sizzle. Then you need to take the chicken out immediately.
You can also insert a meat thermometer, and if the internal temperature reaches 165°F, it means the chicken breasts are done.
Tips and Secrets for Making Flavorful and Juicy Chicken Breasts
Brining the chicken breast makes the chicken extra tender and juicy. Just soak them in the salt and water solution. Let them sit for at least 15 minutes.
Rub your chicken breasts with oil and butter before rubbing in the seasoning.
Cover them with buttered parchment paper helps to maintain moisture.
Baking them at a high temperature for a short time makes extra tender and juicy chicken.
Make sure to let your chicken breasts to rest for 5 to 10 minutes before serving. Cover with aluminum foil while resting.
How to Store Leftover Cooked Chicken Breasts
To maximize the quality of cooked chicken, store it in airtight containers or tightly wrap it with aluminum foil or plastic wrap.
Make sure to refrigerate them within two hours of cooking, and they'll last for 3-4 days in the refrigerator.
Looking for chicken breast recipes?

© TIPBUZZ. Images and text on this website are copyright protected. Please do not post or republish without permission. If you want to republish this recipe, please link back to this post.
This post may contain affiliate links. Read the disclosure policy here