Easy Waffle Cookies
These waffle cookies are delicious, melt-in-your-mouth cookies made using a waffle iron. This waffle cookie recipe is crispy on the outside with a chewy interior and irresistible cookie flavors!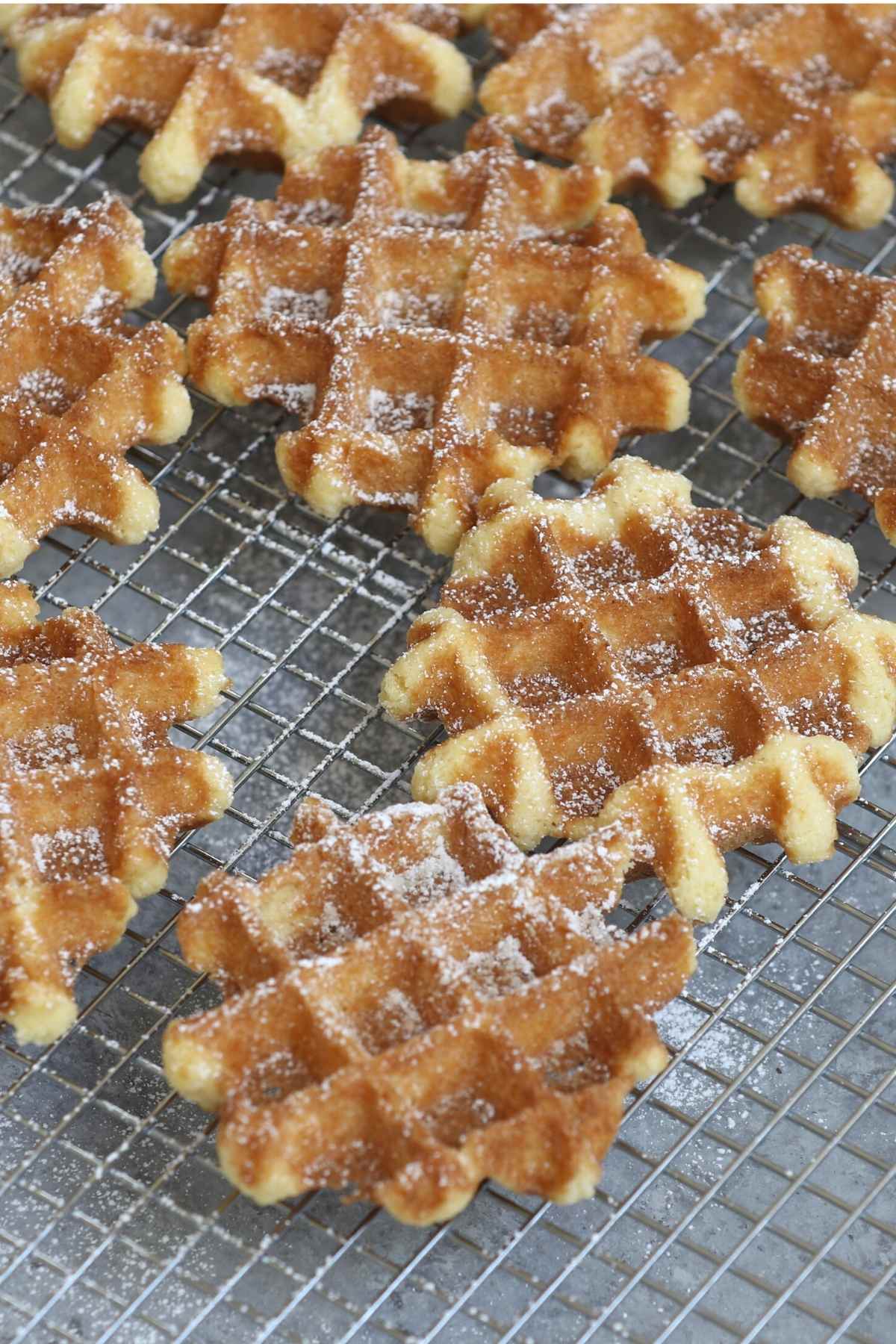 If you love waffles and cookies, then this recipe is the best of both worlds! You may have tried some in Europe, and there are different types including Stroopwafel in the Netherlands and Pizzelle in Italy. These two varieties are thin and crispy, with the Dutch sandwiching two wafers together with a caramel filling inside.
Here we're approximating the thicker and chewier gaulettes common to France and Belgium. They're hard to find stateside, so you need to make your own to get your fix. Fortunately, they are easy to make in just 15 minutes. Dust with powdered sugar and drizzle chocolate sauce for an irresistible treat!
Can You Put Sugar Cookie Dough in a Waffle Iron Maker?
Yes, a waffle iron can many batters and doughs including sugar cookie dough. The thicker the dough, the smaller the waffle cookie, as it won't spread out as easily. Nonstick cooking spray is helping to prevent sticking.
Ingredients
Here's what you'll need to make waffle cookies:
Butter: Unsalted butter is the best, but if you use salted then you can reduce the added salt amount accordingly.
Brown sugar: Use light brown sugar, which will help create the cookie flavor.
Granulated sugar: This is your standard white sugar to add sweetness.
Egg
Vanilla: Any decent quality vanilla extract will work.
Flour: All-purpose flour is ideal although you can use cake flour as well.
Baking soda: This is for leavening.
For serving, consider dusting with powdered sugar and drizzling with maple syrup, caramel or chocolate sauce.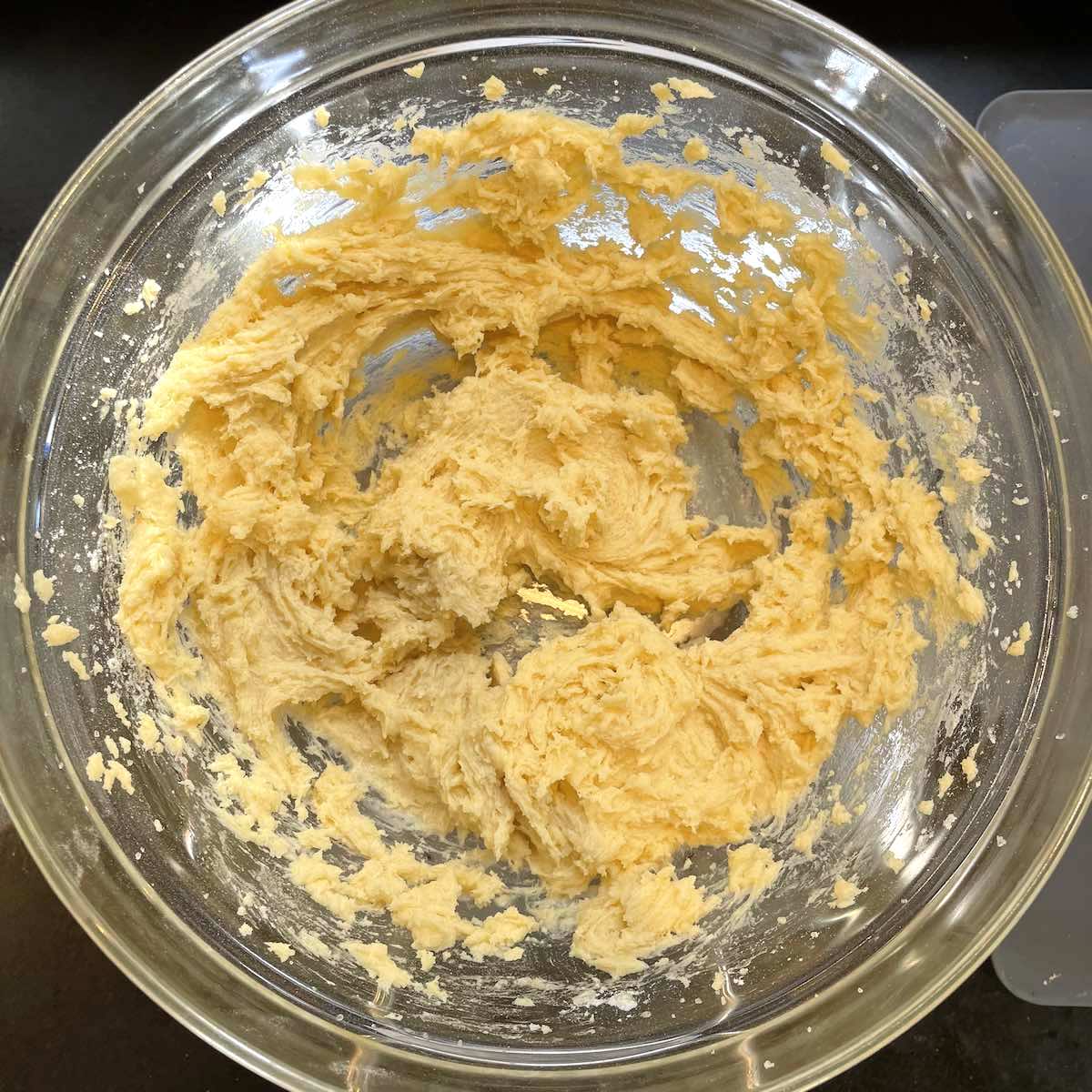 How to Make Waffle Cookies at Home
To make waffle cookies at home, you are essentially making a sugar cookie dough and putting it on a waffle iron. However, there's no need to chill the dough or roll it out like when you make sugar cookies!
Use a hand mixer to cream butter, sugar and egg until fluffy. Mix in flour, baking soda and salt to form a cookie dough consistency. Roll the dough between your palms into 2-inch balls.
Next, place one ball into the middle of each section of your waffle iron. Close the iron and cook for 2 to 3 minutes until crispy and golden. Remove to a wire rack to cool before serving.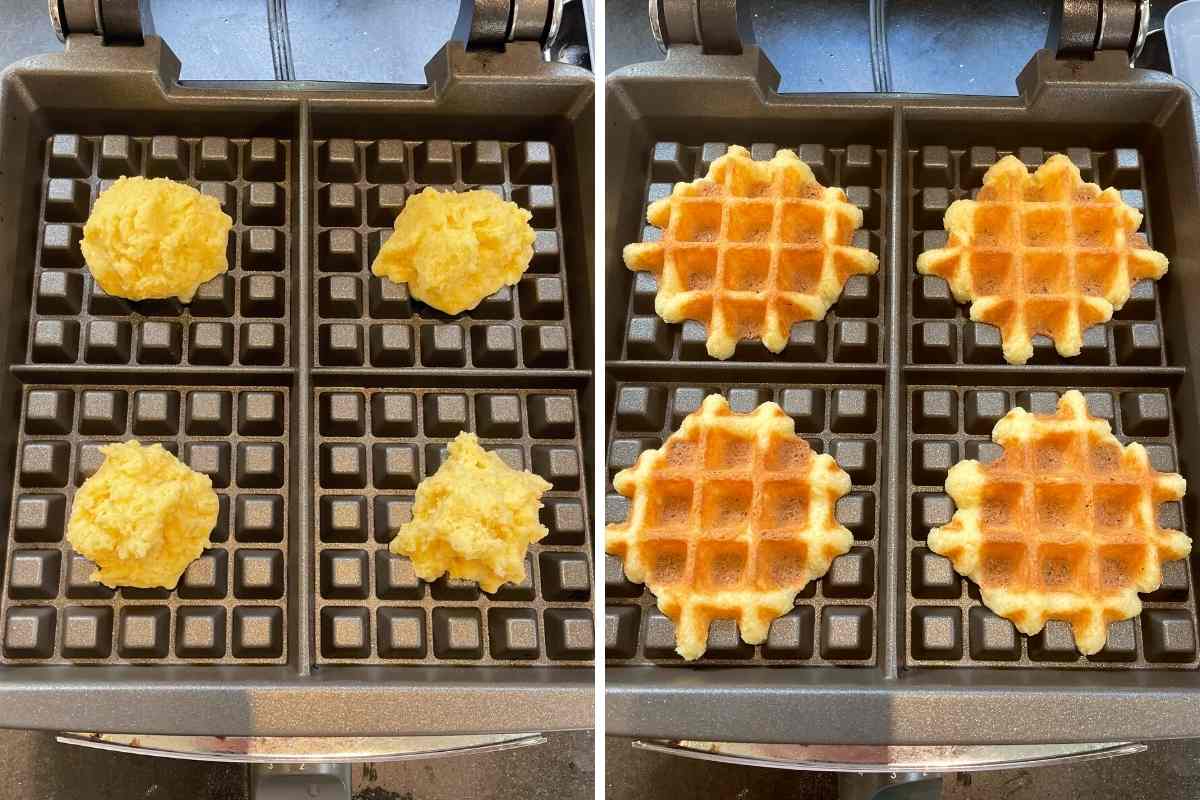 Tips & Tricks for Making Waffle Cookies
There are a number of tips to ensure waffle cookies come out properly:
Heat up your waffle iron completely before use. This can take 5 minutes or more depending on your equipment.
Use nonstick cooking spray on the first batch to reduce sticking. If they're coming out easily, you do not need to reapply. If they'e sticking, try using a wooden chopstick to get underneath them to pry them loose.
Make the cookies softer or crispier by adjusting the cooking time in the waffle iron. If they're too soft, close the waffle iron and keep cooking. If they're too crisp, then take the next batch out sooner.
If your cookie is stuck to the waffle iron, slide the tip of the chopstick into the grooves to gently dislodge.
Waffle Cookie Variations
Here are some variations on the waffle cookie theme:
Chocolate Waffle Cookies: Enjoy chocolatey flavors by adding adding 1/3 cup unsweetened cocoa powder to the batter. If you want to go all out, serve with chocolate frosting, ice cream or whipped cream.
Caramel Waffle Cookies: These are Dutch Stroopwafels, a slightly different recipe for thin cookies made using a pizzelle maker instead of a waffle iron.
Italian Waffle Cookies: Make these pizzelle cookies using 3 eggs in the batter instead of one. You'll also need a pizzelle maker.
Also, you can switch things up by making a glaze. Simply whisk 1 cup of powdered sugar with 1/3 cup maple syrup and drizzle on top of the cookies!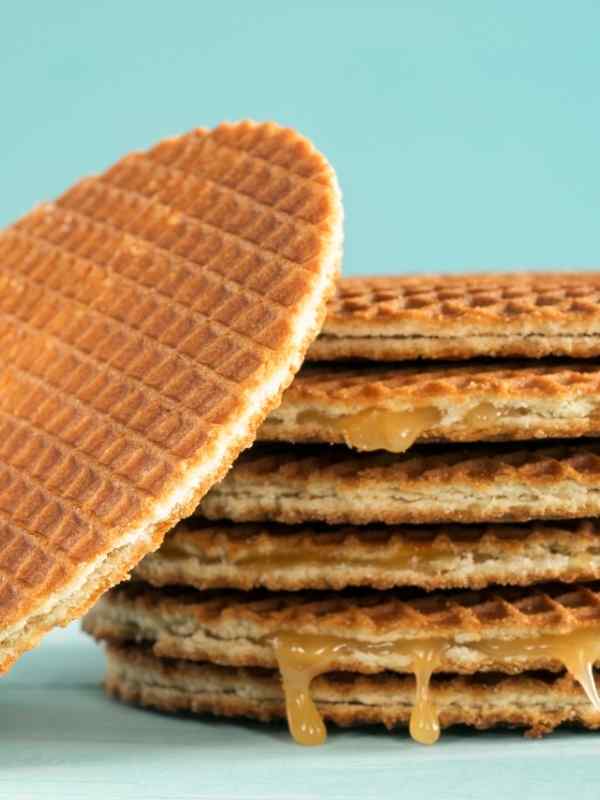 FAQ
What are Stroopwafels?
'Stroopwafel' translates to "syrup waffle" in the Netherlands. These super-thin waffle cookies originated in the Dutch city of Gouda and their popularity spread all throughout Europe and the rest of the world. Stroopwafels are made using two thin, round waffle cookies held together with a syrupy caramel filling.
Can You Use a Waffle Iron for Pizzelle?
The answer is sometimes. If your waffle iron has shallow grooves for American-style waffles, then it'll work for pizzelle although the cookies will still be slightly thicker. However, if you have a Belgian-style waffle iron with deep grooves, the batter usually spreads into the grooves and becomes too thick to qualify as pizzelle.
How to Make Softer Waffle Cookies?
For softer waffle cookies, try shortening your cooking time by 30 seconds. Also, if your waffle iron has different temperature settings, try using less heat.
More Cookie Recipes You May Also Like:
Waffle Cookies
These waffle cookies are delicious, melt-in-your-mouth cookies made using a waffle iron. This waffle cookie recipe is crispy on the outside with a chewy interior and irresistible cookie flavors!
Ingredients
1/2 cup unsalted butter, softened
1/2 cup granulated sugar
1/2 cup brown sugar
2 eggs
1 teaspoon vanilla extract
1 ½ cups all-purpose flour
1 teaspoon baking soda
1/2 teaspoon salt
nonstick cooking spray, optional
Serving (optional)
powdered sugar
chocolate sauce, or caramel sauce or maple syrup
Instructions
Turn on the waffle iron to preheat for at least 5 minutes while you make the batter.

In a mixing bowl, cream the butter with the sugars until fluffy using a hand mixer.

Beat in eggs one at a time and add the vanilla.

Stir in the flour, baking powder and salt until fully incorporated.

By now the waffle iron should be hot. Open the lid and spray with optional nonstick cooking spray. Form 2-inch balls of cookie dough using your fingers or a cookie scoop. Then place one ball onto the center of each section of the waffle iron.

Close the lid and cook for 2 to 4 minutes until golden brown (time will vary by waffle iron). When the waffle cookies are ready, transfer to a cooling rack. If they are sticking, sliding a chopstick along the grooves to dislodge.

Serve warm and dust with powdered sugar if desired. To do this, place a tablespoon of powdered sugar in a sieve and shake gently on top of the waffle cookies. You can also drizzle with chocolate sauce, caramel sauce or maple syrup for a fancier presentation.
Notes
Storage: To store for later, cool completely and place in resealable plastic bags or airtight containers. They will keep in the fridge for up to 3 days or in the freezer for up to 3 months. 
Nutrition Facts
Waffle Cookies
Amount per Serving
% Daily Value*
* Percent Daily Values are based on a 2000 calorie diet.
Please read our nutrition disclaimer.
© TIPBUZZ. Images and text on this website are copyright protected. Please do not post or republish without permission. If you want to republish this recipe, please link back to this post. This post may contain affiliate links. Read the disclosure policy here.