Polar Bear Shot
The Polar Bear Shot is a popular party shooter with a mint chocolate flavor and crystal clear look. This fabulous wintry drink is easy to make with just two ingredients for your next get-together!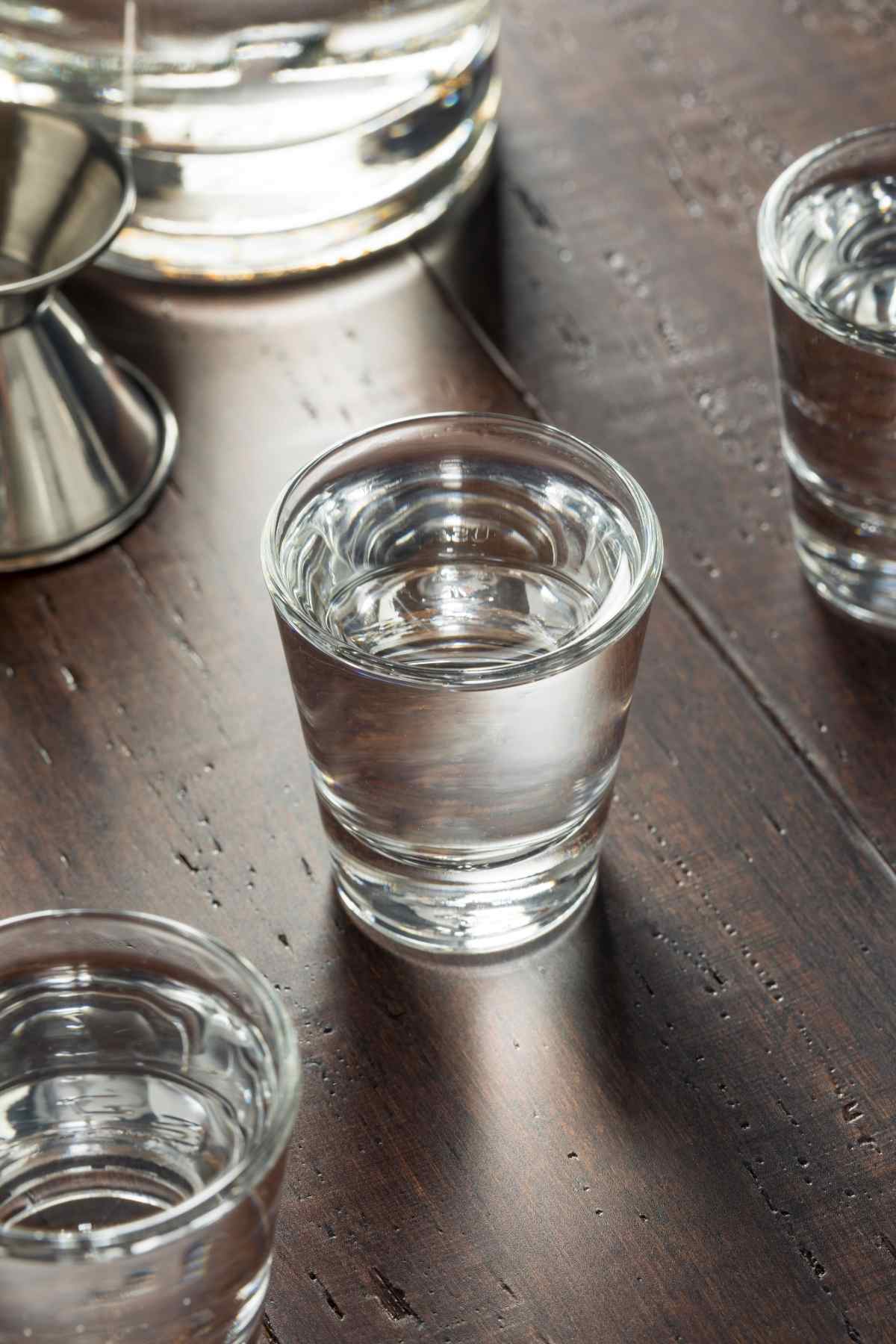 If you love peppermint chocolate flavors, you're sure to love this fun party drink tasting like a peppermint patty or After Eight wafer! It's a good wintry drink to make for a holiday party, girl's night in or whenever you have the craving.
What is a Polar Bear Shot?
This simple party drink combines chocolate and peppermint flavors in a crystal clear, colorless shot. The TV drama Schitt's Creek referenced it in an episode, triggering a series of tweets from fans trying to figure out how to make it.
This shot is not to be confused with the polar bear drink cocktail combining vodka with blue curacao and Sprite.
What are Polar Bear Shots Made of?
There are just two ingredients in this shot:
Crème De Cacao: Creme de cacao is a cocoa bean flavored liqueur that gives a rich chocolate flavor to your polar bear shot. To maintain the frosty appearance of this drink, try to get white creme de cacao instead of brown.
Peppermint Schnapps: This clear, mint-flavored spirit adds distinctive peppermint flavor. If you can't find any, try using a few drops of peppermint extract from the baking section of your grocery store and using extra creme de cacao.
How to Make a Polar Bear Shot
There's really nothing to making this drink. The challenging part is tracking down the ingredients, since not every store carries peppermint schnapps and creme de cacao.
Simply add the liqueurs to a cocktail shaker along with 4 to 5 ice cubes. Next, shake vigorously for 5 to 10 seconds and pour into shot glasses to serve.
Tips and Tricks
You can control the strength by adding more ice to the shaker and shaking longer. This allows the ice to melt more and dilute the liqueurs for a less potent drink.
Chill your shot glasses for the true arctic experience. Simply place them in the freezer for at least 15 minutes before serving.
Use a mint sprig for garnish to make an attractive presentation, since this shot is completely colorless.
Variations
Polar Bear on the Rocks: This is the same recipe served on ice in low ball glasses as an alternative to shots.
Polar Bear Shot with Creme de Menthe: This is a green-colored shot made with equal parts crème de cacao and creme de menthe.
Vodka Polar Bear Shot: Introduce an ounce of vodka, so equal parts creme de cacao, peppermint schnapps and vodka. While the flavor does not change noticeably, this recipe makes for a stiffer, more alcoholic drink.
FAQ
How Many Calories Are in a Polar Bear Shot?
There are 86 calories in a one ounce shot made with creme de cacao and peppermint schnapps. Substituting creme de menthe for schnapps raises it to 102 calories per shot.
How Strong is the Polar Bear Shot?
The classic polar bear shot is 30 to 50 proof, meaning 15 to 25% alcohol by volume. You can control the strength by using more ice in the cocktail shaker and/or shaking longer to dilute the mixture.
What is a Polar Bear Fight?
This is a variation on the classic Bear Fight cocktail by combining the usual Irish Car Bomb and Jagerbomb with a shot of Peppermint Schnapps.
More Drinks You Might Like:
Polar Bear Shot
The Polar Bear Shot is a popular party shooter with a mint chocolate flavor and crystal clear appearance. It's a fabulous winter drink and you only need two ingredients to make it!
Ingredients
1 oz ​crème de cacao
1 oz peppermint schnapps, or creme de menthe – see note
ice cubes
Instructions
Add 4 or 5 ice cubes to a cocktail shaker.

Pour crème de cacao and peppermint schnapps into the shaker and cover with the lid.

Shake well for 5 to 10 seconds. (Note that shaking longer with make the shot weaker by allowing more ice to melt).

Strain the mixture into shot glasses and serve.
Notes
Creme De Menthe variation: You can substitute creme de menthe instead of schnapps to make a green-colored shot with a similar flavor.
Shot Glasses: Chilled shot glasses are a fun way to create an arctic feel. Simply place the shot glasses into the freezer for at least 15 minutes before preparation.
Nutrition Facts
Polar Bear Shot
Amount per Serving
% Daily Value*
* Percent Daily Values are based on a 2000 calorie diet.
Please read our nutrition disclaimer.
© TIPBUZZ. Images and text on this website are copyright protected. Please do not post or republish without permission. If you want to republish this recipe, please link back to this post. This post may contain affiliate links. Read the disclosure policy here.