White Cheese Sauce
This White Cheese Sauce is creamy and smooth with delicious cheesy flavor. It's the perfect topping for steamed broccoli, cauliflower, baked potatoes and more. Or combine it with pasta to make mac and cheese!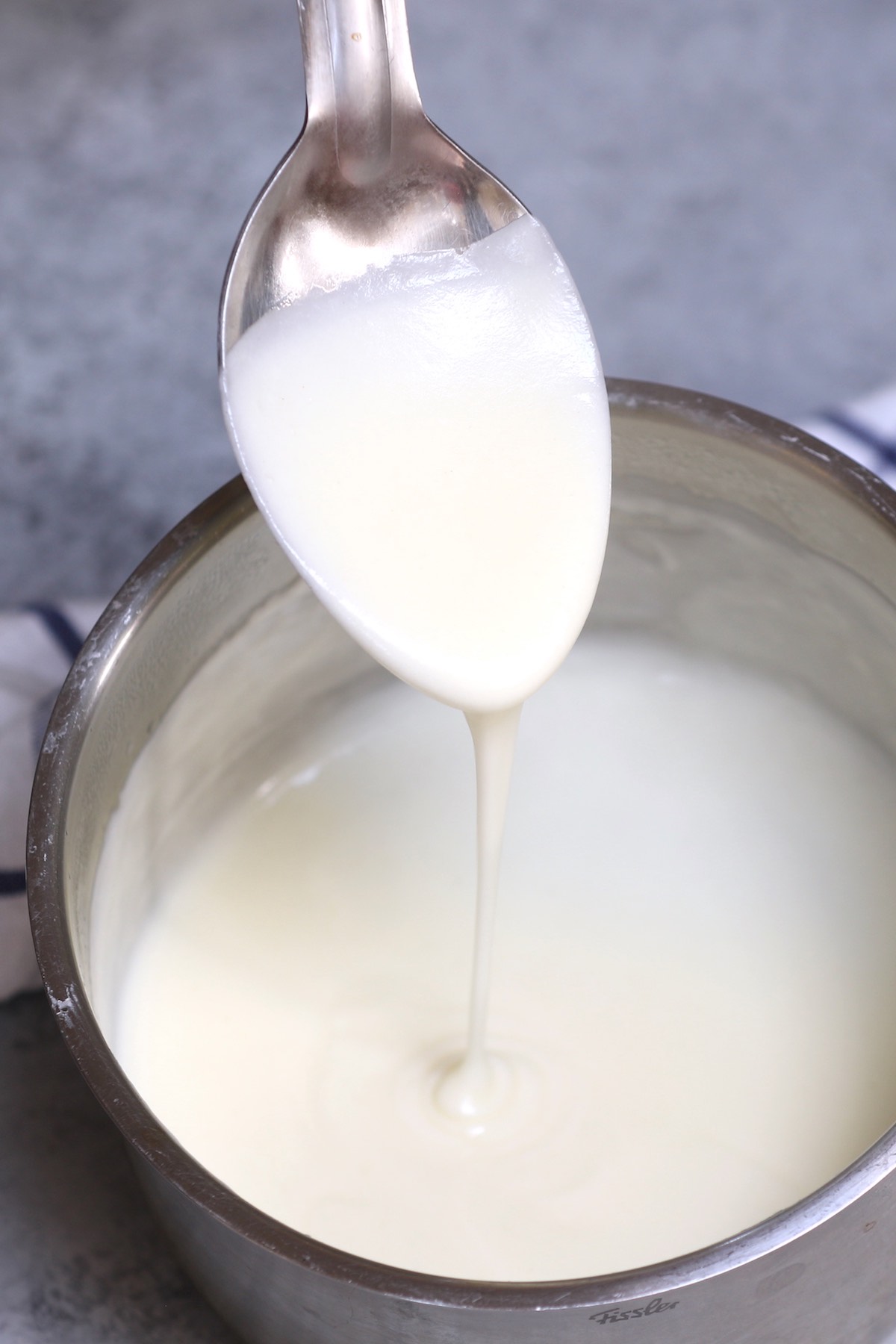 Nothing compares to the silky taste of a homemade cheese sauce! You can drizzle it over steamed broccoli, cauliflower, baked potatoes and more. (In fact, it's one of the best ways to get kids to eat their veggies!) Or combine with cooked macaroni pasta to make mac and cheese. You can even put it out as a dip with crudités or tortilla chips at your next party.
This recipe consists of a béchamel white sauce as a base with butter, flour and milk. The cheese is just stirred in at the end. While cheese sauce can appear intimidating, fear not! This recipe only takes 15 minutes and is surprisingly easy once you get the hang of it.
Ingredients
These are the ingredients to make white cheese sauce:
Flour: All-purpose flour works well or instant-blending flour if you prefer.
Butter: I recommend unsalted butter as it's less likely to burn when melting in the pan; salted butter works but you need to watch it closely.
Milk: Whole milk produces the creamiest flavor, although you can use low-fat or non-fat milk if you prefer.
White Cheese: A sharp or strong cheddar is the traditional choice, with alternatives including Swiss (gruyère), asiago, Monterey Jack, Havarti, Parmesan, Fontina or a blend. It's best to grate your own instead of buying pre-shredded, which has anti-caking agents that can prevent smooth melting.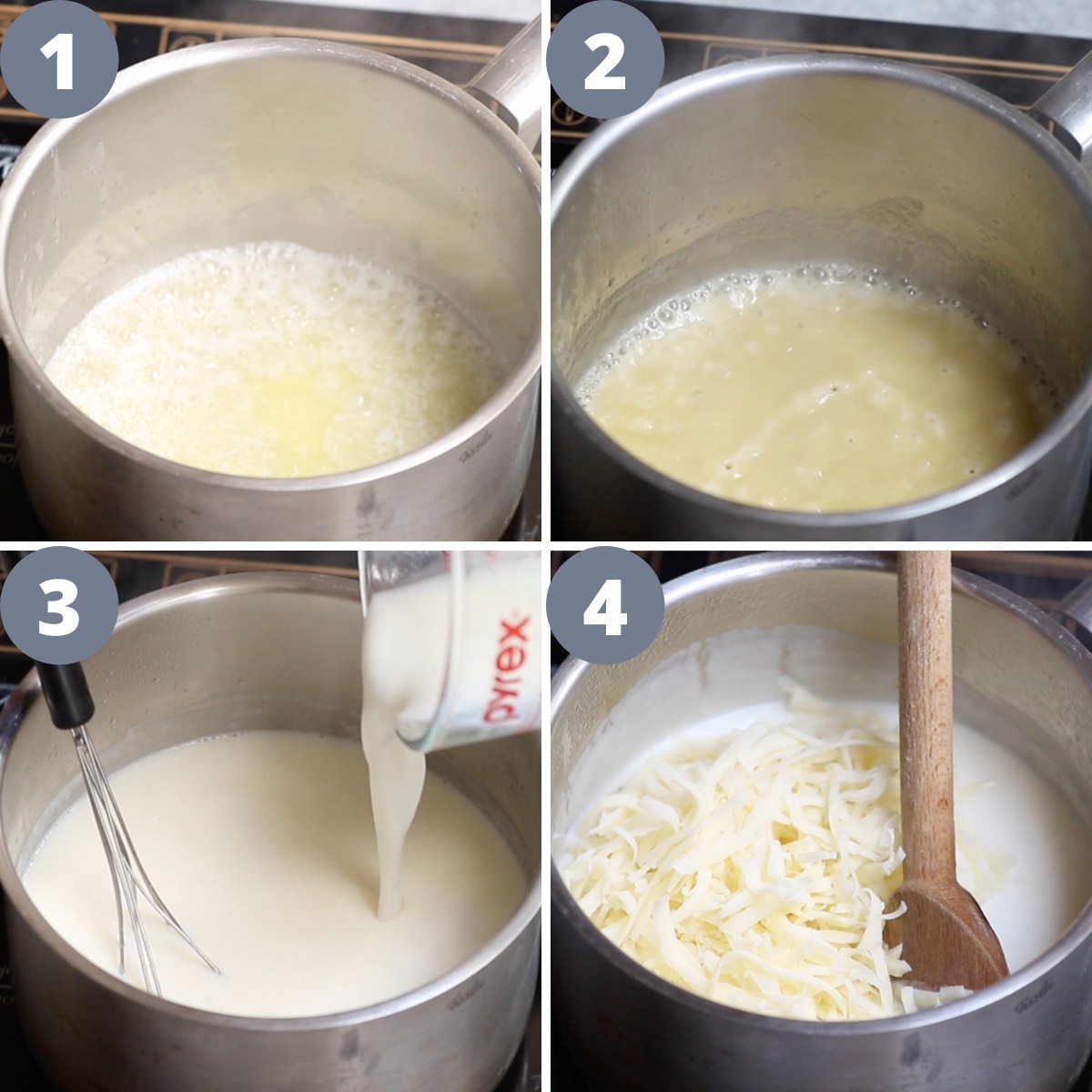 How to Make White Cheese Sauce
Making cheese sauce may seem daunting at first, but it becomes easy once you've done it a few times! Here are the basic steps:
Make a roux: This involves melting the butter in a saucepan over medium-low heat and then whisking in flour to make a bubbly paste that will thicken the sauce.
Add the milk bit-by-bit: Add the milk continuously in dribbles (or 1/3 cup increments) to reduce lumps. Keep whisking until the sauce starts to thicken and then add more milk. Once you've used up all the milk and the sauce coats the back of a spoon, it's ready for the cheese.
Stir in the cheese: Remove the saucepan from the heat. Then use a spoon to stir in the grated cheese until fully melted and smooth.
What to do if you get lumps? Add more liquid and keep whisking. If you've got really stubborn lumps, pour the sauce through a sieve or strainer into a bowl, pressing it through with a flexible spatula if needed. (This is what professional chefs do in a pinch!)
It's best to use the sauce within 5 minutes of preparation, as it thickens as it cools and will form a skin on the surface. To make it ahead of time, cool completely and store in an airtight container. Then reheat in the saucepan over low heat.
Tips to Get the Best Cheese Sauce

Use a heavy-bottomed saucepan with even heat distribution to minimize sticking or burning.
Unsalted butter will avoid getting brown butter
Using hot milk will minimize lumps and speed up the cooking process.
Grate your own cheese instead of using pre-shredded for smooth melting.
Whisk continuously for the first few minutes, scraping the bottom of the pot to break up any lumps and prevent sticking.
What is White Cheese Sauce?
This sauce has British origins and is traditionally made with aged strong white cheddar cheese. For this reason, it's sometimes called cheddar sauce or white cheddar cheese sauce.
Stateside you also see queso blanco, which is a white cheese dip served in Mexican restaurants.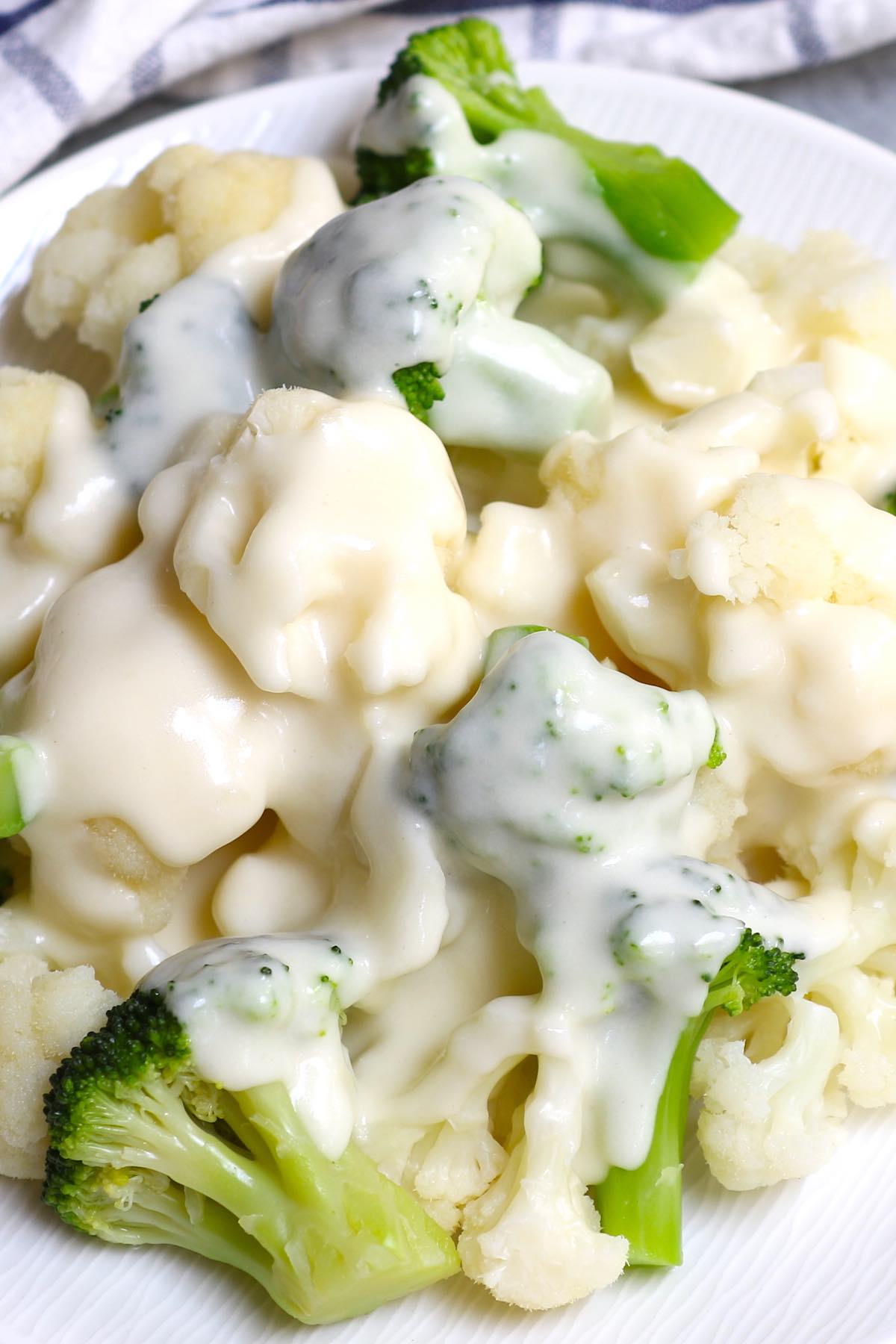 White Cheese Sauce
This white cheese sauce is creamy and smooth with a distinct cheddar flavor. Perfect for serving with steamed vegetables or as a cheese dip!
Ingredients
¼ cup all-purpose flour
¼ cup butter, unsalted butter recommended
2 cups milk, hot milk recommended
2 cups strong cheddar cheese, grated (100 grams/4 oz)
1/4 teaspoon paprika, or other seasonings (optional) - see note
Instructions
Prepare all ingredients and set aside. Heat the milk using the microwave or stovetop until hot but not boiling and set aside.

Place a medium saucepan over medium-low heat. Add the butter and let it melt completely. Immediately add the flour and whisk rapidly to form a bubbly paste, less than 1 minute.

Add the milk 1/3 cup at a time, whisking continuously until the sauce starts thickening before adding the next batch. (If this takes longer than a minute or two, raise the heat slightly.) Scrape the bottom and sides of the saucepan with the whisk to prevent sticking.

Once all of the milk has been added, set the whisk aside and switch to a wooden spoon. Stir until the sauce starts bubble or becomes thick enough to coat the back of the spoon.

Remove the saucepan from the heat. Stir in the cheese and optional seasonings until the sauce is creamy and smooth. Serve immediately.
Notes
Cheese: While strong cheddar is the classic choice here, alternatives include mild cheddar, Swiss (Gruyère), Asiago, Monterey Jack, Havarti, Parmesan, Fontina or a blend. Grating your own will produce the best flavor and ensure smooth melting.
Milk: Hot milk dissolves faster with fewer lumps. While you can still use cold milk, heating it first produces better results in less time.
Seasonings (optional): Choices include paprika, cayenne, mustard powder.
Nutrition Facts
White Cheese Sauce
Serving Size
4 tablespoons
Amount per Serving
% Daily Value*
* Percent Daily Values are based on a 2000 calorie diet.
Please read our nutrition disclaimer.
View all sauces and condiments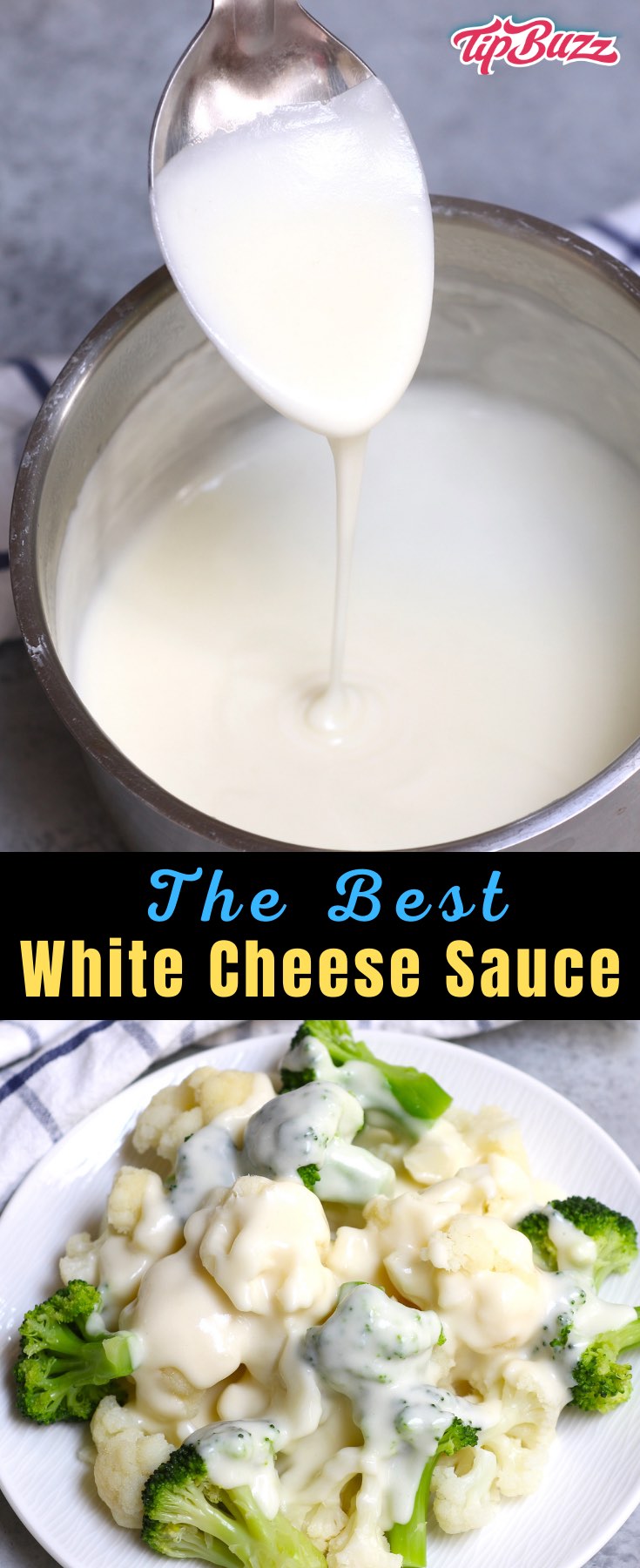 © TIPBUZZ. Images and text on this website are copyright protected. Please do not post or republish without permission. If you want to republish this recipe, please link back to this post. This post may contain affiliate links. Read the disclosure policy here.