How Long to Cook A Turkey
Learn how long to cook a turkey and get a perfectly cooked bird for your Thanksgiving or Christmas dinner! The rule of thumb is 15 minutes per pound, but the cooking time also depends on oven temperature, whether the turkey is stuffed or unstuffed, and fresh vs. frozen.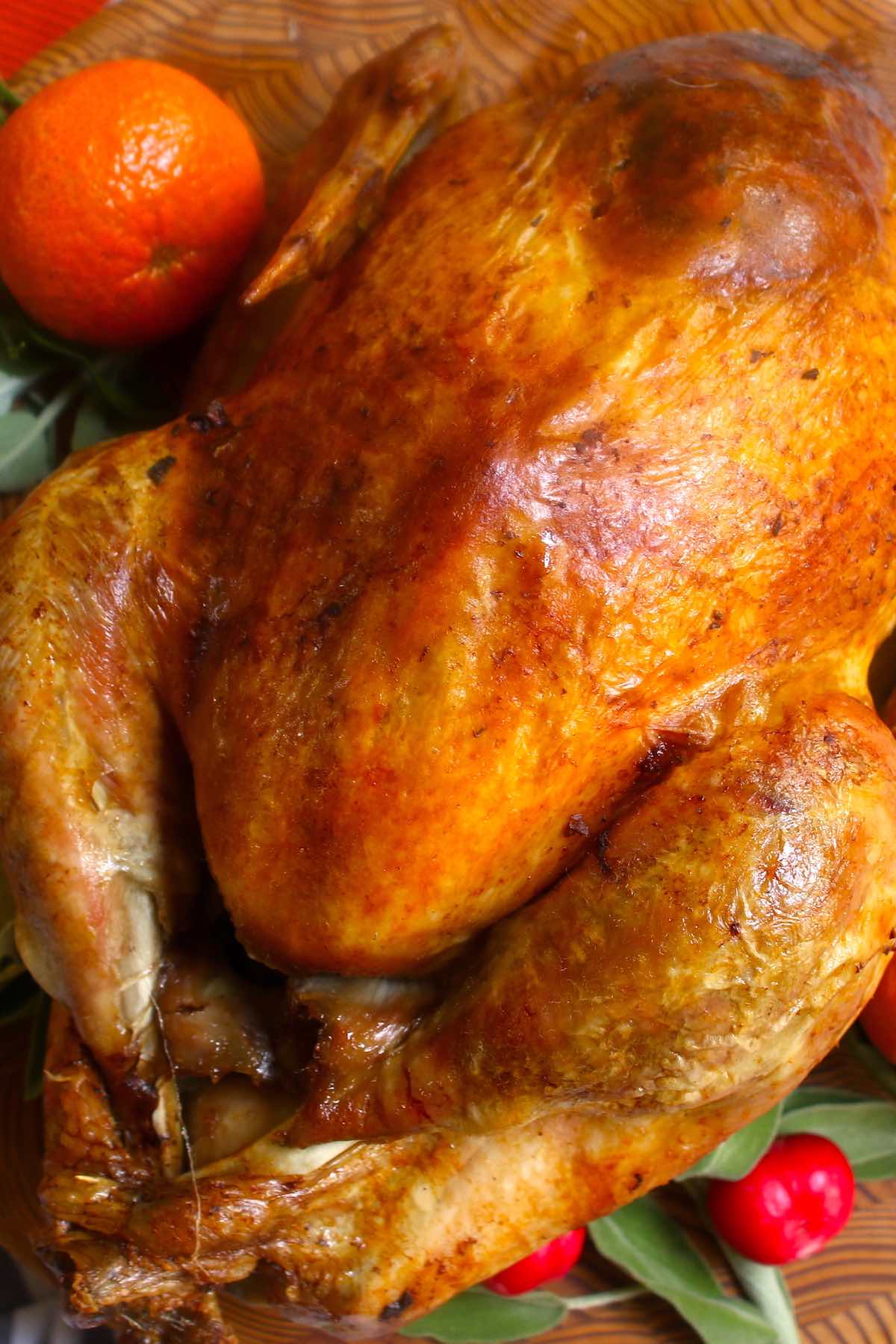 How long to cook a turkey?
Want to cook a whole turkey that's tender and juicy, with lots of flavor and crispy skin? We'll show you how to get the best results every time. No more dried-out turkey!
How long to cook a turkey depends mainly on its size as well as the oven temperature. You need to cook the bird to a safe internal temperature of 165°F (74°C) measured using an instant-read thermometer. Also you'll need to budget enough time to rest your turkey so the juices can redistribute through the meat to keep it extra moist.
Tip: We recommend using an oven-proof food thermometer and leave it in the turkey while roasting. This will allow you to monitor the internal temperature without opening the oven.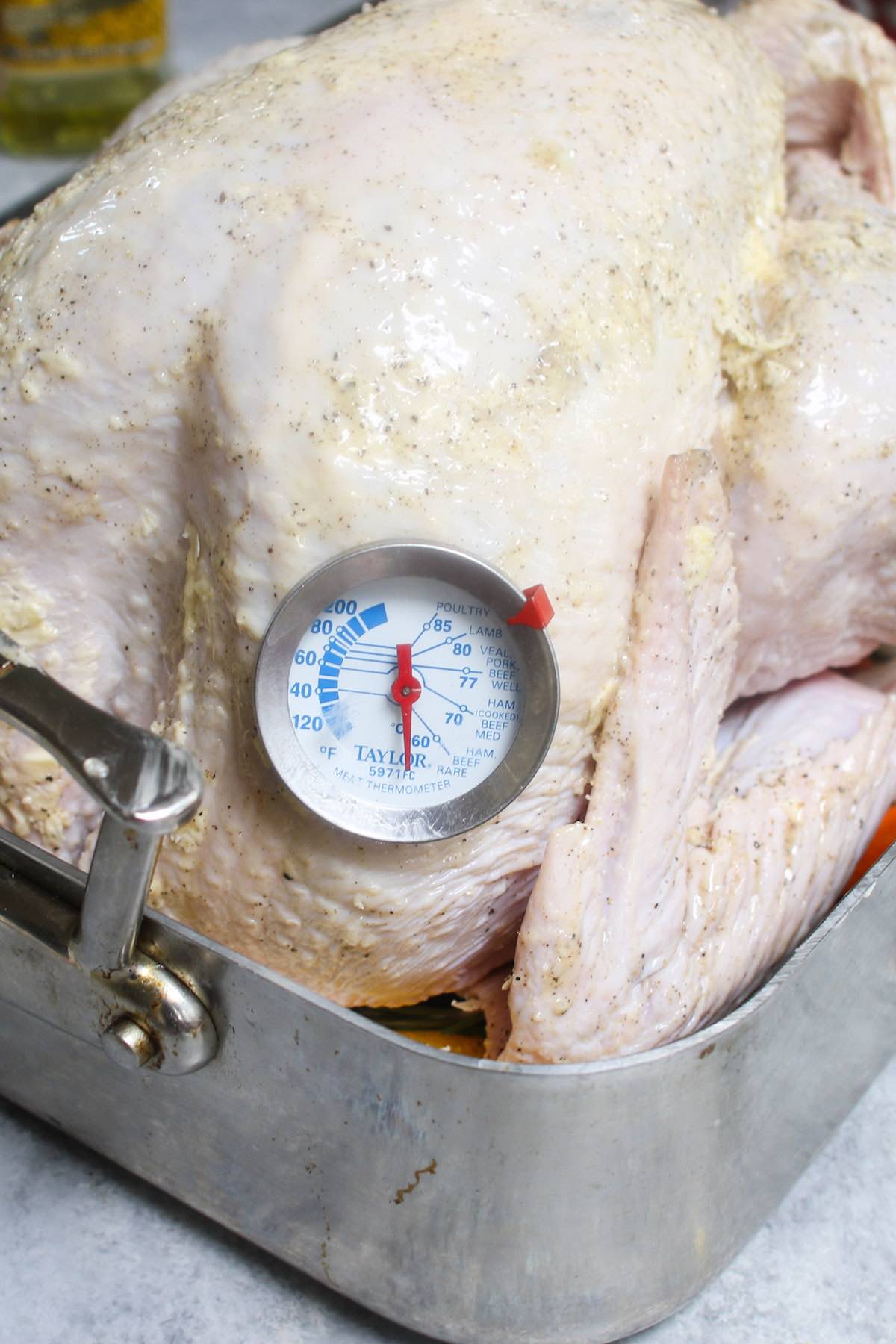 What temperature to cook a turkey: 325°F or 350°F?
Bake at 350°F for any turkey that's less than 14 pounds (5.9kg)
Bake at 325°F for bigger turkeys over 14 pounds.
How long to cook a turkey per pound?
For an unstuffed turkey (fresh or defrosted), the general rule is about 15 minutes per pound at a 325°F regular oven according to the USDA. If you're using a convection oven, your turkey will cook slightly faster.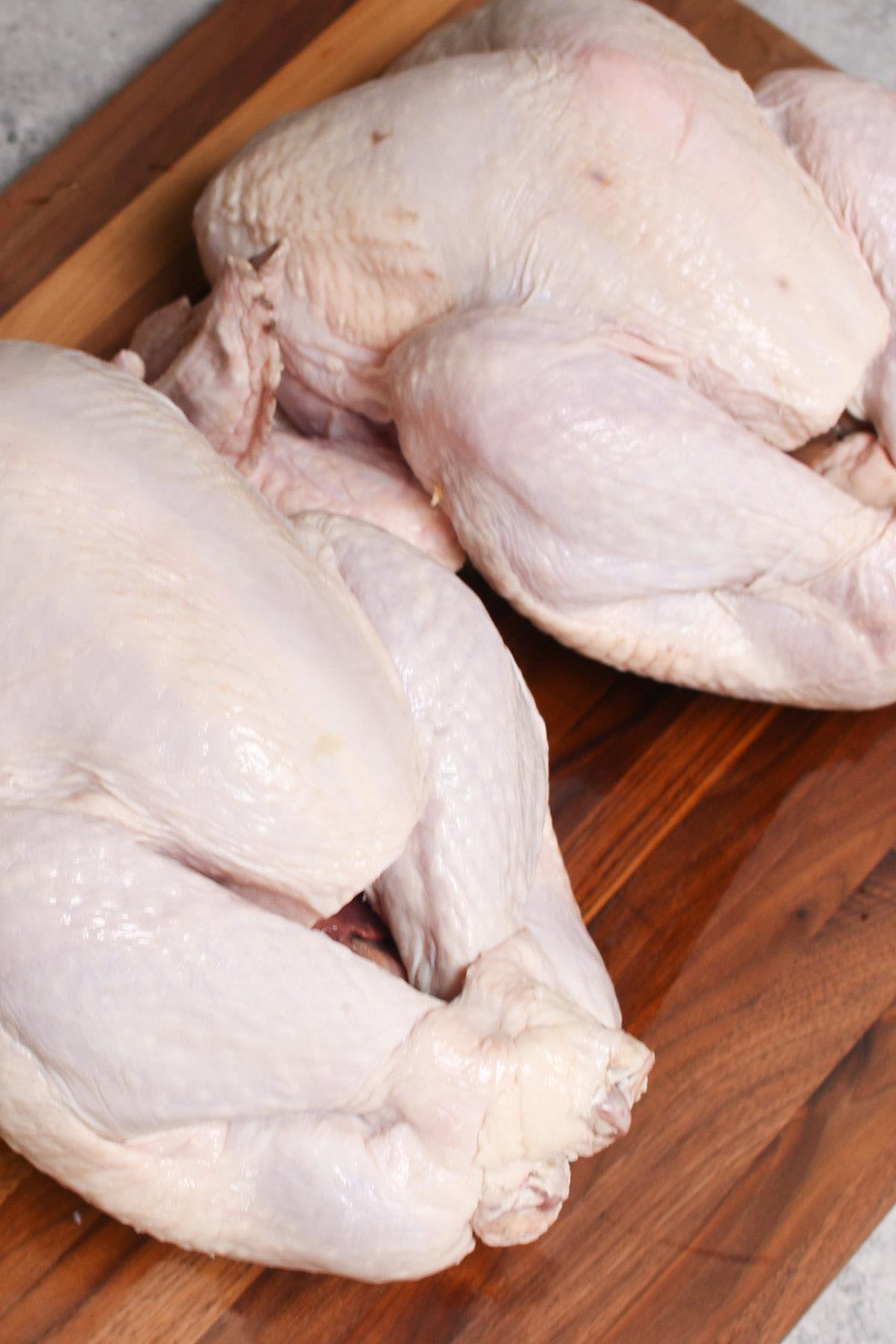 Cooking time for different sizes
Turkey cooking time varies widely by size. You may be wondering how long to cook a 20 lb turkey, a 25 lb, 12 lb, 15 lb turkey, or any other size for that matter? Here is a time chart for cooking an unstuffed turkey:
| | | |
| --- | --- | --- |
| Turkey weight | Unstuffed turkey cooking time | Oven temperature |
| 10 to 14 lb | 2-1/4 to 3 hours | 350°F |
| 15 to 22 lb | 3 to 4 hours | 325°F |
| 23 to 25 lb | 4 to 4 1/2hours | 325°F |
| 26 to 29 lb | 4-1/2 to 5 hours | 325°F |
Note: If you're using a convection oven, bake for 15-30% less time. As there's variation in kitchen equipment, always verify doneness using a thermometer instead of relying on time alone.

How long to cook a stuffed turkey?
It's always best to stuff the neck end of the turkey, as filling the body cavity will block the flow of air needed to evenly cook the bird. Stuff right before cooking and tuck in the skin to seal.
Follow the cooking time above using the weight of the stuffed turkey. You can weigh the stuffed turkey if you have a scale or estimate the new weight based on how much stuffing you added.
How long to cook a frozen turkey?
If you roast your turkey from frozen, the cooking time is at least 50% longer according to the USDA. That means you'll need to plan to bake your frozen turkey for 22 minutes per pound or more.
How to tell when a turkey is done?
The most accurate way to check doneness is by inserting a meat thermometer into the thickest part of the turkey (breast, outer thigh and inner thigh), making sure the probe is not touching the bone. A temperature reading of 165°F to 170°F means it's done.
Keep a watchful eye during the final stages, as the temperature can rise from 130°F to 170°F in as little as 30 minutes!
How to roast a turkey
Roasting a turkey is actually quite easy, as long as you follow the cooking time guide and don't overcook the bird.
Brining: This optional step makes for a more tender and juicy turkey. The basic ratio is 2 cups of kosher salt to 2 gallons of water. Brine for 8-18 hours in the fridge and rinse the turkey with water before cooking.
Seasoning: Rubbing with butter, minced garlic, salt, pepper and oil before baking will add moisture and flavor to your turkey.
Baking: Following the baking time and temperature guidance provided above until it reaches an internal temperature of 165°F.
Resting: Let the roasted turkey rest for 30 to 60 minutes covered with aluminum foil so the juices can redistribute throughout the meat. It's important not to cut into the meat right away, as juices will be lost and the turkey will dry out. You can make gravy during this time instead.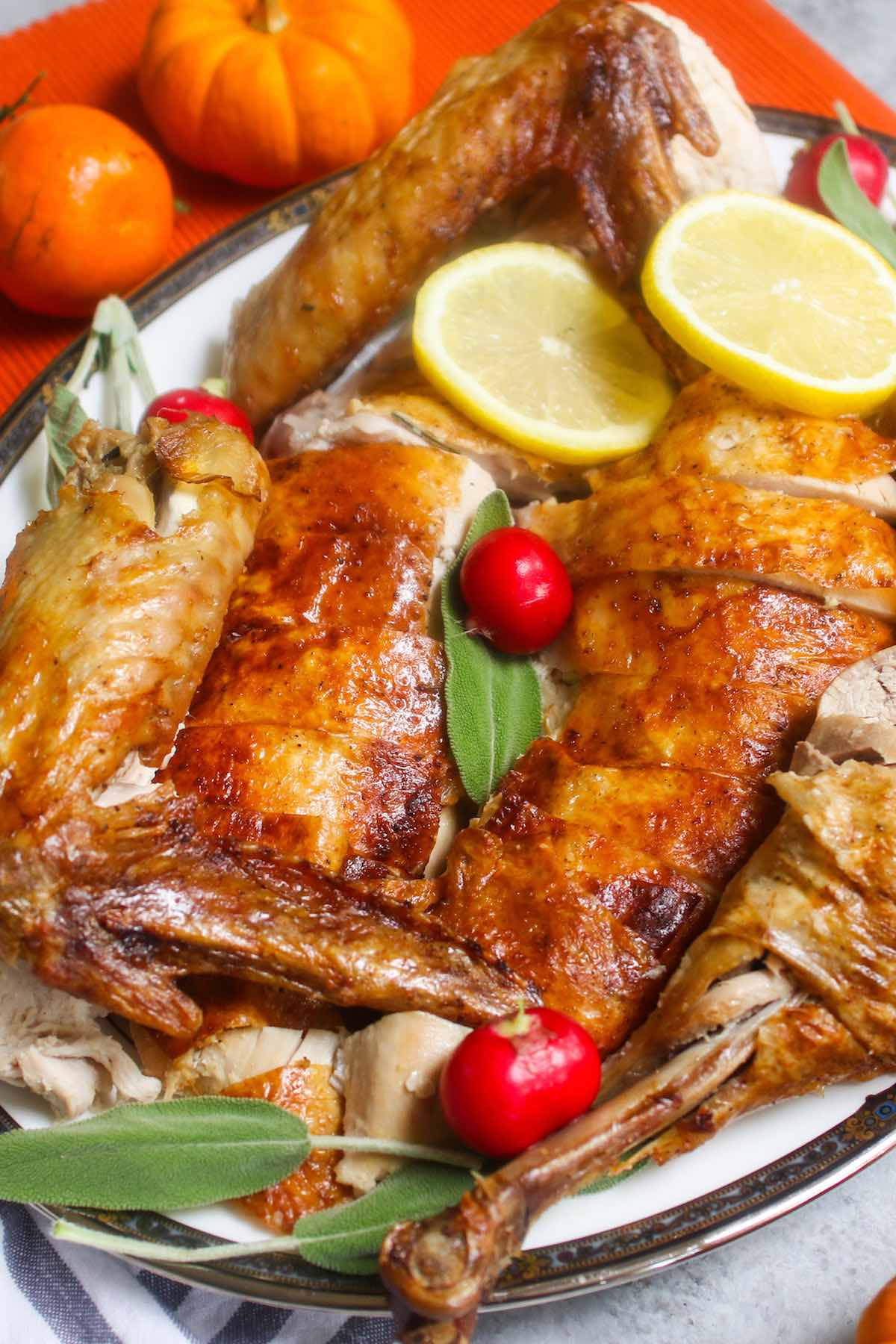 Side dishes for Thanksgiving turkey
Traditional side dishes for Thanksgiving dinner include green bean casserole, potatoes, sweet potatoes, gratin and roasted Brussels sprouts.
How to Cook A Turkey
Learn how to cook a turkey to perfection for your Thanksgiving or Christmas dinner! Follow this step-by-step guide to enjoy tender and juicy turkey at its best!
Ingredients
1 whole turkey, (15 pound or 6.8kg) fresh or thawed, see notes for other sizes*
1/2 cup unsalted butter, softened (1 stick)
3 cloves garlic, minced (1 tablespoon)
1 tablespoon olive oil
salt, to taste
pepper, to taste
Instructions
Prepare the turkey: (Optional: brine the turkey for 8-18 hours for extra tenderness.) Remove the turkey from the fridge 1 hour before roasting. Remove the giblets from the body cavity or neck cavity. Pat dry with paper towels. It's ok if your turkey still feels cool after sitting at room temperature.

Seasoning: In a small bowl, mix together the softened butter, garlic, salt, and pepper. Rub all over the turkey. Then rub with olive oil. (If you have stuffing, spoon it through the neck end of the turkey.)

Preheat the oven to 425°F: Position an oven rack in the bottom third of the oven. Then preheat the oven to 425°F (218°C). Place a wire rack in a roasting pan. Then place the turkey onto the rack breast side up. If available, insert an ovenproof meat thermometer all the way into the thigh and leave it in during baking.

Place the turkey in the oven and lower the heat to 325°F: When the oven is hot, add the turkey and immediately lower the heat to 325°F.

Roast the turkey: It takes about 3 hours to cook in a regular oven and 30 minutes less in a convection/forced air oven. Baste the turkey with pan juices halfway through. Start checking the internal temperature of the turkey regularly after 2 hours.

Check the doneness: Look at the meat thermometer or insert an instant-read thermometer into the turkey thigh and breast. Your turkey is done as soon as it registers 165°F (74°C). If it's not ready, put it turkey back in the oven. (Note: the temperature can rise quickly after 140°F).

Rest the turkey: When the turkey is done baking, remove it from the oven. Using an oven mitt, lift one end of the roasting pan lengthwise to allow liquids from the cavity to flow out. Transfer the turkey to a cutting board. Cover with aluminum foil and let it rest for 30 to 60 minutes before carving.
Notes
*For other sizes: 2-1/4-3 hours for 10-14 lbs (at 350°F), 3-4 hours for 15-22 lbs, 4-4.5 hours for 23-25 lbs and 4.5-5 hours for 26-29 lbs. Reduce by 15-30% for a convection oven.
If you're stuffing your turkey, add the weight of the stuffing to the overall weight used to calculate the cooking time.
Leftover turkey can be stored in an airtight container for up to 4 days in the fridge and up to 2 months in the freezer.
Nutrition Facts
How to Cook A Turkey
Amount Per Serving
Calories 458 Calories from Fat 225
% Daily Value*
Fat 25g38%
Saturated Fat 10g50%
Cholesterol 210mg70%
Sodium 290mg12%
Potassium 581mg17%
Carbohydrates 1g0%
Sugar 1g1%
Protein 56g112%
Vitamin A 428IU9%
Vitamin C 1mg1%
Calcium 33mg3%
Iron 2mg11%
* Percent Daily Values are based on a 2000 calorie diet.
Please read our nutrition disclaimer.
Cooking Equipment
© TIPBUZZ. Images and text on this website are copyright protected. Please do not post or republish without permission. If you want to republish this recipe, please link back to this post. This post may contain affiliate links. Read the disclosure policy here.