Sea Beans / Samphire
Sea Beans are a succulent summer vegetable with a crisp texture and salty taste. This nutritious plant comes from marshland or saline environments and is also known as samphire and sea asparagus. You can prepare it in minutes on the stovetop for an easy side dish!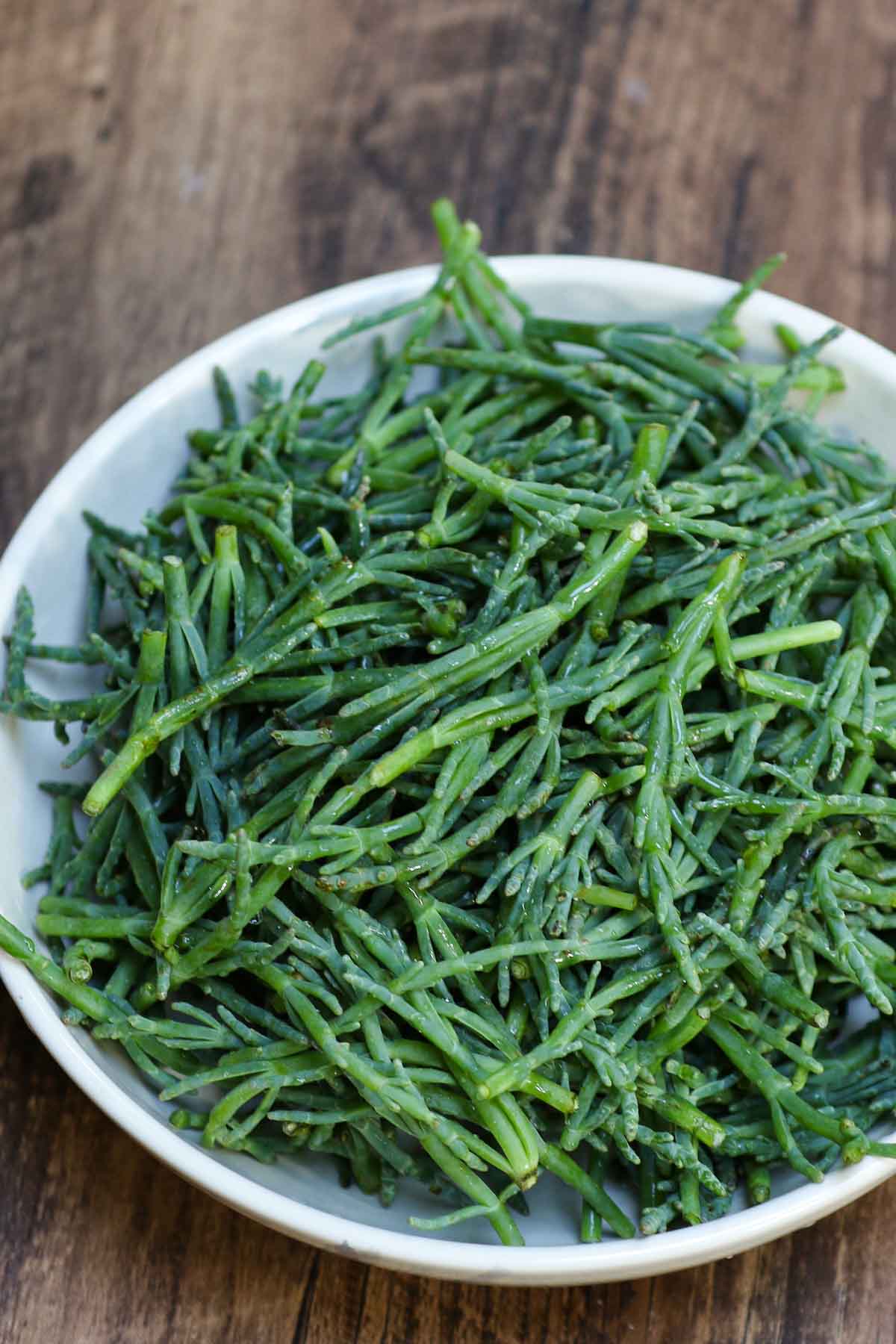 Look no further than sea beans or a tasty and exotic addition to your diet! This vegetable is prized for its health benefits and is considered a delicacy by many. You can eat them raw or serve them steamed or sautéed.
While foragers have harvested these plants for decades, they're increasingly appearing at farmer's markets, grocery stores and restaurants!
What is a Sea Bean?
Sea beans are a succulent summer vegetable that grows in salty marshland, saline lakes and beaches. Officially known by its scientific name salicornia, it has many other names including sea asparagus, samphire, pickleweed, saltwort and even crow's foot greens.
This halophyte or salt-tolerant plant typically grows 3 to 4 inches long, but can reach as high as one foot. It's popular in Hawaii while gaining traction in the continental U.S. and Canada more recently.
What Do Sea Beans Taste Like?
Sea beans have a natural briny taste owing to their saltwater origins. Their texture is crispy and fleshy with a slight crunch, making them very fun to eat.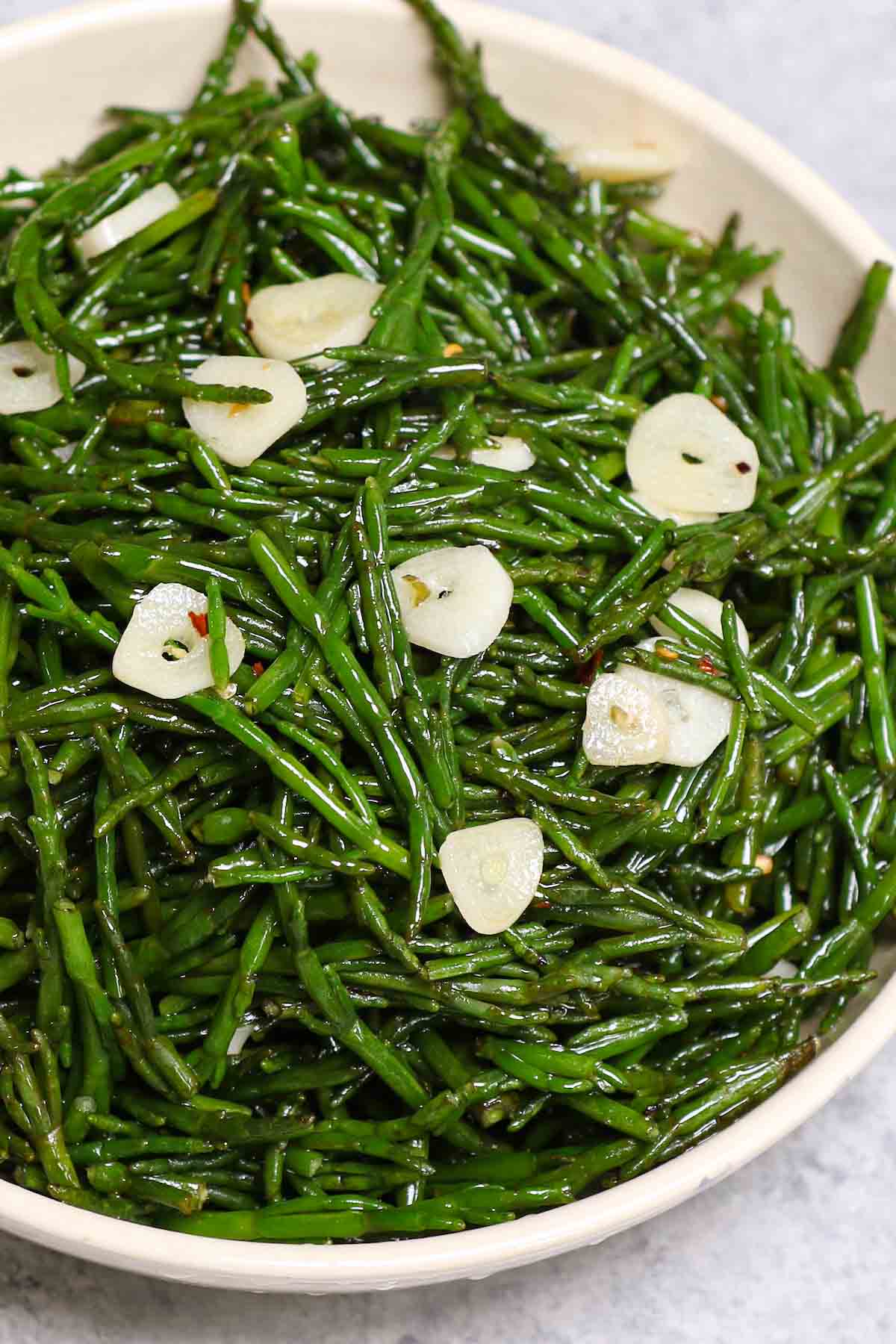 Some people like to blanch sea beans in boiling water to reduce the saltiness, but I have found it makes no difference. If you are concerned about the taste, try buying a smaller quantity the first time around or combine with other vegetables.
Are Sea Asparagus Good For You?
Some people consider sea asparagus to be one of the most nutrient-dense plants you can eat! Sea asparagus is low in calories coming in at just 45 calories in a 100 gram (3.5 oz) serving according to Eat This Much.
There are also a number of other health benefits including:
Source of vitamins A, C, B2 and B9 (folic acid)
Source of trace minerals such as magnesium, potassium, calcium, riboflavin, copper and zinc.
Beneficial dietary fiber
Source of the amino acid betaine
The only potential downside is the high sodium level in sea beans, making this vegetable unsuitable for those on renal diets or watching their blood pressure.
Can You Eat Sea Beans Raw?
Yes, these plants delicious either raw or cooked. When eaten raw, they're a crispy, crunchy snack or a tasty addition to your salads. Just be sure to wash them thoroughly before eating.
Sea Beans Recipe
For a simple side dish, just saute sean beans briefly with some olive oil and garlic over medium-high heat. Start by frying the garlic for 30 seconds or so until fragrant. Next, add the sea beans and sauté for 1 to 2 minutes until they become bright green: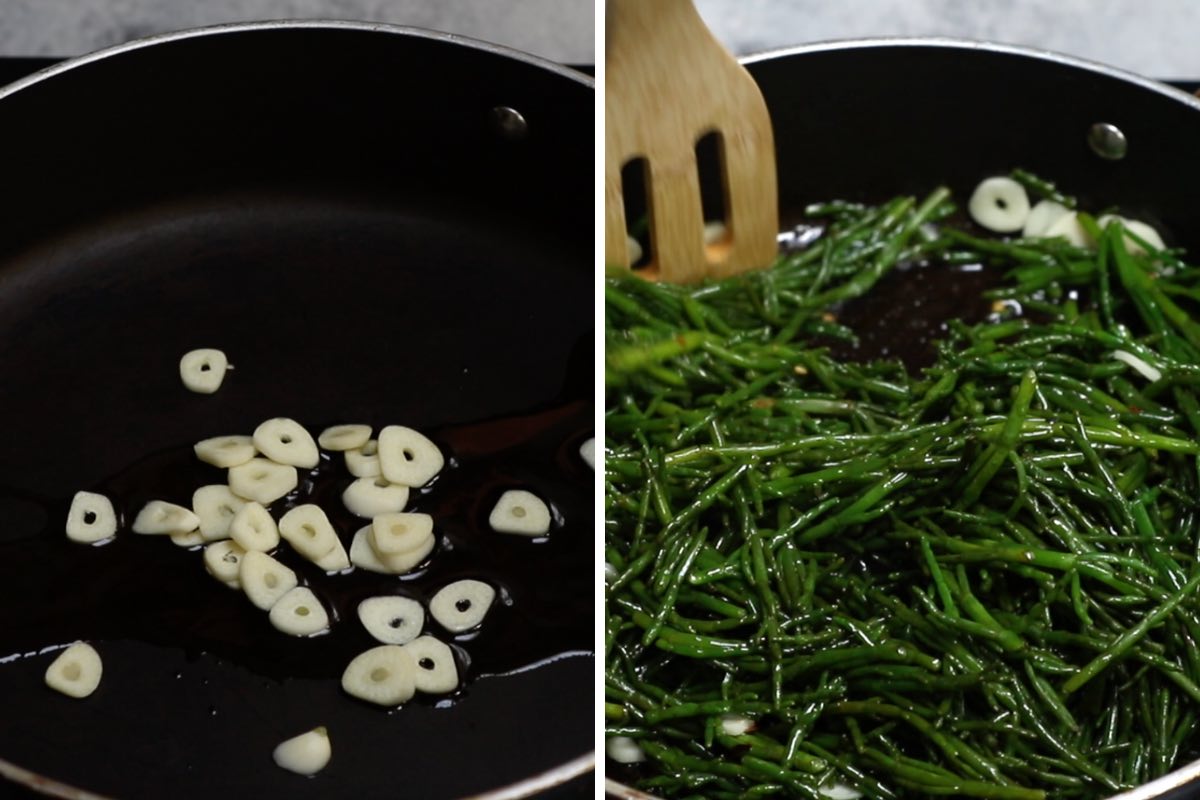 Remove to serving plates and add a sprinkling of lemon juice if desired. If the sea beans turn a dark green, then they are overcooked!
Frequently Asked Questions
What is Samphire Good With?
This vegetable pairs beautifully with meat including chicken, steak and lamb. It's also delicious served with seafood entrees including fish and shrimp. You can even use to for a fun garnish on a cocktail.

If you want to combine samphire with other vegetables, try onions or potatoes. Always pre-cook the other vegetables first, since the samphire cooks so quickly.
How Long Do Sea Beans Last in the Fridge?
Sea beans should have a vibrant green color and crisp texture, so avoid any that are limp or dull-colored. They will last for up to 3 days in the fridge, and storing in a resealable plastic bag will help to keep them fresh.
Where to Buy Sea Beans?
You can most often find sea beans at specialty grocers, seafood shops and farmer's markets. However, they're also increasingly available online. The peak season is generally May through September.
Where to Find Sea Beans
If you are in coastal areas, keep an eye out for these plants growing in the wild around beaches, marshes and saline lakes. You can forage to your heart's content!
More Healthy Vegetables:
Sea Beans with Garlic (Samphire with Garlic)
Sea Beans are a succulent summer vegetable with a crisp texture and salty taste. This quick sauté makes an easy and nutritious side dish.
Ingredients
2 cups sea beans, also called samphire, sea asparagus, salicornia, pickleweed, saltwort
1 tablespoon olive oil
1 tablespoon minced garlic
¼ teaspoon red pepper flakes, optional
lemon juice, optional
Instructions
Please a skillet over medium-high heat. When the pan it hot, add the olive oil, minced garlic and optional red pepper flakes.

Sauté for 30 seconds or until fragrant, stirring with a wooden spoon.

Add the sea beans to the pan. Stir fry for 1 to 2 minutes until bright green.

Remove from the heat and sprinkle droplets of lemon juice on top (optional). Serve immediately.
Notes
Storage: You can store cooked samphire in an airtight container in the fridge for up to 2 days. Reheat gently over medium heat for one minute.
Nutrition Facts
Sea Beans with Garlic (Samphire with Garlic)
Amount per Serving
% Daily Value*
* Percent Daily Values are based on a 2000 calorie diet.
Please read our nutrition disclaimer.
© TIPBUZZ. Images and text on this website are copyright protected. Please do not post or republish without permission. If you want to republish this recipe, please link back to this post. This post may contain affiliate links. Read the disclosure policy here.