Buffalo Fries
These Buffalo Fries are a copycat of the ever-popular Wingstop Buffalo Ranch Fries! Crispy homemade french fries are loaded with Buffalo chicken wing flavors and topped with cheddar cheese and and crumbled gorgonzola. These loaded fries are easy to make at home!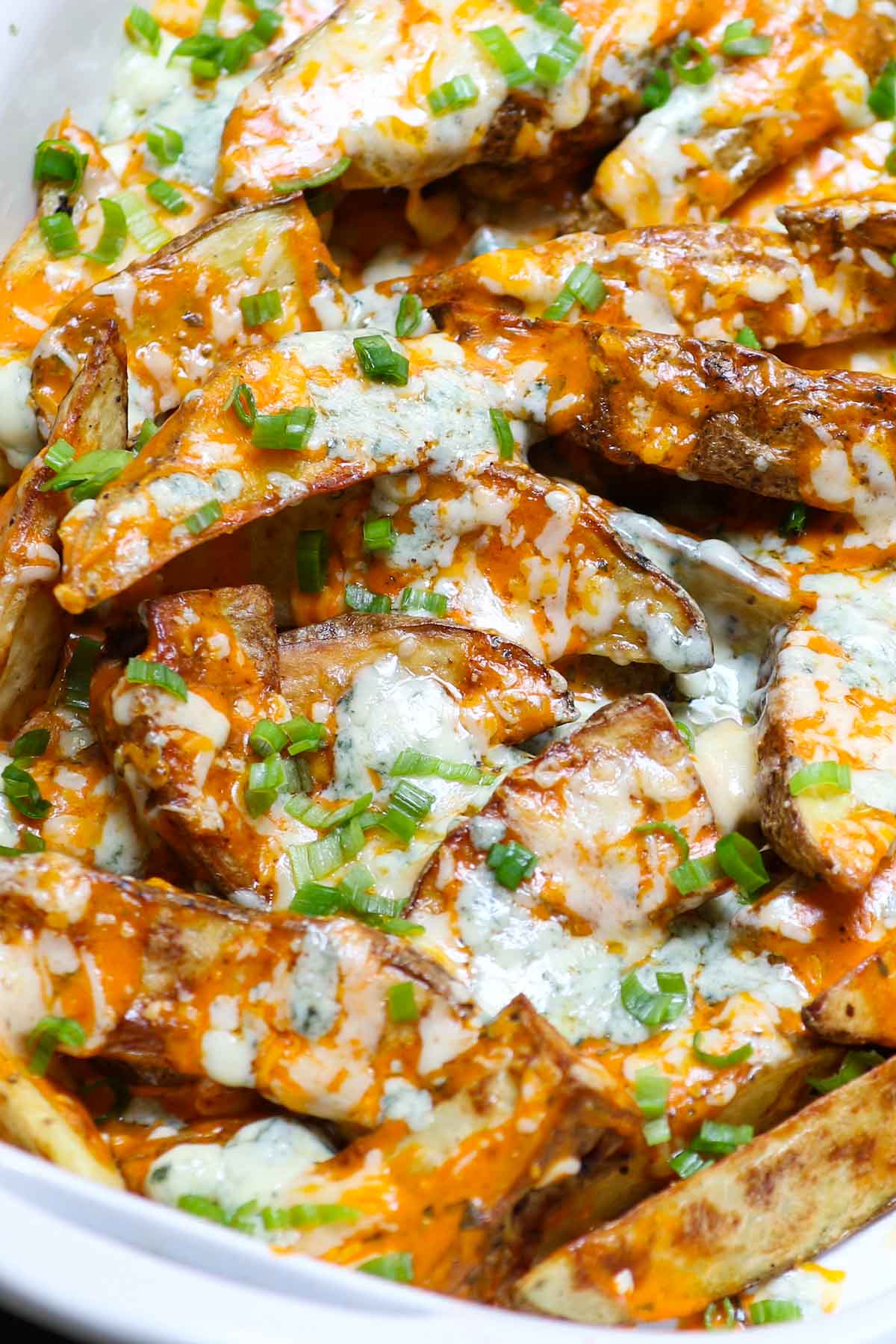 If you're a fan of the Buffalo Ranch Fries at Wingstop, you'll know about the cravings that follow… However, maybe you don't have a Wingstop nearby or just wanted to know how to make them.
That's where this recipe comes in. You get homemade oven-baked fries topped with Buffalo and ranch sauces, plus melty cheddar and blue cheese. In my humble opinion, it's better than Wingstop, but you can decide…
They're ready in just 30 minutes and perfect for Game Day or anytime you want a casual party appetizer!
What are Buffalo Ranch Fries?
Buffalo fries are a popular menu item at the Wingstop chain of fast food restaurants. They're available both as buffalo ranch fries or as loaded buffalo ranch fries with chopped chicken tenders on top.
Chick-Fil-A also offers buffalo chicken fries as an item on their secret menu.
Ingredients
Here's what you'll need to make them: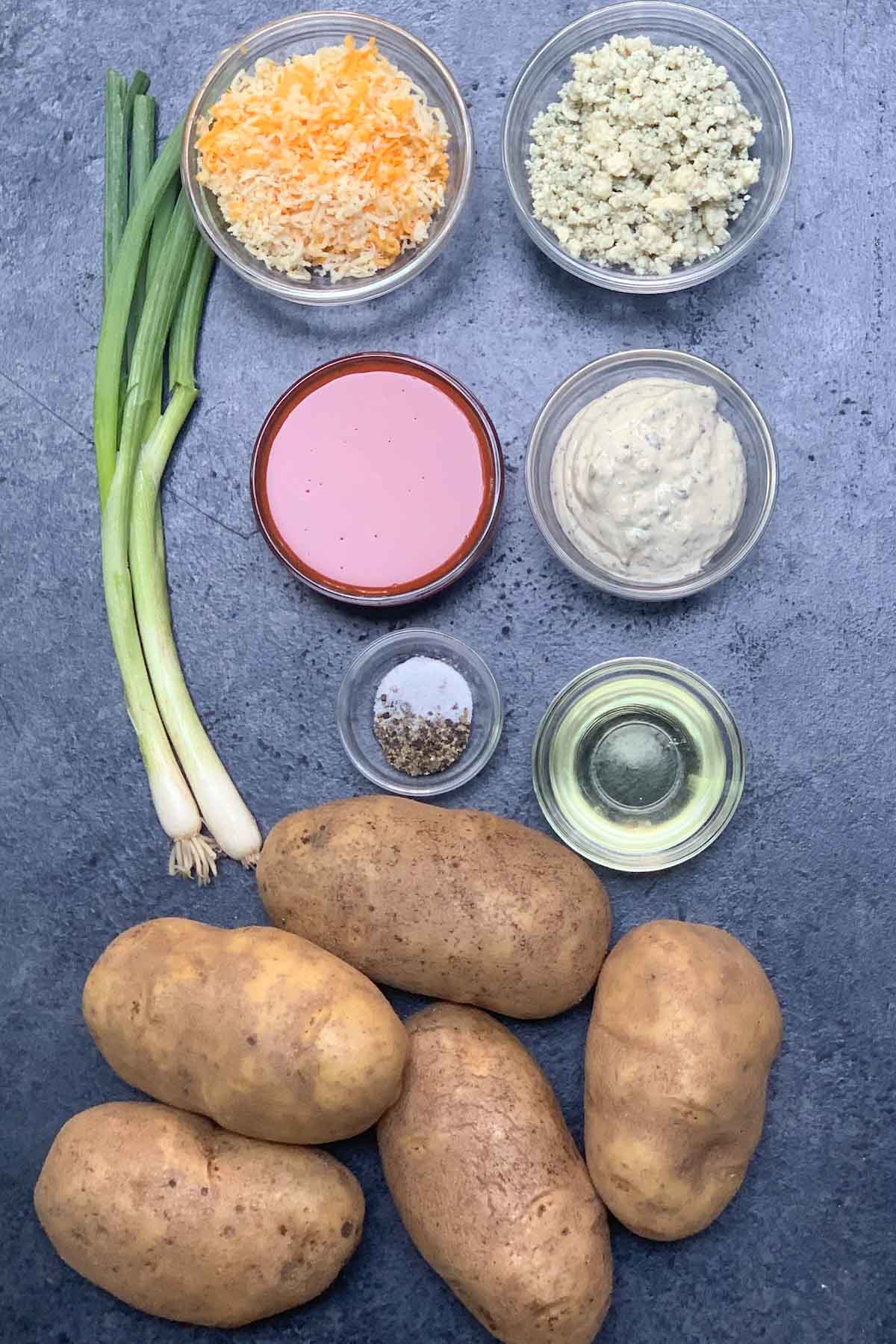 Potatoes: The best potatoes to use are russets, which bake up light and crispy. Other possibilities are Idahos, Yukon Golds or other baking potatoes. If you want less prep, you can use pre-cut frozen french fries.
Oil: Canola, sunflower or another high-temperature oil is ideal.
Buffalo wing sauce: This creates the fiery Buffalo flavor in this dish. I used Frank's Red Hot, but use your favorite bottled variety.
Ranch: This creates the creamy taste in this dish. I used Hidden Valley bottled ranch dressing, but use your favorite brand or even ranch mix.
Cheddar cheese: You can use sharp or mild cheddar as you like, and a marbled or orange cheddar creates an attractive look. (It's best to grate your own off a block, as pre-shredded varieties contain anti-caking agents that impede melting.)
Gorgonzola blue cheese: This is the classic blue cheese used to create Buffalo flavor. However, you can use your favorite blue cheese and buying it pre-crumbled will save a few minutes of prep.
While Wingstop doesn't do it, minced green onions are optional to make for an attractive serving presentation.
How to Make Buffalo Fries
The first step in making them is preparing the potatoes. To do this, halve the potatoes and then cut the halves into halves once more before slicing into wedge shapes: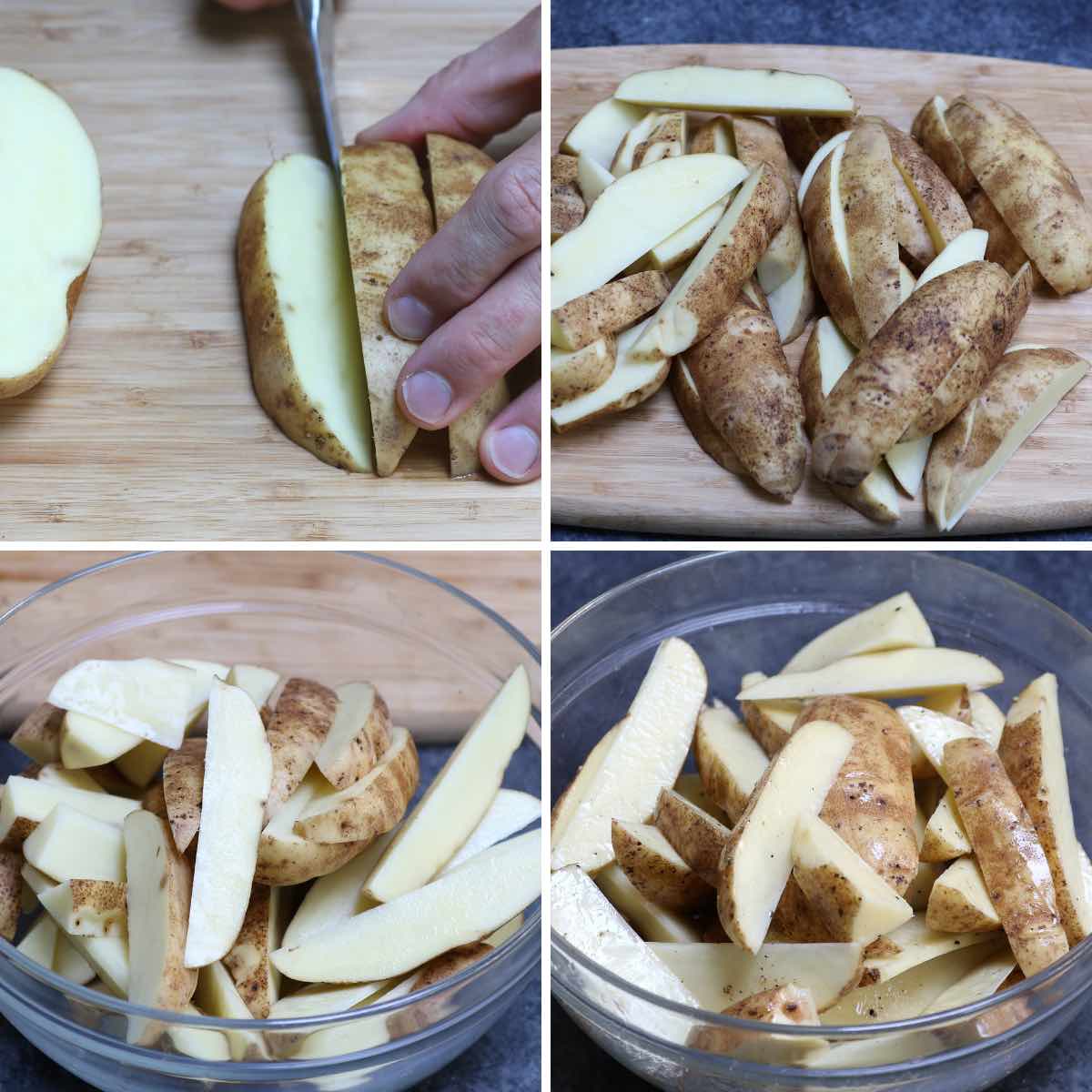 Place the wedges into a bowl and toss with oil and a bit of salt and pepper. Place them on a baking sheet lined with parchment and bake at 400°F for about 20 minutes until golden and tender:
While the fries are baking, warm the Buffalo wing and ranch sauces in a small saucepan over low heat. I combined them into one sauce for simplicity, but you can heat and drizzle them separately for a two-tone look like at Wingstop.
Transfer the cooked fries to a rectangular baking pan. Drizzle the sauce and sprinkle the cheese on top. Now broil for 2 to 4 minutes until the cheeses are starting to bubble. Garnish with optional green onions and serve immediately!
Q&A
What Are Buffalo Chicken Fries?
Buffalo chicken fries are considered a secret menu item at Chick-fil-A restaurants, thanks to a viral TikTok video. Though not on the regular menu, you can order chicken nuggets and waffle fries and request the Zesty Buffalo and Herb Ranch sauces. Put the nuggets on top of the fries, and pour the combined sauces on top.
How Are Wingstop Make Buffalo Fries Made?
Wingstop uses freshly-cut seasoned fries made from Idaho potatoes. These strips of potatoes are fried until they're crispy and golden brown. Next, fries are tossed in salt and pepper. Finally, Wingstop's thick, creamy signature Buffalo sauce is added on top of the fries. Customers can also add hot sauce if they like.
What is Buffalo Flavor?
It's the authentic buffalo sauce that gives these fries their signature flavor. Buffalo flavor is a smoky, fiery mix of cayenne pepper, tangy vinegar and seasonings. Extra cayenne pepper will make it spicier.
More Copycat Recipes: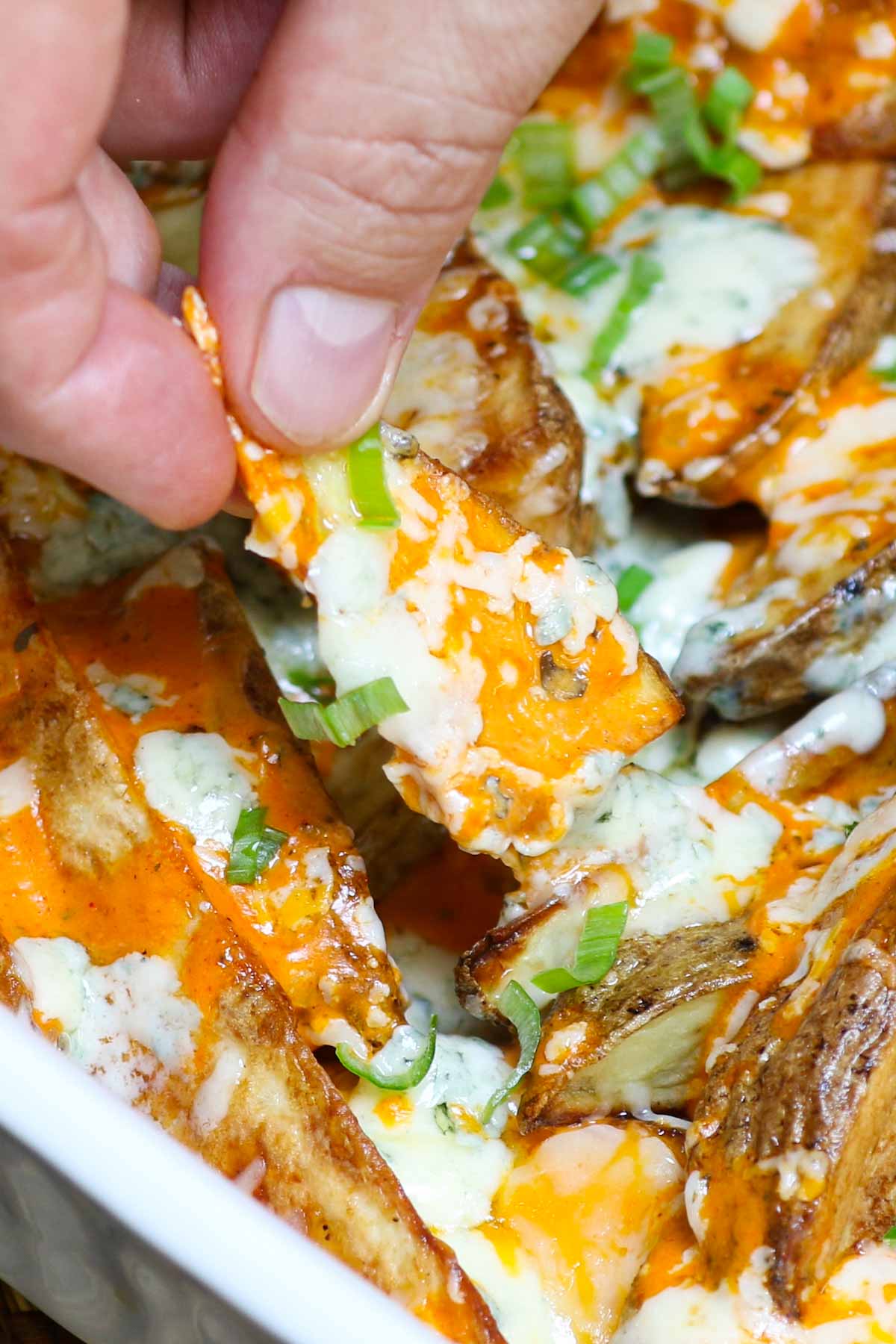 Buffalo Ranch Fries
These Buffalo Fries are an easy copycat recipe for Wingstop's Buffalo Ranch Fries! Crispy homemade french fries are loaded with Buffalo chicken wing flavors and topped with cheddar and blue cheese.
Ingredients
Fries
3 pounds russet potatoes, cut into wedges (see note)
3 tablespoons canola oil, or sunflower oil
Buffalo Ranch Sauce
1 cup buffalo wing sauce
3 tablespoons ranch mix, or ½ cup ranch dressing
Toppings
4 ounces cheddar cheese, freshly grated
4 ounces gorgonzola, or other blue cheese, crumbled
2 green onions, minced
salt and pepper, to taste
Instructions
Preheat oven to 425°F, placing the oven rack in the upper middle position. Turn on the convection or forced air if available. Line a large baking sheet with parchment and set aside.

For homemade fries: Scrub the potatoes under running water and place on a work surface. Cut away any blemishes. Then cut the potatoes into halves. Cut each half lengthwise into halves again. Then cut each quarter into two wedges. Place the potatoes in a mixing bowl and toss with the oil until coated evenly.

Scatter the potatoes evenly across the prepared baking sheet in a single layer. Bake until golden and tender, about 20 to 30 minutes, giving them a shake halfway through for even browning. You can also prepare the sauce and toppings while the fries are baking.

Stir the buffalo wing sauce and ranch together in a small saucepan over medium-low heat. As soon as it bubbles, reduce heat to the lowest setting to keep warm and reserve.

Remove the potatoes from the oven and transfer to a rectangular ovenproof pan. Turn on the broiler.

Drizzle the wing sauce evenly across the potatoes. Sprinkle the cheddar cheese on top followed by the crumbled gorgonzola/blue cheese.

Put the pan into the oven to broil for 2 to 4 minutes, or just until the cheese is starting to bubble. (Note: If your broiler is weak, you may need to move the oven rack higher so the fries are about 3 inches from the broiler.)

Remove the buffalo fries from the oven. Garnish with green onions and serve warm.
Notes
To save time, you can use store-bought frozen French fries instead of homemade.
Salt and pepper: Note that this dish can already be quite salty from the buffalo and ranch sauces. Therefore, added salt may not be necessary.
Storage: Buffalo fries can be stored in the refrigerator for up to 3 days in an airtight container and reheated in the oven for 5 to 7 minutes at 375°F. Do not freeze.
Nutrition Facts
Buffalo Ranch Fries
Amount per Serving
% Daily Value*
* Percent Daily Values are based on a 2000 calorie diet.
Please read our nutrition disclaimer.
© TIPBUZZ. Images and text on this website are copyright protected. Please do not post or republish without permission. If you want to republish this recipe, please link back to this post. This post may contain affiliate links. Read the disclosure policy here.