The Best Slow Cooker Pulled Pork
This Slow Cooker Pulled Pork is the tenderest and most flavorful homemade barbecue with no smoking required. It's a budget-friendly meal that's easy to make with only 10 minutes of prep. Perfect for a party!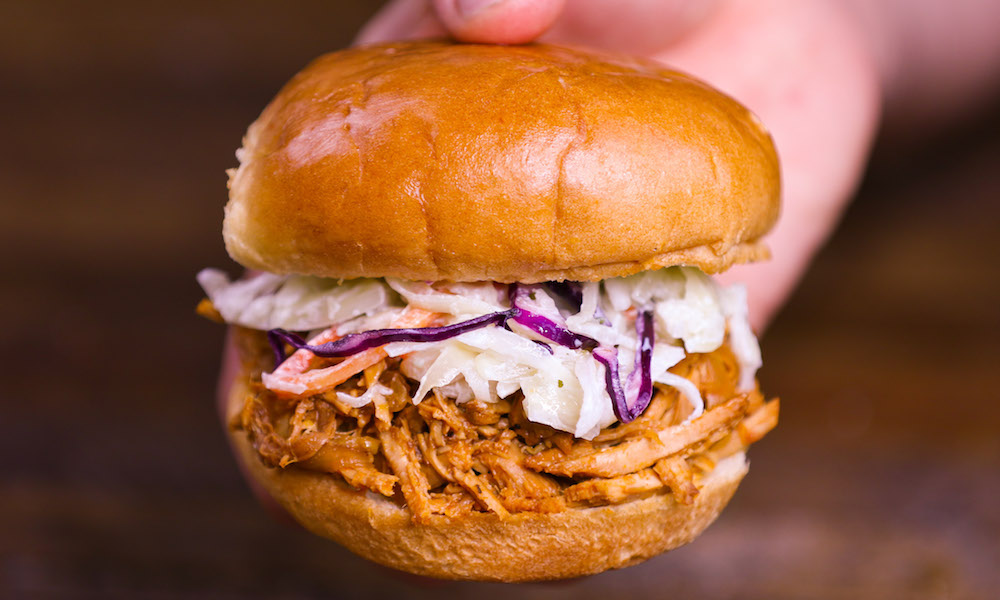 Let your slow cooker do the work with this no-fuss pulled pork recipe! Nothing beats pulled pork for a party and it also makes an addictive weeknight dinner along with our Slow Cooker Honey Garlic Chicken and Slow Cooker Beef Stew.
It's perfect for game day, Fourth of July and any other get-together. Serve it as pulled pork sandwiches with hamburger buns and coleslaw and you'll be able to sense the excitement in the room! If you're pressed for time, try Instant Pot Pulled Pork or stovetop Pulled Pork which take less than 2 hours.
Selecting the Right Cut of Pork
A pork shoulder roast is an ideal cut for pulled pork because it has the best flavor. Pork shoulder is also called pork butt or Boston butt. Bone-in has slightly better flavor, although boneless will do just fine.
If you can't find pork shoulder, then you can use pork loin, also called a center cut roast. Some people prefer it as a leaner cut, although it has slightly less flavor and doesn't shred as easily.
A pork tenderloin should not be used since it is easily overcooked.
You can also easily use a frozen pork roast and get the same result, just plan to cook on the higher end of the time range.
What Size Pork Roast to Buy
While I've suggested a 3 lb pork roast, they are often cut into different sizes. It's no problem to use a larger or smaller roast.
Tips for Larger Roasts
Increase your other ingredient amounts proportionately
Cut the pork into several pieces to fit into the slow cooker
Add a half hour of extra cooking time for each additional pound.
Count on ¼ lb of pork per serving, so a 3 lb roast will serve about 12 people… 
How to Make Slow Cooker Pulled Pork
This may be the easiest recipe you ever make. Simply add the pork to the slow cooker along with the onion, garlic, BBQ sauce, chicken broth, paprika, salt and pepper.
Then cook on high for at least 6-10 hours depending on the strength of your crock pot.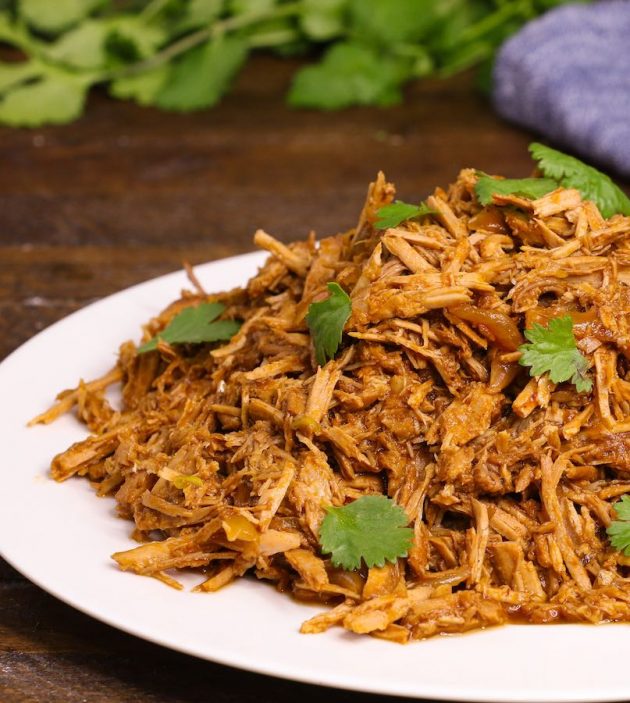 You can season with salt and pepper before cooking of after. The amount of salt depends on the BBQ sauce. I like the flavor of Sweet Baby Ray's, but use whatever you like best.
After cooking, there'll be a nice quantity of cooking liquid in the slow cooker. You may wish to use a fat separator to drain off excess fat before shredding and serving.
You can shred the meat directly in the slow cooker using two forks or meat shredding claws. You can keep the pulled pork in your crock pot on a warm setting for hours, so really easy for serving at a party.
Tips and Secrets for Making the Best Pulled Pork
You can use pork loin instead of pork shoulder, although it may be less flavorful. Avoid pork tenderloin, which can be easily overcooked.
A larger or smaller piece of pork is fine, as long as it fits in the slow cooker. Just adjust the other ingredient amounts proportionately.
A 6-quart slow cooker is ideal, but any 4-8 quart crock pot will work too.
If you have extra time, rub the pork with the sauce, garlic and paprika before cooking. Wrap in plastic wrap and store in the fridge for 2 hours to marinate for the best flavor.
To reduce the amount of fat in the cooked pork, use a spoon to skim some of it off the surface or an even better option is to pour the liquid into a fat separator.
How to Serve Pulled Pork
If you want an incredible meal, serve this pulled pork on hamburger buns with your favorite cole slaw. Your entire family will love it including the kids!
I like using brioche buns or Hawaiian sweet rolls for a treat although regular hamburger buns work well.
To make a complete Southern plate, pair with macaroni and cheese, baked beans, cornbread and some corn.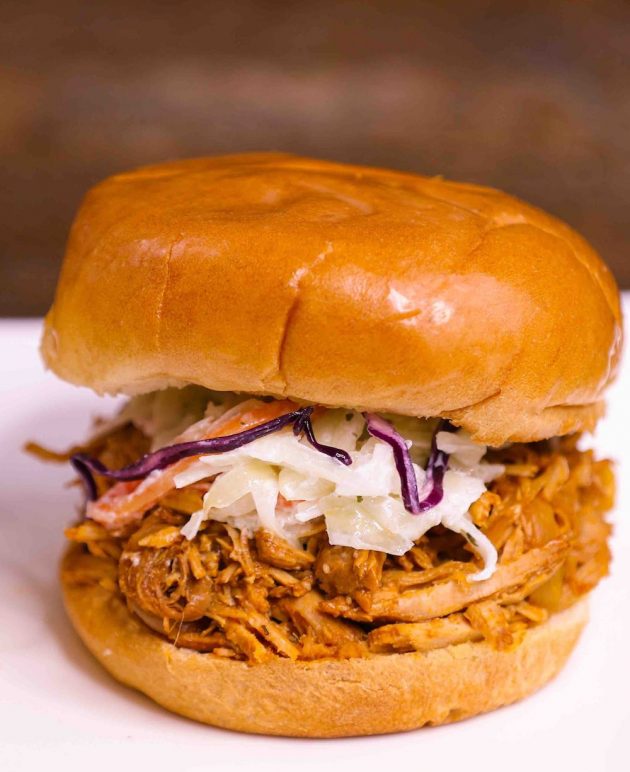 Make Ahead Tips
Slow cooker pulled pork can be made ahead of time, which is super convenient when you're hosting a party.
You can store pulled pork for up to 3 days in the fridge, and then reheat leftovers for 45 minutes on HIGH in the slow cooker.
Pulled pork also freezes really well for up to a month in an airtight container. Simply reheat by placing it back in the slow cooker on HIGH for 2-3 hours.
Slow Cooker Pulled Pork
This Slow Cooker Pulled Pork is the tenderest and most flavorful homemade barbecue with no smoking required. It's a budget-friendly meal that's easy to make with only 10 minutes of prep. Perfect for a party!
Ingredients
3 lbs pork shoulder, boneless or bone-in
1/2 large onion, sliced thin
1 tbsp paprika, or smoked paprika
3 cloves garlic, minced or pressed
1 cup BBQ sauce
1/2 cup chicken broth, or water
salt and pepper to taste
Serving - optional
12 hamburger buns
cole slaw
pickles
Instructions
Slice off any excess fat from the pork as desired, and add to the slow cooker.

Add the other ingredients to the slow cooker.

Cover and cook on medium/high for 6-8 hours or until fork tender.

Shred with two forks or meat shredding claws. You may wish to add some more BBQ sauce for a saucier texture.

Serve warm with optional hamburger buns, cole slaw and pickles. Enjoy!
Notes
If you have the time, rub the seasonings into the pork roast, wrap in plastic wrap and store in the fridge for 2 hours to marinate and get the best flavor.
Nutrition Facts
Slow Cooker Pulled Pork
Amount Per Serving
Calories 268 Calories from Fat 54
% Daily Value*
Fat 6g9%
Saturated Fat 2g10%
Cholesterol 46mg15%
Sodium 548mg23%
Potassium 378mg11%
Carbohydrates 32g11%
Fiber 1g4%
Sugar 10g11%
Protein 18g36%
Vitamin A 330IU7%
Vitamin C 2.6mg3%
Calcium 96mg10%
Iron 2.6mg14%
* Percent Daily Values are based on a 2000 calorie diet.
Please read our nutrition disclaimer.
Looking for more party recipes?
© TIPBUZZ. Images and text on this website are copyright protected. Please do not post or republish without permission. If you want to republish this recipe, please link back to this post. This post may contain affiliate links. Read the disclosure policy here.