Mac and Cheese Taco Shells
These Mac and Cheese Taco Shells are an easy appetizer to make for a party! Simple stuff mini taco shells with mac and cheese and your favorite topping. So much more interesting than your usual nachos!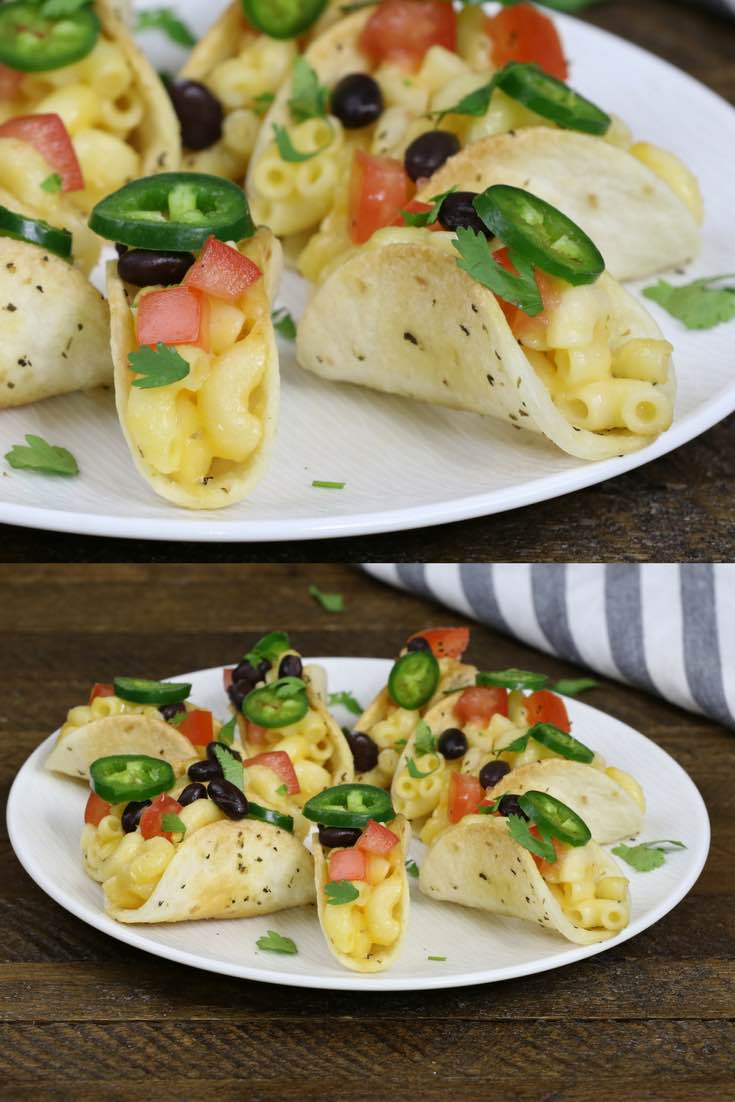 These bite size appetizers always make a big impression at a party! They're crispy on the outside with creamy mac and cheese in the middle. You can garnish them with your favorite toppings such as sliced jalapenos, tomatoes, olives and more.
You can make the mac and cheese from scratch or use store-bought to save time. Either way, they're delicious and we always get requests for Game Day!
How to Make Mac and Cheese Taco Shells
To make the shells, we cut circular pieces out of large flour tortillas. Then place them in an inverted muffin pan to bake in a 400 degree F oven until crispy.
The next step is stuffing them with mac and cheese, which you can do with your fingers. For the toppings, you can either add them in advance or let your guests add their own at a buffet.
Watch Recipe Video
Watch this video tutorials to see how to make mac and cheese taco shells:
Can I make them ahead of time?
Yes, you can make these up to 4 hours ahead and store covered with plastic wrap in the fridge. Before serving, microwave on high power for 2-3 minutes until heated through.
More taco recipes: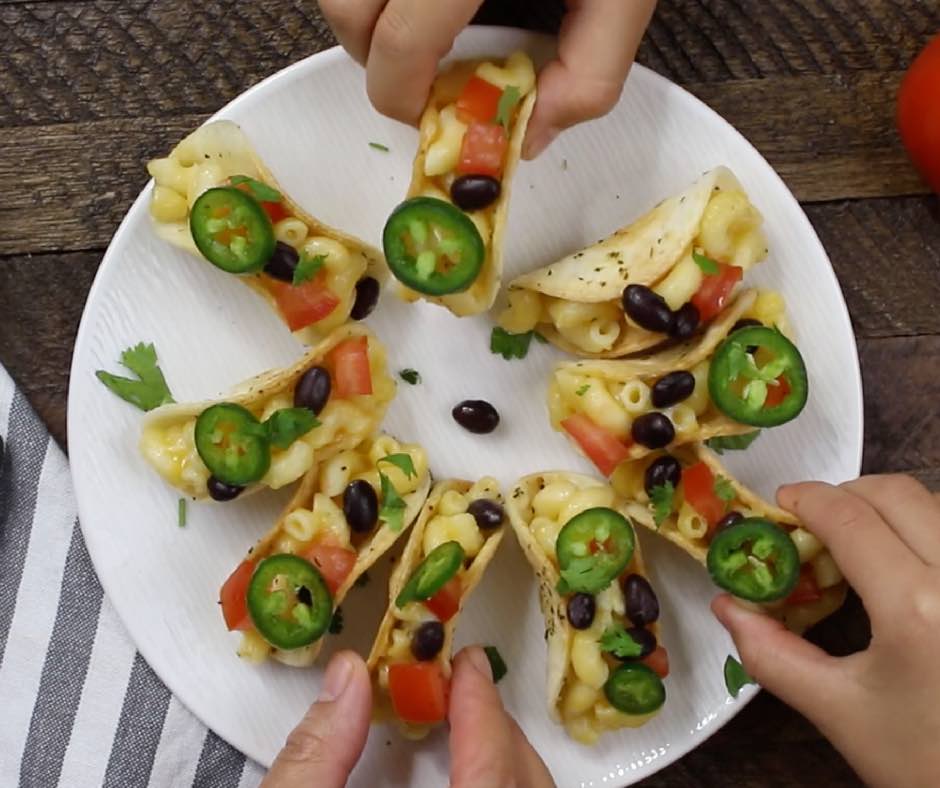 Mac and Cheese Taco Shells
Mac and Cheese Tacos are mini bite size tacos stuffed full of mac and cheese with your favorite garnishes on top. Perfect for a party!
Ingredients
Mac and Cheese
1/2 cup elbow pasta, 4oz
1/2 cup water
1/4 tsp salt
1/4 cup milk
1/4 tsp garlic powder
3/4 cup shredded cheddar cheese
Tortilla Tacos
5-6 pieces flour tortillas, 6-8 inch size
3 tbsp olive oil
1 tsp Italian seasoning
1 tsp garlic powder
1/2 cup black beans
1 medium tomato, diced
2 medium jalapeño peppers, sliced
fresh cilantro, optional garnish
Instructions
Preheat oven to 400°F. Set aside a 12-cup muffin pan.

Cut 4-5 circles from each tortilla using a circular cookie cutter until you have 20-25 total.

In a medium mixing bowl, add olive oil, Italian seasoning and garlic powder, and mix well.

Place the circular tortilla pieces into the mix. Toss until coated.

Flip the muffin tin upside down. Place the tortilla pieces in between muffin cups according to the video. Bake 6 minutes.

Cook pasta according to the package. Pour in the milk and garlic powder. Stir in cheese and microwave for 30 seconds or until creamy.

Remove tacos from oven and spoon mac and cheese into them.

Top with black beans, bell pepper, jalapeno and garnish with cilantro. Serve and enjoy!
Nutrition Facts
Mac and Cheese Taco Shells
Amount per Serving
% Daily Value*
* Percent Daily Values are based on a 2000 calorie diet.
Please read our nutrition disclaimer.
Recipe tools (affiliate links):
© TIPBUZZ. Images and text on this website are copyright protected. Please do not post or republish without permission. If you want to republish this recipe, please link back to this post. This post may contain affiliate links. Read the disclosure policy here.