Funnel Cake Fries
Funnel Cake Fries are delicious snacks that are crispy on the outside and fluffy on the inside. This state fair-inspired funnel cake recipe is easy to make in 20 minutes. Perfect for a party served with your favorite dipping sauces!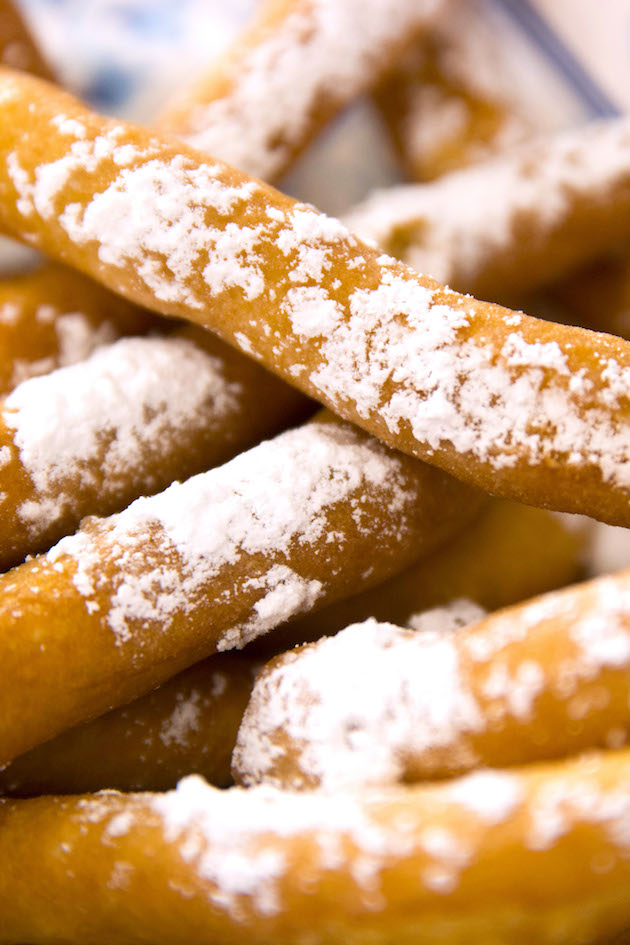 Funnel cake fries are an irresistible snack that's so much fun to share. They're golden on the outside with a light and airy texture that's totally irresistible. The best part? You can make these funnel cake sticks using pantry ingredients.
What is Funnel Cake?
Funnel cake fries are a popular carnival and fair food in the US. They are essentially funnel cake batter that is fried as long, thin pieces resembling french fries.
Unlike traditional funnel cakes, which are served in a circular shape, funnel cake fries can be eaten on-the-go and served with various dipping sauces including marshmallow fluff, caramel or chocolate.
What Do Funnel Cake Fries Taste Like?
Funnel cake fries have a sweet, buttery flavor that is similar to a funnel cake. The outside is crispy and golden, while the interior is light and cakey.
Ingredients You'll Need
all-purpose flour
baking powder
salt
eggs
sugar
milk
vanilla extract
vegetable oil for frying
How to Make Funnel Cake Fries
Here's how to make funnel cake batter from scratch:
Dry ingredients: all-purpose flour, baking powder, sugar, salt
Wet ingredients: eggs, milk, vanilla extract
Oil for frying: vegetable oil, canola oil, sunflower oil all work well
Dipping sauces (optional): caramel sauce or marshmallow fluff
You make the batter by combining the wet and dry ingredients, just like pancake batter. Use a squeeze bottle or clean ketchup bottle to dispense the batter. Follow these steps to make funnel fries: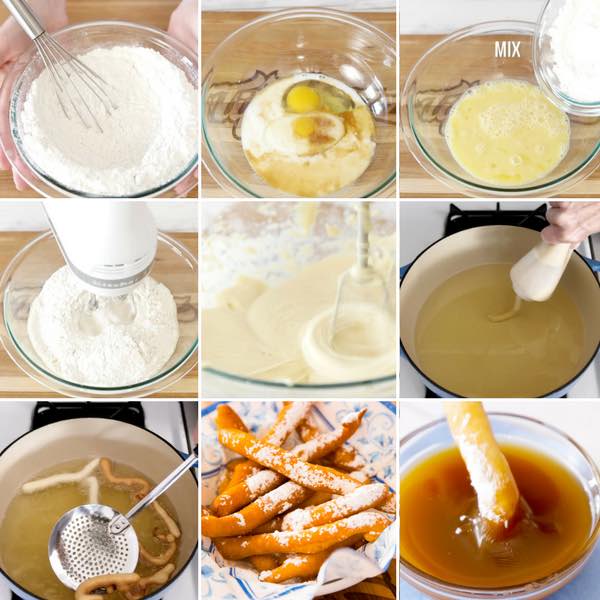 Tips and Tricks
The batter should have the consistency of a runny pancake batter, just thick enough to not drip, to stay produce moist funnel cake fries.
Fry at 375°F (190°C) to get crispy and golden funnel cake fries. Any lower and the fries will turn out greasy and undercooked. Any higher and they'll come out dark.
Use a slotted spoon or stainless steel tongs to turn the fries and remove them from the oil. The fries can be delicate and this prevents them breaking apart.
How to Serve Funnel Cake Fries
Traditionally they are dusted with powdered sugar or cinnamon sugar, just like funnel cakes.
Serve them with a scoop of vanilla ice cream on top for a sweet and indulgent treat.
Try topping with chocolate syrup, caramel sauce, whipped cream, and/or sprinkles.
For a savory twist, serve them with a sprinkle of sea salt and a side of spicy ketchup or garlic aioli.
Traditionally, funnel cake fries are served in a basket lined with a checkered napkin.
How to Make Marshmallow Dipping Sauce for Funnel Cake Fries
Marshmallow dipping sauce is a sweet and gooey sauce that pairs perfectly with funnel cake fries. To make it, combine marshmallow fluff and milk over low heat, stirring continuously until melted and smooth. Stir in vanilla extract and remove from the heat to serve. Note: you can adjust the amount of milk to reach your desired consistency.
How to Store Leftover Funnel Cake Fries
Funnel cake fries should cool to room temperature before storing to avoid condensation. Place them in an airtight container and refrigerate for up to 3 days. You can also store at room temperature if you prefer. Alternatively, you can also freeze for up to 3 months.
How Long Will Homemade Funnel Cake Fries Last?
Homemade funnel cake fries will typically last for 1-2 days if stored properly. To maximize their shelf life, store in an airtight container or sealed plastic bag and refrigerate.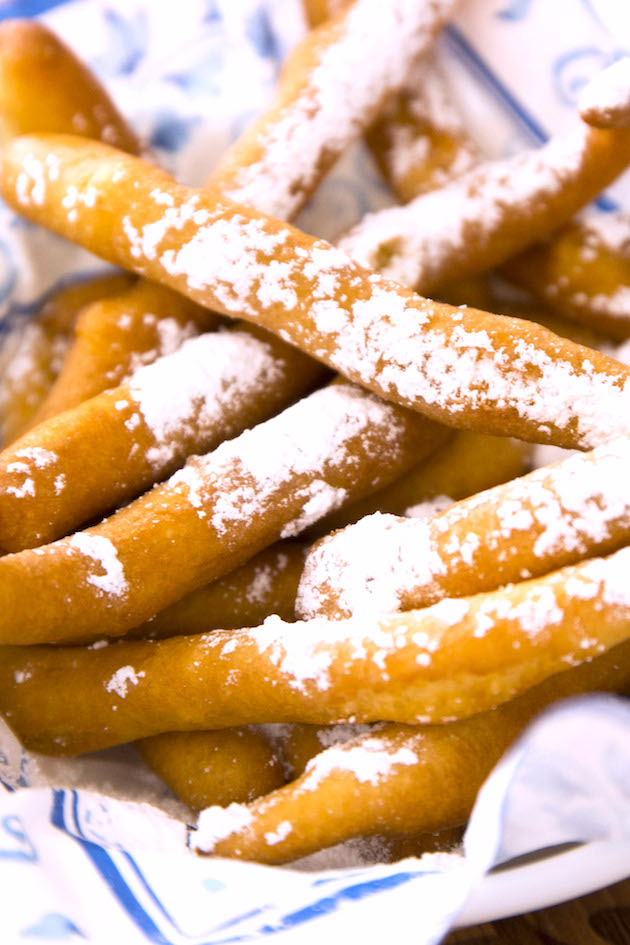 FAQ
What Are Funnel Fries Made of?
The batter used for funnel fries consists of flour, sugar, baking powder, salt, eggs, milk, and vanilla extract. The batter is deep fried in hot vegetable oil until crispy and dusted with powdered sugar to serve.
Are Funnel Cake Fries the Same as Churros?
Funnel cake fries and churros are not the same even if the ingredients are similar. Funnel cake batter is runnier and produces a fluffy texture, while churros are more of a more substantial pastry dough. Also, funnel cake has a smooth surface, while churros go through are star-shaped nozzle for a rippled surface.
Can I Make Funnel Cake Fries in An Air Fryer?
Yes, you can make funnel cake fries in an air fryer at 375°F (190°C). Spray the hot air fryer basket with nonstick cooking spray and then pipe in the batter. Fry for 5 to 7 minutes until golden.
What Are the Best Dips for Funnel Cake Fries?
Besides marshmallow dip, some of our favorite dips for funnel cake fries include caramel sauce, chocolate sauce, cream cheese frosting or fruit compote. A dipping sauce alternative is to dust with powdered sugar.
How to Make Funnel Cake with Pancake Mix?
While you can sometimes find funnel cake mix in stores, pancake mix is a close approximation. Just follow the package instructions and whisk away any lumps that could clog up your funnel! The texture should resemble that of a runny cake batter.
More Carnival and Fair Recipes:
Recipe Video: Funnel Cake Fries
Watch this tutorial to see how to make funnel cake fries:
Funnel Cake Fries
Funnel Cake Fries are a mouthwatering snack that's crispy on the outside and fluffy on the inside. Make them at home in just 20 minutes and serve with caramel sauce or marshmallow fluff. Perfect for parties!
Ingredients
Funnel Cake Batter
2 cups all-purpose flour
1 tsp baking powder
1/2 tsp salt
2 large eggs
1/4 cup sugar
3/4 cup milk
1 tsp vanilla
Instructions
In a medium bowl, whisk together the flour, baking powder and salt.

In another bowl, whisk the eggs, sugar, milk and vanilla together until frothy.

Add the flour mixture to the egg mixture and blend until smooth, ensuring no lumps.

Add oil to a medium saucepan or deep fryer and heat to 350°F (177°C). Set aside a wire rack or a plate lined with paper towel.

Add batter to squeeze bottle or medium funnel.

Pipe the batter into hot oil 5-7 straight lines at a time. Fry 30-60 seconds or until golden brown.

Using a mesh strainer or slotted spoon, carefully remove fries to the prepared rack or plate.

Dust with optional powdered sugar and serve with optional dipping sauce.
Notes
Funnel cake fries are best served fresh. However, you can make them several hours ahead of time and reheat in the oven at 350°F (177°C) for about 5 minutes.
Nutrition Facts
Funnel Cake Fries
Amount per Serving
% Daily Value*
* Percent Daily Values are based on a 2000 calorie diet.
Please read our nutrition disclaimer.

© TIPBUZZ. Images and text on this website are copyright protected. Please do not post or republish without permission. If you want to republish this recipe, please link back to this post. This post may contain affiliate links. Read the disclosure policy here.