Funnel Cake Fries
Funnel Cake Fries are delicious snacks that are crispy on the outside and fluffy on the inside. This state fair-inspired funnel cake recipe is easy to make in 20 minutes. Perfect for a party served with your favorite dipping sauces!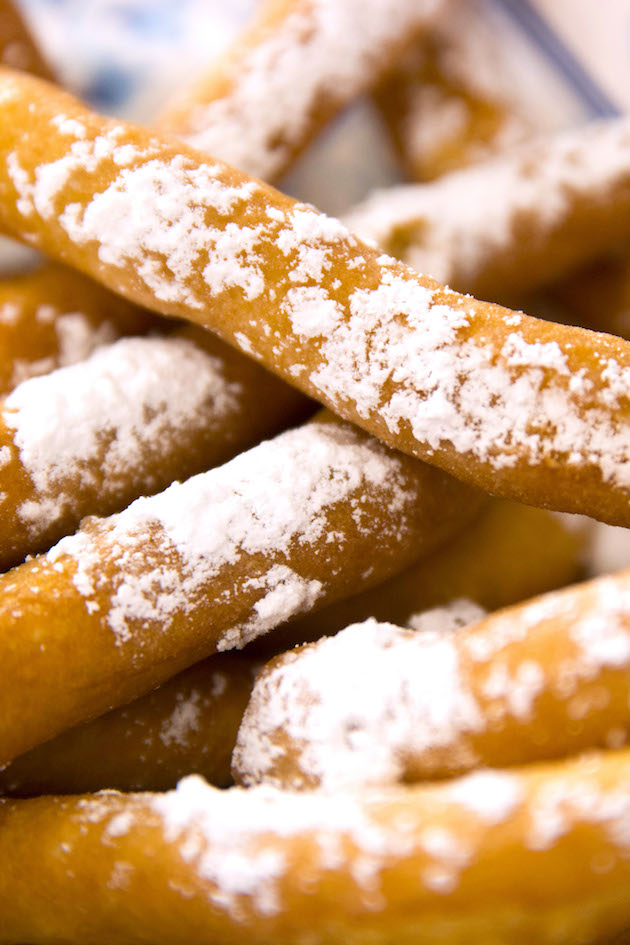 Funnel cake fries are an irresistible snack that's so much fun to share. They're golden on the outside with a light and airy texture that's totally irresistible. The best part? You can make these funnel cake sticks using pantry ingredients.
What is Funnel Cake?
Funnel cake got its name when European settlers brought the technique of pouring cake batter into hot oil through a funnel into hot oil. The batter would form a squiggly, pancake-like dessert that would be topped with powdered sugar, fruits and whipped cream.
Nowadays squeeze bottles have replaced funnels, and baking powder has replaced yeast, but the concept is still the same. Funnel cake is making a big comeback at Disneyland and Checkers, although Burger King Funnel Cake Fries are the sizzle!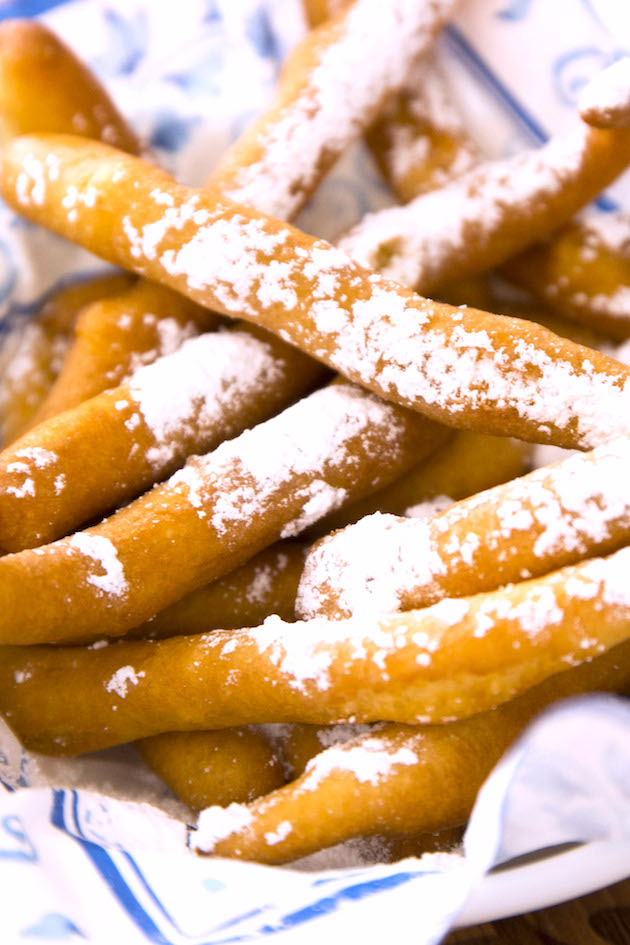 How to Make Funnel Cake Fries
Here's how to make funnel cake batter from scratch:
Dry ingredients: all-purpose flour, baking powder, sugar, salt
Wet ingredients: eggs, milk, vanilla extract
Oil for frying: vegetable oil, canola oil, sunflower oil all work well
Dipping sauces (optional): caramel sauce or marshmallow fluff
You make the batter by combining the wet and dry ingredients, just like pancake batter. Use a squeeze bottle or clean ketchup bottle to dispense the batter. Follow these steps to make funnel fries: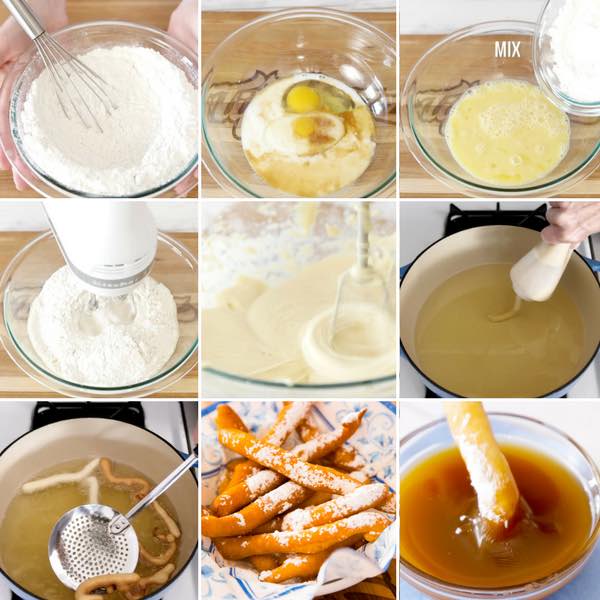 You'll need a deep fryer or medium saucepan plus a mesh strainer to lift out the funnel cakes.
Traditionally, funnel cake fries are served in a basket lined with a checkered napkin. It's also fun to put out caramel sauce or marshmallow fluff as funnel cake toppings or dipping sauces.
Watch Recipe Video
This tutorial shows you how to make them from scratch:
How to make funnel cake with pancake mix?
While you can sometimes find funnel cake mix in stores, pancake mix is a close approximation. Just follow the package instructions and whisk away any lumps that could clog up your funnel! The texture should resemble that of a runny cake batter.
More DIY carnival treats:
Funnel Cake Fries
Funnel Cake Fries are a mouthwatering snack that's crispy on the outside and fluffy on the inside. Make them at home in just 20 minutes and serve with caramel sauce or marshmallow fluff. Perfect for parties!
Ingredients
Funnel Cake Batter
2 cups all-purpose flour
1 tsp baking powder
1/2 tsp salt
2 large eggs
1/4 cup sugar
3/4 cup milk
1 tsp vanilla
Instructions
In a medium bowl, whisk together the flour, baking powder and salt.

In another bowl, whisk the eggs, sugar, milk and vanilla together until frothy.

Add the flour mixture to the egg mixture and blend until smooth, ensuring no lumps.

Add oil to a medium saucepan or deep fryer and heat to 350°F (177°C). Set aside a wire rack or a plate lined with paper towel.

Add batter to squeeze bottle or medium funnel.

Pipe the batter into hot oil 5-7 straight lines at a time. Fry 30-60 seconds or until golden brown.

Using a mesh strainer or slotted spoon, carefully remove fries to the prepared rack or plate.

Dust with optional powdered sugar and serve with optional dipping sauce.
Notes
Funnel cake fries are best served fresh. However, you can make them several hours ahead of time and reheat in the oven at 350°F (177°C) for about 5 minutes.
Nutrition Facts
Funnel Cake Fries
Amount per Serving
% Daily Value*
* Percent Daily Values are based on a 2000 calorie diet.
Please read our nutrition disclaimer.

Editor Note: Originally published on August 13, 2016 and last updated June 27, 2019
© TIPBUZZ. Images and text on this website are copyright protected. Please do not post or republish without permission. If you want to republish this recipe, please link back to this post. This post may contain affiliate links. Read the disclosure policy here.