Cinnamon Roll S'Mores
Cinnamon Roll S'mores combine traditional smores with cinnamon rolls for a deliciously moist treat. They're easy to make using an oven, grill or campfire!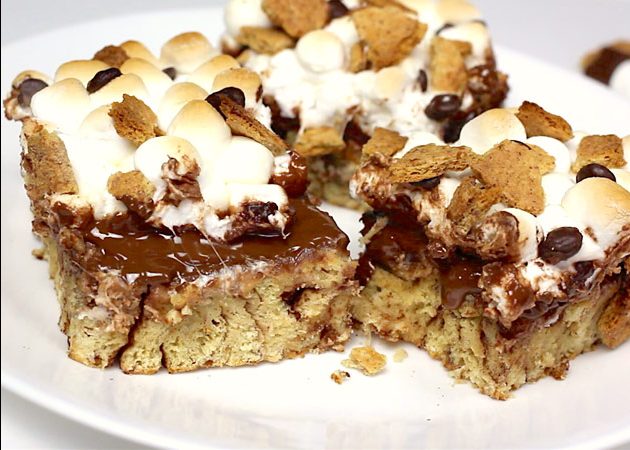 This easy recipe is full of cinnamon roll, gooey marshmallows, graham crackers and melted chocolate goodness. It's guaranteed to satisfy any and all craving for s'mores.
How to Make Cinnamon Roll S'mores
You can make this recipe in the oven or using a grill or campfire:
Oven: Place the cinnamon rolls in a 9×13 baking pan and bake at 400°F or according to the package directions. Layer the chocolate, marshmallows and graham crackers on top and bake for several minutes until partially melted.
Grill: Place the cinnamon rolls into a double layer of aluminum foil. Place foil over the top to seal and place on a grill  preheated to 400°F to bake. Add the layers following the oven instructions, reseal and finish baking on the grill.
Campfire: Follow the grill instructions, setting the grates six inches above the coals.
This dessert is best served warm just like regular s'mores.
Watch Recipe Video
This quick video tutorial shows how to make it:
More S'mores Recipes:
Cinnamon Roll S'Mores
These Cinnamon Roll S'mores combine traditional smores ingredients with cinnamon rolls for a deliciously moist treat. You can make them in the oven or on the grill or campfire!
Ingredients
15 oz refrigerated cinnamon rolls, one can, Pillsbury or other
20 oz milk chocolate, Hershey recommended
1 cup chocolate chips
16 oz mini marshmallows
1 cup graham cracker crumbs, or 2 sheets crushed
Instructions
Preheat oven or grill to 400°F.

Open the cinnamon roll package and arrange in a single layer of a 9x13 rectangular baking pan. (If using a grill or campfire, then use a flameproof pan or make a container out of aluminum foil.)

Bake for 10-15 minutes until the cinnamon rolls are puffy, but not completely done. Flatten them down using a large spatula.

Drizzle and spread the cinnamon roll icing over the rolls. Then arrange the milk chocolate evenly across the top. Sprinkle on the marshmallow, chocolate chips and graham cracker crumbs.

Put the pan back in the oven or on the grill for 5 more minutes, or until the chocolate is shiny and melted.

Remove from the oven or grill and cool slightly. Serve warm.
Notes
Make Ahead: This recipe will last for one day on an airtight container at room temperature. 
Nutrition Facts
Cinnamon Roll S'Mores
Amount Per Serving
Calories 567 Calories from Fat 216
% Daily Value*
Fat 24g37%
Saturated Fat 13g65%
Polyunsaturated Fat 1g
Monounsaturated Fat 3g
Cholesterol 11mg4%
Sodium 369mg15%
Potassium 31mg1%
Carbohydrates 88g29%
Fiber 1g4%
Sugar 57g63%
Protein 8g16%
Vitamin A 100IU2%
Calcium 100mg10%
Iron 2mg11%
* Percent Daily Values are based on a 2000 calorie diet.
Please read our nutrition disclaimer.
Recipe tools:
© TIPBUZZ. Images and text on this website are copyright protected. Please do not post or republish without permission. If you want to republish this recipe, please link back to this post. This post may contain affiliate links. Read the disclosure policy here.