Easy Smothered Pork Chops
Smothered Pork Chops in a deliciously creamy and rich onion gravy to rival any restaurant! Simple, easy and comforting.
Southern style smothered pork chops are tender, juicy and full of flavor, with extra sauce to serve with your pork chops and sides.  Nothing compares to this super fast and easy smothered pork chops! Perfect for weeknight or weekend cooking.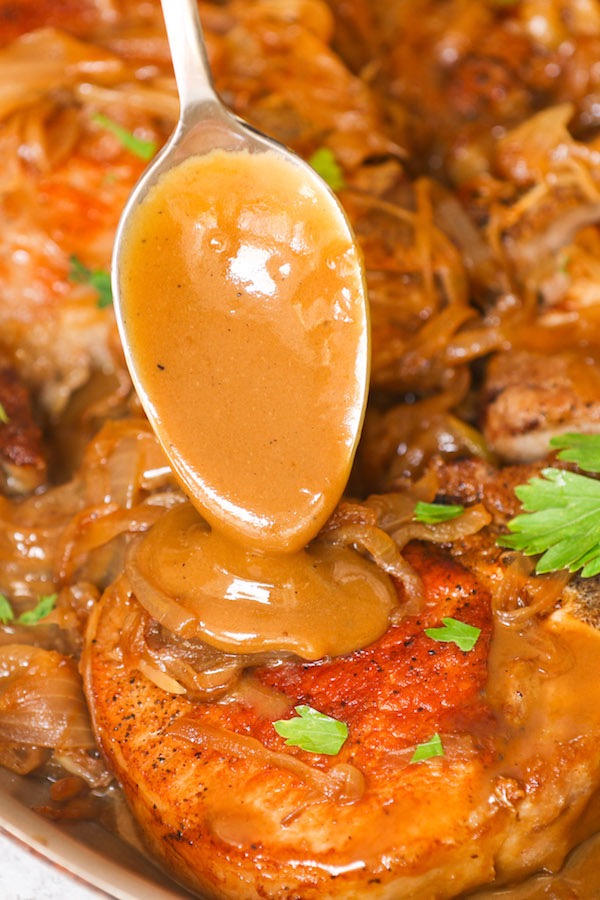 SMOTHERED PORK CHOPS
A Southern classic comfort food, these Smothered Pork Chops are easily made in one pan with golden pan-fried pork chops, lots of onions and creamy gravy. Totally irresistible!
HOW TO MAKE PERFECT SMOTHERED PORK CHOPS AT HOME
We use bone-in, 1-inch thick pork chops. You can use boneless pork chops and adjust cooking time so that they won't be overcooked. Brown the pork chops first to get the outside nice and crispy.
Cook onions and the sauce in the same pan as the pork chops. Don't clean away any pork bits from the pan as they add extra flavour into the sauce!
We use buttermilk instead of milk for the best creamy and delicious flavor.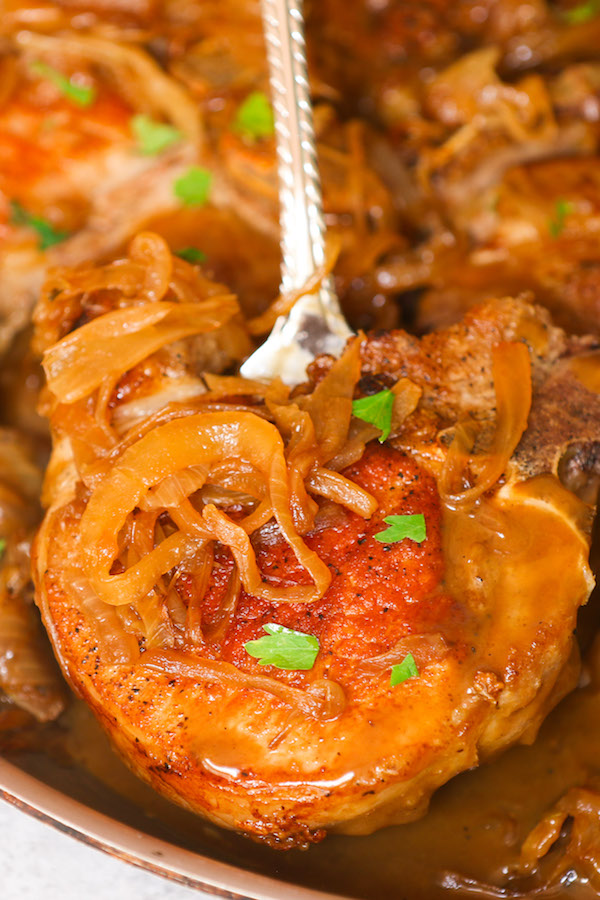 HOW TO MAKE SMOTHERED PORK CHOPS SAUCE
Onions might seem to be too much before you cook them. Don't worry, because they will cook down and shrink considerably.
Make sure your onion slices are soft and caramelized before you add liquid.
Many recipes call for milk or half and half for the gravy. However, I found buttermilk is the secret ingredient that produces the best creamy and delicious flavor.
If you use half and half, be sure not to bring your sauce to boil quickly as it may curdle.
Let your sauce thicken enough before you add in pork chops, otherwise, you might overcook pork chops.
WHAT TO SERVE WITH SMOTHERED PORK CHOPS
This Onion Smothered Pork Chops make lots of creamy gravy that you can pour over rice, pasta, potatoes or mashed potatoes. You can serve vegetables such as broccoli, green beans and mushrooms.
EQUIPMENT AND TOOLS TO MAKE THIS SMOTHERED PORK CHOP RECIPE
Easy Smothered Pork Chops
Smothered Pork Chops in a delicious creamy and rich onion gravy rival any restaurant! Simple, easy and comforting.
Ingredients
Pork Chops
4 large bone-in pork chops, about 1 inch thick
1/2  teaspoons  salt
1/2 teaspoons ground pepper
2 tablespoons vegetable oil
Onion Gravy
1 large onion, sliced
1 tablespoon vegetable oil
3 cloves garlic, minced
1 ½ tablespoons all-purpose flour
1 ½ cups chicken broth
¼ cup buttermilk
¼ cup water
salt & pepper to taste
Instructions
Season pork chops with salt and black pepper on both sides. In a large skillet, heat oil over medium-high heat. Sear pork chops until golden brown on both sides, about 5-7 minutes per side, until the internal temperature reaches 145 degrees F. Transfer pork chops and juices to a plate.

In the same skillet, add oil and reduce heat to medium, then add onion slices. Stir constantly until onion is browned and caramelized, about 12 to 15 minutes. Add in garlic and flour, stir for about 3 minutes.

Add chicken broth, buttermilk, water and juices from pork chops into skillet. Stir and mix well. Bring the mixture to a simmer and reduce heat to low. Cook until sauce is thickened, for about 15 minutes.

Add pork chops back into the skillet, spoon sauce over to coat.

Adjust levels of salt and pepper and serve pork chops with onions and gravy
Nutrition Facts
Easy Smothered Pork Chops
Amount per Serving
% Daily Value*
* Percent Daily Values are based on a 2000 calorie diet.
Please read our nutrition disclaimer.
More pork chop recipes:
© TIPBUZZ. Images and text on this website are copyright protected. Please do not post or republish without permission. If you want to republish this recipe, please link back to this post. This post may contain affiliate links. Read the disclosure policy here.