Roti
Roti is a soft and pliable flatbread that's perfect for serving with curries and other Indian and West Indies dishes. Learn how to make homemade roti bread step-by-step the easy way!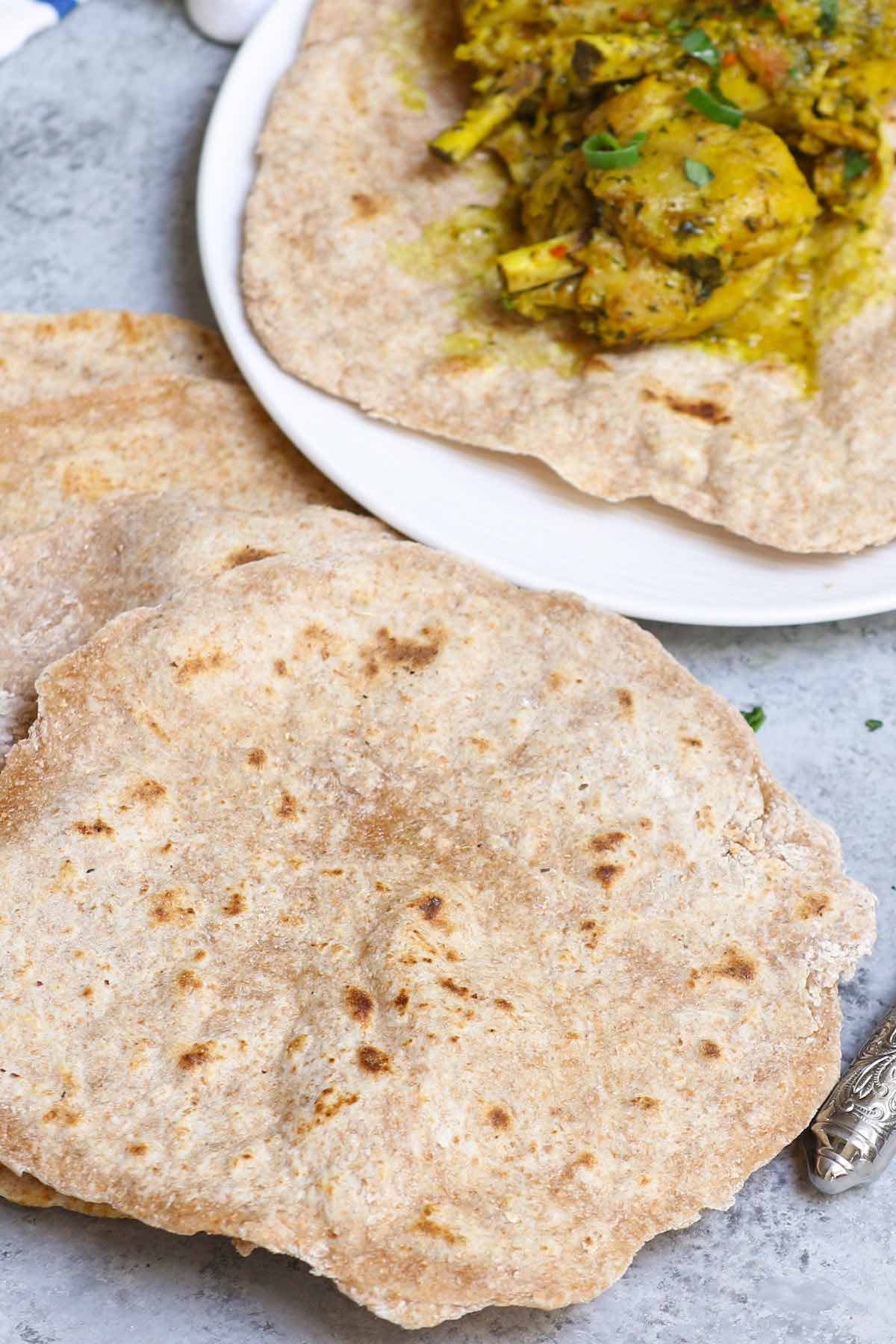 This soft and pliable flatbread is one of my all-time favorites. So simple to make and so versatile, since you can use it scoop up curry dishes while soaking up the delicious sauces. Totally irresistible!
Anyone can make roti bread, as there's no leavening required. In spite of some complicated recipes out there, you'll find this recipe failproof and easy to make.
What is Roti
Roti is an unleavened flatbread popular in India, the Caribbean and some Latin American countries. It's made in a skillet or a tandoor, puffing up from the heat while cooking.
Indian Roti: The foundation is atta, a finely-milled whole wheat flour that's also used in breads such as chapati, puris and paratha. Other ingredients include water and sometimes salt and/or oil.
West Indies Roti: Recipes in Trinidad and Jamaica usually use all-purpose flour and baking powder to make a thicker bread. Sometimes up to half the liquid is coconut milk instead of just water.
Roti vs Naan: The former is a plain unleavened bread made with whole wheat flour and no flavorings, while naan is a fancier leavened bread made using all-purpose flour and seasonings or fillings in some cases.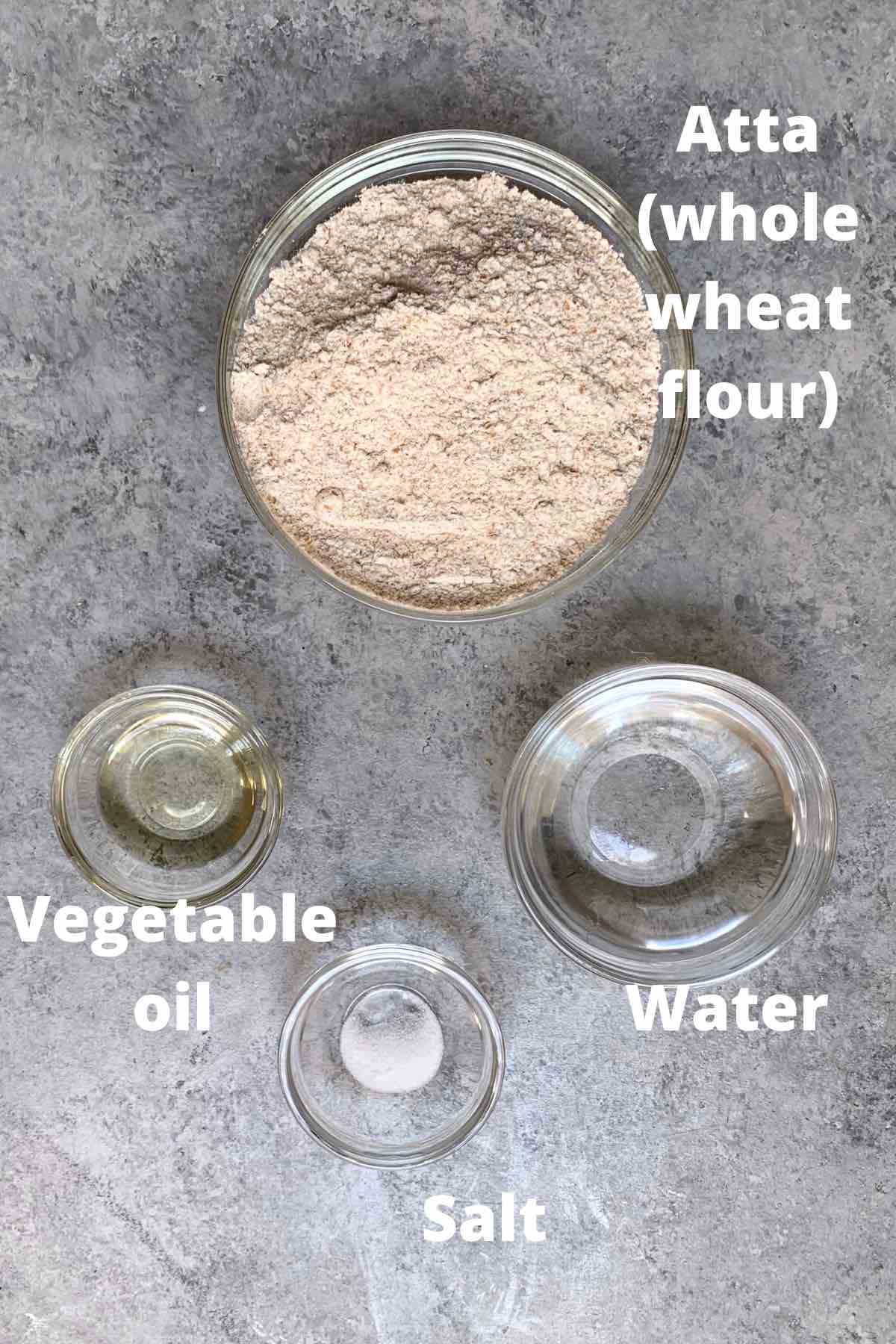 How to Make Roti
You'll need a large cutting board, rolling pin and medium-sized bowl. Start by adding the atta or whole wheat flour to the bowl. Add the salt and oil followed by the water.
Mix using a wooden spoon until a dough forms. Next, turn it onto a lightly floured work surface. Knead for about 10 minutes to create a soft and pliable dough. If it feels sticky, dust with additional flour as needed. If it's dry or cracking, sprinkle droplets more water as you knead.
Now cover the dough with plastic wrap and let it sit for at least 10 minutes and preferably 30 minutes. This step allows the flour to become full hydrated with the water before rolling.
Break the dough into 10-12 equal-sized pieces and lightly flour the work surface. Place on in the middle and roll it out to about 6-8 inches in diameter (about 1/8-inch thick).
Put it into a hot skillet and cook for 1-2 minutes undisturbed until it starts puffing up and brown spots form on the underside. Flip and cook for 1 minute more until puffy and then remove to a tea towel to keep it soft.
Watch Recipe Video:
This quick tutorial shows you how to make roti bread:
Frequently Asked Questions
Why are my rotis hard? A roti can become hard for several reasons: 1) the dough is too dry and needs more water, 2) the pan is not hot enough, and 3) it has been sitting out uncovered for several hours.
Is a roti healthy? This bread has health benefits including complex carbohydrates for sustained energy and dietary fiber that aids digestion according to Healthline.
How many calories are in a roti? There are 155 calories in an 8-inch round according to the USDA. That's approximately 299 calories per 100 grams.
How to store roti? Roti will keep for 1-2 days at room temperature. Cool completely and place paper towel or parchment between each roti to prevent sogginess before wrapping tightly in foil. For longer periods, you can freeze for up to 6 months. Stack them with parchment in between and place in a ziptop bag and seal. Reheat for 30-40 seconds using the stovetop or microwave.
Can I use a roti maker? There are several roti maker machines on the market although I don't recommend them unless you want to make roti daily.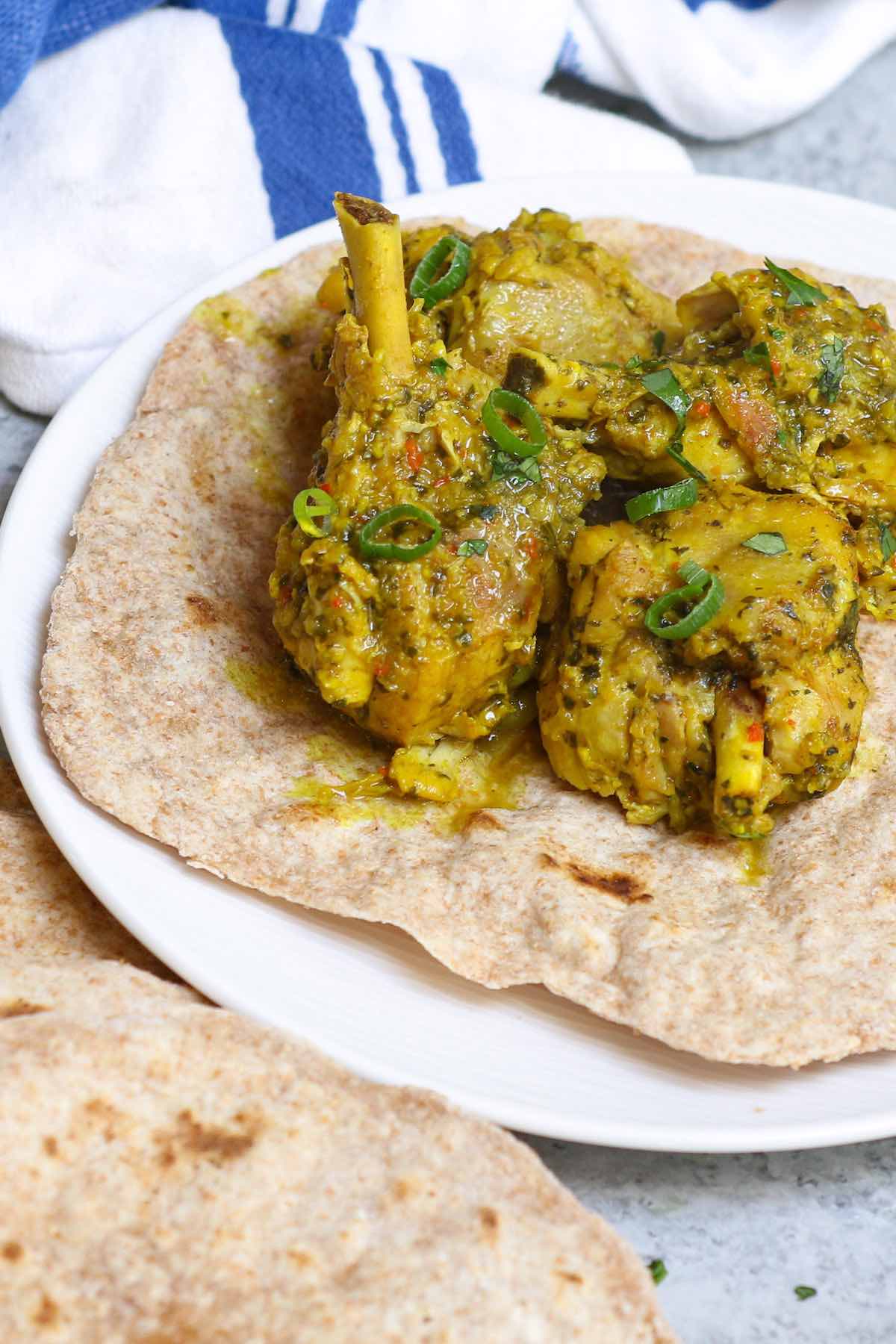 Dishes to Eat with Roti:
How to Make Roti Flatbread
This roti is a delicious and satisfying flatbread you can serve with curries, dal and other Indian and West Indies dishes.
Ingredients
2 cups atta, or wheat flour (270 grams), plus more for rolling (see note)
½ teaspoon salt
2 teaspoons vegetable oil, optional
¾ cup water, exact amount varies depending on the flour
Instructions
To a medium bowl, add the 2 cups of atta or whole wheat flour, salt and oil.

Start dribbling in the water bit by bit, stirring with a wooden spoon until a dough forms. Note: the amount of water will vary somewhat based on the flour and the humidity.

Turn the dough onto a lightly floured work surface and knead for about 10 minutes (see note). When ready, the dough will be soft and smooth, leaving an impression when pressed with your fingers.

Cover the dough loosely with plastic wrap and let it rest for at least 10 minutes and preferably 30 minutes.

Divide the dough into 10-12 equal pieces. Place one on a lightly floured work surface and set aside the rest covered with plastic wrap or a damp cloth.

Roll the first piece between your palms until smooth with no cracks. Using a rolling pin, roll it out to 6-8 inches in diameter or 1/8-inch thick (see note). It doesn't need to be perfectly round, but rolling to an even thickness will help it to puff up more.

Place a skillet over medium-high heat. Wait until it's hot enough that droplets of cold water dance on the surface. Then place the roti in the pan and let it cook for up to 60 seconds or until you see bubbles on top and brown spots underneath. Using tongs, flip and cook for 30 seconds more or until the other side gets brown spots.

Optional: If you have a gas stove, place the cooked roti a few inches above an open flame to let it puff up and char slightly.

Remove to a plate and brush with ghee or clarified butter if desired. Serve warm.
Notes
Flour: Atta is a finely ground whole wheat flour used to make Indian-style roti, with popular brands including Sujata Golden Temple and Aashirvaad. If you can't find any, simply use regular whole wheat flour. For Jamaican or Trinidad Roti, use all-purpose flour and add 1 teaspoon baking powder.
Kneading: To knead the dough, push with the palm of your hand, pull up the far end with your fingertips, rotate 90 degrees and repeat. Dust with additional flour if the dough starts to stick. Sprinkle water droplets if the dough becomes too dry.
Rolling: To roll out dough, roll from the middle to the edge away from you and then toward you. Rotate the dough 45 degrees and repeat. Dust with flour if the rolling pin sticks to the dough.
Skillet: A cast iron skillet or other heavy pan that retains its heat is ideal for roti. You can also use a roti maker, although I find it unnecessary.
Nutrition Facts
How to Make Roti Flatbread
Amount per Serving
% Daily Value*
* Percent Daily Values are based on a 2000 calorie diet.
Please read our nutrition disclaimer.
© TIPBUZZ. Images and text on this website are copyright protected. Please do not post or republish without permission. If you want to republish this recipe, please link back to this post. This post may contain affiliate links. Read the disclosure policy here.