Stuffed Peach Cobbler Puffs
These Stuffed Peach Cobbler Puffs are an easy recipe without endless slicing of peaches like with traditional peach cobbler. And they're covered in delicious flaky pastry.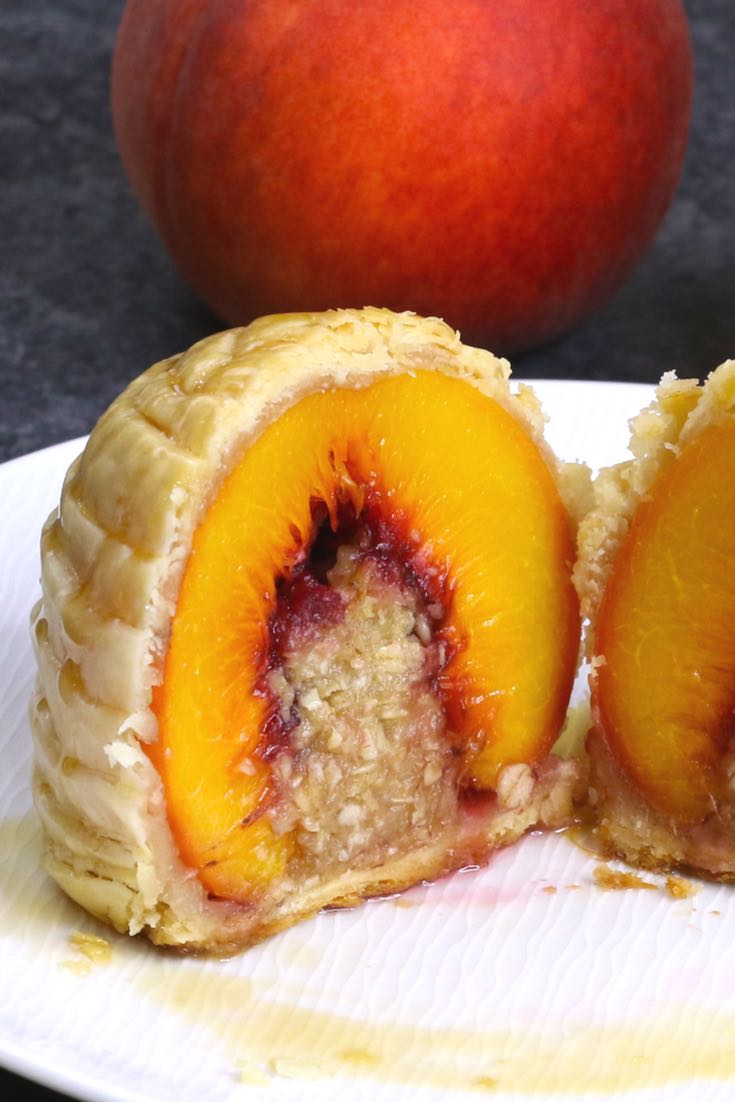 Hiya everyone. Summer is almost over, but fresh peaches are still plentiful. So let's make something fun with them.
There's a special tip in our video showing how to remove the peach pit using scissors. That way you can keep the peach whole so you can stuff it with the cobbler filling.
If you have peach lovers at home, then this recipe is for you because they're so juicy and delicious. We served it up with a drizzle of caramel sauce.
Watch How to Make Peach Cobbler Puffs:
Stuffed Peach Cobbler Puffs (with Video)
Stuffed Peach Cobbler Puffs are tender and moist fresh peach stuffed with sweet crumbles, and then wrapped with pie crust. A delicious summer dessert that will wow your guests.
Ingredients
6 - 8 large peaches, ripe
2 packages refrigerated pie crusts
6 tbsp oats
6 tbsp all-purpose flour
4 tbsp brown sugar
4 tbsp unsalted butter
egg wash, optional
caramel sauce, optional
Instructions
Preheat the oven to 375 F. Set aside a sheet pan with parchment paper.

Using a paring knife, start at the stem end and cut the bottom of the peach according to the video. (Make sure the peaches are ripe and not too hard. Wash them.)

Using a pair of scissors, twist the pit and pull it out gently. It will be very easy if your peach is ripe. If your peach is not ripe, you can use the knife to cut further around the pit and take it out.

In a medium bowl, add oats, flour, sugar and butter. Then use clean hands to crumble the mixture together so you have little pebbles of butter.

Add the mixture to the hole inside of the peach. Press the mixture firmly into each peach.

Unroll the pie crust, cut it into thin strip, about ¼ to ½ inch wide. Take the extra stripe and roll it into a ball, then press into a round shape just enough to cover the mixture. Press it firmly onto the peach.

Repeat to cover the top of the peach. Then use the cut strips to wrap the peach according to the video. Brush with egg wash.

Bake 30-35 minutes or until they start to turn a little golden brown.

Remove from oven and allow to cool for several minutes.

Drizzle with caramel sauce. Serve warm or store in fridge for later.
Nutrition
Calories: 315kcal, Carbohydrates: 35g, Protein: 3g, Fat: 17g, Saturated Fat: 7g, Cholesterol: 20mg, Sodium: 153mg, Potassium: 75mg, Fiber: 1g, Sugar: 7g, Vitamin A: 235IU, Calcium: 19mg, Iron: 1.6mg
© TIPBUZZ. Images and text on this website are copyright protected. Please do not post or republish without permission. If you want to republish this recipe, please link back to this post. This post may contain affiliate links. Read the disclosure policy here.