Puff Pastry Peach Cobbler
This Puff Pastry Peach Cobbler is an impressive dessert with a crumbly filling stuffed inside peaches, which are wrapped in flakey pastry. It's a unique way to make individual peach cobblers!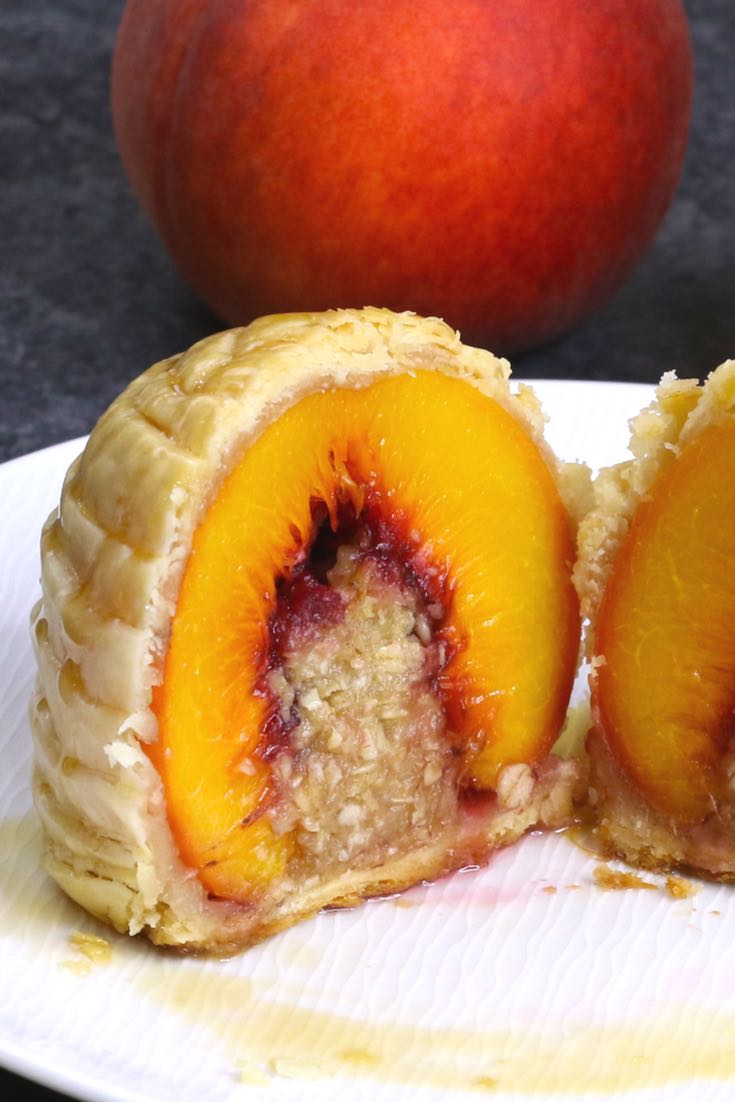 When fresh peaches are in season, this unique dessert is perfect for peach lovers. It's sweet and delicious with cobbler filling inside and flakey pastry on the outside to create a stunning presentation!
You can serve these individual peach cobblers on their own with ice cream or drizzle some caramel sauce to take it over the top!
Ingredients for Puff Pastry Peach Cobbler
Here's what you'll need to make puff pastry peach cobbler:
Fresh peaches: Large ripe peaches are best
Pie crust: You can use refrigerated store-bought dough like Pillsbury or make homemade pie dough from scratch
Oats: Quick oats are ideal, but you can use large oats in a pinch
Flour
Brown sugar
Unsalted butter
Optionally, you can brush the pastry with beaten egg for a more attractive presentation. Drizzling with caramel sauce is optional for serving too.
How to Make Puff Pastry Peach Cobbler
The first step is removing the pits from the peaches, and it's easiest when the fruit is ripe. You'll need to cut a 1 1/2 inch wide round out of the top of each peach. Then insert kitchen shears into the hole to grab hold of the pit. Pull hard to yank out the pit!
Next, make the cobbler mixture by combining the oats, flour, butter and brown sugar in a bowl. Spoon the mixture into the middle of each peach, packing tightly.
The last step before baking is wrapping the peaches in pastry. Roll out your pie crust and use a paring knife to cut into long 1/2-inch wide strips. Wrap around the fruit moving from the bottom to the top, pressing the layers together lightly.
Bake them on a baking sheet for about 30 minutes at 375°F until lightly golden. Serve warm.
Watch Recipe Video:
More fruity desserts:
View all dessert recipes
Puff Pastry Peach Cobbler (with Video)
This Puff Pastry Peach Cobbler is a creative dessert with a crumbly filling stuffed inside peaches, which are wrapped in flakey pastry.
Ingredients
6 large peaches, ripe
28 oz refrigerated pie crusts, 2x14 oz packages or make homemade
6 tbsp quick oats
6 tbsp all-purpose flour
4 tbsp brown sugar
4 tbsp unsalted butter
1 egg, lightly beaten, optional
caramel sauce, optional
Instructions
Preheat oven to 375°F. Line a baking sheet with parchment paper and set aside.

Wash and dry the peaches. Using a paring knife, cut diagonally to remove 1 1/2-inch round piece from the stem end of each peach.

Using heavy-duty kitchen shears, reach into the middle of the peach and firmly grab hold of the pit. Then pull hard to extract it from the peach. Repeat for the remaining peaches (see note).

In a medium bowl, combine oats, flour, sugar and butter. Crumble the mixture together to a coarse texture using your fingertips.

Stuff the mixture into the cavities in the peaches until packed firmly.

Unroll or roll out the pie crust. Using a sharp knife, cut into long strips about 1/2-inch wide (see note).

Wrap the pie dough around each peach, moving from the bottom to the top and pressing the layers gently together with your fingers to seal until completely covered. You'll need to use multiple strips per peach.

Brush the pastry lightly with egg wash and bake for 30-35 minutes until lightly golden.

Remove from oven and cool for 10 minutes. Drizzle with optional caramel sauce before serving.
Notes
This process is easiest when the peach is ripe. If it's still slightly hard, you'll need to use a sharp knife to cut around the pit.
If you have leftover dough, you can pack it into a ball and roll out again to cut into more strips.
Make Ahead Tip: This dessert keeps for up to one day in the fridge to serve chilled (it doesn't reheat well). Always store in an airtight container. 
Nutrition Facts
Puff Pastry Peach Cobbler (with Video)
Amount Per Serving
Calories 315 Calories from Fat 153
% Daily Value*
Fat 17g26%
Saturated Fat 7g35%
Cholesterol 20mg7%
Sodium 153mg6%
Potassium 75mg2%
Carbohydrates 35g12%
Fiber 1g4%
Sugar 7g8%
Protein 3g6%
Vitamin A 235IU5%
Calcium 19mg2%
Iron 1.6mg9%
* Percent Daily Values are based on a 2000 calorie diet.
Please read our nutrition disclaimer.
Recipe tools:
© TIPBUZZ. Images and text on this website are copyright protected. Please do not post or republish without permission. If you want to republish this recipe, please link back to this post. This post may contain affiliate links. Read the disclosure policy here.