Maple Bacon Donuts
These Maple Bacon Donuts are one of our favorite sweet and savory treats inspired by the State Fair! They're oven baked and topped with crumbled oreos for an over-the-top flavor experience. Ready in 30 minutes!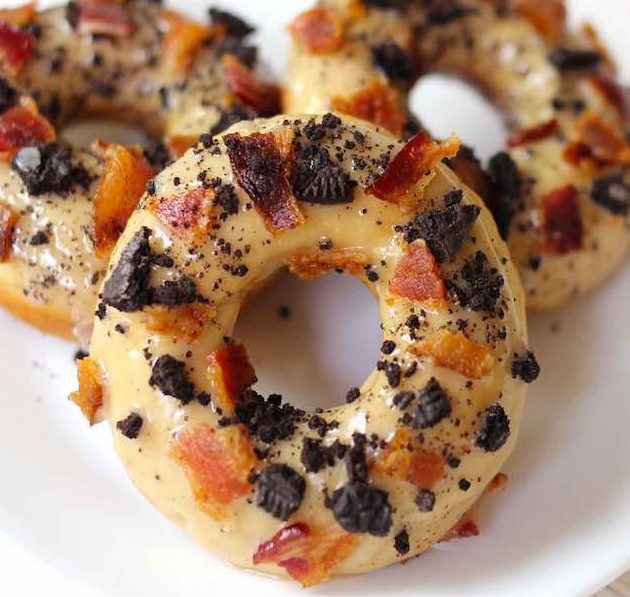 There has been a serious maple bacon donut craze with many bakeries making them, and you can see why! They have a sweet maple glaze with salty bacon flavors, plus crumbled oreos for good measure.
But it gets better than that. These guys are baked instead of deep fried, so you get fewer calories without sacrificing any of that soft, bakery taste we all love. The best part? They're easy to make in a half-hour without the complications of yeasted dough.
Ingredients
Here are the ingredients you'll need to make the donuts:
Flour: All-purpose flour recommended
Brown sugar: For flavor, and you can substitute granulated sugar in a pinch
Baking powder and baking soda: for leavening the dough
Nutmeg: This is grated nutmeg for added flavoring.
Yogurt: Plain Greek yogurt is ideal, but use what you have on hand
Egg
Butter: Unsalted butter if possible (since the bacon itself is salty)
Milk: Whole milk recommended
Vanilla extract: For flavor
For the glaze, you'll need maple syrup and powdered sugar with water. For the topping, you'll need cooked crumbled bacon and crumbled oreo cookies.
How to Make Maple Bacon Donuts
To make the dough, combine the dry ingredients in a mixing bowl. Then, in a second bowl beat the egg, milk, yogurt, melted butter and vanilla together. Next, mix the wet and dry ingredients together to form a batter.
Simply spoon or pipe the batter into a donut pan and bake for 10-12 minutes at 350 degrees F until puffy and golden. While they're baking, you can make the glaze and toppings.
Mix the maple syrup and powdered sugar together with cold water in a bowl until it reaches the consistency of honey. For the bacon, cook it until crispy and then crumble into pieces. For the final assembly, dip the cooled donuts in the glaze to coat, and then sprinkle the bacon and oreos on top.
Watch Recipe Video
This video tutorial shows how to make these maple bacon donuts:
More carnival treats:
Baked Maple Bacon Donuts
These Maple Bacon Donuts are one of our favorite sweet and savory treats! They're oven baked, glazed and then topped with crumbled oreos and bacon.
Ingredients
Donut Dough
1 1/2 cups all-purpose flour
1/2 cup brown sugar, packed
1 1/2 teaspoons baking powder
1/2 teaspoons baking soda
1 pinch grated nutmeg, optional
2/3 cup plain greek yogurt
1 large egg
3 tablespoons unsalted butter, melted
1/4 cup milk, whole milk recommended
1 1/2 teaspoons vanilla extract
Glaze
2 cups powdered sugar
1/4 cup maple syrup
2 tablespoons water
Toppings
3-4 bacon slices, cooked and crumbled
6 Oreo cookies, crumbled
Instructions
Preheat oven to 350°F. Grease a 6-cup donut pan with oil or nonstick spray and set aside.

In a large bowl, mix the flour, brown sugar, baking powder, baking soda and grated nutmeg.

In another bowl, beat the egg, yogurt, melted butter, milk and vanilla extract together. Then pour the mixture into the dry ingredients, stirring until combined.

Spoon or pipe the batter into the prepared donut pan until each cup is 1/3 full. Bake for 10-12 minutes until puffy and golden.

Meanwhile, prepare the glaze by adding the powdered sugar, maple syrup and water to a medium bowl. Whisk until smooth.

Remove donuts from oven and place on a wire rack to cool completely. Then dip the tops into the glaze and sprinkle crumbled bacon and Oreo on top.
Notes
Make Ahead: These donuts will last in an airtight container at room temperature for up to one day. Otherwise, they freeze well in resealable plastic bags for up to 3 months.
Nutrition Facts
Baked Maple Bacon Donuts
Amount per Serving
% Daily Value*
* Percent Daily Values are based on a 2000 calorie diet.
Please read our nutrition disclaimer.
Recipe tools:
© TIPBUZZ. Images and text on this website are copyright protected. Please do not post or republish without permission. If you want to republish this recipe, please link back to this post. This post may contain affiliate links. Read the disclosure policy here.