Lobster Ravioli Sauce
This Lobster Ravioli Sauce is rich and creamy, bringing out the delicate flavors of lobster ravioli. The perfect seafood dinner idea for a holiday, birthday or special occasion!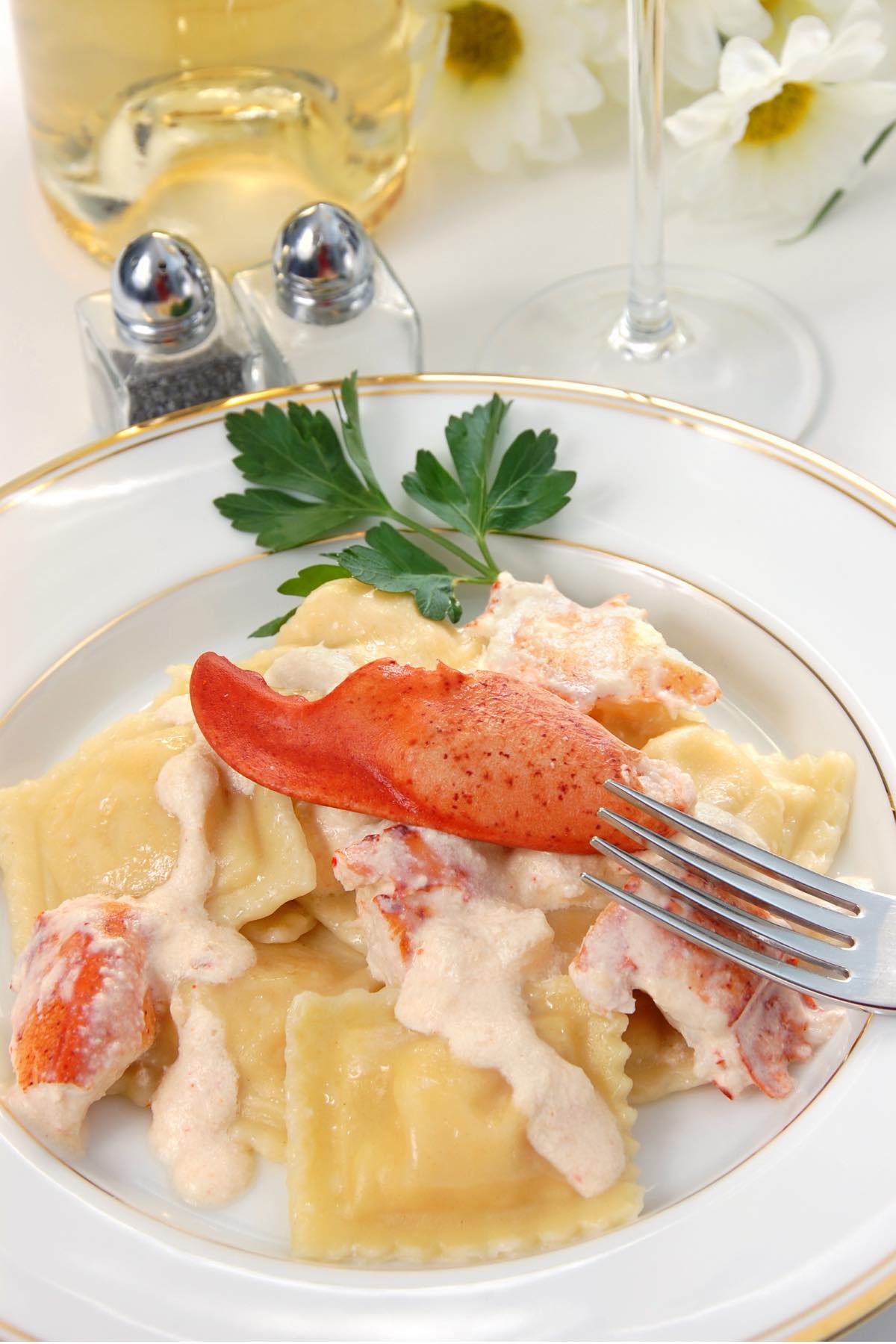 Look no further than lobster ravioli for an elegant seafood dinner that's easy and delicious. It's great year-round and works well with frozen ravioli too! You can make this dish for guests or that special someone without slaving over the stove (but making them think you did)!
Best Sauce for Lobster Ravioli
To truly wow guests or that special date, you will want to opt for a classic cream-based sauce made with cream, butter, garlic and white wine! These ingredients together not only compliment one another but when poured over the lobster ravioli and garnished with parsley and parmesan cheese will provide you with a rich and flavorful dish.
What Kind of Sauce Goes with Lobster Ravioli?
To truly enjoy lobster ravioli, look for a sauce to accentuate the delicate flavors of the lobster. You definitely want to avoid overpowering tastes like marinara and instead look to a cream or brown butter sauces.
A lemon butter cream sauce is always a great choice, as it uses lemon zest to bring out the brighter notes of the lobster and counteract its saltiness.
A vodka cream sauce is an Italian-American option that provides a creamy texture to the lobster ravioli, with the vodka bringing out the tomato flavors while balancing the sweetness of the cream.
Ingredients
Here's what you'll need to make this white wine cream sauce:
Butter: Unsalted butter is best to prevent browning.
Shallots: These small French onions add a delicate flavor to the sauce. If you can't find any use the white portions of green onions instead.
Garlic: One large clove will add flavor. You can omit if you prefer.
White wine: A dry white wine or vermouth is ideal. Avoid cooking wines if at all possible.
Cream: Heavy cream or whipping cream thickens the sauce.
Salt and pepper: Fine salt and freshly ground white pepper are ideal, but use what you have available.
Tomato paste (optional): A small amount will give an attractive light rose color to the sauce.
Lemon juice: A few droplets of freshly squeezed lemon juice at the end for flavor.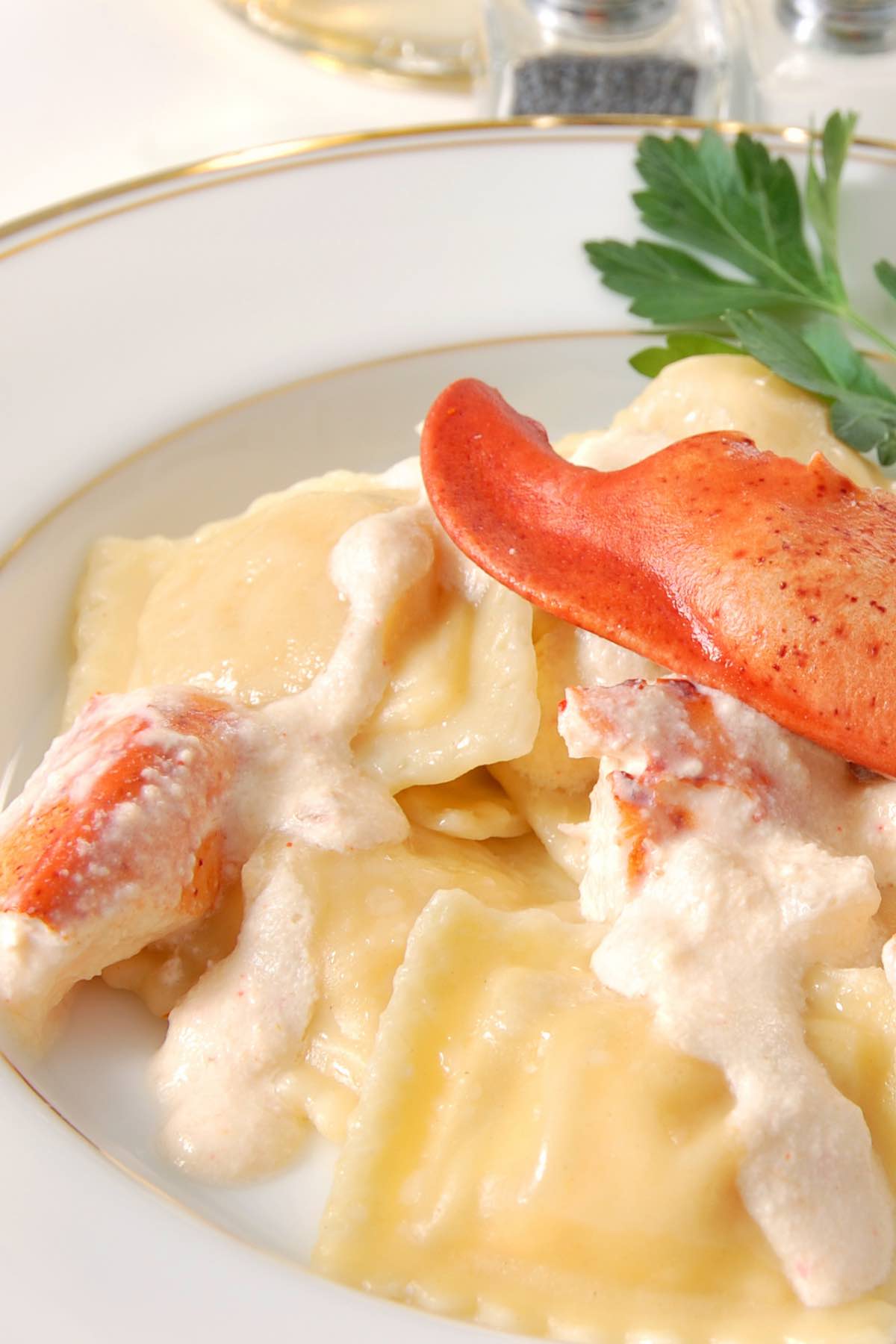 How to Make Lobster Ravioli Sauce
To make it, place a small saucepan or skillet over medium-low heat. Melt the butter and sauté the minced shallots and garlic for several minutes until soft.
Add the wine and wait a moment for it to boil to let the alcohol evaporate. Then stir in the cream and wait until it comes to a low boil. Let it bubble, stirring occasionally, until the sauce is thick enough to coat the back of a spoon.
Add salt and pepper to taste. If you prefer a rose-colored sauce, stir in the optional tomato paste until incorporated. Remove from the heat and pour over cooked ravioli until just barely coated. Serve immediately.
Tips for the Perfect Ravioli Sauce
Use fresh ingredients wherever possible for the best flavors (think freshly grated parmesan, freshly squeezed lemon juice etc.).
Use unsalted butter to reduce the risk of browning or burning when sautéing the garlic.
Get all your ingredients ready upfront before you start cooking, as the sauce cooks quickly.
Use a heavy-bottomed saucepan if you have one to reduce the risk of sticking.
Variations
In addition to making a fresh sauce from scratch you can step it up a notch with making your lobster ravioli from scratch too! To do this it will take about an hour of your time to prep and cook the ravioli.
If you're looking for a kick, you can spice it up by making some cajun seasoning to the ravioli filling.
Or, if lobster isn't your thing you can always substitute crab meat or keep it simple by using cheese ravioli instead.
Where to Buy Frozen Lobster Ravioli?
Frozen lobster ravioli is often available at Whole Foods (lobster and crab) and Walmart (lobster and shrimp). Trader Joe's has offered lobster ravioli from time to time too. If those options don't work, you may also find it at your local supermarket or fishmonger as well as online.
How to Cook Frozen Lobster Ravioli?
Cooking frozen lobster ravioli is easy if you follow the package directions. Here is the typical process:
Bring a large pot of water to a boil and add a large pinch of salt (use 3-5 quarts of water per pound of ravioli).
Add the frozen lobster ravioli to the boiling water by lowering it in with a large slotted spoon.
Stir gently for the first few minutes to prevent sticking. Continue cooking for several minutes more until they float and are tender.
Drain through a colander and place on a serving platter or plates.
Immediately add the sauce on top right away and serve.
How to Serve Lobster Ravioli?
There are many different ways to serve lobster ravioli. The easiest is tossing in olive oil and freshly grated parmesan, garnished perhaps with a piece of cooked lobster and some fresh parsley. Lobster ravioli sauce is even better.
For sides, think about the following options:
Crusty Italian bread or garlic bread to soak up the delicious sauce.
Green vegetables including broccolini or broccoli rabe (rapini), spinach, asparagus, green beans or zucchini. You can steam or sauté them simply.
Homemade polenta or creamed corn create that delicious pairing of seafood and corn.
Oven roasted vegetables are another great choice
For surf-and-turf, you can always pair lobster ravioli with your favorite steak too!
More Seafood Recipes:
View all seafood recipes
Creamy Lobster Ravioli Sauce
This Lobster Ravioli Sauce is rich and creamy, enhancing the delicate flavors of lobster ravioli. It always impresses when you want to make a fancy dinner for a holiday, birthday or special occasion!
Ingredients
4 tablespoons butter, unsalted recommended
1 1/2 tablespoons shallots, finely minced, or green onions (white parts only)
1 clove garlic, minced fine
1/4 cup white wine, dry white wine recommended
3/4 cup heavy cream, whipping cream
1/4 teaspoon fine salt, or to taste
1/4 teaspoon freshly ground pepper, white pepper preferred, or black pepper
Optional Additions
1 teaspoon tomato paste, for color
1/4 teaspoon lemon juice, freshly squeezed
1/2 cup lobster meat, see note
Instructions
Have all the ingredients prepared and the ravioli cooking separately.

Place a small saucepan over medium-low heat. Add the butter, shallots and garlic. Sauté for several minutes until soft, stirring regularly.

Add the white wine and bring to a boil. Then stir in the cream. Let it bubble for a few minutes stirring regularly until it thickens enough to coat the back of a spoon.

Add salt and pepper to taste along with droplets of lemon juice if using.

For a rose-colored sauce, stir in the optional tomato paste. Then fold in the lobster meat if using.

Pour over drained ravioli to serve.
Notes
Yield: This sauce is enough for 18 oz (1 1/2 pounds) of lobster ravioli. If you like it extra-saucy, you may wish to double the recipe.
Lobster Ravioli: If you are using lobster ravioli, you may not need to add lobster to the sauce as well. On the other hand, if you can't find lobster ravioli and need to substitute cheese ravioli, then you'll definitely need lobster meat to flavor the sauce.
Nutrition Facts
Creamy Lobster Ravioli Sauce
Serving Size
2 tablespoons
Amount per Serving
% Daily Value*
* Percent Daily Values are based on a 2000 calorie diet.
Please read our nutrition disclaimer.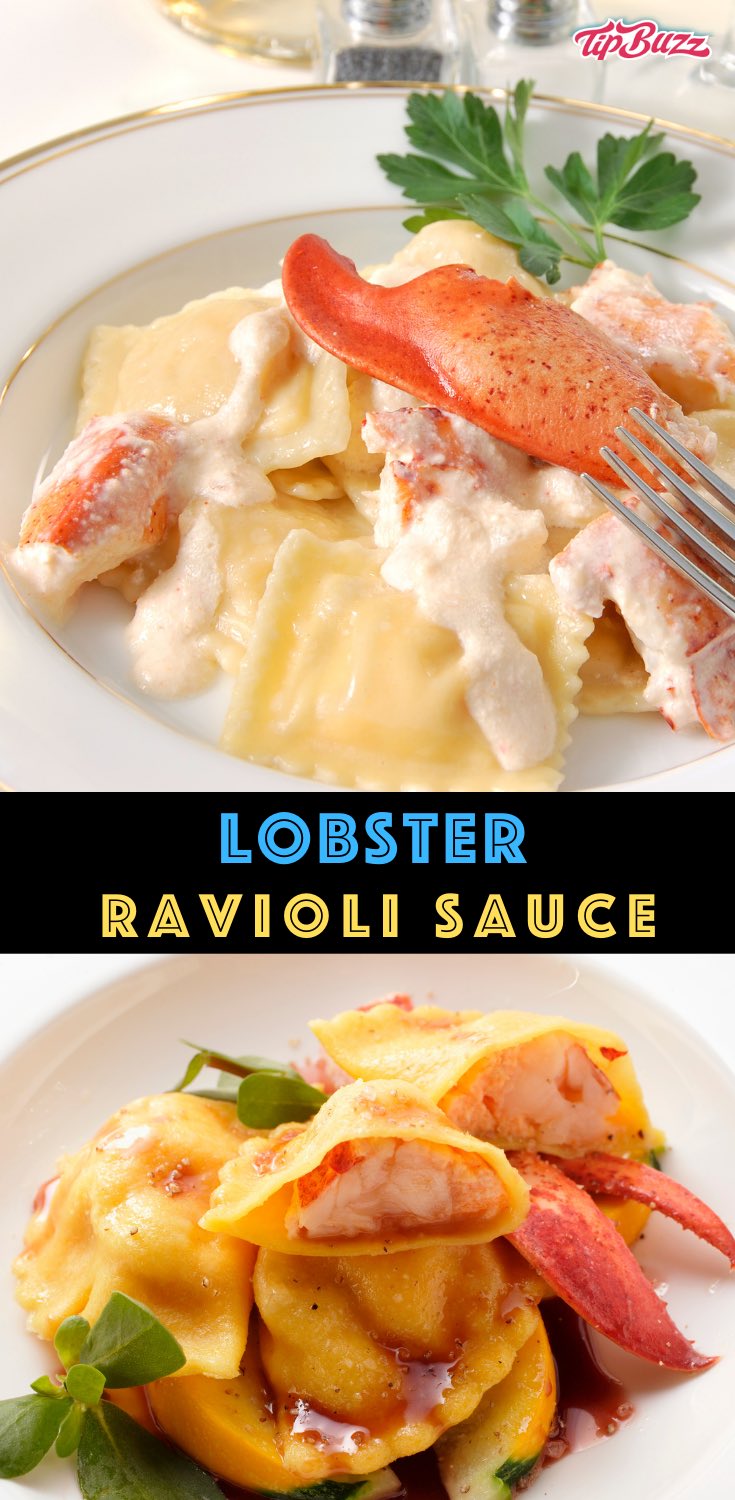 © TIPBUZZ. Images and text on this website are copyright protected. Please do not post or republish without permission. If you want to republish this recipe, please link back to this post. This post may contain affiliate links. Read the disclosure policy here.