Easy Sourdough Naan
This Sourdough Naan is the popular Indian flatbread using sourdough starter instead of yeast to leaven the dough. This naan recipe is soft and fluffy with a crispy exterior, plus it's easy to make!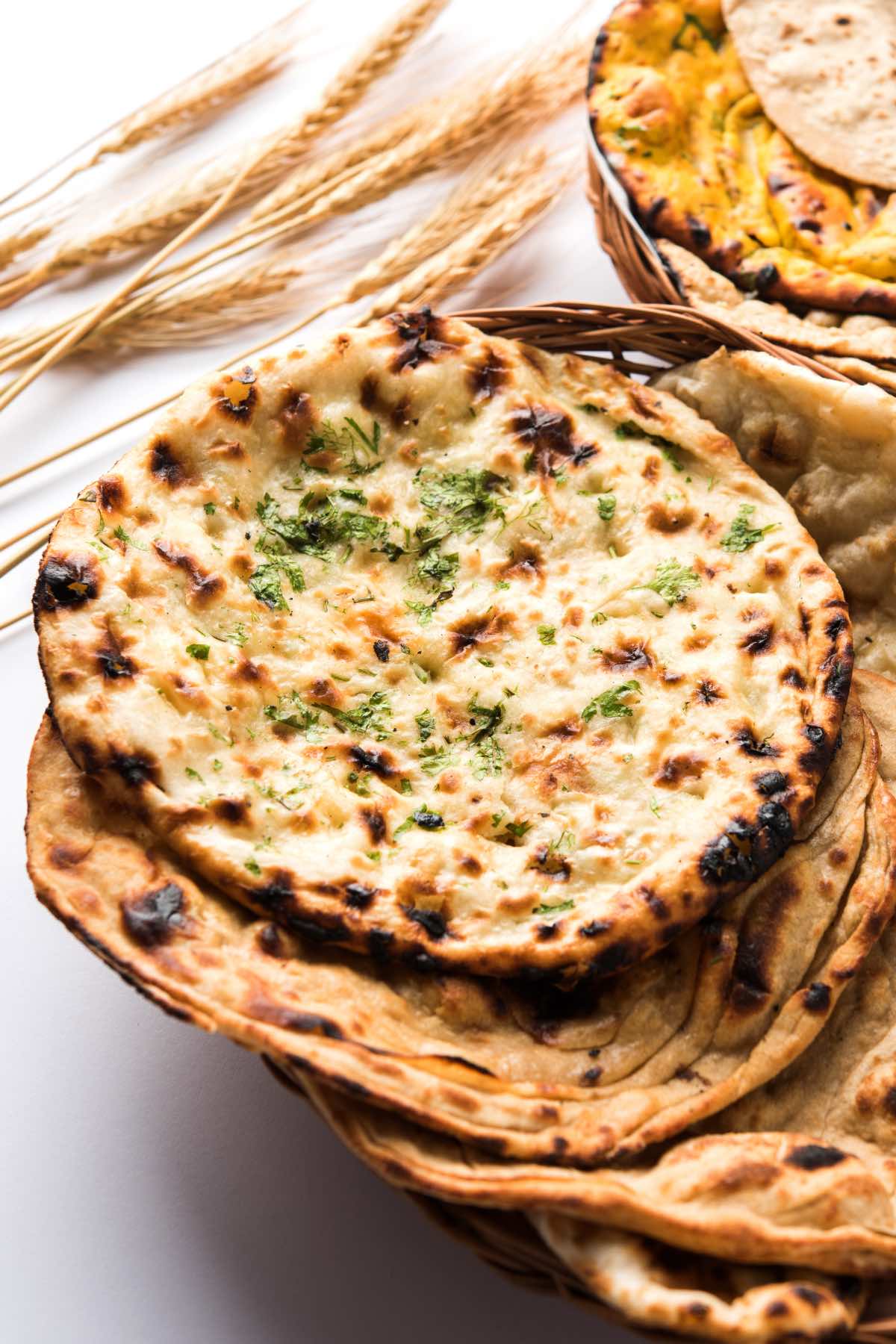 A meal from your favorite Indian restaurant is likely to come with a serving of fresh, warm naan. This tasty flat bread is one of the most popular items in Indian cuisine. Traditionally, it's made in a clay tandoor oven, but you can make naan at home in a skillet or oven.
What's special about this recipe is that it's made with sourdough, giving it a tangy flavor with a soft, fluffy texture. You can add garlic, nigella seeds or other toppings to make it your own. Think fresh sourdough naan for your next curry night!
Best Sourdough Naan Bread
Naan is one of the best kinds of breads with sourdough naan being a simply delicious variation! You don't need any special equipment, oven or pan. To make it at home, you just use a mixing bowl plus a skillet or frying pan. Though it's not the old-fashioned way, this sourdough naan recipe is as close as you can get to authentic, restaurant-style flatbread.
What's So Special About Sourdough?
Sourdough has been used to make bread for thousands of years. As the name suggests, sourdough has a tangy and slightly sour taste that is loved by many. It is very nutritious and particularly beneficial for digestive health.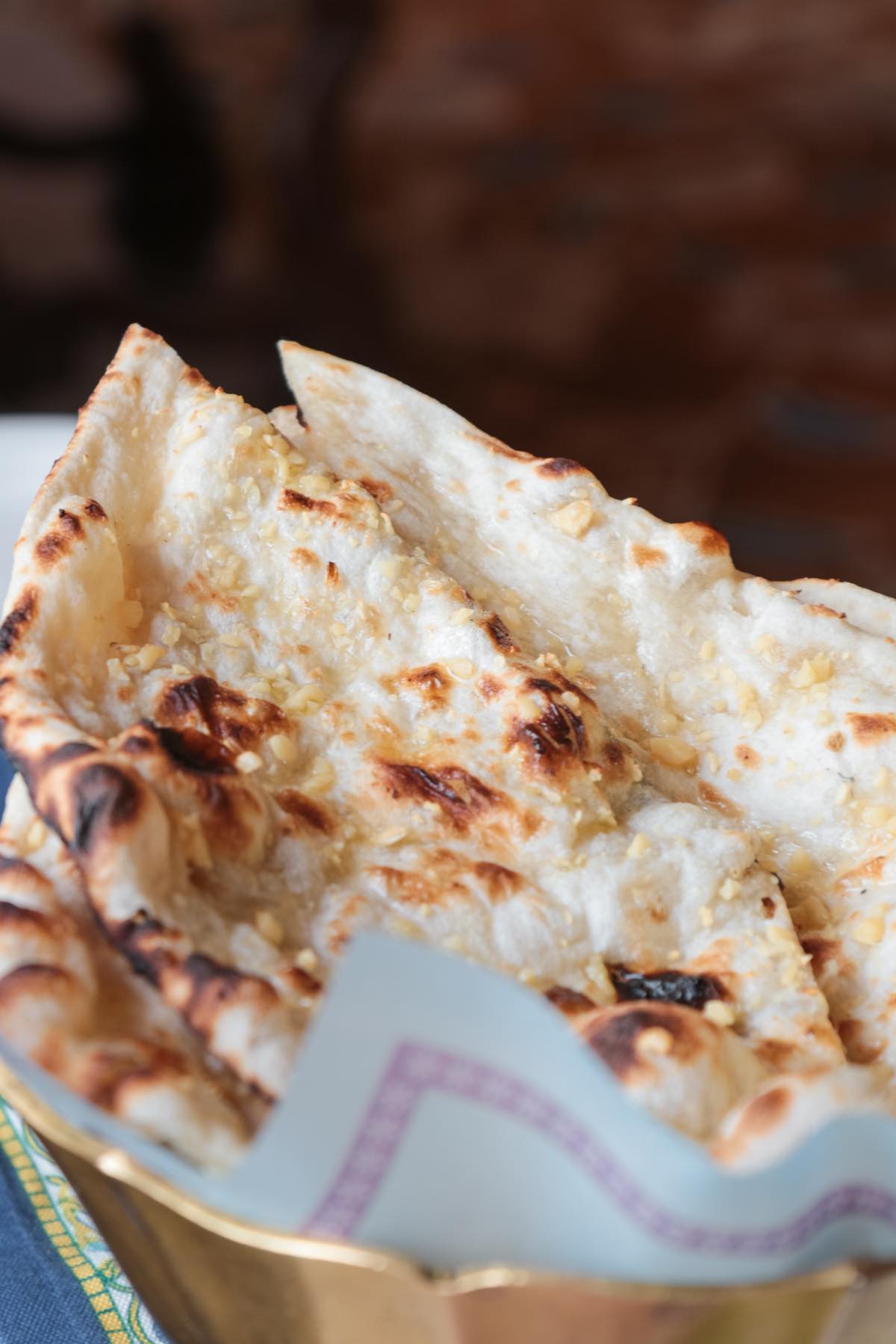 While most breads use baker's yeast, sourdough breads are made using a fermented starter instead. The fermentation process releases gases that cause the bread to rise, providing the leavening required. Sourdough is the basis for many types of bread in addition to this naan.
Ingredients and Substitutes
Here's what you'll need to make it:
Sourdough Starter: Sourdough discard is the portion of sourdough starter removed for use in a recipe. It's less bubbly than the rest of the starter because it contains less active cultures. You can buy it from any local baker or online.
Flour: Unbleached all-purpose flour is ideal for this recipe.
Milk: I typically use regular cow's milk, but any animal or plant-based milk will do.
Yogurt: Thicker Greek yogurt works best, but you can also use plain unsweetened yogurt.
Baking Powder: Baking powder adds volume and improves the texture of your naan. If you don't have baking powder, you may use baking soda in a pinch.
Melted Butter: Use your preferred butter for this recipe or a plant-based butter for a vegan option.
How to Make Sourdough Naan
Making naan is fairly easy, but it requires some patience to let the dough rise. Start by combining the sourdough starter with warm milk and yogurt. Then mix in flour, baking powder and salt.
Knead the dough until soft and elastic. Then let it rise for about 2 hours until it has doubled in volume. If it springs back slightly when poked with your finger, it's ready!
Turn it onto a board and divide into portions. Roll each piece out to 1/4-inch thickness and turn into a hot skillet: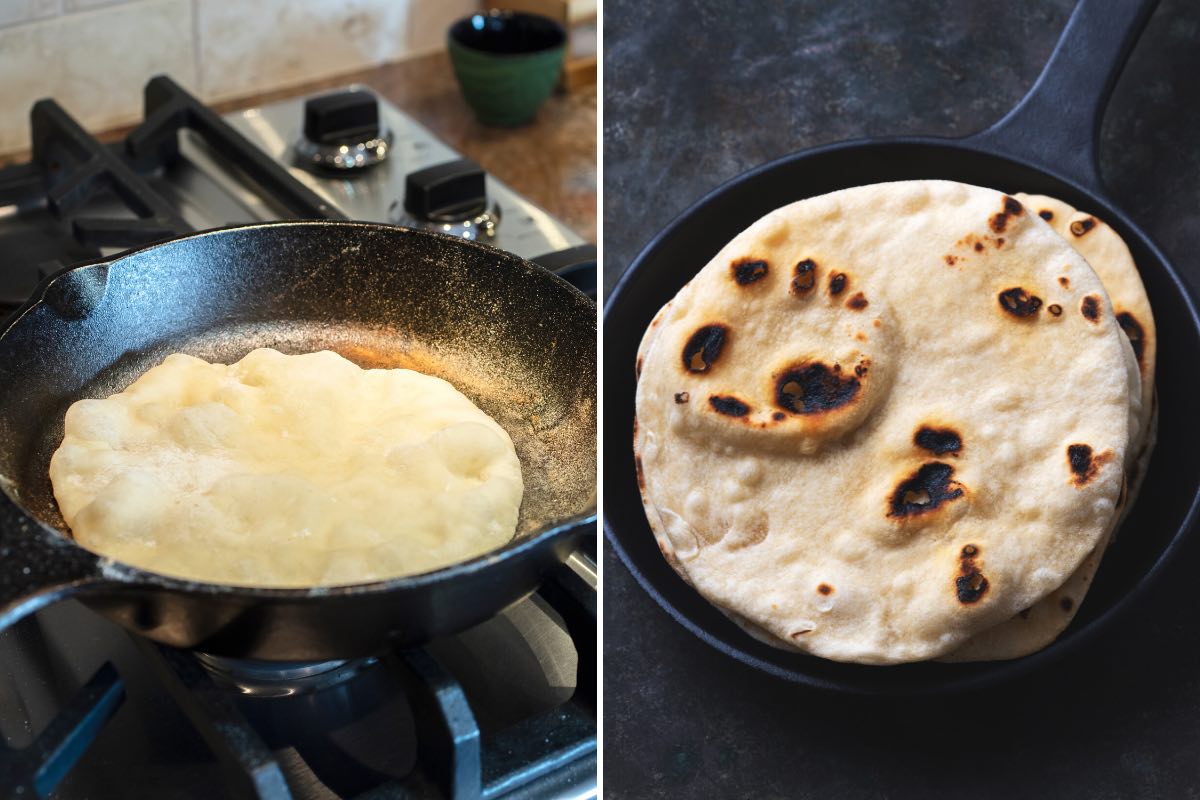 Each naan takes about one minute per side, developing brown spots and puffing up as it cooks. Repeat for the remaining pieces, placing each cooked naan into a basket, covering with a cloth or tea towel to keep it warm and soft.
FAQ
Here are some questions we often get about sourdough naan:
What is the Difference Between Sourdough and Levain?
The terms sourdough and levain basically interchangeable. For all intents and purposes, they are the same thing. Many people use their sourdough starter repeatedly by feeding it with flour on a regular basis so that it continues to grow. The levain is the portion that is poured off and used in a recipe. You can then feed and maintain the remainder to produce levain for your next recipe.
Where Can I Buy Sourdough Starter?
Though it's very easy to prepare your own sourdough starter at home, you can purchase it readymade if you prefer. Many bakeries offer sourdough starter for sale, so check bakeries that are local to you. You can buy sourdough starter online or from smaller retailers and bakeries locally.
Is Sourdough Naan Healthy?
Sourdough naan is a healthier alternative to white bread or regular naan. Sourdough acts as a prebiotic and has many benefits for the digestive system. This naan uses simple ingredients and is healthier than store-bought flatbreads which have more preservatives.
How to Store Sourdough Naan?
It is important to store sourdough naan properly to maintain its freshness and taste. Like other breads made with sourdough, you may store your naan in a cotton bread bag or wrapped in a clean kitchen towel. This allows the naan to breathe and maintain its freshness for same-day consumption.
Otherwise, store leftover naan in an airtight container in the fridge and consume within 3 days. For longer term storage, put the airtight container in the freezer for up to 3 months.
Can I Make Sourdough Naan without Yogurt?
Yogurt gives naan its subtle tangy flavour, although you can also achieve tis by combining the milk with a bit of lemon juice or vinegar to mimic the flavor. If you are vegan, go ahead and use a plant-based milk.
Can I Make Sourdough Naan without Dairy?
Yes, those who follow a dairy-free or vegan lifestyle can make sourdough naan without dairy. If you wish to do so, you may substitute Greek yogurt for a dairy-free or plant-based yogurt.
More Bread Recipes:
Sourdough Naan
This Sourdough Naan is the popular Indian flatbread using sourdough starter/discard instead of yeast to leaven the dough. This naan recipe is soft and fluffy with a crispy exterior, plus it's easy to make!
Ingredients
1 cup sourdough starter
1/2 cup warm milk
1/4 cup Greek yogurt, or plain unsweetened yogurt
2 cups all-purpose flour
1 teaspoon baking powder
1/8 teaspoon salt
5 tablespoons melted butter
cilantro, optional
Instructions
In a large mixing bowl, combine the sourdough discard with the warm milk and yogurt. Stir with a wooden spoon to mix.

Add all-purpose flour, baking powder, and salt into the bowl. Mix with a wooden spoon just until a dough starts to form and pull away from the sides of the bowl.

Turn the dough onto a floured work surface or board. Knead gently with your hand, pushing the dough into the board, pulling up the far edge with your fingers and folding into the dough. Rotate and repeat until smooth and elastic, about 5 minutes.

Place the dough in a clean large bowl. Cover with a damp cloth and let it rise in a warm and dry area for about 2 hours, or until doubled in size.

To see whether your dough is ready, you can gently poke it with your finger. If it springs back slightly, it's ready.

Transfer the dough onto a work surface again. Knead with your hands for 1-2 minutes until smooth.

Divide the dough into 8 portions. Using a rolling pin, roll each piece flat to about ¼-inch thickness. (If need, you can stretch it out using your fingertips like with pizza dough.)

Place a cast iron skillet on medium-high heat for 3 to 5 minutes until very hot. Brush one piece of dough with melted butter and place it onto the hot skillet.

Cook for 1 minute undisturbed or until bubbles start to form on the surface. Then flip and cook for another minute on the other side. It should have started to puff up, and don't worry if it puffs high up as it will deflate off the heat.

Transfer the cooked naan to a plate or basket. Cover with a cloth or tea towel to keep warm. Repeat the cooking with the remaining pieces. (Note: if the dough has puffed up while sitting, run the rolling pin across it a few times to flatten before adding to the skillet.)

Top with optional minced cilantro and serve warm.
Notes
Yogurt: Thick and plain Greek yogurt works best but you can use any plain yogurt.
Oven Method: You can also cook sourdough naan in the oven if you prefer. Preheat to 450°F, positioning the rack in the middle of the oven. After rolling, put the dough on a large baking sheet and place in the oven for 2 to 3 minutes or until puffy and golden. (If you're comfortable, you can preheat the baking sheet too and put the dough on when it's hot, using tongs and oven mitts to avoid burns.)
Storage: Let the cooked naan cool completely and transfer to an airtight container or resealable plastic bag. You can store in the fridge for up to 3 days or in the freezer for up to 2 months. Reheat in a hot skillet.
Nutrition Facts
Sourdough Naan
Amount per Serving
% Daily Value*
* Percent Daily Values are based on a 2000 calorie diet.
Please read our nutrition disclaimer.
© TIPBUZZ. Images and text on this website are copyright protected. Please do not post or republish without permission. If you want to republish this recipe, please link back to this post. This post may contain affiliate links. Read the disclosure policy here.