Holiday Monkey Bread
This post is sponsored by General Mills
Monkey Bread is a heartwarming crowd pleaser to share on any occasion, including Christmas morning! Not only is it delicious to eat, it's also fun to make. Serve it warm for breakfast or brunch, or put it out for a party. Finish it off with colored icing for a festive touch!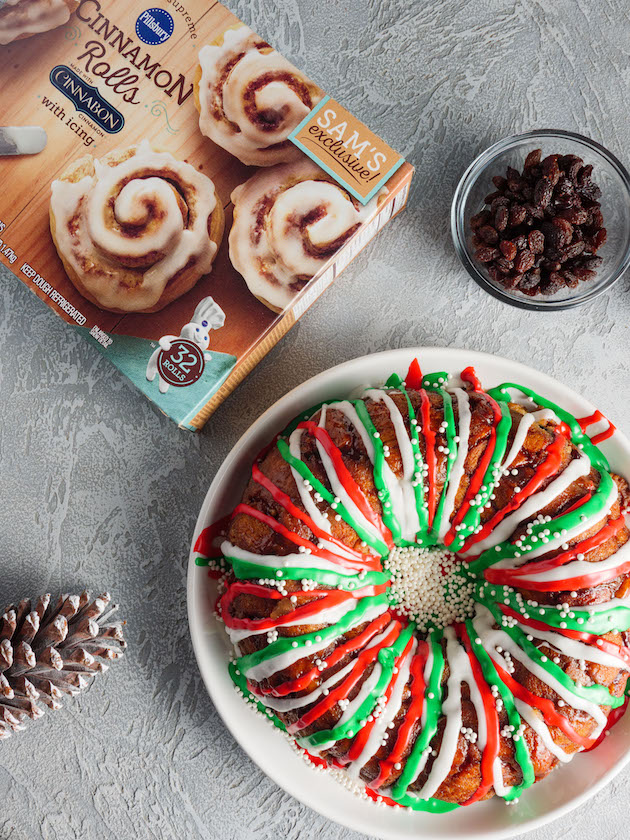 Monkey bread is some of the best comfort food around. Cinnamon roll or biscuit dough is coated with sugar and cinnamon, mixed with raisins and nuts and finally drizzled with caramel before baking to perfection. It's a guaranteed hit every time with lots of requests for seconds!
We used refrigerated Pillsbury™ Cinnamon Rolls from Sam's Club. This is hands-down the best cinnamon roll dough available, producing soft dough with ooey gooey Cinnabon cinnamon flavors. There are four 13-oz cans inside – enough to make one monkey bread and still have some extra on-hand for the holidays.
Ever wonder about the name? Monkey bread has a grassroots start in community cookbooks, named for being "a finger food that would be picked apart as a monkey would". Then the White House served it for the 1982 holiday season, and the rest is history. The name stuck as did the dessert!
How to Make the Best Monkey Bread
You only need a few simple ingredients to make this monkey bread:
Pillsbury™ Cinnamon Rolls with Icing from Sam's Club (13 oz, 4 pk)
Granulated sugar
Ground cinnamon
Optional: raisins, walnut pieces
Brown sugar
Unsalted butter
Optional: red and green food colors for the icing, sprinkles
You'll end up using two cans of the cinnamon rolls for a typical bundt pan, and possibly three cans for a larger size pan. This is a family-friendly recipe, and kids will love helping to separate the cinnamon rolls, sprinkles the raisins/nuts and drizzle the caramel.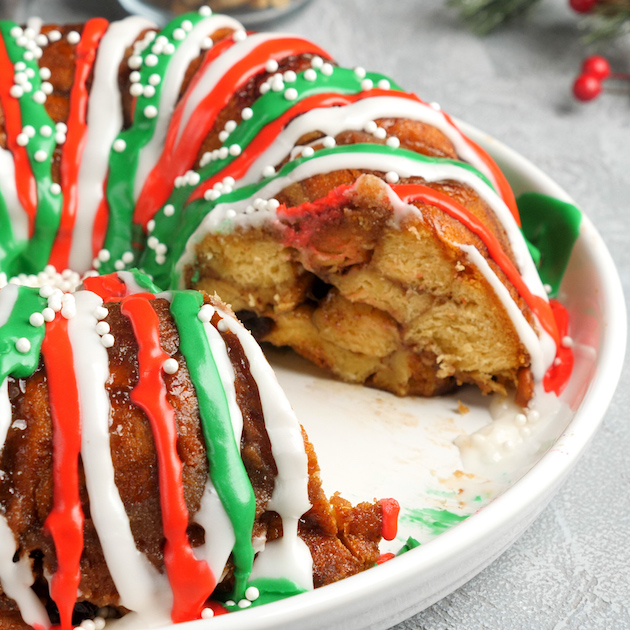 Baking time will be 30-35 minutes with the monkey bread turning a dark golden brown color on top by the time it's done.
Which pan to use for monkey bread?
The best pan to use for monkey bread is a large nonstick bundt pan measuring 10 inches across with a 12-cup volume. You can easily check yours by pouring water in to measure. If your pan is smaller, scale down the ingredients proportionally and bake for slightly less time, i.e. for a 6-cup pan, use one can of cinnamon rolls and bake for 20-25 minutes.
The shape or pattern on the pan doesn't matter, but avoid silicone pans which won't heat the dough properly. Also, don't use a tube pan or angel food cake pan with a removable bottom, as the caramel will leak out during baking and make a mess in your oven!
How do you serve monkey bread?
Monkey bread is traditionally a pull apart bread, where you break off pieces with your fingers. While this may work for a homestyle breakfast, it can get a bit messy on a buffet. For those days, I recommend providing a serrated knife to cut serving pieces for a more elegant look. The taste is the same even if it breaks with tradition somewhat.
Monkey bread pairs perfectly with coffee, tea or a glass of cold milk.
Can I make monkey bread ahead of time?
You can definitely bake monkey bread several days in advance and store in an airtight container the fridge. Just don't add the icing until serving, as it will melt during reheating. You can reheat in the microwave for 2 minutes on 50% power or in a 200oF oven for 10 minutes.
Monkey bread will also keep frozen for up to 2 months in the freezer, although I find it's never quite as moist. Wrap it in parchment or wax paper, place in a zip top bag and seal tightly before freezing.
Tips and Secrets for Making Monkey Bread
Grease your bundt pan with nonstick cooking spray if possible. The spray can coat the nooks and crannies more easily than butter.
Fill the bundt pan only to 2/3 full, as you need to leave room for the dough to expand during baking. Don't let the uncooked dough sit in the pan too long, as it will start to rise.
If you have a convection oven, be sure to turn the fan on for even cooking.
Let the monkey bread cool in the pan for 5-10 minutes before unmolding. Then wait at least another 10 minutes before adding the icing; otherwise it'll melt from the heat.
For some fun variations, try substituting dried cranberries for the raisins, and/or chopped pecans for the walnuts. They're all yummy!
Watch How to Make Monkey Bread
Holiday Monkey Bread
Monkey Bread is a heartwarming crowd pleaser to share on any occasion, including Christmas morning! Not only is it delicious to eat, it's also fun to make. Serve it warm for breakfast or brunch, or put it out for a party. Finish it off with colored icing for a festive touch! #BeAMerryMaker #ad
Ingredients
2 cans Pillsbury Cinnamon Rolls, 13 oz each
½ cup granulated sugar
1 tsp ground cinnamon
½ cup raisins
½ cup walnut pieces, chopped
1 cup brown sugar, packed
1/2 cup unsalted butter, melted
Instructions
Preheat oven to 350°F. Spray a large 10-inch bundt pan with nonstick cooking spray.

Open cans of cinnamon rolls, separate into pieces. Cut each piece into quarters.

Combine granulated sugar and cinnamon in a large ziptop bag or mixing bowl.

Toss cinnamon roll pieces in the cinnamon sugar mixture to coat.


Arrange the pieces in the bundt pan (should be about 2/3 full).

Sprinkle raisins and walnuts on top.

In a small bowl, stir together melted butter and brown sugar. Drizzle over the mixture in the pan.

Bake 30-35 minutes or until dark golden brown and no longer doughy in center.

Remove from oven and cool in pan for 10 minutes. Meanwhile, make the icing.

In a small bowl, mix one pack of icing with 3 drops of green food color.

In another small bowl, mixing the second pack of icing with 3 drops of red color.

Invert the monkey bread onto a serving plate.

Drizzle white, green and red icing over cake. Serve and enjoy!
Nutrition Facts
Holiday Monkey Bread
Amount per Serving
% Daily Value*
* Percent Daily Values are based on a 2000 calorie diet.
Please read our nutrition disclaimer.
© TIPBUZZ. Images and text on this website are copyright protected. Please do not post or republish without permission. If you want to republish this recipe, please link back to this post. This post may contain affiliate links. Read the disclosure policy here.