Classic French Chateaubriand
Chateaubriand is a thick center cut of beef tenderloin, sometimes called a chateaubriand steak or filet mignon roast. This traditional French dish is perfect for two served with potatoes and a little homemade sauce!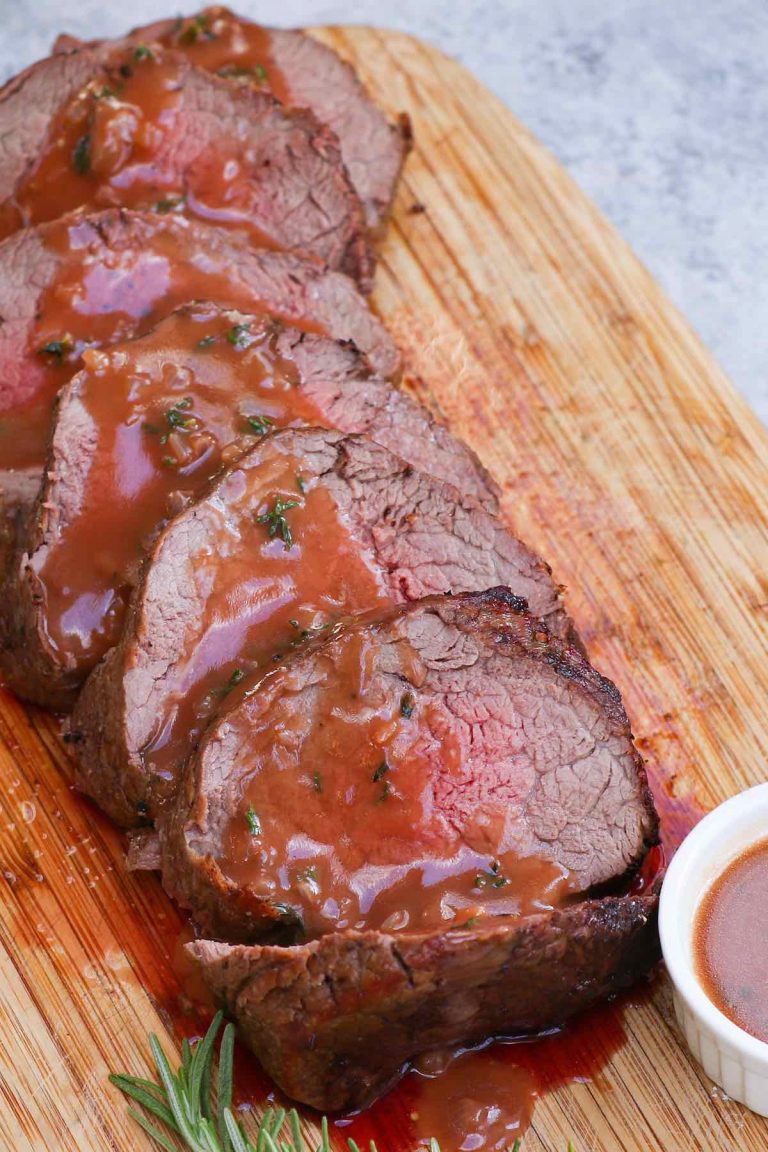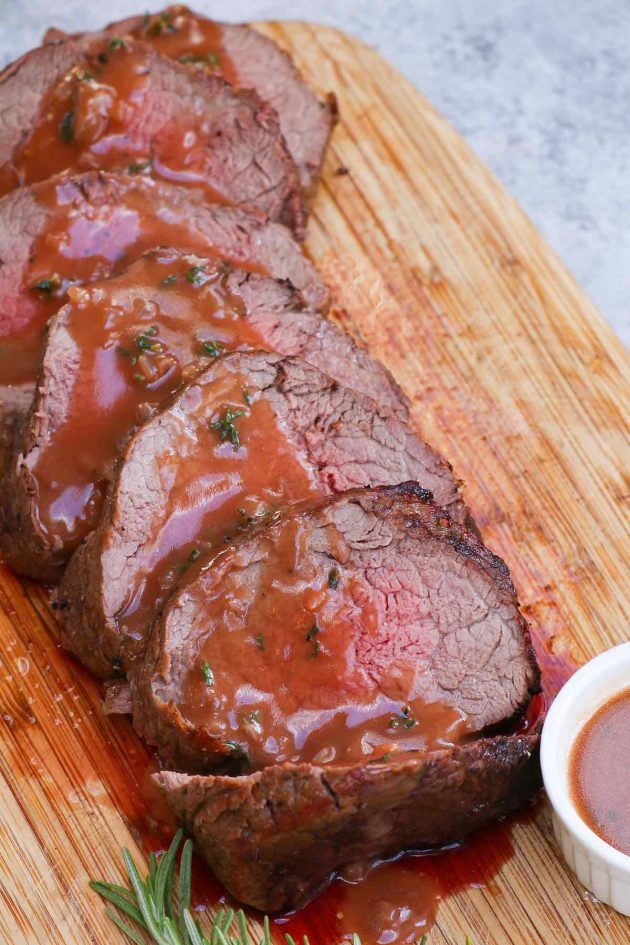 One of the most prized cuts of beef is undoubtedly the chateaubriand. This restaurant favorite is ideal for celebrating a special occasion such as Valentine's Day, holidays, birthdays or a date night!
Serve it with mashed potatoes or boiled potatoes and some veggies such as green beans, broccoli or spinach for a memorable dinner.
What Is the Chateaubriand Cut
Châteaubriand (pronounced shaa·tow·bree·aan) is a tradition dating back to 19th century France. The chef for the aristocrat François René de Châteaubriand devised a new cooking method whereby the choicest section of beef tenderloin was roasted between two lessers cuts, which were discarded after cooking. The tenderloin was then served with a delicate sauce and perhaps some chateau potatoes (baby potatoes shaved into perfect circles and sautéed in butter).
Over time, the definition has evolved to refer more to the cut itself (after all, who wants to throw out lesser cuts nowadays). With tenderloin being the most tender cut of beef available, chateaubriand is definitely a high-end dish. When wrapped in pastry and baked, it becomes Beef Wellington!
Chateaubriand vs Filet Mignon: While chateaubriand and filet mignon both come from the beef tenderloin in the loin primal. However, there are several differences. A fillet can come from any part of the tenderloin and is cut as a single 8 to 12 oz serving. However, chateaubriand is the entire center cut or head, producing a 12-32 oz roast suitable for two to three people.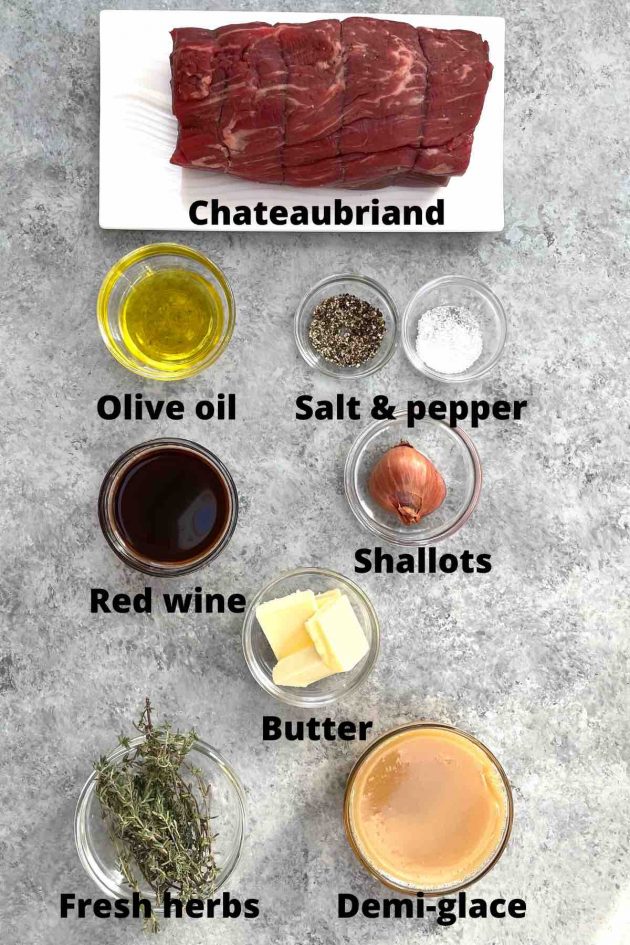 How to Cook Chateaubriand
The most difficult part of making chateaubriand is buying (and paying for) it! The rest is fairly straightforward, although I recommend using a thermometer to get the exact doneness. For the cost of a chateaubriand, it's worth investing a few dollars more for a thermometer.
Next, remove the meat from the refrigerator an hour ahead of time. This simple step will take the chill off for more uniform (and faster) cooking. When you're ready to cook, pat dry the meat with paper towels to remove excess moisture. Then rub with oil, salt and pepper on all sides.
Place the seasoned chateaubriand into a roasting pan fitted with a wire rack or trivet. Some people prefer to pan sear it for 5-7 minutes on the stovetop before placing it in the oven; however, when roasting at 400°F you will get a beautiful crust with one fewer steps.
Once the meat it in the oven, follow the guidelines below for doneness. I recommend cooking medium-rare to medium, although it's a matter of personal preference:
| | | |
| --- | --- | --- |
| Roasting times at 400°F | 16 oz chateaubriand | 32 oz chateaubriand |
| Rare | 10-12 minutes | 12-14 minutes |
| Medium rare | 12-14 minutes | 16-18 minutes |
| Medium | 18-20 minutes | 22-25 minutes |
| Medium-well | 22-25 minutes | 26-28 minutes |
| Well-done | 26-28 minutes | 30-35 minutes |
Remember that these are approximate times for room-temperature meat and a chilled chateaubriand may take longer.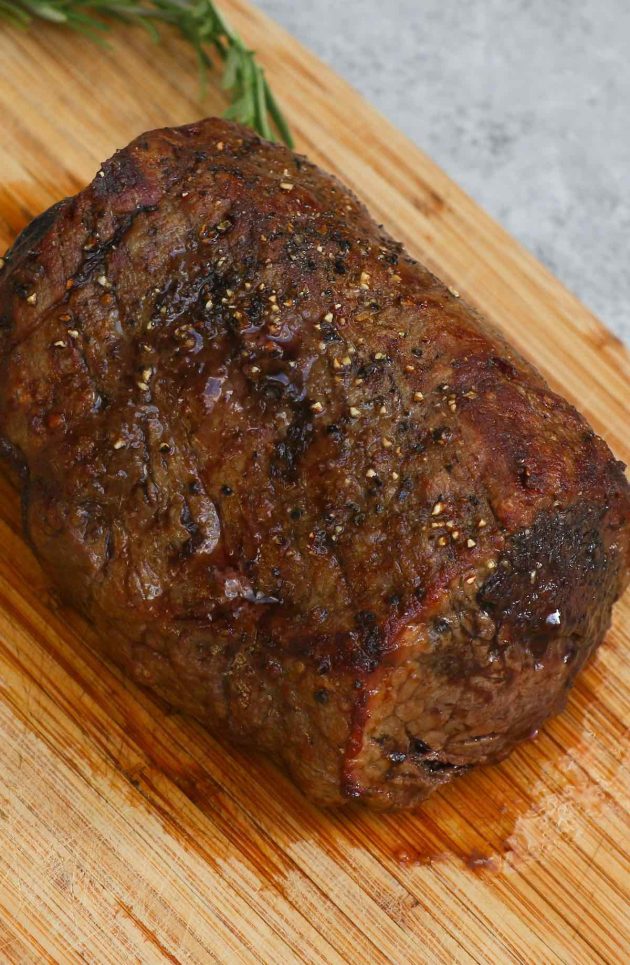 Once it has reached your desired doneness, remove it from the oven and tent with foil to keep warm. Then let it rest for 5-10 minutes undisturbed before serving so the juices and redistribute through the meat. Avoid cutting into it during this time, as juices will leak making a mess with less tender meat.
How to Check Doneness
Tenderloin is a forgiving cut that won't easily become tough. However, to nail the perfect doneness you'll want to insert a thermometer into the middle and compare to the guidelines below:
| | | | |
| --- | --- | --- | --- |
| | Description | Remove from heat | Final temp |
| Rare | Cool red center | 115-120°F | 125°F |
| Medium rare | Warn red center | 125°F | 135°F |
| Medium | Warm pink center | 135°F | 145°F |
| Medium well | Slightly pink center | 140°F | 150°F |
| Well done | Little or no pink | 150°F | 160°F |
Note that the temperature keeps rising during resting due to carryover cooking.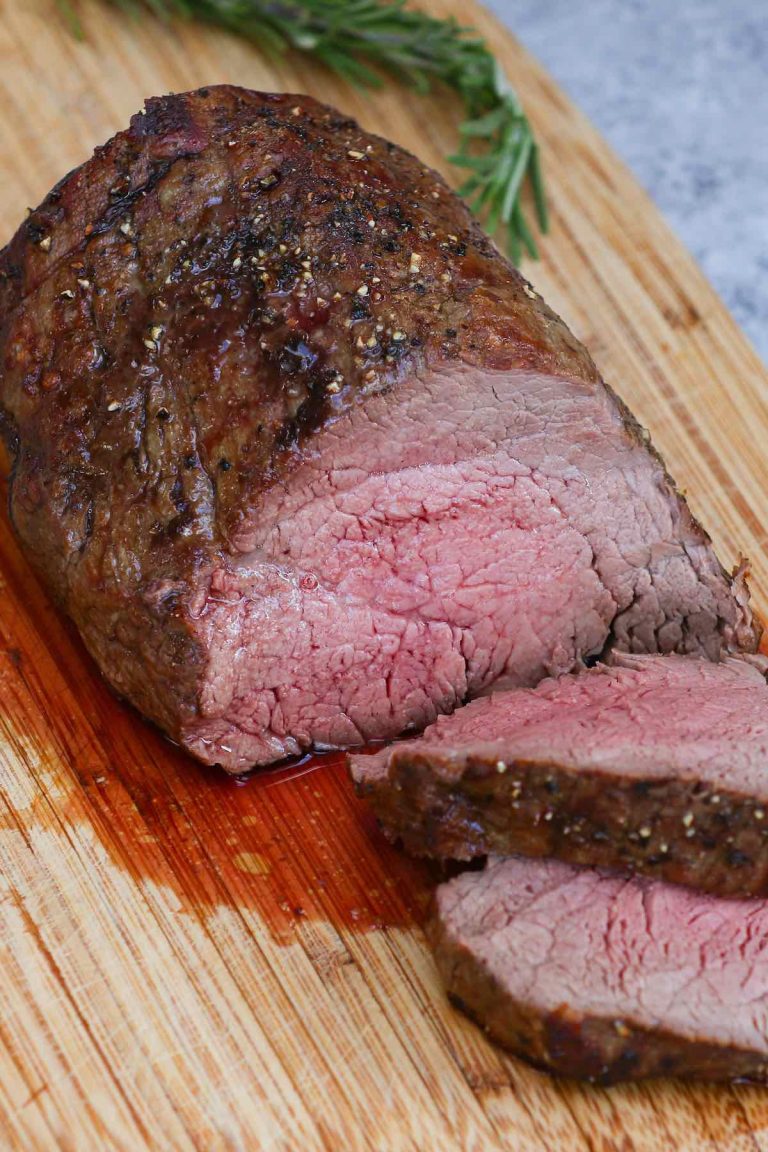 Chateaubriand Sauce
While the roast is in the oven, you can throw together an easy chateaubriand sauce to drizzle on top. While this step is optional, the sauce makes this dish even more special.
Here's what you'll need:
Shallots: These look like small red onions and have a mild flavor. If you can't find any, use a finely minced red onion.
Butter: A few knobs of unsalted butter for flavor.
Red wine: You can use whatever you're drinking, but try to avoid products labelled cooking wine, which can be harsh on such a delicate cut of beef.
Demi-glace: This is a rich brown sauce based on beef stock. You can buy it as a concentrate at specialty shops or online, or make your own. Otherwise, use beef broth boiled down by half.
Fresh herbs (optional): Some leaves of fresh thyme, oregano or tarragon can be added to make the sauce more fragrant.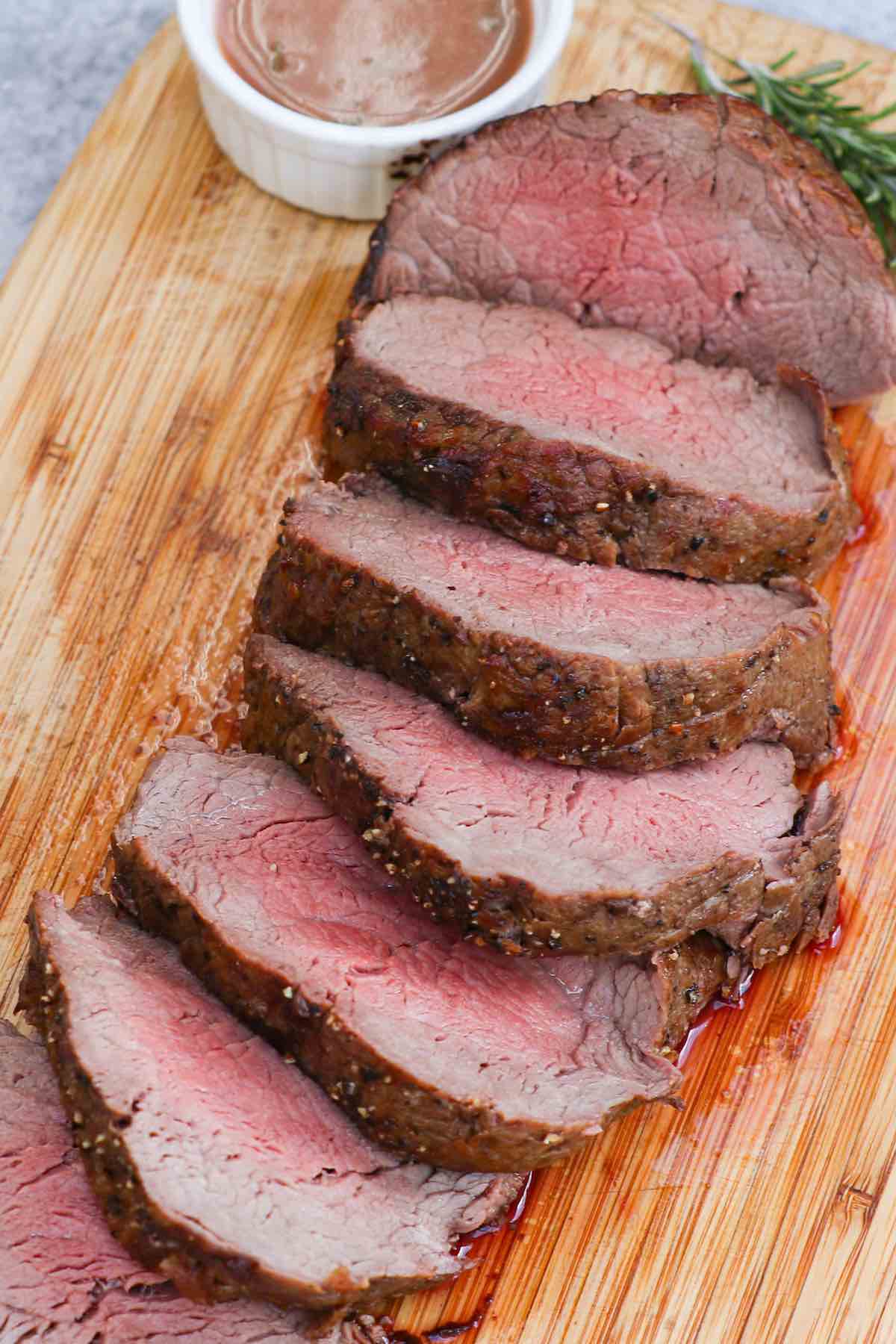 FAQ
Is Chateaubriand better than fillet? While both of these cuts consist of beef tenderloin, a chateaubriand comes from the "head" or thickest section, making it slightly more luxurious. In addition, it's often oven-roasted and served with a delicate sauce.
Why is Chateaubriand so expensive? Quite simply, chateaubriand comes from the thickest section of the tenderloin, which ranks as the most tender cut of beef. So you are always going to pay top dollar for it.
Can you cut Chateaubriand into steaks? Yes, you can cut a chateaubriand into tenderloin steaks, or filet mignon if you prefer. Note: you may find it more economical to buy large filet mignons directly.
What wine goes best with Chateaubriand? Consider pairing with a full-bodied wine such as a Carbernet Sauvignon, Bordeaux, Syrah or similar.
More beef roasts:
View all beef recipes
Chateaubriand with Red Wine Sauce
This traditional French dish made from the center cut of beef tenderloin is perfect for two! Serve it with an optional homemade sauce and some baby potatoes.
Ingredients
12-24 oz beef tenderloin, single piece cut from the center
1 tablespoon olive oil
1 teaspoon coarse salt, or to taste
½ teaspoon black pepper, freshly ground
Chateaubriand Sauce (Optional)
1 shallot, chopped fine
3 tablespoons unsalted butter, divided
1/2 cup red wine, full-bodied recommended
½ cup demi glace, or beef broth concentrate
1 tablespoon fresh herbs, chopped, thyme or tarragon recommended (or 2 tsp dried)
Instructions
Remove the chateaubriand from the refrigerator one hour ahead of time. This step takes the chill off for more even cooking with juicier meat.

Preheat the oven to 400°F, placing the oven rack in the upper middle position. Fit a small roasting pan with a wire rack and set aside.

Pat dry the meat with paper towels to remove excess moisture. Then rub on all sides with oil followed by the salt and pepper.

Optional: If your oven is not powerful, you may wish to pan-sear the chateaubriand first. Place a skillet over medium-high heat for 3-5 minutes until hot. Then add the beef and sear for one minute per side until nicely browned all over. Use kitchen tongs to move it easily.

Place the beef in the preheated oven to roast for 15-30 minutes depending on size and your desired doneness. Start checking doneness after 15 minutes by inserting an instant-read thermometer into the center: 115°F is rare, 125°F is medium-rare and 135°F is medium (see note).

Once the meat has reached your desired doneness, remove from the oven to a carving board. Cover tightly with foil to keep warm and let it rest for 5-10 minutes so the juices can retreat back into the meat. During this time you can make the optional sauce below.
Chateaubriand Sauce (Optional)
Place a skillet on medium heat. Add the minced shallot and butter, sautéing for several minutes until translucent.

Add the red wine and boil for several minutes until thickened slightly.

Add the demi glace and continue boiling until the sauce is thick enough to coat the back of a spoon.

Swirl in the remaining tablespoon of butter and add the fresh herbs.

Remove from the heat. Slice the chateaubriand and drizzle or spoon the sauce on top. Serve immediately.
Notes
Beef: You may see this cut labelled as beef tenderloin roast, filet mignon roast, chateaubriand steak or simply chateaubriand. It will usually weigh in at 12-24 oz (1-2 pounds) and command a slight price premium over filet mignon, since it's the thickest part, or the center cut. If in doubt, verify you are getting the correct cut with your butcher.
Doneness: Here are the temperatures to look for coming out of the oven: 115-120°F for rare, 125°F for medium-rare, 135°F for medium, 140°F for medium-well and 150°F for well-done. The temperature will typically rise another 10°F while resting. While I recommend cooking it medium rare or medium, this tender cut can withstand longer cooking times better than most cuts.
Nutrition Facts
Chateaubriand with Red Wine Sauce
Amount per Serving
% Daily Value*
* Percent Daily Values are based on a 2000 calorie diet.
Please read our nutrition disclaimer.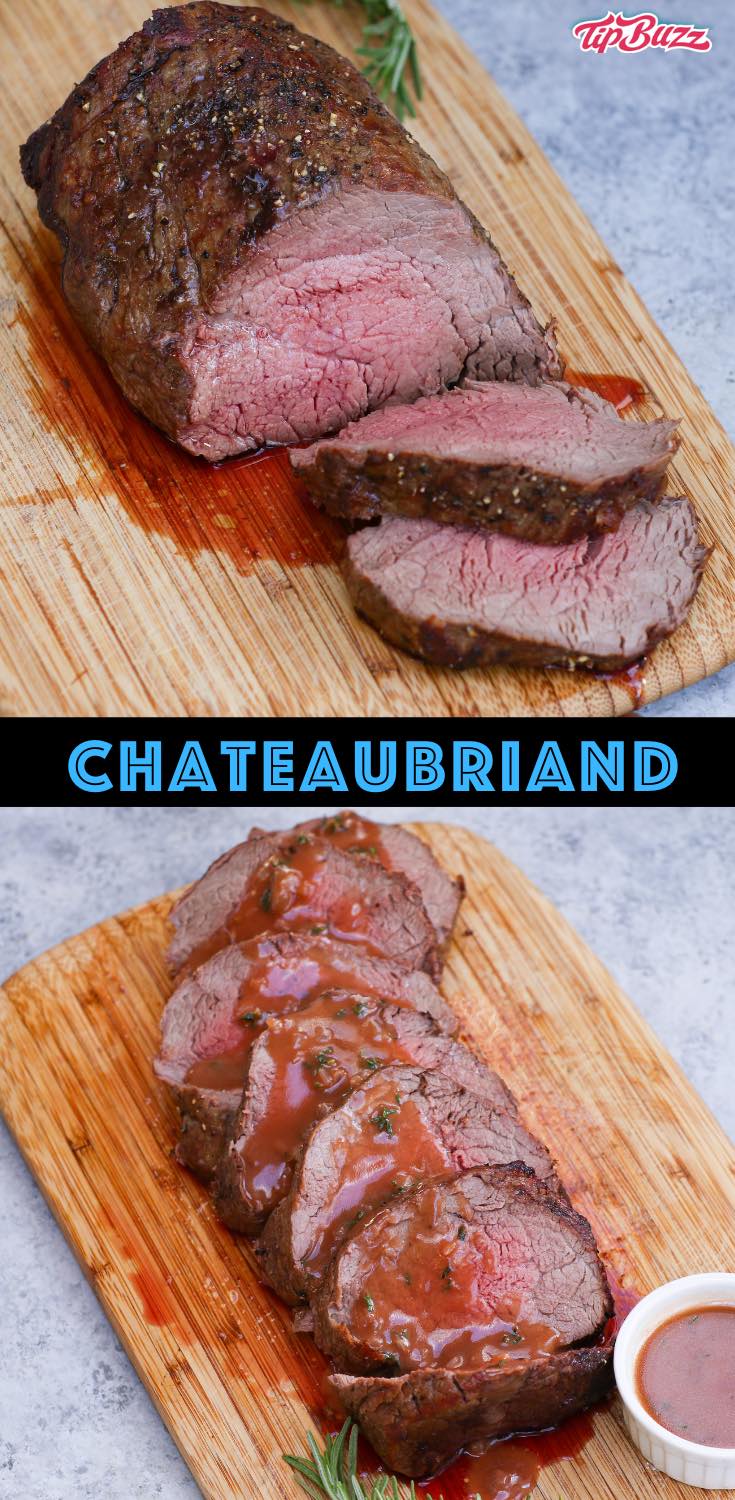 © TIPBUZZ. Images and text on this website are copyright protected. Please do not post or republish without permission. If you want to republish this recipe, please link back to this post. This post may contain affiliate links. Read the disclosure policy here.