Mini Apple Roses
These Mini Apple Roses are soft and flakey with delicious cinnamon apple flavors. Serve dusted with powdered sugar for a beautiful dessert that will make everyone's mouth water!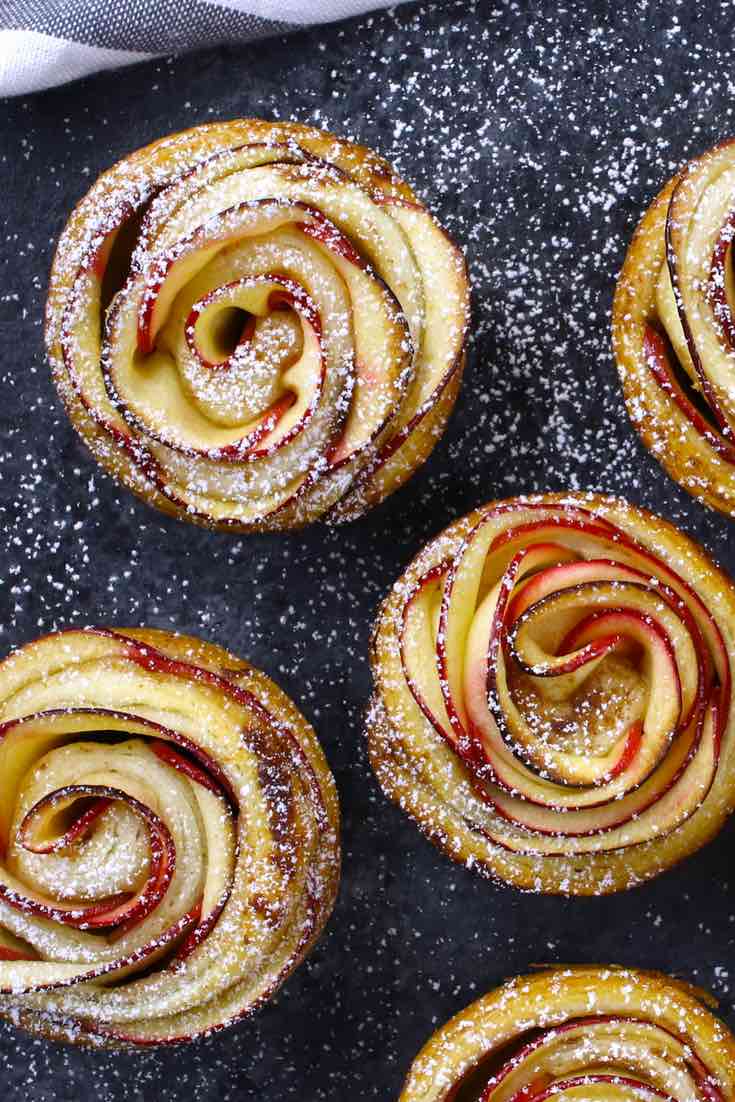 This dessert is a miniature version of our popular Cinnamon Roll Apple Rose Tart. While they're both fabulous ways to use up fresh harvest apples, this recipe is easier to prepare.
They're fancy enough for entertaining and special occasions, but you can also just pack them for a snack on the go. (Kids love to show them off in school lunches too). Needless to say, portions are easy to manage at just over 200 calories apiece!
How to Make Apple Roses
I recommend using Red Delicious apples for the rich color they add to the edges of the roses. However, you can also use Gala, Pink Lady and other baking varieties.
The trickiest part is slicing the apples thinly. Too thick and they won't bend to make the rose, but too thin and they'll flop around. I recommend using a mandolin or you can just carefully slice to about 1/8-inch thick using a paring knife.
To prevent browning after slicing, you want to coat the apple slices in lemon juice, brown sugar and melted butter. Then you're going to microwave them on full power for 2 minutes, just long enough to become pliable.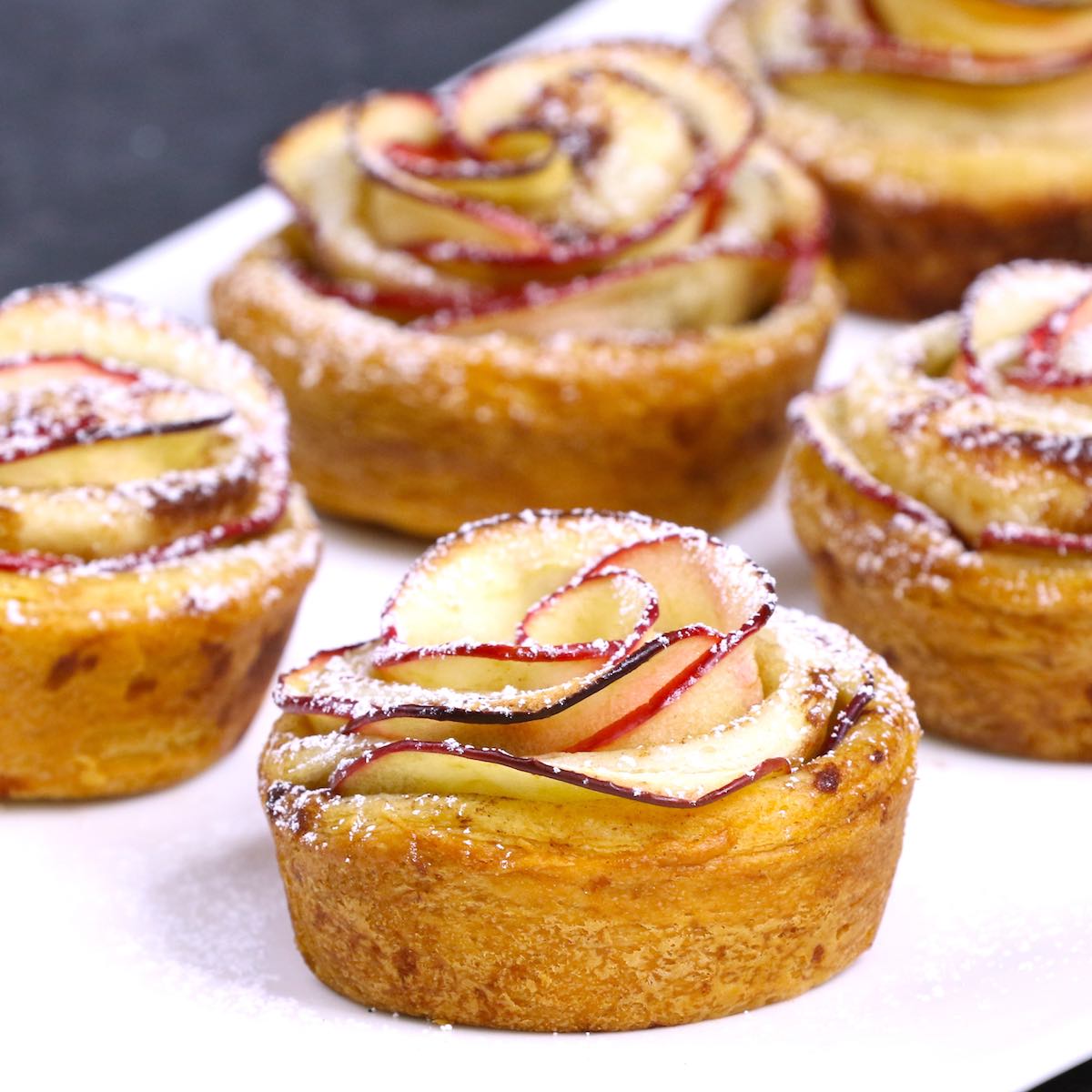 Now you're ready to assemble. Open the packages of cinnamon rolls and unravel on a work surface (note that the Pillsbury brand will not work for this recipe – see recipe notes).
Next, fit each a standard-size muffin pan to make a spiral pattern with a slight gap in between. That's where you insert the apple slices, peel side facing up, to form the apple roses!
Once you've completed all 12 cups of the muffin pan and used up your apples, it's time to bake and they'll take about 15-20 minutes at 375°F.
Watch Recipe Video:
This short video shows you how to make this dessert from start to finish:
More Apple Rose Recipes: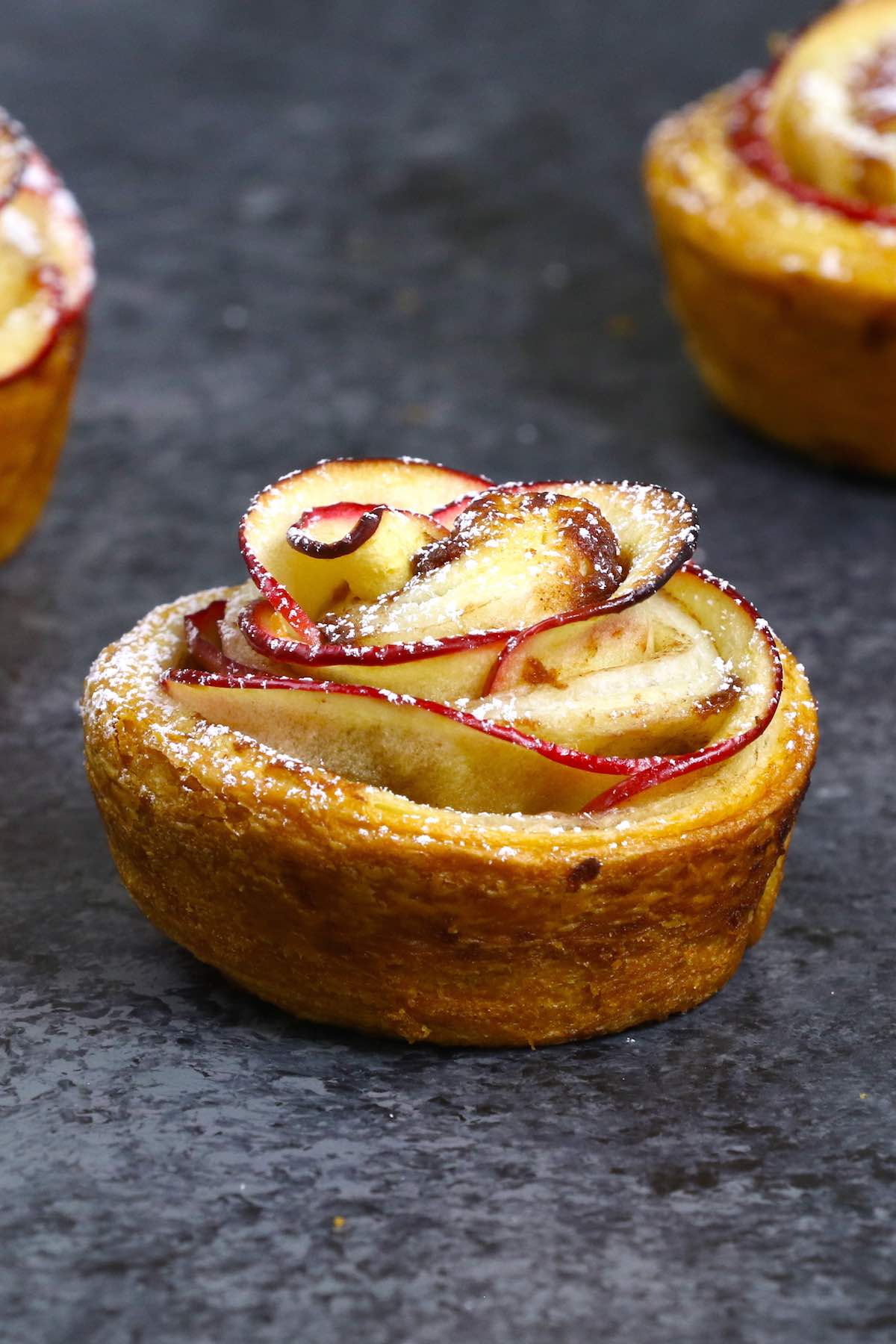 Mini Apple Roses
These Mini Apple Roses are soft and slightly crispy on the edges with cinnamon apple flavors. Serve on their own or with ice cream or whipped cream for a mouthwatering dessert!
Ingredients
Apple Roses
2 apples, Red Delicious recommended
2 tbsp lemon juice, freshly squeezed
4 tbsp unsalted butter, melted
4 tbsp brown sugar
Cinnamon Cups
18 oz cinnamon roll dough, 2 packages, store brand recommended (see note)
1/4 cup powdered sugar, optional for dusting
Instructions
Add the lemon juice to a medium microwaveable bowl and set aside.

Slice the apples in half and cut out the cores (an apple corer is recommended). Using a sharp paring knife or mandolin, cut the apple halves lengthwise into 1/8-inch thick slices and add to the bowl.

In a small bowl, mix the brown sugar and melted butter together. Then pour on top of the apple slices, stirring to coat.

Microwave for about 2 minutes or until the apple slices are pliable. Remove from the microwave and drain any accumulated liquid. Then set aside.

Preheat oven to 375°F. Grease a 12-cup muffin tin and set aside.

Open the cinnamon roll package and unravel the dough into long strips.

Place one cinnamon roll in each muffin cup to form a spiral.

Slide apple slices in the gaps between the cinnamon roll with the peel side facing up to make a rose petal look. Repeat for all remaining muffin cups.

Bake 15-20 minutes or until puffy and golden. Then remove from the oven and cool slightly.

Dust with optional powdered sugar before serving.
Notes
Cinnamon Roll Dough: Store brands such as Great Value etc. in standard size work best. Pillsbury reformulated their cinnamon roll dough so it no longer unravels, meaning it won't work properly in this recipe. Avoid oversized cinnamon rolls if possible.
Make Ahead: You can make them up to one day ahead of time and store in the refrigerator until serving. Note they do not freeze well.
Nutrition Facts
Mini Apple Roses
Amount per Serving
% Daily Value*
* Percent Daily Values are based on a 2000 calorie diet.
Please read our nutrition disclaimer.
Recipe tools:
© TIPBUZZ. Images and text on this website are copyright protected. Please do not post or republish without permission. If you want to republish this recipe, please link back to this post. This post may contain affiliate links. Read the disclosure policy here.