Vodka Sauce (Penne Alla Vodka)
This vodka sauce is bright, creamy and flavorful! We are combining simple ingredients like onions, tomato paste, cream and parmesan for this vodka sauce recipe. Use it to easily make penne alla vodka or another vodka sauce pasta dish in the comfort of your own home!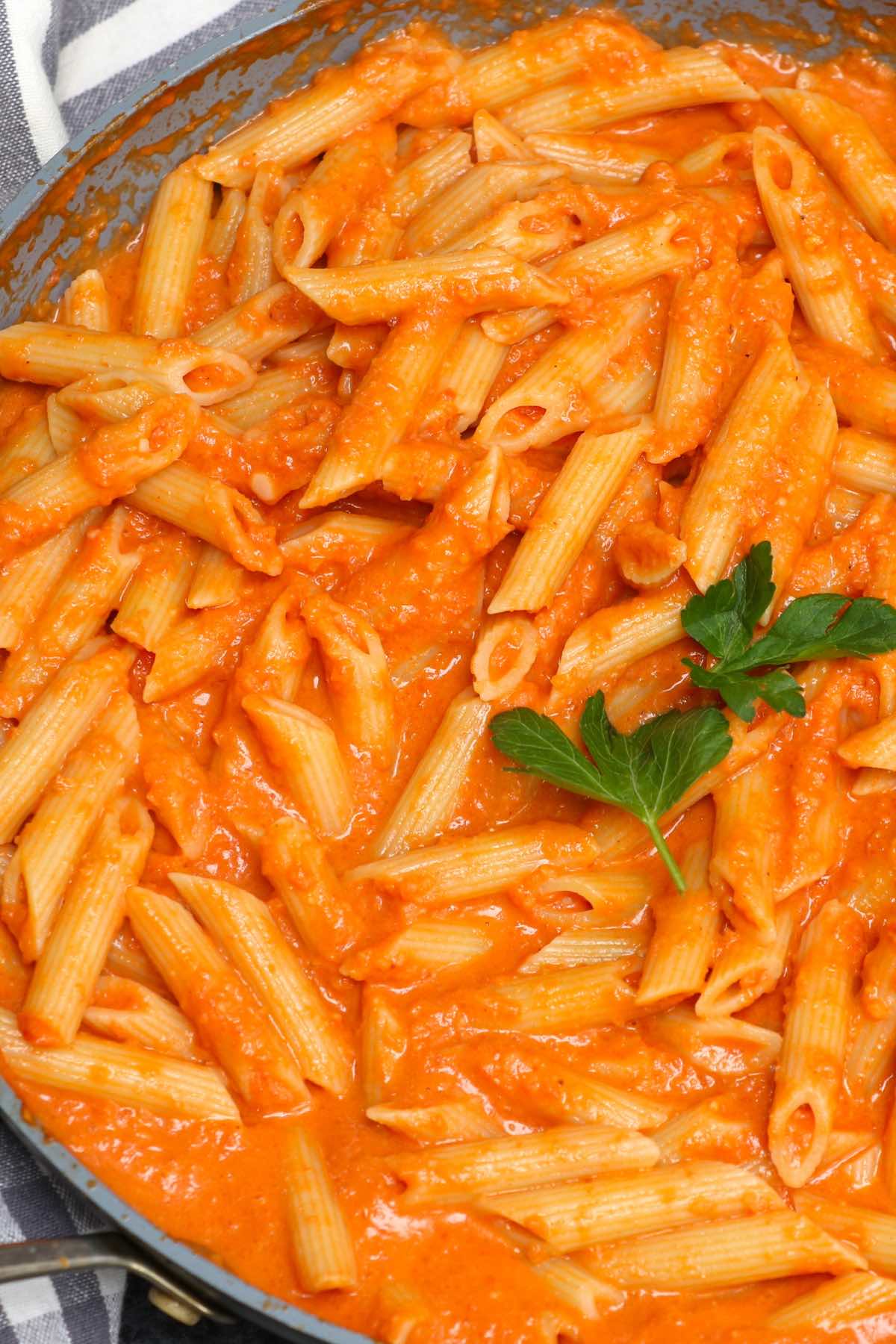 There's a reason penne why vodka sauce is on so many restaurant menus. This Italian-American dish is delicious, with hints of onion and garlic complementing the richness of tomatoes and cream.
It goes especially well with penne and other tubular pasta like rigatoni. However, it's also fabulous with meatballs or even lasagna. For a more substantial dinner, pair with a green salad (or caesar salad) or a chicken or shrimp dish.
What Is Vodka Sauce?
Vodka sauce is a thick, creamy sauce known for its distinctive pinkish-orange color. Made with Italian herbs, tomato sauce, heavy cream and a splash of vodka, it's a staple in Italian-American cuisine.
What Does Vodka Sauce Taste Like?
Vodka sauce is sometimes described as a cross between marinara sauce and Alfredo sauce. That's because they both include tomatoes and heavy cream along with Parmesan cheese. The flavors are bright and creamy with a smooth, silky texture.
Does Vodka Sauce Have Vodka In It?
Yes, there is in fact real vodka in vodka sauce! During simmering, it unlocks flavor compounds in tomatoes that are only soluble in alcohol. Vodka also acts as an emulsifier, ensuring a smooth consistency by preventing the cream and tomatoes from separating.
There is no risk of intoxication from consuming this sauce, as the alcohol evaporates completely during the simmering process. As a result, you can serve this recipe with confidence to adults, children and even pregnant women!
Ingredients
Here are the key ingredients to make it: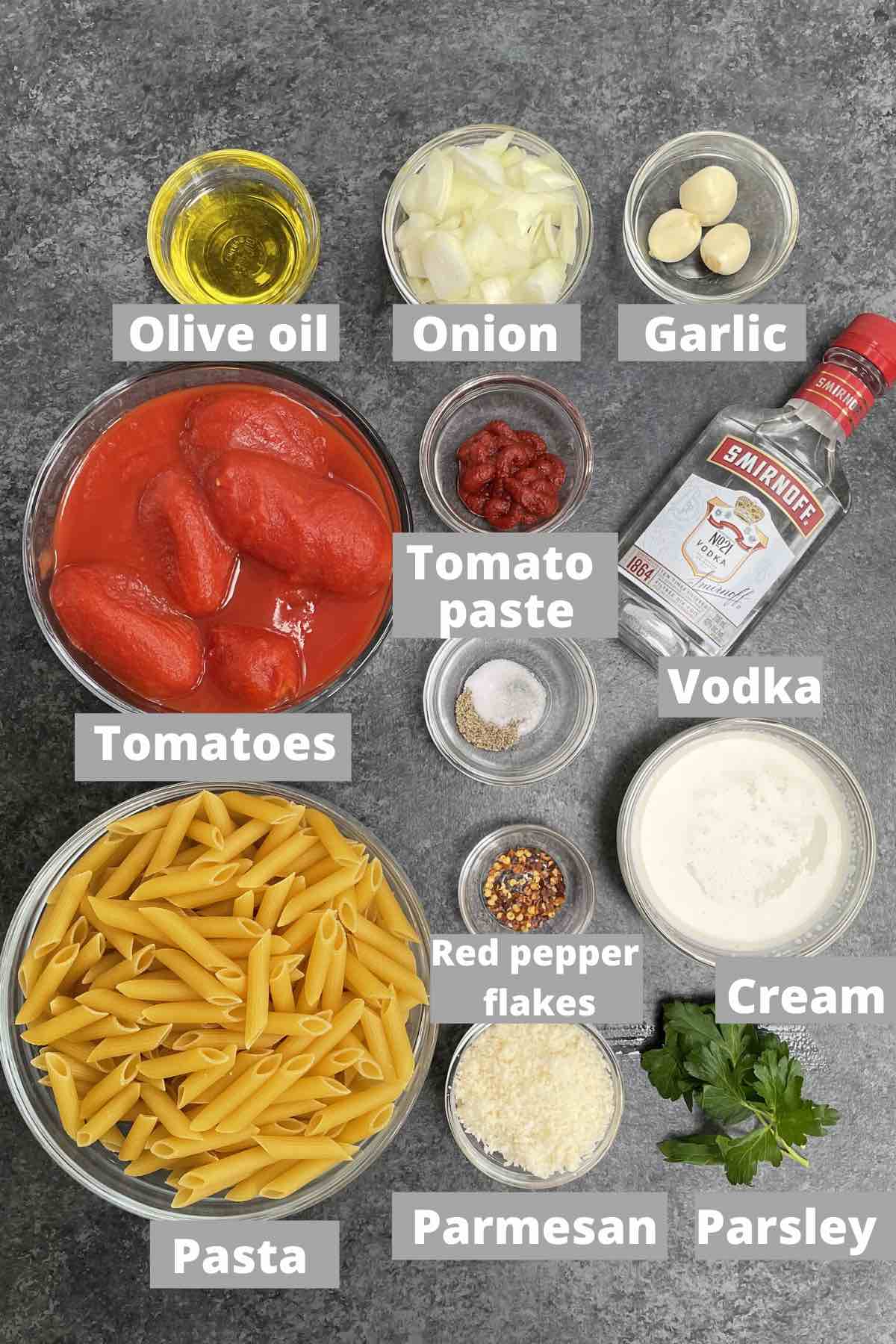 Olive oil: You can use extra-virgin or refined olive oil as you like.
Garlic: Fresh garlic cloves are important – if you don't have any then omit.
Onion: Large yellow or white onion is ideal.
Red pepper flakes: Traditionally used to provide a slight kick to this recipe, you can omit if you prefer.
Vodka: Any unflavored vodka will work.
Tomatoes: You can use fresh or canned tomatoes. For fresh, look for quality ripe tomatoes. For canned, use whole peeled tomatoes with no added flavorings and look for premium varieties like San Marzano.
Tomato paste: I recommend double-concentrated tomato paste in a tube.
Cream: You can use heavy cream or half and half.
Parmesan: Freshly grated parmesan is ideal. Avoid pre-shredded varieties if possible.
Note that you will want to add salt and pepper to taste along with some fresh minced parsley for garnish if desired.
How to Make Vodka Sauce
To make this sauce, you'll need a skillet plus a blender or food processor. Start by sautéing the onion, garlic and red pepper flakes in some olive oil for 4 to 5 minutes until soft: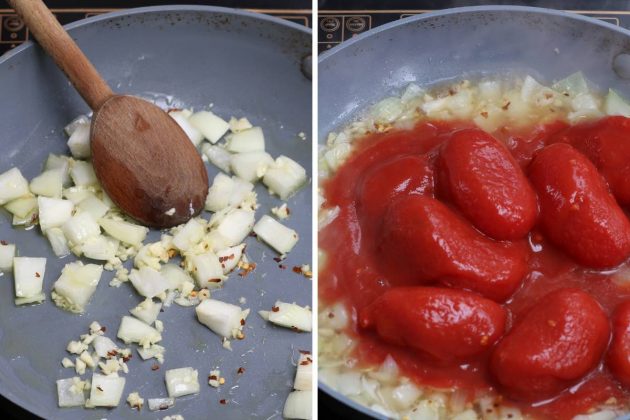 Next, add the vodka and tomatoes, simmering uncovered for 5 more minutes over medium-low heat. If using whole canned tomatoes, you can mash them with a spoon to break them up slightly. Then add the tomato paste, salt and pepper. Cover partially and simmer for 15 minutes: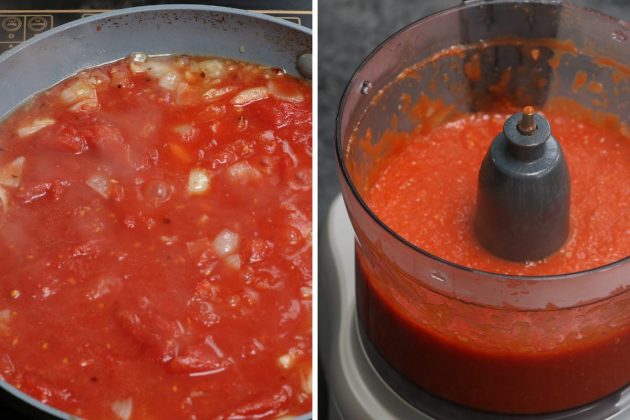 The final stage is pureeing the sauce. Pour the contents of the pan into a blender or food processor and process for about 5 seconds or until smooth.
Return to the pan over medium-low heat again. Stir in the cream and wait a minute until it bubbles before mixing in the parmesan cheese and cooked pasta: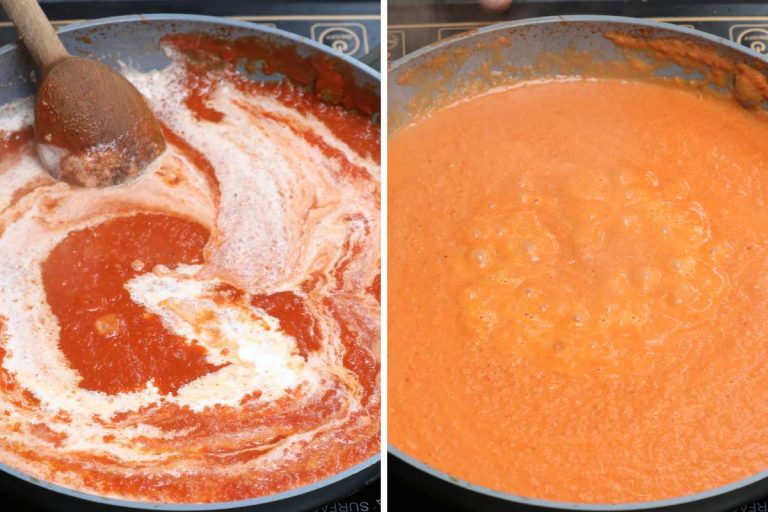 Why Does My Vodka Sauce Taste Bitter?
Tomato-based sauces can sometimes be bitter, and there are several ways to prevent it:
Always use stainless steel, ceramic or enameled cookware for this recipe, as tomatoes can react with cast iron or aluminum pans.
Use high-quality tomatoes, as lower grades of fresh or canned tomatoes are more likely to taste bitter.
Simmer over lower heat to help the flavors to mellow. Avoid high heat or cooking the sauce excessively.
If your sauce still tastes bitter, adding a teaspoon of white sugar or some extra salt to mask the bitterness. Alternatively, you can consider these other tips.
Variations
Vodka Sauce without Vodka: There are many reasons why you may want to enjoy this sauce without the alcoholic ingredient. Just skip the vodka and this sauce will still be delicious!
Vodka Sauce without Cream: If you're lactose intolerant or simply do not want a creamy sauce, go ahead and omit the heavy cream. This version has fewer calories, but a less creamy texture.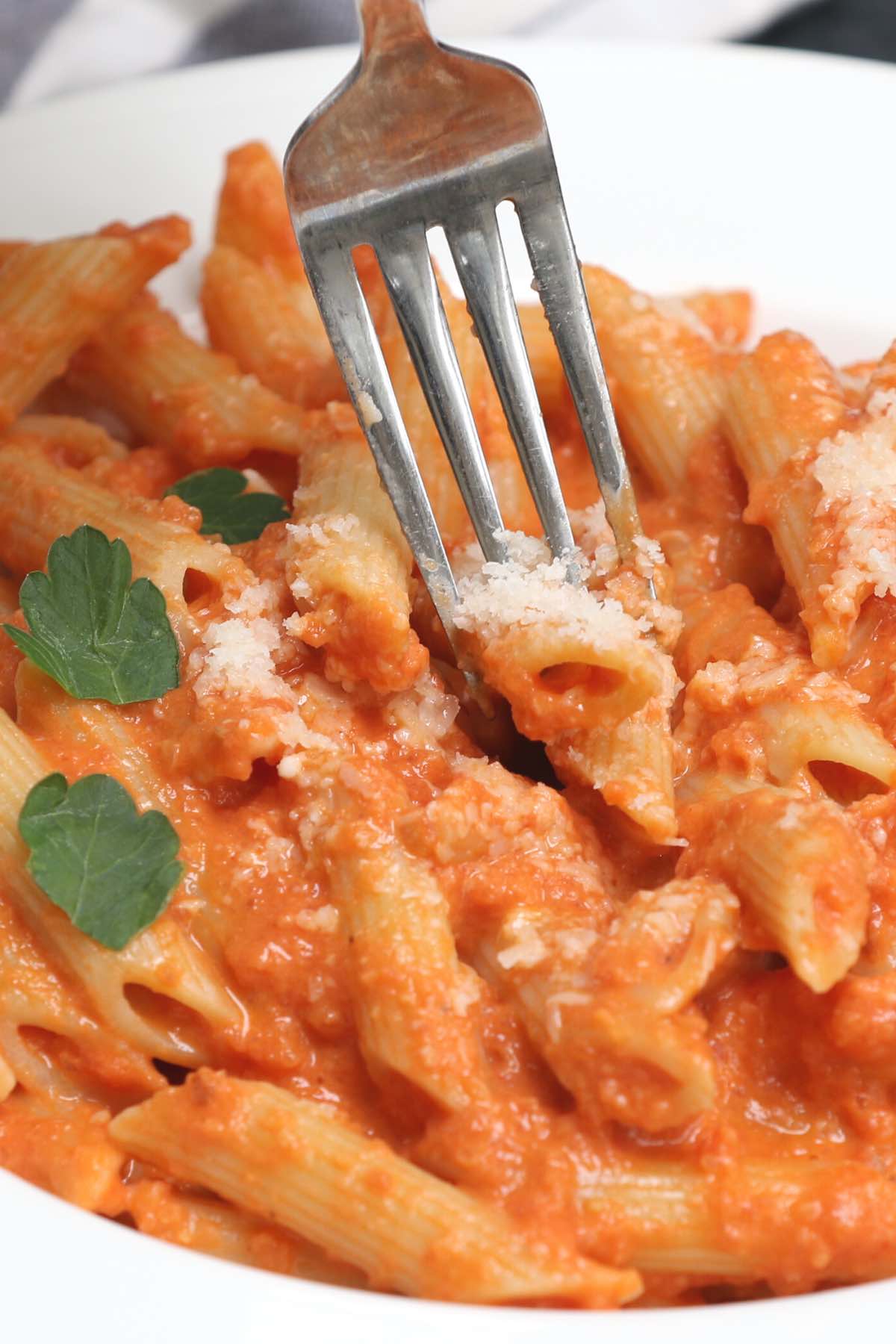 Where to Buy Vodka Sauce
If you don't want to make your own, there are bottled varieties available in stores and online. Just beware that they may not contain vodka and are not as flavorful as homemade or restaurant versions.
More Pasta Recipes
View all pasta recipes
Homemade Vodka Sauce
This vodka sauce is bright, creamy and flavorful! We are combining simple ingredients like onions, tomato paste, cream and parmesan for this vodka sauce recipe. Use it to easily make penne alla vodka or another vodka sauce pasta dish in the comfort of your own home!
Ingredients
3 tablespoons olive oil, extra virgin recommended
1 cup yellow onion, chopped, or shallots
3 cloves garlic, minced
1/4 teaspoon red pepper flakes, or to taste (optional)
1/3 cup vodka, 3 oz
28 ounces canned whole peeled tomatoes, or 3 cups fresh diced tomatoes (see note)
1 tablespoon tomato paste, double concentrated recommended
1/2 teaspoon salt, or to taste (see note)
1/2 teaspoon fresh black pepper, to taste (optional)
3/4 cup half and half, or ½ cup whipping cream
¼ cup grated parmesan cheese, (see note)
Penne Alla Vodka (optional)
1 pound penne pasta, or other pasta (16 oz)
grated parmesan, for serving
fresh parsley, or basil for garnish
Instructions
Place a large skillet over medium heat (see note). Add the oil followed by the garlic, onions and red pepper flakes. Cook for 4-5 minutes until soft, stirring regularly to prevent sticking.

Add the vodka and tomatoes to the pan. Stir and continue cooking for 5-7 minutes more until the sauce has reduced somewhat.

Add the tomato paste, salt and pepper. Reduce the heat to low and simmer partially covered for 15-20 minutes until reduced by about half. Stir occasionally.

While the sauce is simmering, you can cook the pasta in boiling salted water, following the package directions. Drain, toss with a teaspoon of olive oil to prevent sticking and set aside.

Transfer the sauce to a blender or food processor. Purée for about 5 to 10 seconds until smooth.

Add the pureed sauce back to the skillet. With the heat on medium-low, add in the half and half or cream. Stir gently for a minute or two until it starts to bubble.

Stir in the parmesan cheese. Then toss with the cooked pasta until coated completely. Garnish with extra parmesan and optional parsley or basil before serving.
Notes
Cookware: Use a steel, enameled or nonstick pan. Avoid aluminum or cast iron, which can react with the tomatoes imparting bitterness.
Salt: Note that canned tomatoes, tomato paste and parmesan usually contain salt, so consider adding less during preparation and adjust to taste before serving.
Tomatoes: If using canned tomatoes, look for a quality brand such as Muir Glen, 365 or San Marzano to reduce the risk of bitterness. Use whole peeled tomatoes with no added flavors like basil.
Parmesan: Use freshly grated parmesan for the best flavor. Avoid the pre-packaged green can!
Storage: You can store vodka sauce in an airtight container in the fridge for up to 5 days. You can also freeze it in a resealable plastic bag for up to 3 months.
Nutrition Facts
Homemade Vodka Sauce
Amount per Serving
% Daily Value*
* Percent Daily Values are based on a 2000 calorie diet.
Please read our nutrition disclaimer.
© TIPBUZZ. Images and text on this website are copyright protected. Please do not post or republish without permission. If you want to republish this recipe, please link back to this post. This post may contain affiliate links. Read the disclosure policy here.