Trinidad Curry Chicken
This Trinidad Curry Chicken is full of fall-off-the-bone chicken simmered in a mouthwatering curry sauce with spicy West Indies flavors! This recipe is easy to make in under an hour on the stovetop.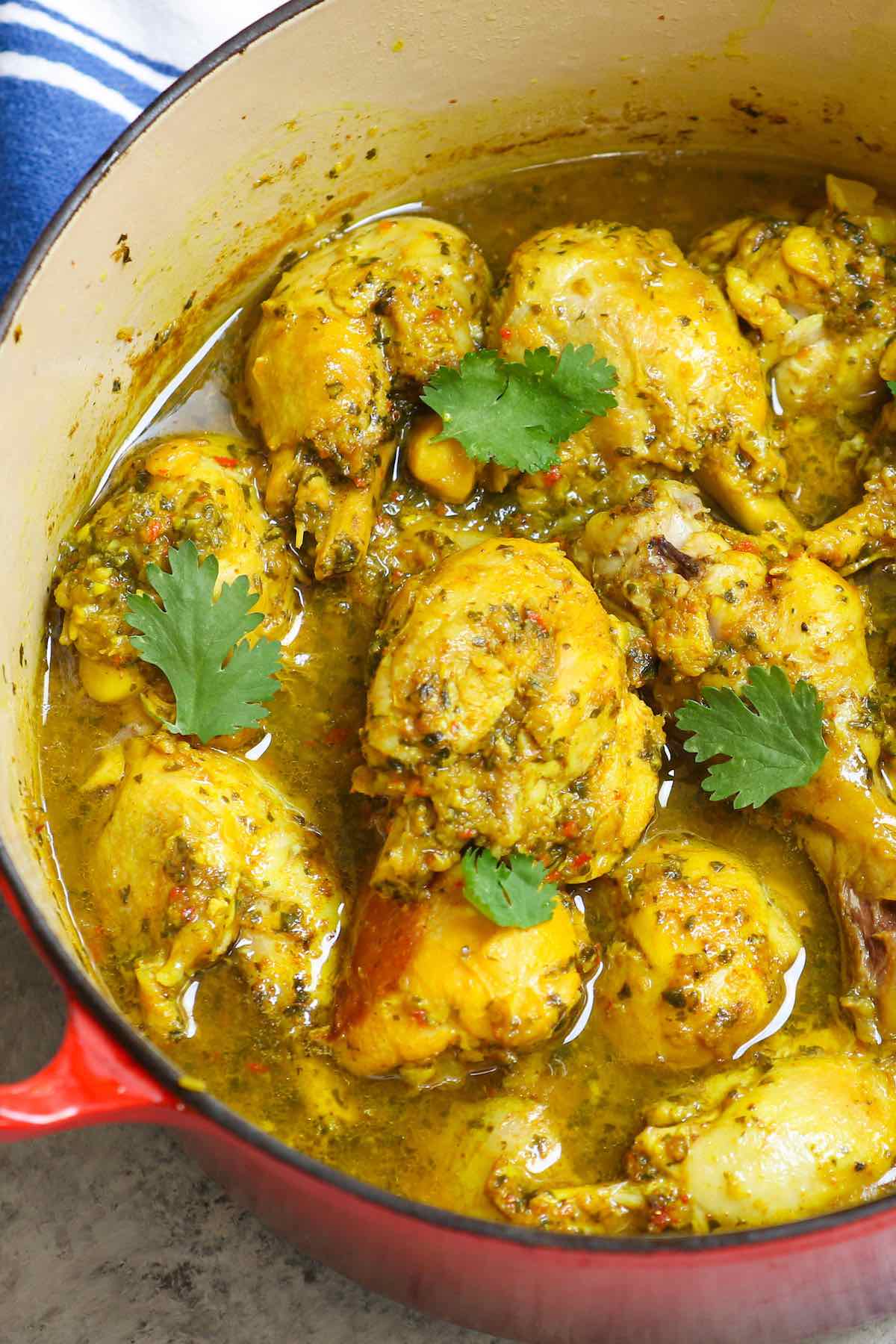 My first taste of trini curry chicken was during a vacation in the West Indies, and it's been comfort food for me ever since. The chicken is fall-off-the-bone tender in a fiery sauce with aromatic island flavors!
As a side note, even my kids who normally dislike spicy food dug right into this curry! It's easy to control the heat by scraping out the seeds of the chili, or adjusting the amount of chili down (or up!).
To serve, just stuff it into roti bread or serve steamed rice. For a more substantial meal, you can always add potato chunks to the pot to simmer along with the chicken. Are you ready to make some West Indies curry chicken?
Ingredients
Here are the main ingredients you'll need:
Chicken: Drumsticks are ideal, but you can also use chicken thighs or legs. I don't recommend chicken breasts, as they're not as tender and can easily become chewy.
Onion: Use a medium yellow or white onion, or a red onion.
Garlic: Fresh garlic cloves are the make-or-break for this dish. Don't use garlic powder!
Ginger: Use a piece of peeled fresh ginger
Cilantro: This is fresh coriander including stems and leaves.
Scotch Bonnet Chili (Habanero): One of the round chilis is enough unless you want it really spicy. If you can't find any, you can use a red thai chili instead.
Curry powder: Your standard curry powder from the spice aisle.
Chicken broth (or water)
In addition, it's great to use cilantro and minced green onions as a garnish when serving.
How to Make Trinidad Curry Chicken
There are two main steps in this Trinidad curry chicken recipe: making the curry paste and preparing the chicken.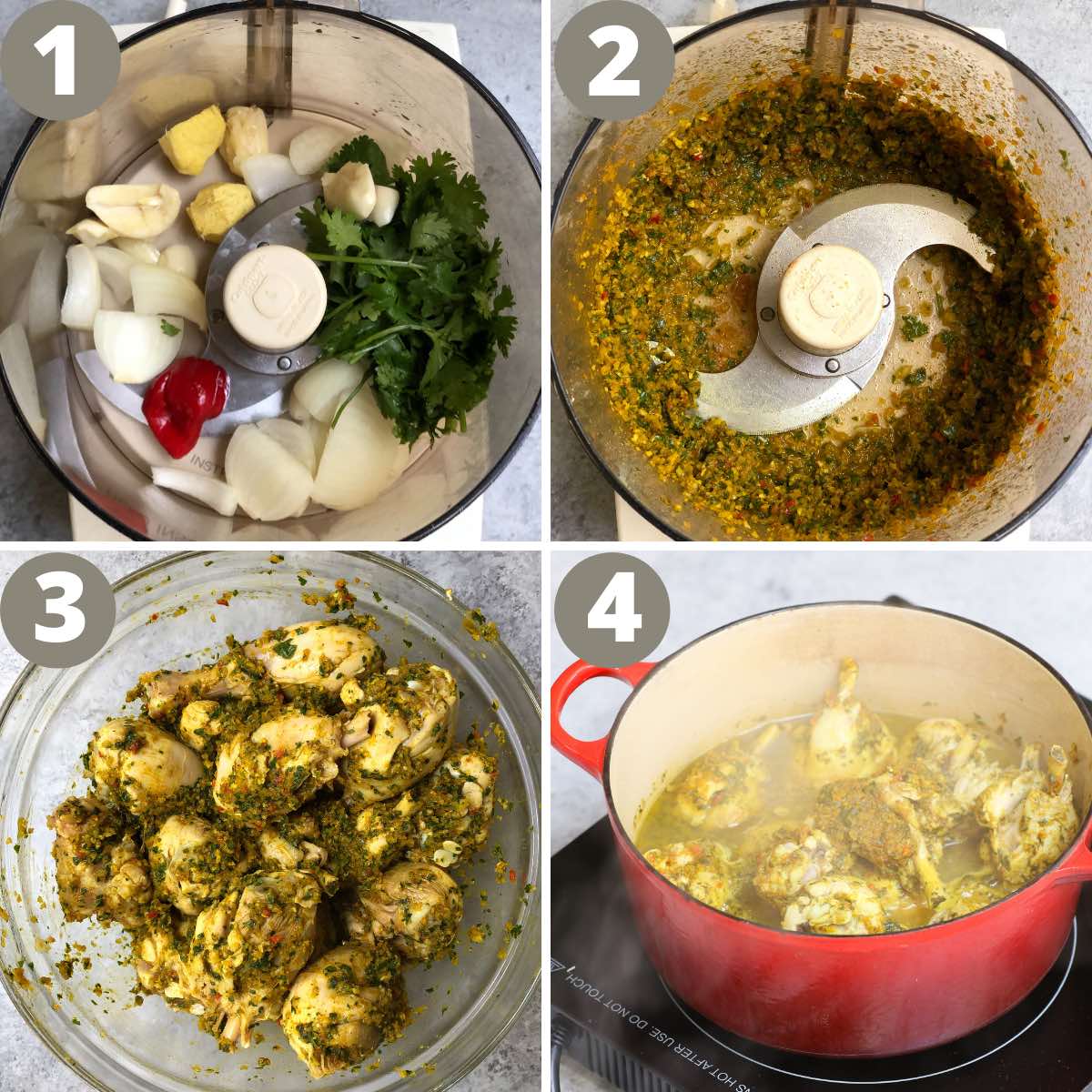 Put the peeled garlic, ginger, onion, chili, cilantro and curry powder into a food processor or blender. (Read how to peel ginger easily.) Then pulse the ingredients several times to reach a coarse consistency, and you can always add a few spoonfuls of water if needed to bring it together.
Next, skin the chicken drumsticks. I find it easiest to grab hold of the skin with a piece of paper towel to grip, and and then peel (rip) it off. Then to achieve the authentic Trini style, chop the top inch of bone off with a meat cleaver. Of course, you can always ask your meat counter to do all this ahead of time.
Rub the chicken pieces all over with the curry paste (use rubber gloves if you don't want your hands to become spicy) and let it sit for 10-15 minutes to marinate.
Place a medium pot or a large skillet over medium-high heat. When hot, add the oil and the chicken pieces to fry for a few minutes. Then add the broth or water and bring to a boil. Cover partially and simmer for 30 minutes.
You may wish to garnish with fresh cilantro and minced green onions for extra flavor before serving.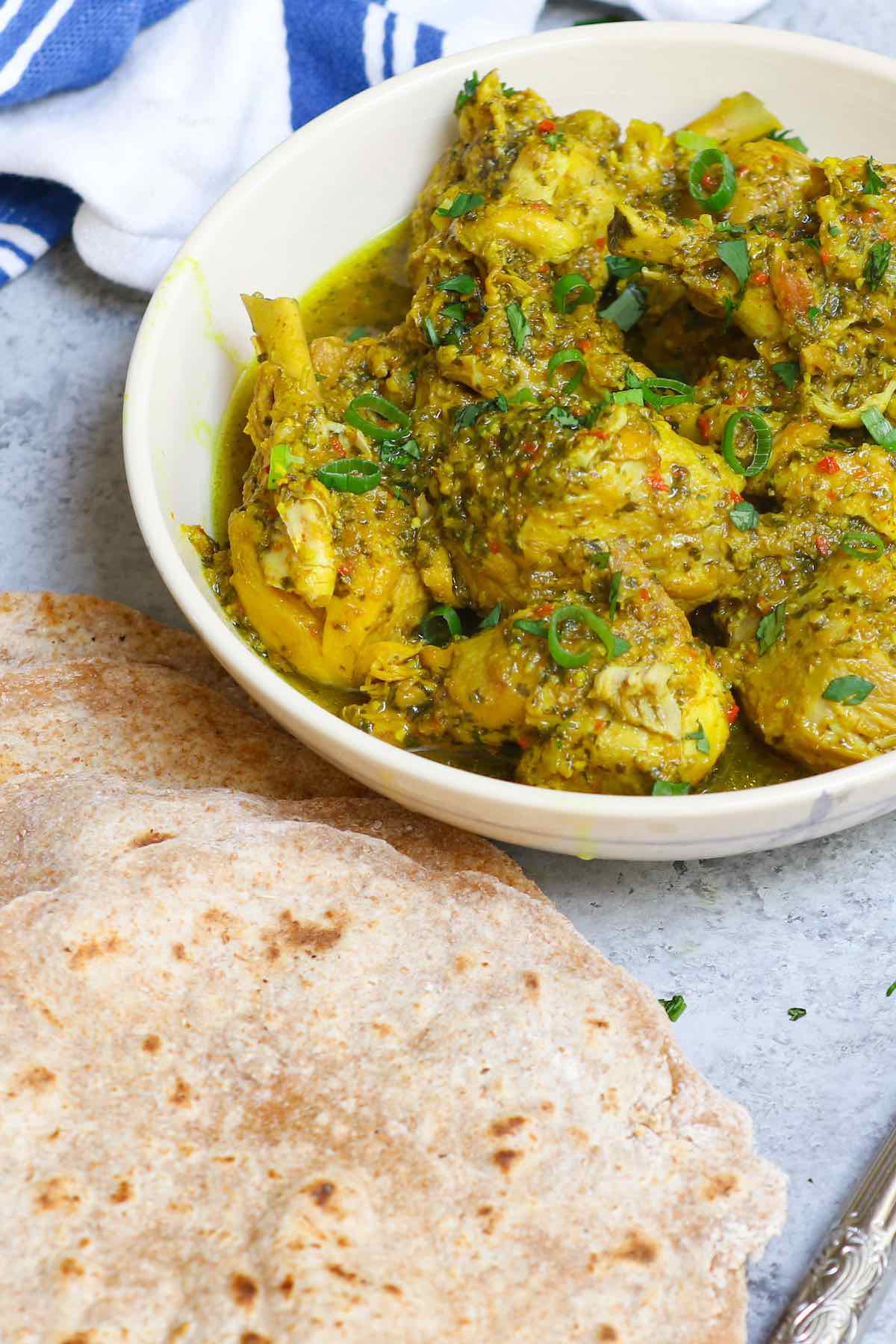 What to Serve with Trinidad Curry Chicken
The best ways to serve are simply stuffed into roti or with steamed rice. For a low-carb option, you can always try cauliflower rice and serve with a side of vegetables.
More Caribbean recipes:
View more spicy recipes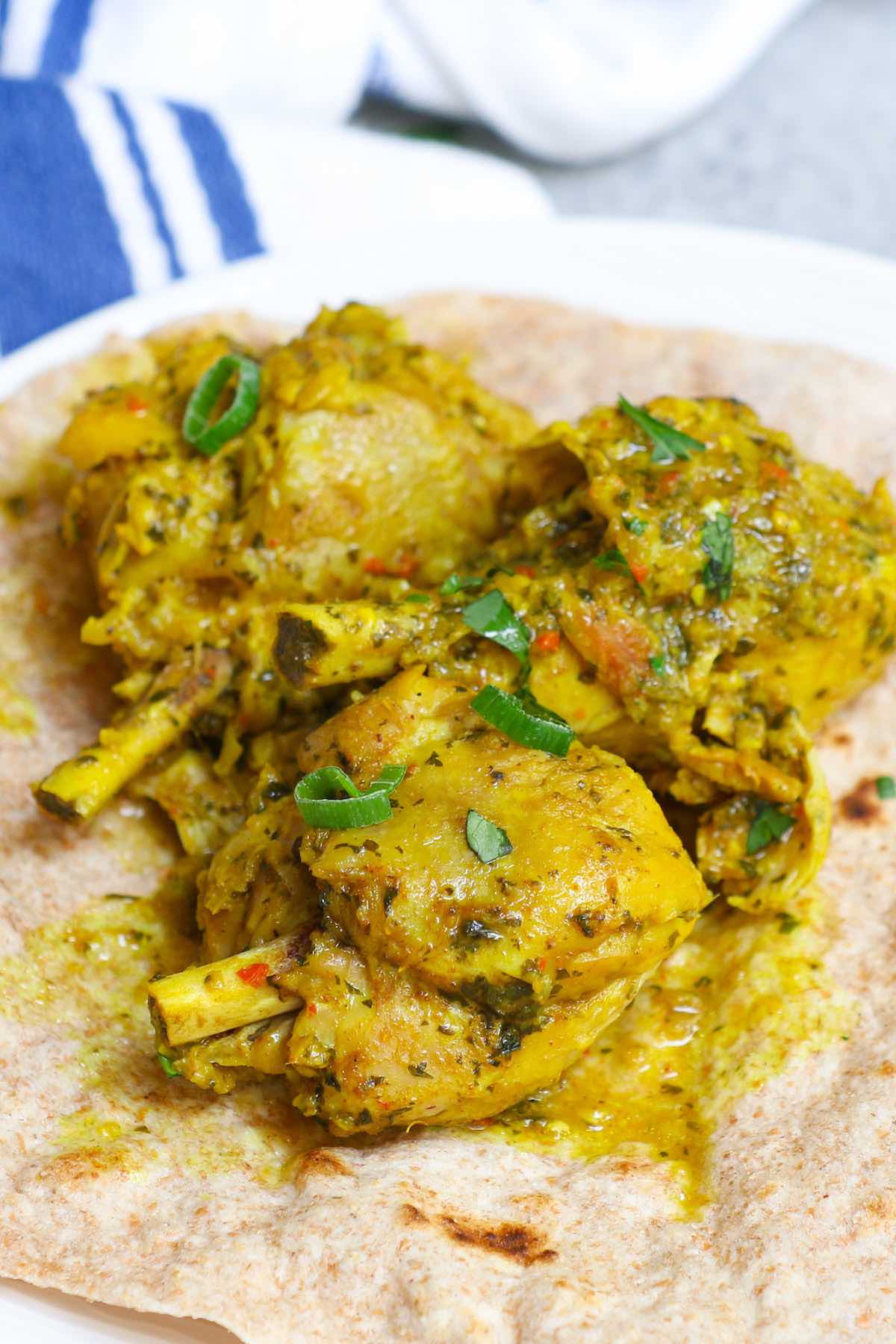 Trinidad Curry Chicken
This Trinidad Curry Chicken brings mouthwatering West Indies flavors to your dinner table! This recipe is easy to make in less than an hour using the stovetop.
Ingredients
Curry Paste
1 medium yellow onion, sliced
4 large garlic cloves, peeled
1 inch fresh ginger, peeled
3/4 cup cilantro, packed, divided
1 scotch bonnet chili, (habanero)
3 tablespoons curry powder
Chicken
4 pounds chicken drumsticks, skin removed
3 tablespoons canola oil
½ cup chicken broth, or water
1/2 teaspoon salt, or to taste
1 green onion, finely chopped, optional garnish
1 tablespoon cilantro, chopped, optional garnish
Instructions
To a food processor or blender, add the onion, garlic, ginger, cilantro, chili pepper and curry powder (remove the seeds from the pepper for less heat). Pulse 5-6 times or until you get a coarse paste, scraping down the sides with a spatula as needed. Add 1-2 tablespoons water to help it come together if needed.

Pat dry the chicken with paper towels. Using a piece of paper towel, grab hold of the skin on the bottom of each drumstick and pull hard to peel it off.

Using a meat cleaver or heavy knife, cut off the top inch or so of bone from each drumstick. (Note: you can ask a butcher to do this for you.)

Rub the chicken pieces all over with the curry paste. Optional: Marinate for 10 minutes up to one hour covered in the fridge (see note).

Place a large skillet or heavy-bottomed pot over medium-high heat. When hot, add the oil and chicken pieces one-by-one. Fry for 1-2 minutes and add the broth or water. Once it boils, reduce heat to low and simmer partially covered for 30 minutes. Add a little more water if the sauce gets dry.

Check the chicken and boil uncovered for 10 minutes to thicken the sauce slightly if needed. Garnish with the optional cilantro and green onion before serving.
Notes
Chicken: Traditional Trinidad curry chicken is made with drumsticks, but you can substitute thighs or legs. Chicken breasts are not recommended, as they easily dry out.
Potatoes: For a more substantial meal, add 2 cups of boiling potatoes cut into 1-inch chunks to cook along with the chicken.
Storage and Reheat: You can store leftovers in an airtight container in the refrigerator for up to 3 days, or in the freezer for up to 3 months. You can easily reheat it on the stovetop or in the microwave.
Nutrition Facts
Trinidad Curry Chicken
Amount per Serving
% Daily Value*
* Percent Daily Values are based on a 2000 calorie diet.
Please read our nutrition disclaimer.
Recipe tools: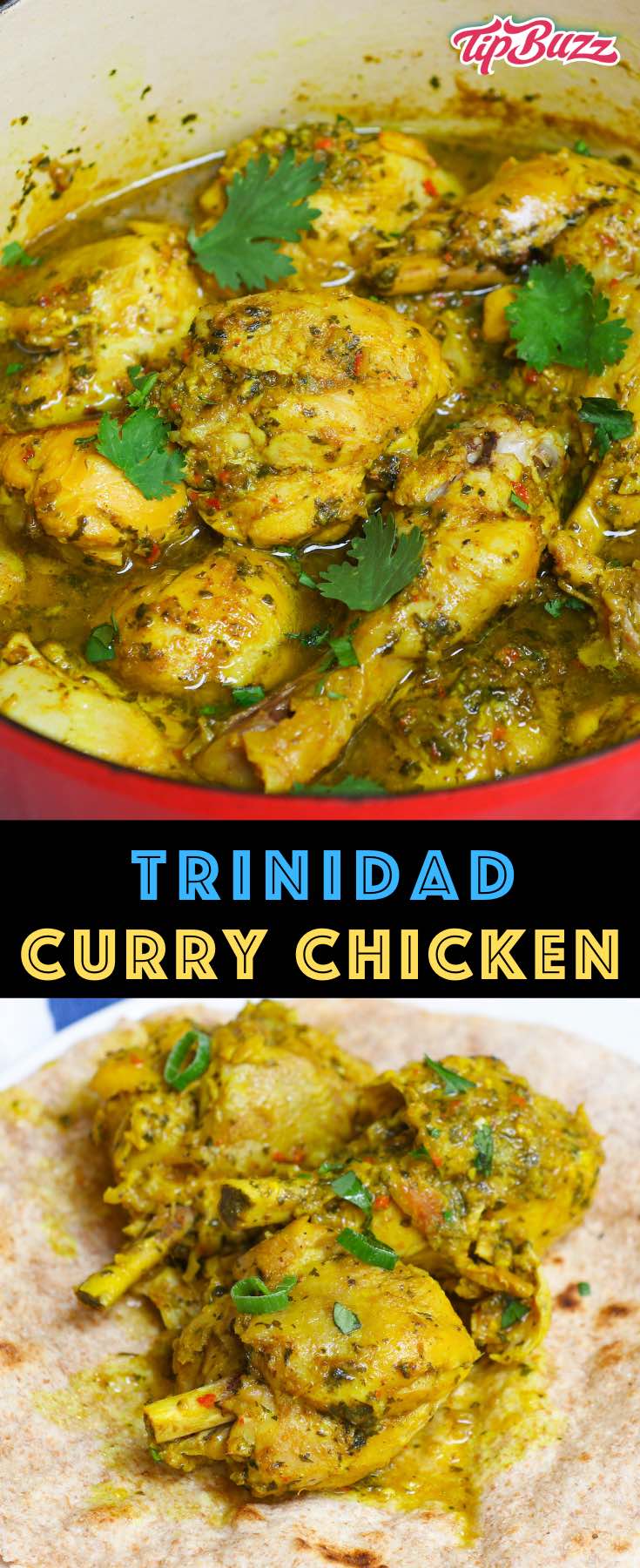 © TIPBUZZ. Images and text on this website are copyright protected. Please do not post or republish without permission. If you want to republish this recipe, please link back to this post. This post may contain affiliate links. Read the disclosure policy here.