5 Minute Kettle Corn
Kettle corn is an irresistible sweet-and-salty snack that's light and airy! It's the perfect finger food for snacking as well as movie night, game day and any other party. This homemade kettle corn recipe is so easy that you'll want to make it again and again!
Kettle corn is simply sweet-and-salty popcorn. While today it's a mainstay of State Fairs and carnivals, kettle corn is actually an old-fashioned recipe brought over by Dutch settlers, who made it in a cast iron kettle although we use pots today.
Homemade kettle corn is a whole grain, making a nutritious snack that's vegan, paleo and gluten-free. Plus, it's super-budget friendly at only pennies per serving. When you crave popcorn and want something more indulgent, be sure to try our popcorn cake too!
What's the difference between kettle corn and caramel corn?
Kettle corn is popcorn mixed with oil, sugar and salt, whereas caramel corn is made with butter and brown sugar and/or molasses to make a caramel coating. Kettle corn is the lighter of the two with fewer calories and a more subtle flavor.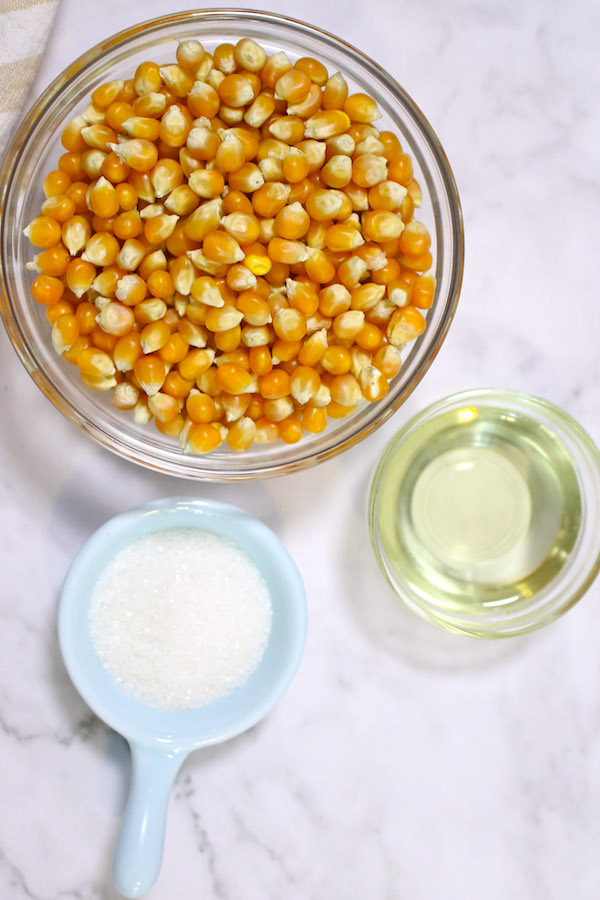 HOW TO MAKE KETTLE CORN
To make kettle corn, you only need a few simple ingredients:
Unpopped corn kernels
Vegetable oil (or olive oil)
Sugar
Salt
All the ingredients go into the pot, which is placed on medium-high heat. Shaking the pot constantly will help to coat the kernels and break up any clumps that may form as the mixture heats up.
Within a minute or two the kernels will start popping. And once they start, they'll be finished within another 2-3 minutes. Remove from heat and empty the pot into a large bowl to cool. Voilà – that's kettle corn!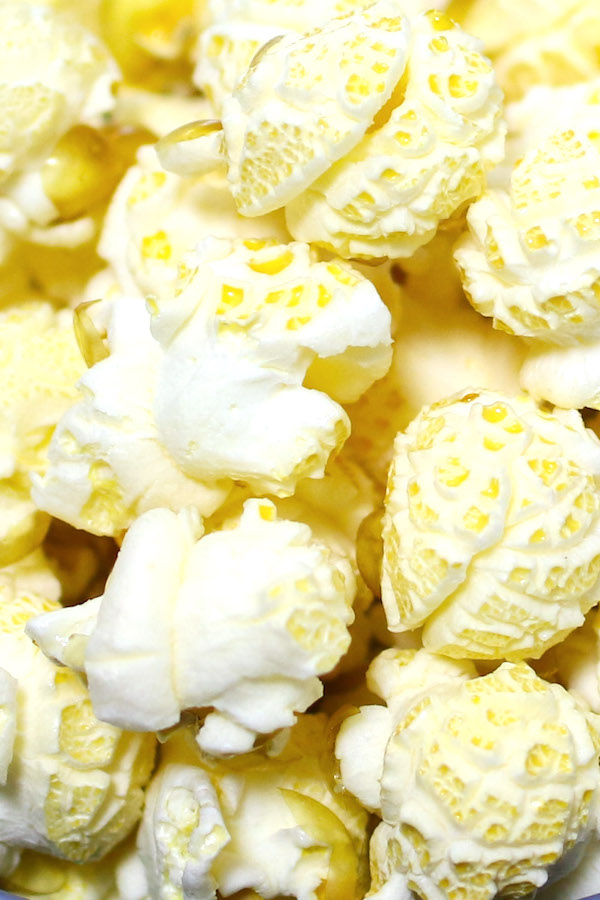 How to make kettle corn without burning it?
There's always some risk of the sugar burning in the bottom of the pot while making kettle corn, so here's how to avoid it:
Use a heavy-bottomed pot with even heat distribution, or a pot with a nonstick coating if you have one.
Start with medium-high heat until the first few kernels pop, and then reduce the heat to medium.
Shake the pot in the early stages to coat the kernels evenly with the oil and sugar, which will minimize clumping and burning.
Which sweeteners can I use for kettle corn?
Traditionally white granulated sugar is used for kettle corn for a light and airy sweetness. However, there are a few other good options as well:
Honey: Honey works well for kettle corn, giving it a slightly darker color and more intense flavor. Use it as a direct 1:1 substitute for the sugar (1/4 cup).
Maple syrup: Maple syrup works the same as honey and produces the darkest color kettle corn. Use it as a direct 1:1 substitute for the sugar (1/4 cup).
Stevia: If you want sugar-free kettle corn that's diabetic-friendly, use stevia powder as a 1:2 substitute for sugar (2 tbsp).
If you want to use brown sugar or molasses, I recommend making caramel corn instead by combining with butter instead of oil to make a caramel coating.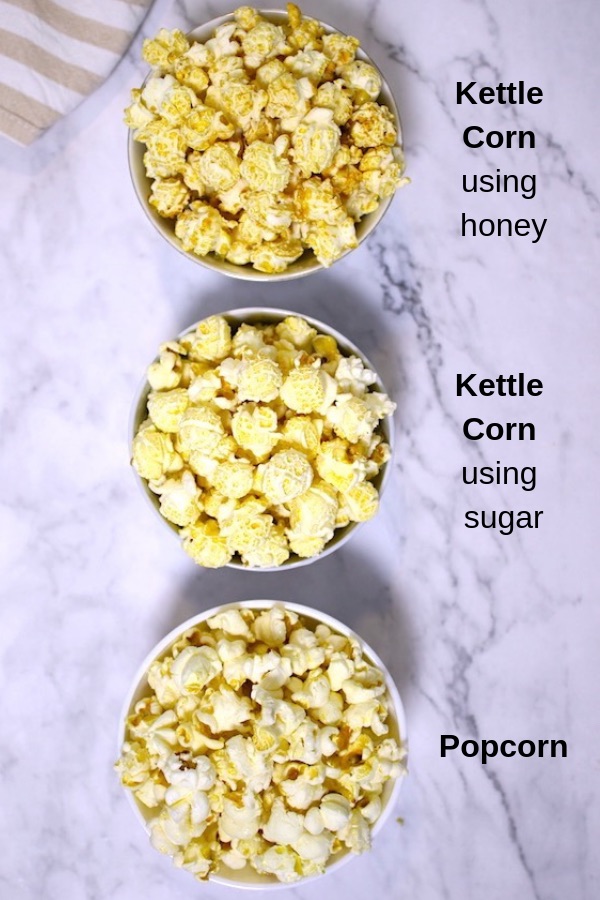 TIPS AND SECRETS FOR MAKING THE BEST KETTLE CORN
Use fresh, high-quality kernels for the best taste — brands like Orville Redenbacher are decent. Avoid stale kernels that have been on the shelf for too long!
You can make kettle corn ahead of time and store in a ziptop bag (best choice) or airtight container for up to 3 days, and it won't go stale. I don't recommend freezing, as there's some loss of flavor and texture.
For easy cleanup, fill your pot with hot water after popping and wait several minutes to allow any caramelized sugar to dissolve.
The Best Kettle Corn
Kettle corn is a delicious sweet-and-salty snack that's light and airy. So easy to make with just 3 ingredients on your stovetop in 5 minutes! It's the perfect finger food for snacking as well as movie night and parties, and makes a great DIY gift idea for teachers, neighbors and friends!

Ingredients
1/2 cup popcorn kernels, unpopped
1/4 cup vegetable oil
1/4 cup white sugar, 4 tbsp
1/2 tsp salt, optional
Instructions
Prepare your ingredients and set aside a medium-large size pot with a tight-fitting lid.

Place the pot over medium-high heat and add the oil along with 2-3 popcorn kernels.

As soon as the kernels pop, add the rest of the kernels, the sugar and optional salt.

Cover the pot and shake continuously until the kernels start popping again. Reduce heat to medium.

Let the popping continue over 2-3 minutes with a shake every 20-30 seconds. Remove from heat once there's only a pop every few seconds.


Empty the popcorn into the bowl to cool for a minute stirring occasionally. Serve and enjoy!
Notes
You can use less sugar if desired with 1/4 cup working fine in this recipe.
Nutrition Facts
The Best Kettle Corn
Amount Per Serving
Calories 161 Calories from Fat 81
% Daily Value*
Fat 9g14%
Saturated Fat 7g35%
Sodium 194mg8%
Potassium 37mg1%
Carbohydrates 18g6%
Fiber 1g4%
Sugar 8g9%
Protein 1g2%
Iron 0.4mg2%
* Percent Daily Values are based on a 2000 calorie diet.
Please read our nutrition disclaimer.
© TIPBUZZ. Images and text on this website are copyright protected. Please do not post or republish without permission. If you want to republish this recipe, please link back to this post. This post may contain affiliate links. Read the disclosure policy here.