Easy French Pancakes (Classic Crêpe Recipe)
French pancakes or crêpes are one of France's culinary masterpieces! They are thinner than American pancakes and typically stuffed with delicious sweet or savory fillings. Perfect for breakfast, brunch or dessert!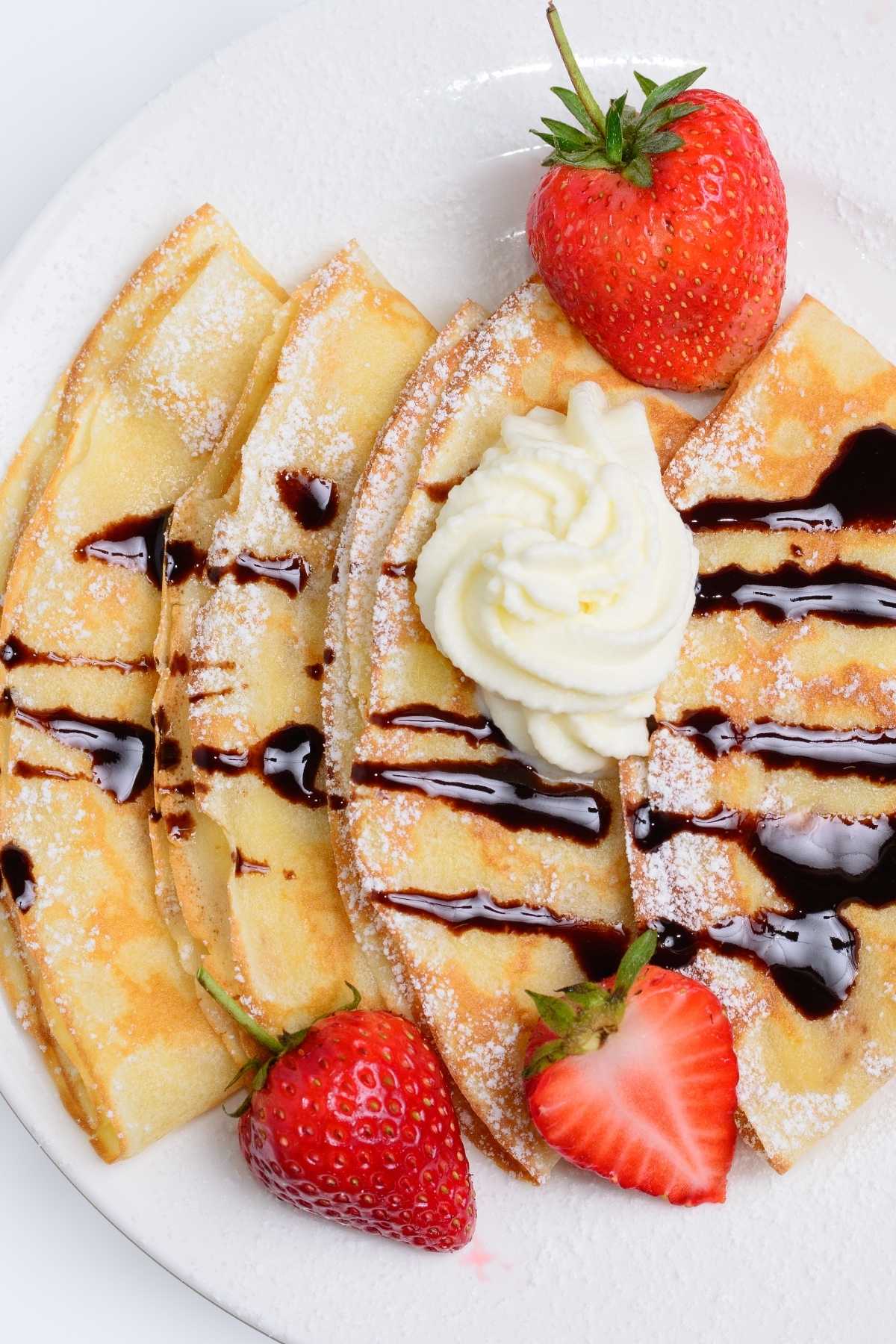 As the saying goes … when in Rome do as the Romans. When in Paris, be sure to visit a crêperie to enjoy delicious french pancakes made à la minute right in front of you! If you can't make it to France, then try making your own using this classic crêpe recipe!
Making your own delectable French pancakes at home is easier than you think. Plus, they're fabulous for breakfast, lunch, dinner or even a midnight snack!
What's the Other Name for a Thin French Pancake?
A thin French pancake is also known as a crêpe (pronounced Kr-ehp in French) with an English spelling of crepe (pronounced as krayp).
Savory French pancakes in northwestern France are often referred to as galettes de sarrasin or in English as buckwheat crepes.
What is the Difference Between French Crepes and Pancakes?
The key difference is that pancakes are leavened with baking powder or yeast, while French crepes are not. As a result, pancakes end up being light and fluffy, while crepes are thin and moist. Pancakes often have toppings like berries, while crepes have fillings.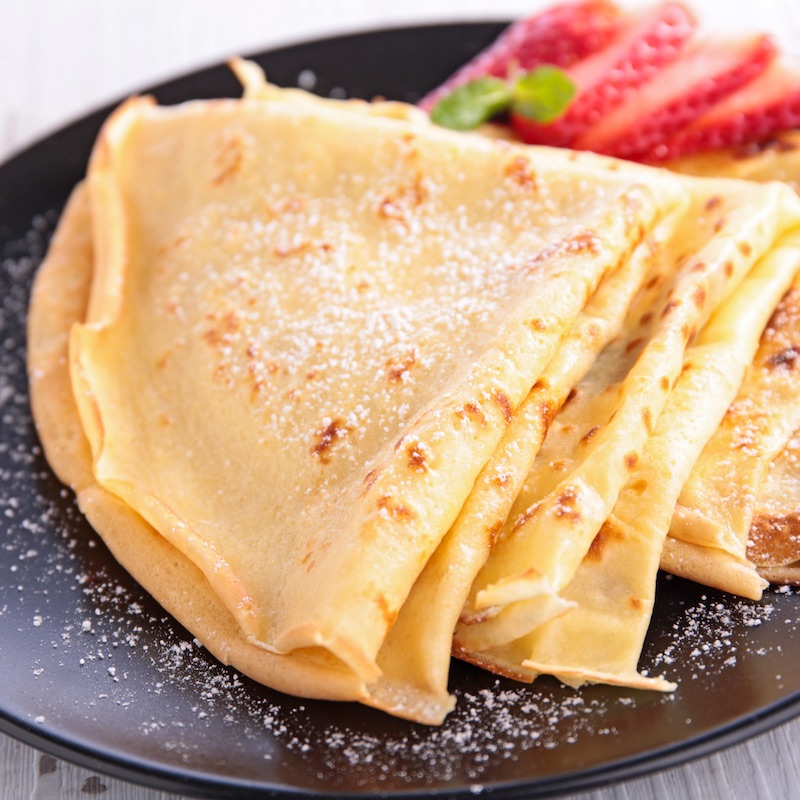 Crêpes can be eaten plain but are usually stuffed with either a sweet or savory filling. can be either savory or sweet with fillings running the gambit from Nutella and bananas to chocolate and whipped cream and whipped cream and served for dessert or breakfast. Savory crepes can be filled with eggs, cheese, meat or vegetables.
Tips & Tricks for Perfect French Crepes
Chill the batter for 30-60 minutes before cooking: For the best results, chill the batter for an hour before cooking to produce an authentic texture that melts in your mouth.
Use a large non-stick skillet: Larger crepes are easier to stuff and fold, so try using a larger pan. You can also try buying a crepe pan if you plan to make them often.
Cook your French pancakes one at a time: This is actually the only way to make them although they cook quickly. Stack them on a plate as you go with a piece of parchment in between to prevent sticking.
Butter the pan for each pancake: A small amount of butter will prevent sticking while also improving flavor, but be sure to use unsalted butter so it's less likely to burn.
Make the batter ahead of time: You can make the batter up to 24 hours in advance and store covered in the fridge to save time when it comes time to cook.
French Pancakes/Crepe Fillings and Toppings
French pancakes are usually filled or topped with tasty ingredients which can be sweet or savory. Sweet crepes are usually eaten for breakfast or as a dessert and usually include fruit, chocolate, powdered sugar or whipped cream. One of the most popular sweet crepes includes Nutella, strawberries and bananas. Savory crepes can be eaten at any time of the day and may include meat, vegetables, eggs. How about a smoked salmon and cream cheese crepe for lunch?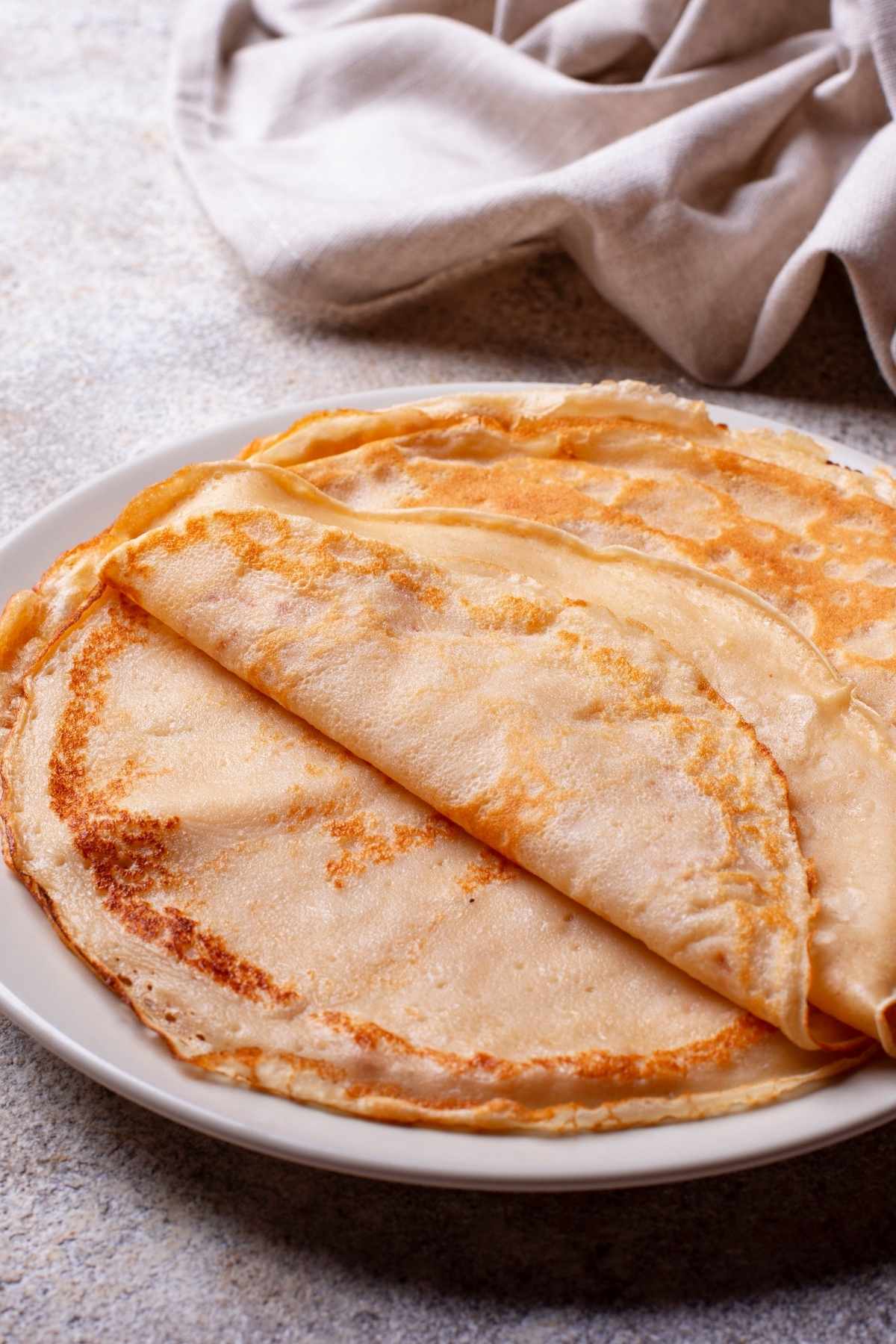 Ways to Fold Crepes
There are several ways to fold crepe for serving. After adding your fillings, you can simply fold one half of the crepe over the other in a semicircle, like you would with an omelette. Traditionally If you like, you can add more fillings and  fold it again into quarters. You can also fill the crepes, then roll them like a burrito. 
How to Store French Pancakes?
If you have leftover crepes, you can store them for later. The best way to do this is to place sheets of parchment paper between the crepes to keep them from sticking together. French pancakes can be stored in an airtight container in the fridge for two days or can be frozen for up to a month. Reheat on the stovetop or in the microwave.
More pancake recipes you might like:
Homemade French Pancakes
French pancakes or crêpes are one of France's culinary masterpieces! They are thinner than American pancakes and typically stuffed with delicious sweet or savory fillings. Perfect for breakfast, brunch or dessert!
Ingredients
1 cup all-purpose flour
1 ¼ cups milk
2 large eggs
1 tablespoon granulated sugar
2 tablespoons unsalted butter, melted, plus more for cooking
1/8 teaspoon salt
1 teaspoon vanilla extract
Instructions
To a large bowl, add the flour, milk, eggs, sugar, salt, butter and vanilla.

Whisk until the mixture is silky smooth and get frothy on the top.

Grease an 8-inch skillet with butter over medium-low heat.

Once the butter is melted, add about 1/4 cup of batter to the center of the pan. Tilt the pan so that the batter fills the entire bottom of the pan.

Cook for about 1 minute, then gently flip the crepe using a spatula.

Cook for one minute more or until golden.

Transfer to the plate, and repeat making additional crepes with the remaining batter. Stack the crepes on the plate, adding a layer of parchment between each to prevent sticking.

To serve, place one French pancake on a plate. Add fillings such as sliced banana, Nutella, or berries to the middle. Fold up the edges to make a semi-circle and fold once more. Repeat to make 2-3 pancakes per person.
Notes
Make Ahead: You can make the batter up to 24 hours ahead of time. Store covered with plastic wrap in the fridge until ready to cook.
Filling ideas: Some popular fillings for French pancakes include: 1) Nutella and sliced bananas, 2) Sliced strawberries and chocolate sauce, 3) Berries and whipped cream, 4) Fruit compote with caramel sauce.
Nutrition Facts
Homemade French Pancakes
Amount per Serving
% Daily Value*
* Percent Daily Values are based on a 2000 calorie diet.
Please read our nutrition disclaimer.
© TIPBUZZ. Images and text on this website are copyright protected. Please do not post or republish without permission. If you want to republish this recipe, please link back to this post. This post may contain affiliate links. Read the disclosure policy here.