Cinnamon Roll Apple Bake
This Cinnamon Roll Apple Bake is a decadent combination of cinnamon rolls and apple pie filling! Soft and moist served warm out of the oven, it's perfect for breakfast, brunch, parties and more!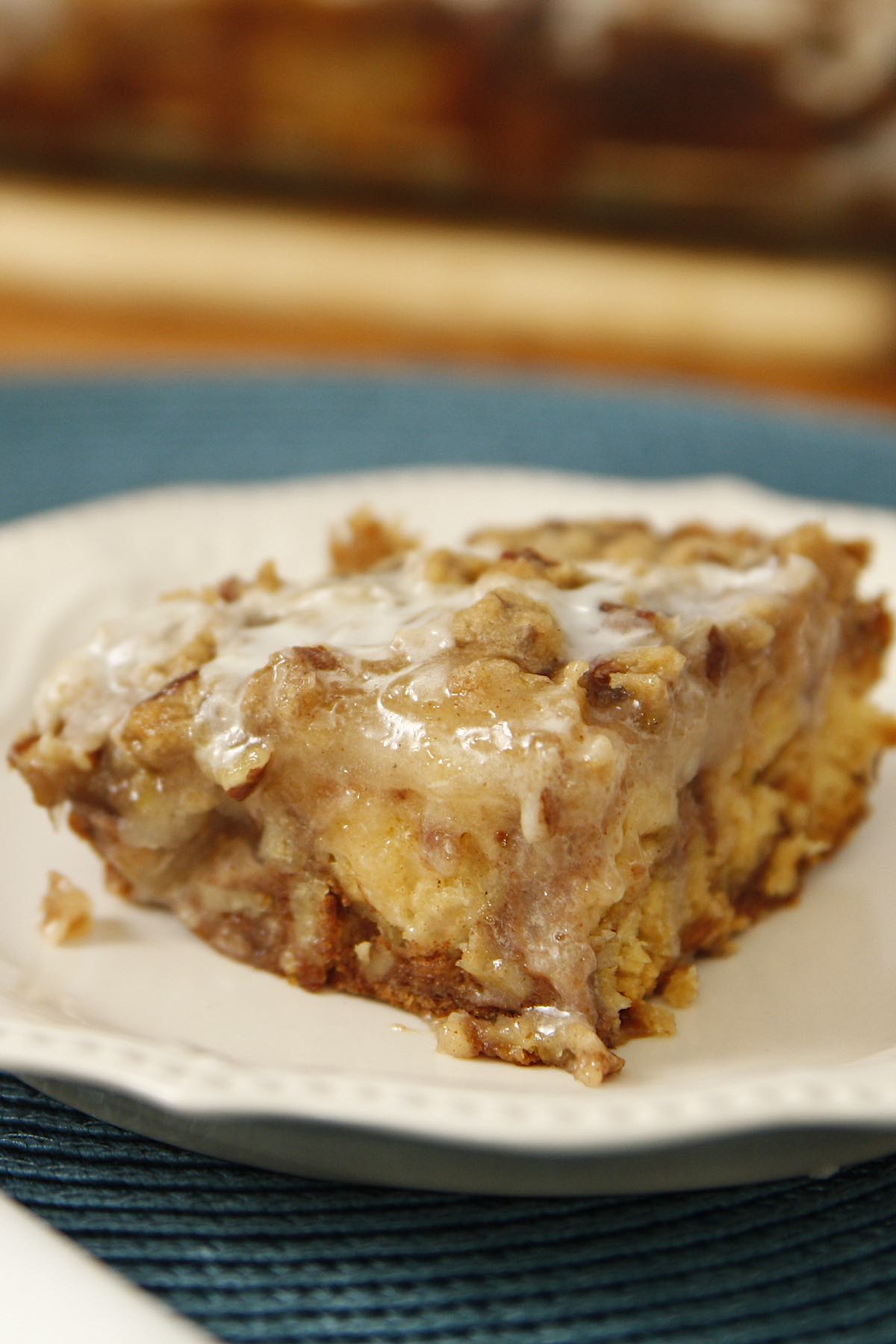 If you love the taste of apple cinnamon (and who doesn't!), then look no further than these mouthwatering cinnamon rolls with apple pie filling!
It's great for a party, potluck or special occasion like Mother's Day. But we love to just make it for a casual breakfast or brunch when we need to feed a crowd. It's always a hit!
This recipe is also a great way to use up lots of cinnamon rolls, especially if they're a bit hard or stale.
How to Make Cinnamon Rolls Taste Better?
There are many options for dressing up canned cinnamon rolls. Before baking, you can unroll the dough and insert new flavors such as nuts, spices, chunks of apple, cranberries or even chocolate chips!
How Do You Doctor Up Cinnamon Rolls?
When you're tired of plain cinnamon rolls or have leftovers or stale ones in need of rejuvenation, there are several options. Try chopping them into pieces and then adding some liquid to moisten them up.
Here we are combining with apple pie filling and drizzling a homemade custard on top. Next, we add some chopped nuts and bake until puffy and golden. The best doctored up cinnamon rolls!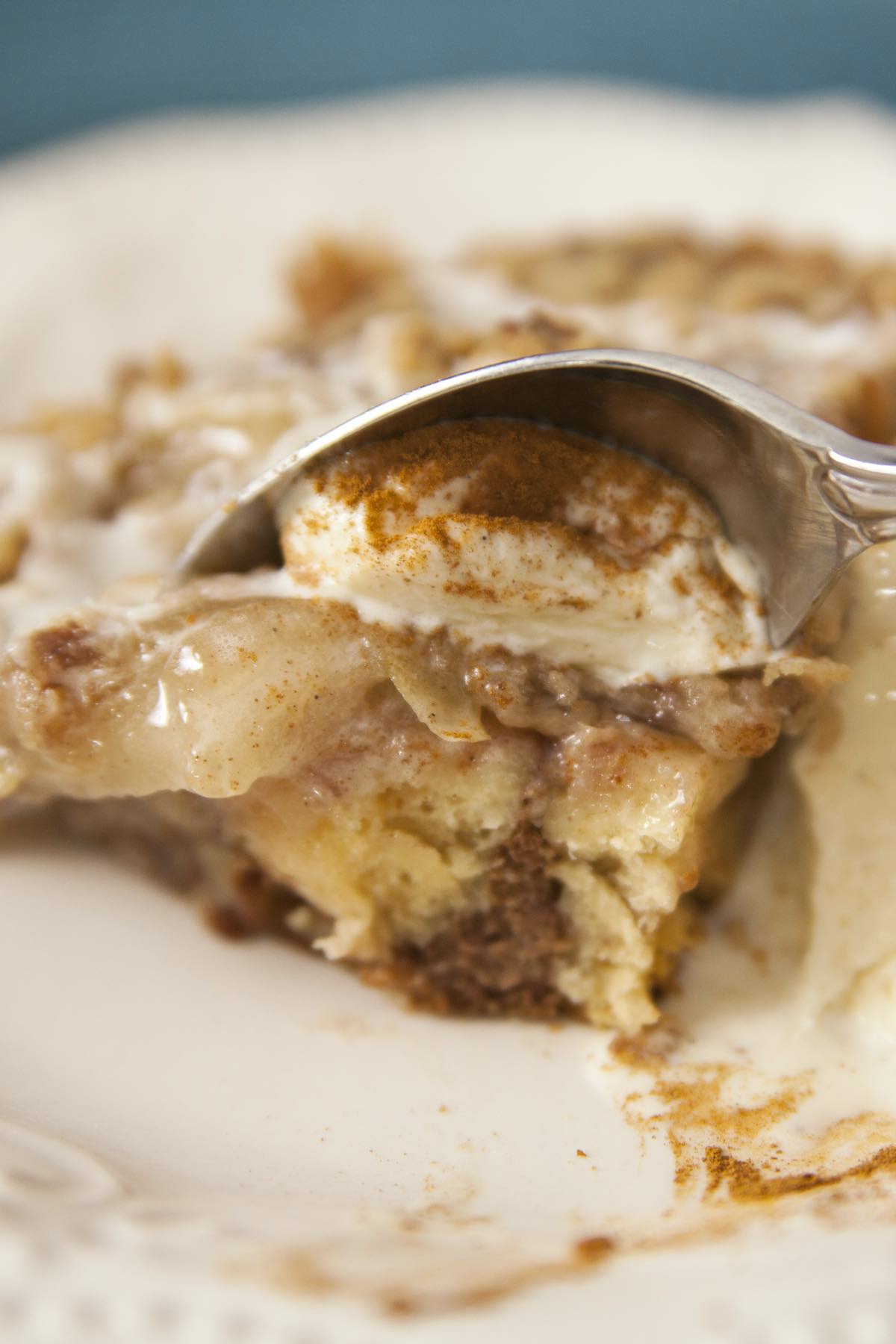 Cinnamon Roll Apple Bake Ingredients
Here's what you will need to make it:
Cinnamon Rolls: I used canned Pillsbury cinnamon rolls, but you can use any kind of cinnamon roll dough you like, including Grands, store brands or even homemade.
Eggs
Heavy Cream: This is liquid whipping cream
Flour: All-purpose flour is ideal but wheat flour will work too
Cinnamon: Ground cinnamon
Nutmeg: Ground nutmeg, ideally freshly grated
Vanilla extract: Pure vanilla extract is ideal or artificial in a pinch
Apple pie filling: We used canned apple pie filling but you can also make homemade.
Brown sugar: Light or dark is fine
Butter: I recommend using unsalted butter if possible as the dough can be salty already.
Nuts: We used chopped pecans with options being walnut pieces, chopped almonds or pistachios.
How to Make Cinnamon Roll Apple Bake
Start by cutting the cinnamon roll dough into 1-inch pieces on a cutting board. Then add them to a greased 13×9 inch pan: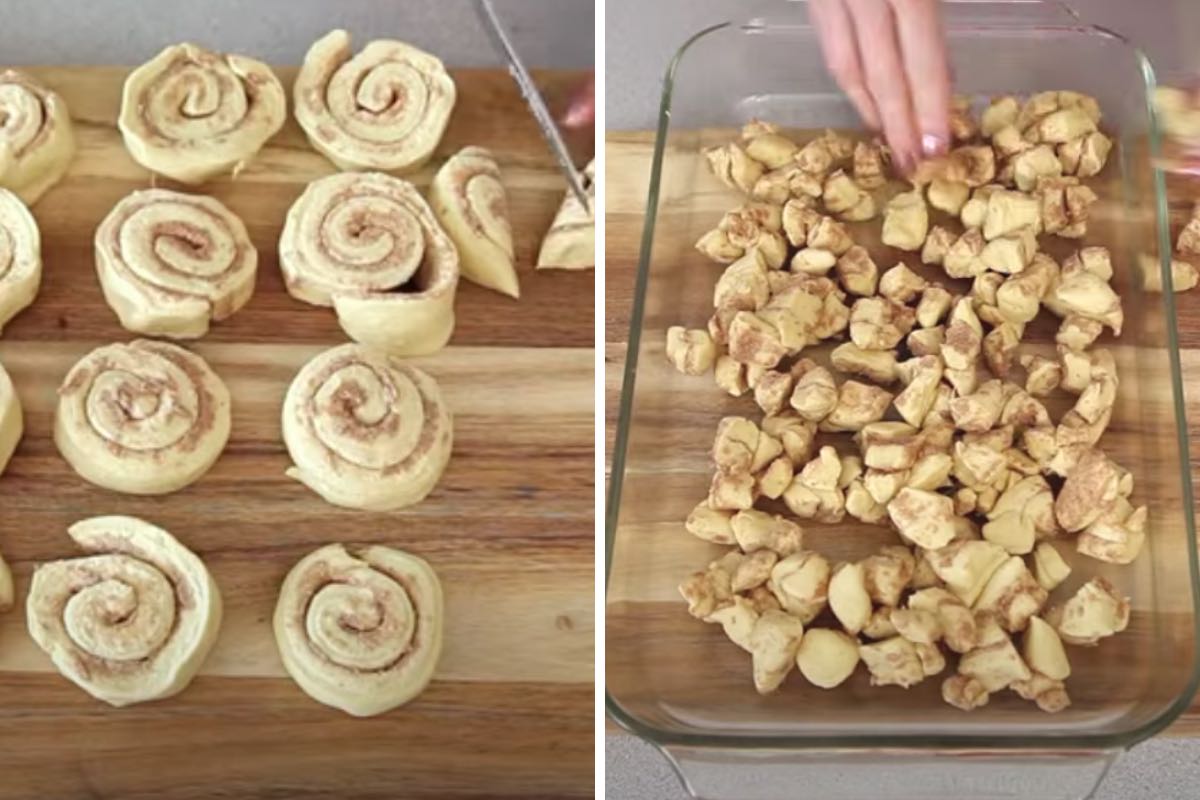 Next you want to dress us the cinnamon rolls by making the custard sauce. Whisk eggs, cream, flour, cinnamon, nutmeg and vanilla together in a bowl. Then pour is evenly across the dough:
Last but not least, it's time to add the toppings! We're starting with spooning apple pie filling over top. Then we mix the brown sugar, butter, flour and chopped nuts into a coarse mixture to distribute evenly as the crumb across the top: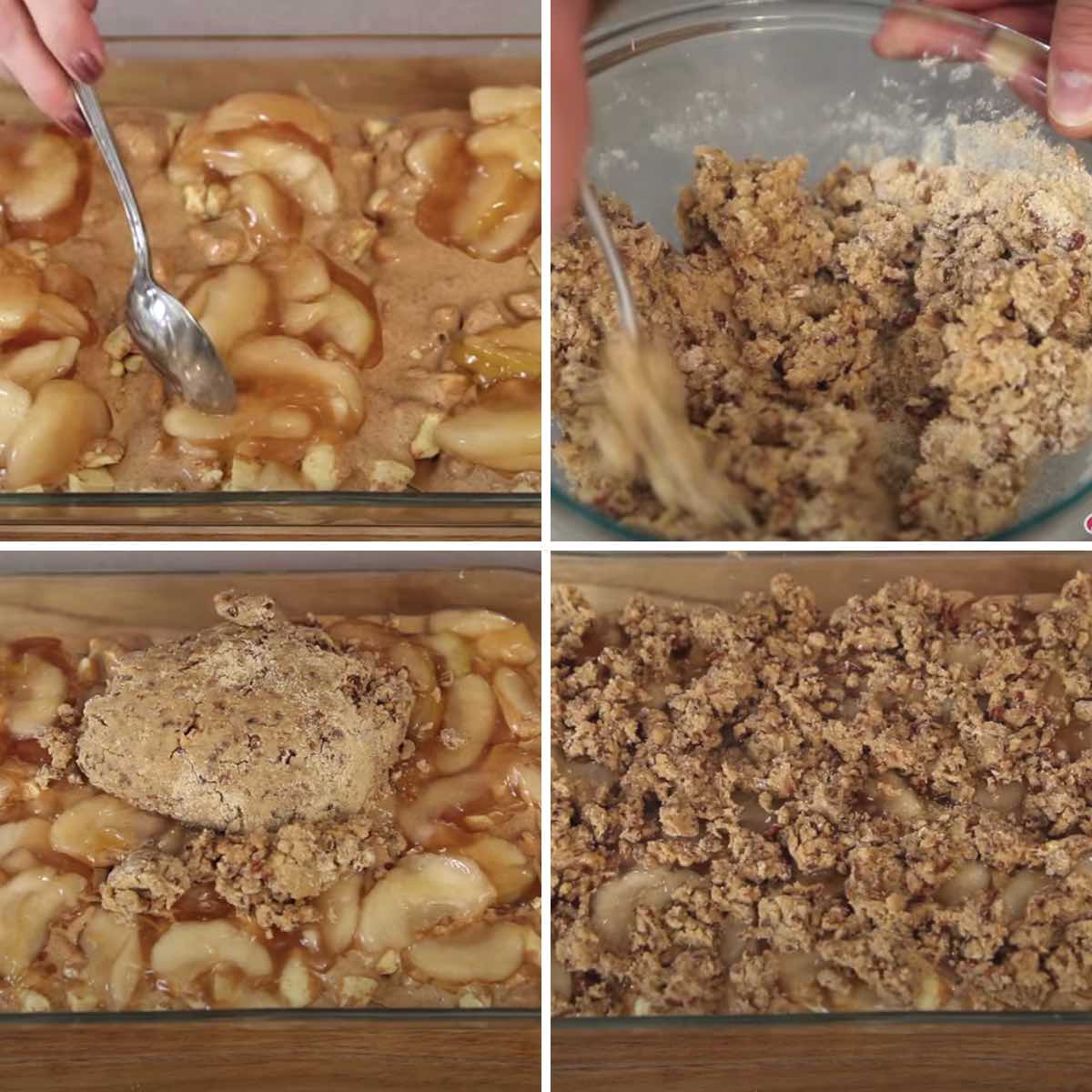 That's it! Now put it in the oven to bake at 350°F until it's puffy and golden, about 45 minutes.
Watch Recipe Video
This quick video tutorial shows how to make it:
Serving Ideas
This dish is best served warm out of the pan. Cinnamon rolls usually come with icing, which you can drizzle on top if you like. However, I usually prefer whipped cream or ice cream.
More Cinnamon Roll Apple Recipes:
Cinnamon Roll Apple Bake
This Cinnamon Roll Apple Bake is a decadent combination of cinnamon rolls and apple pie filling! Soft and moist served warm out of the oven, it's perfect for breakfast, brunch, dessert and more!
Ingredients
24 oz cinnamon roll dough, 2 regular cans (Pillsbury or similar)
2 large eggs
1/2 cup heavy cream
2 tablespoons all-purpose flour
1 1/2 teaspoons ground cinnamon, divided
1/4 teaspoon ground nutmeg
1 teaspoon vanilla extract
21 oz apple pie filling, 1 can
1/2 cup brown sugar
1/2 cup all-purpose flour
1 cup chopped nuts, pecans, walnuts, almonds or pistachios
1/2 cup butter, 1 stick, softened, unsalted recommended
Instructions
Preheat oven to 350ºF, placing the oven rack in the middle position. Grease a rectangular 13×9 inch baking pan and set aside.

Remove the cinnamon rolls from the package and separate into individual rolls. On a cutting board, chop into 1-inch pieces. Then add to the prepared pan in a single layer.

To a mixing bowl, add the eggs, cream, 2 tablespoons flour, 1 teaspoon cinnamon, nutmeg and vanilla extract. Whisk until combined. Drizzle the mixture evenly over the cinnamon rolls.

Spoon the apple pie filling on top of the rolls as evenly as possible.

In another mixing bowl, combine the brown sugar, flour, nuts, softened butter and 1/2 teaspoon cinnamon. Stir with a wooden spoon to combine into a crumble paste.

Sprinkle the nut mixture across the top of the pan to form a crumb. Bake at 350ºF for 40 to 45 minutes or until puffy and crisp.

Remove from the oven and cool slightly in the pan. Serve warm with the cinnamon roll icing or some whipped cream or ice cream.
Notes
Make Ahead: You can make this up to one day ahead and reheat for 15 minutes in the oven. Do not add icing or whipped cream until serving.
Nutrition Facts
Cinnamon Roll Apple Bake
Amount per Serving
% Daily Value*
* Percent Daily Values are based on a 2000 calorie diet.
Please read our nutrition disclaimer.
© TIPBUZZ. Images and text on this website are copyright protected. Please do not post or republish without permission. If you want to republish this recipe, please link back to this post. This post may contain affiliate links. Read the disclosure policy here.