Cinnamon Roll Apple Rose Tart
Cinnamon Roll Apple Rose Tart is a beautiful dessert to wow your guests at parties and holiday celebrations. It's a delicious combination of fresh apples and cinnamon rolls with only 5 ingredients!
Watch Video – How to Make a Cinnamon Roll Apple Rose Tart
This stunning Cinnamon Roll Apple Rose Tart is absolutely one of my favorite desserts. You won't believe how amazing the apple rose looks and tastes! It's perfect for Thanksgiving, Christmas or any special occasion.
While it can look complicated at first, it's far easier than making apple pie. You only need 5 basic ingredients: cinnamon roll dough, red apples, lemon juice, brown sugar and butter. After 20 minutes of prep, the oven does the rest!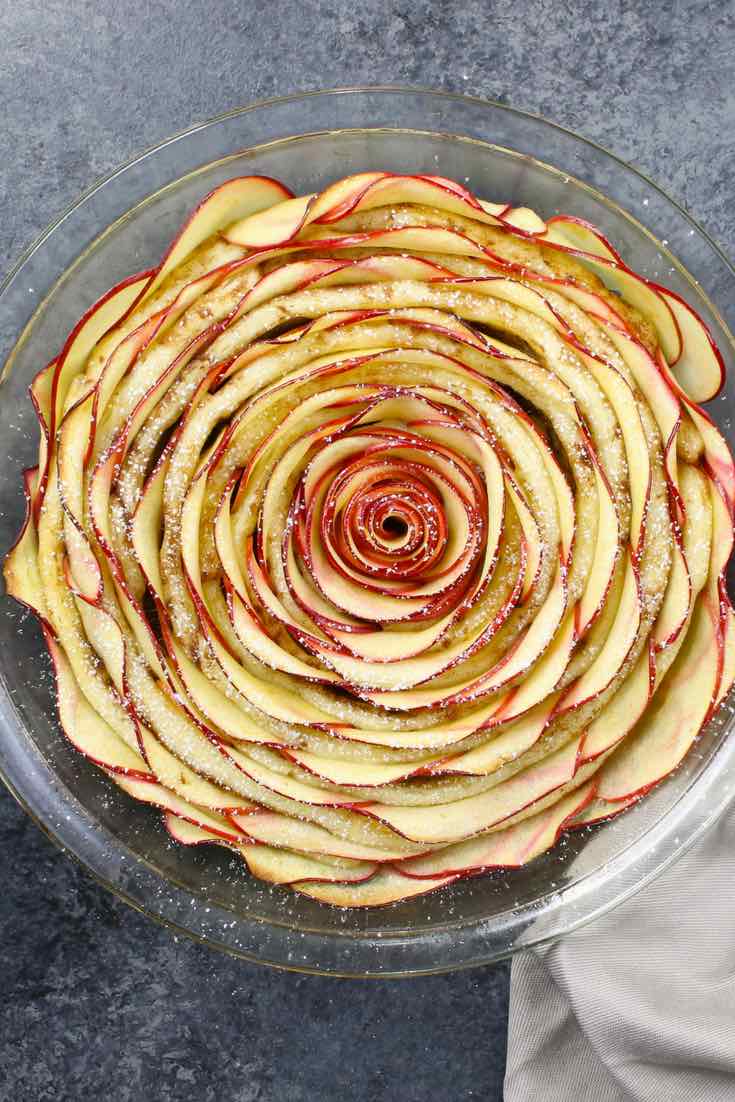 Apples for an apple rose tart
Before you start cooking, try to pick the best apple possible. For this recipe, my preference is medium-large size Red Delicious apples, which are available year-round in most supermarkets.
They lend a bright red color to the apple rose, while being sturdy enough to hold their shape. There are other more flavorful varieties like Honeycrisp or Fuji, but the color often pales after cooking.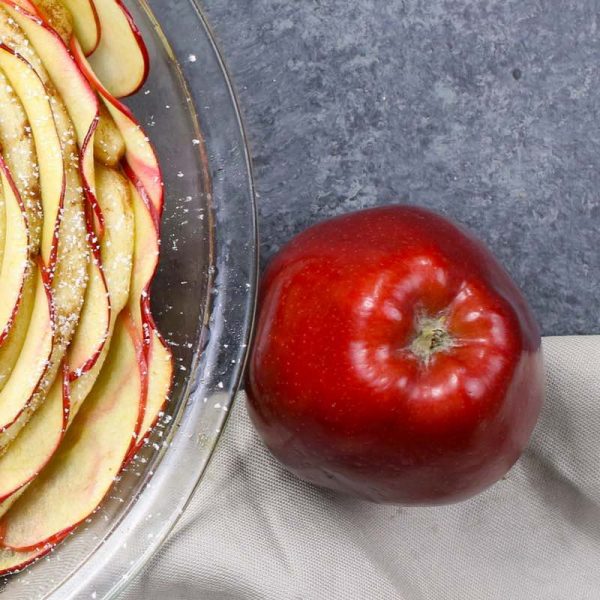 How to prevent browning when making an apple rose
Since making apple roses means making thin slices of apple, there are a few hacks to prevent them from browning during preparation.
Traditionally fresh lemon juice is squeezed onto the slices, sometimes with water as well. While this approach is easy enough and works just fine, it can impact a sour taste to the apples.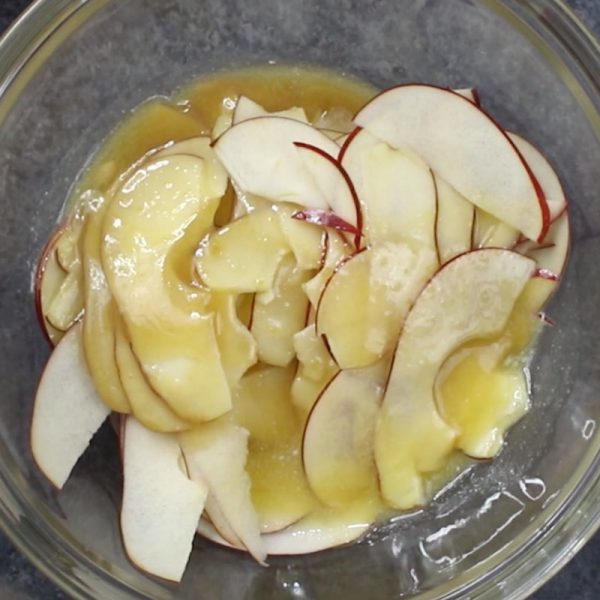 Our preferred approach is to use lemon juice combined with brown sugar and melted butter. Adding this mixture prevents browning and adds flavor.
How to make pliable apple slices for an apple rose
After coring, the apples should be sliced to about 1/8″ thickness. A mandolin can be helpful for this task, but failing that a sharp paring knife will do the job just fine.
Once you've coated the apple slices with the brown sugar mixture, they need to go into the microwave for 2 minutes to become pliable. Alternatively you can put them in a pot over low heat for 5 minutes to achieve a similar effect.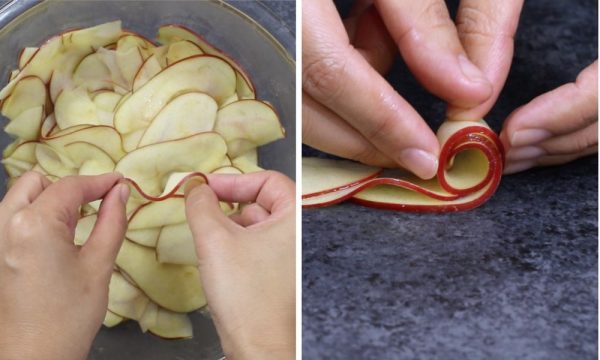 How to make apple roses
To make an apple rose, first arrange about 8 apple slices in a straight row with an inch of overlap on each. Starting with one end, gently roll the slices together with your fingertips: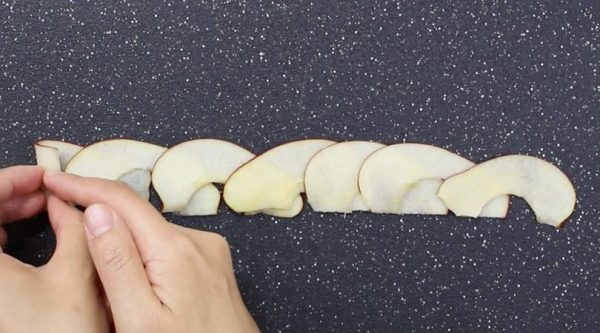 You can layer on more slices around the outside if you want to create a bigger rose. In this recipe, the bigger the rose, the more beautiful the dessert.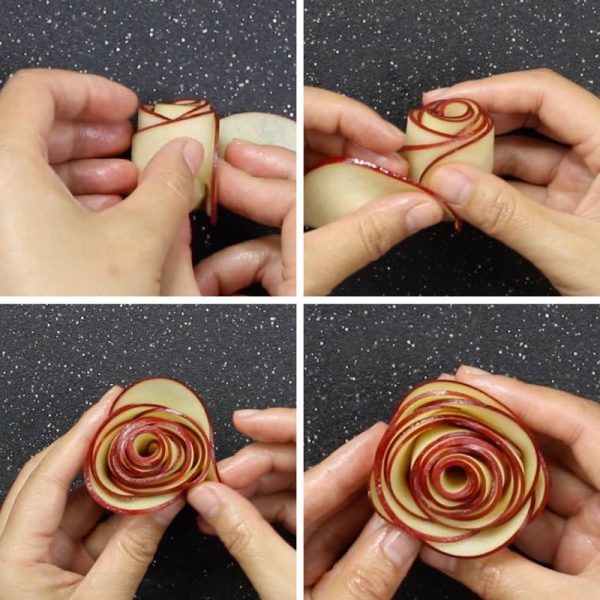 Once you've made the rose, it should hold itself together. If you've arranged the cinnamon roll in the pan already, then you can insert the rose into the middle.
How to make a cinnamon roll spiral
This is it – the final assembly before baking! Grab a 9-10 inch pie plate or cake pan along with a package of refrigerated cinnamon roll dough. It's basically a process of unravelling a few cinnamon rolls in a spiral pattern in a pie plate.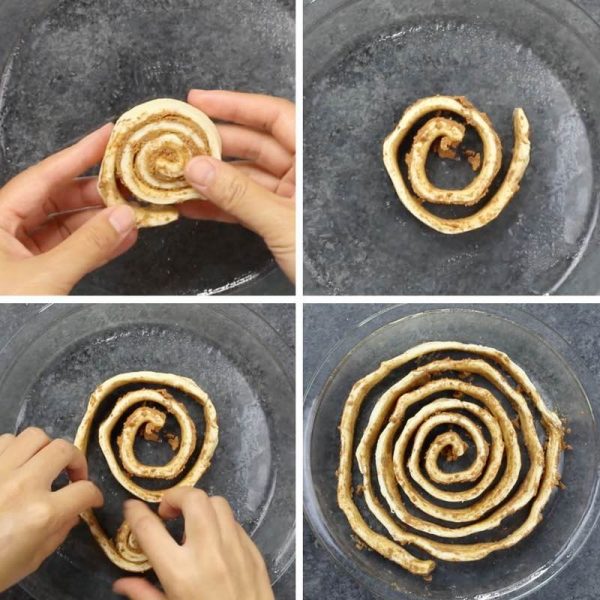 Once you have a spiral, simply insert apple slices in between and pull the dough slightly to tighten it up. It may look challenging, but it's actually pretty straightforward.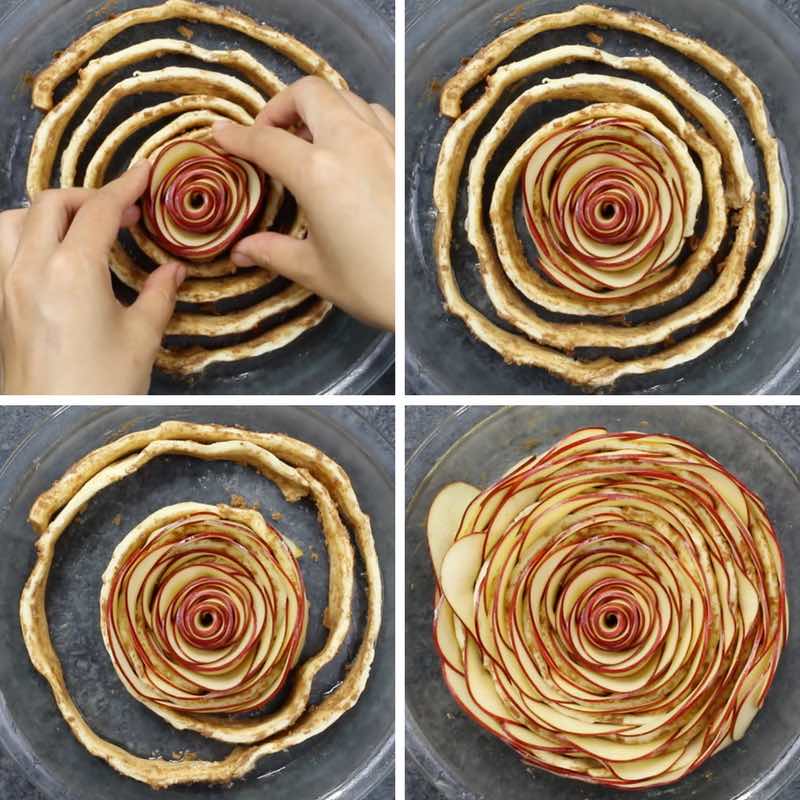 And don't worry about any imperfections because the dough puffs up during baking to fill in any gaps or wobbles!
More apple desserts:
Cinnamon Roll Apple Rose Tart
Wow your guests with this beautiful Cinnamon Roll Apple Rose Tart. It's so easy to make and perfect for a party!
Ingredients
2 red apples, We used red delicious
1 can refrigerated cinnamon roll dough, see note
2 tbsp lemon juice, freshly squeezed
4 tbsp unsalted butter, melted
4 tbsp brown sugar
powdered sugar, for serving
Instructions
Preheat oven to 375°F (191°C). Spray a 9-inch round baking dish with nonstick cooking spray and set aside.

Open the can of cinnamon rolls. Unwind several rolls and arrange into a large spiral to fill up the dish, following the video.

Halve each apple lengthwise. Remove the core and seeds.

Using a sharp paring knife, slice the apple halves lengthwise to 1/8-inch thick pieces.

In a large bowl, add apple slices and lemon juice, mixing well.

In a small bowl, mix brown sugar and melted butter together. Then add to the apple slices, stirring to coat.

Microwave for about 2 minutes or until the apple slices are pliable. Strain out any accumulated liquid.

Arrange about 8 apple slices in a straight row with an inch of overlap on each. Starting with one end, gently roll the slices together to make a rose. Place rose in the middle of the cinnamon dough spiral.

Insert apple slices to fill the gaps between the cinnamon rolls in the spiral.

When the dish is full, bake for 20-25 minutes until the dough is browning.

Remove from oven and dust with powered sugar. Serve and enjoy!
Notes
Note: Pillsbury has reformulated their cinnamon roll dough so it no longer unravels. Therefore, we recommend using Great Value or another store brand for this recipe.
Nutrition Facts
Cinnamon Roll Apple Rose Tart
Amount per Serving
% Daily Value*
* Percent Daily Values are based on a 2000 calorie diet.
Please read our nutrition disclaimer.
© TIPBUZZ. Images and text on this website are copyright protected. Please do not post or republish without permission. If you want to republish this recipe, please link back to this post. This post may contain affiliate links. Read the disclosure policy here.