Banana Chocolate Croissant Bread Pudding
This Croissant Bread Pudding is a mouthwatering dessert featuring banana and chocolate flavors! This dish is easy to make and a great way to use up leftover croissants. Serve it warm out of the oven with ice cream and chocolate sauce!
This croissant bread pudding is one of our favorite desserts that also doubles as a breakfast or brunch idea. Plus, it's a budget-friendly dish for entertaining and potlucks. You only need 10 minutes of prep before it goes into the oven!
Ingredients
Here's what you'll need to make it:
Croissants: Fresh or leftover (stale) croissants or chocolate croissants. Slices of sweet bread, brioche or challah will also work in a pinch.
Bananas: You can use fresh or frozen sliced bananas
Chocolate chips: Semisweet chocolate chips are best, but you can use milk chocolate in a pinch
Cream cheese: Use brick cream cheese, either regular or low-fat.
Sugar: Granulated sugar but you can substitute stevia or erythritol for a natural sugar-free option (follow the package directions for the ratio)
Eggs
Vanilla extract
Milk
In terms of serving, this croissant bread pudding is excellent on its own, but you can always dress it up with vanilla ice cream and chocolate sauce.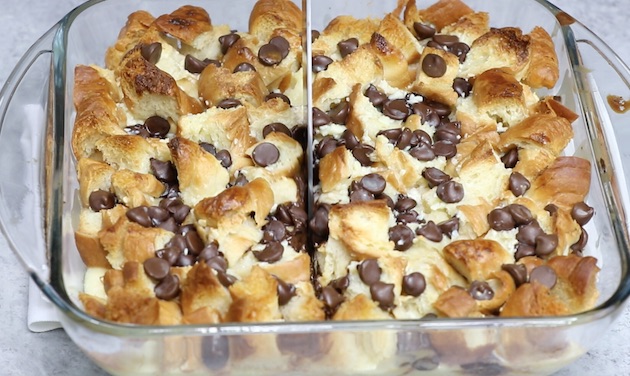 How to Make Croissant Bread Pudding
There are few desserts that are easier to make than croissant bread pudding. First, you're making a cheesecake batter by mixing cream cheese, sugar, eggs, milk and vanilla together in a bowl. Be sure to soften the cream cheese to avoid lumps, and use a hand mixer or whisk for easy blending.
Then you're pouring it over a mix of cubed croissants, sliced bananas and chocolate chips in a square baking pan. Baking takes 30-35 minutes at 350°F, and you'll know it's done when it's puffy and golden!
Watch Recipe Video
This short recipe tutorial shows how to make this croissant bread pudding:
More bread puddings: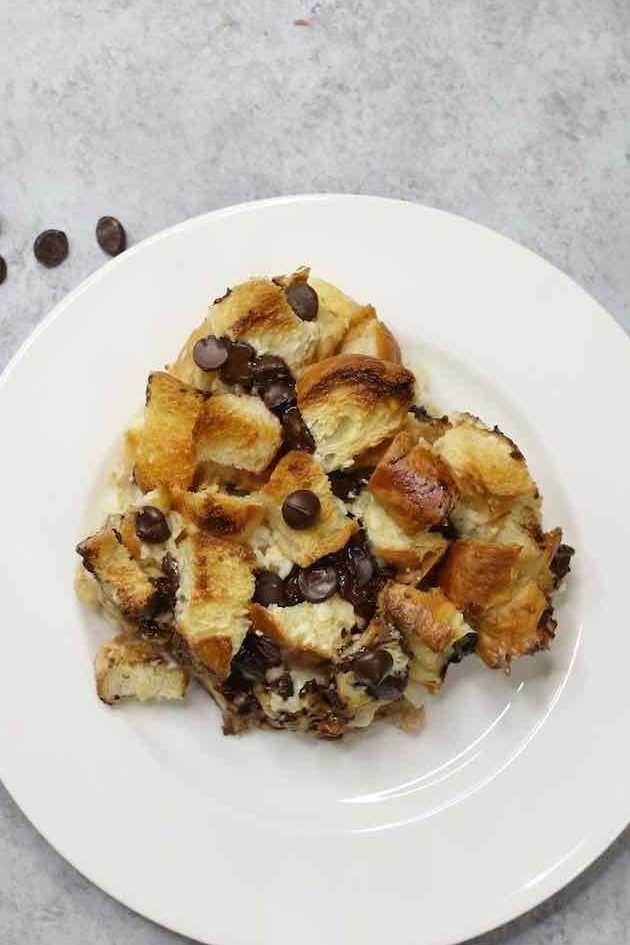 Banana Chocolate Croissant Bread Pudding
This Croissant Bread Pudding combines mouthwatering chocolate and bananas flavors while using up your leftover croissants. This easy dessert is delicious served warm out of the oven.
Ingredients
4 large croissants, fresh or stale
2 medium bananas, sliced (fresh or frozen)
3/4 cup semisweet chocolate chips
8 ounces cream cheese, regular or light, softened
2/3 cup granulated sugar
2 large eggs
1 teaspoon vanilla extract
1 cup milk
Serving - optional
chocolate sauce
vanilla ice cream
Instructions
Preheat oven to 350°F. Grease a 9-inch square baking pan and set aside.

In a medium bowl, beat the softened cream cheese with the sugar, eggs and vanilla until smooth and creamy. Whisk in the milk and set aside.

On a work surface, cut the croissants roughly into 1-inch pieces. Place HALF of the pieces into the prepared pan along with all the banana slices.

Top with the remaining croissant pieces and chocolate chips. Pour the cream cheese mixture evenly into the pan, soaking as many of croissant pieces as possible.

Place the pan into the oven to bake for 30-35 minutes until the surface is golden and puffy.

Remove from oven and cool in the pan for 10 minutes or more. Serve with optional ice cream and chocolate sauce.
Notes
To avoid the bananas discoloring, be sure to cover with the cream cheese mixture within several minutes of slicing.
Make Ahead: You can make this dish up to one day ahead of time. Store it in the fridge covered with plastic wrap and reheat before serving.
Nutrition Facts
Banana Chocolate Croissant Bread Pudding
Amount per Serving
% Daily Value*
* Percent Daily Values are based on a 2000 calorie diet.
Please read our nutrition disclaimer.
Recipe tools:

© TIPBUZZ. Images and text on this website are copyright protected. Please do not post or republish without permission. If you want to republish this recipe, please link back to this post. This post may contain affiliate links. Read the disclosure policy here.