Apple Rose Brownies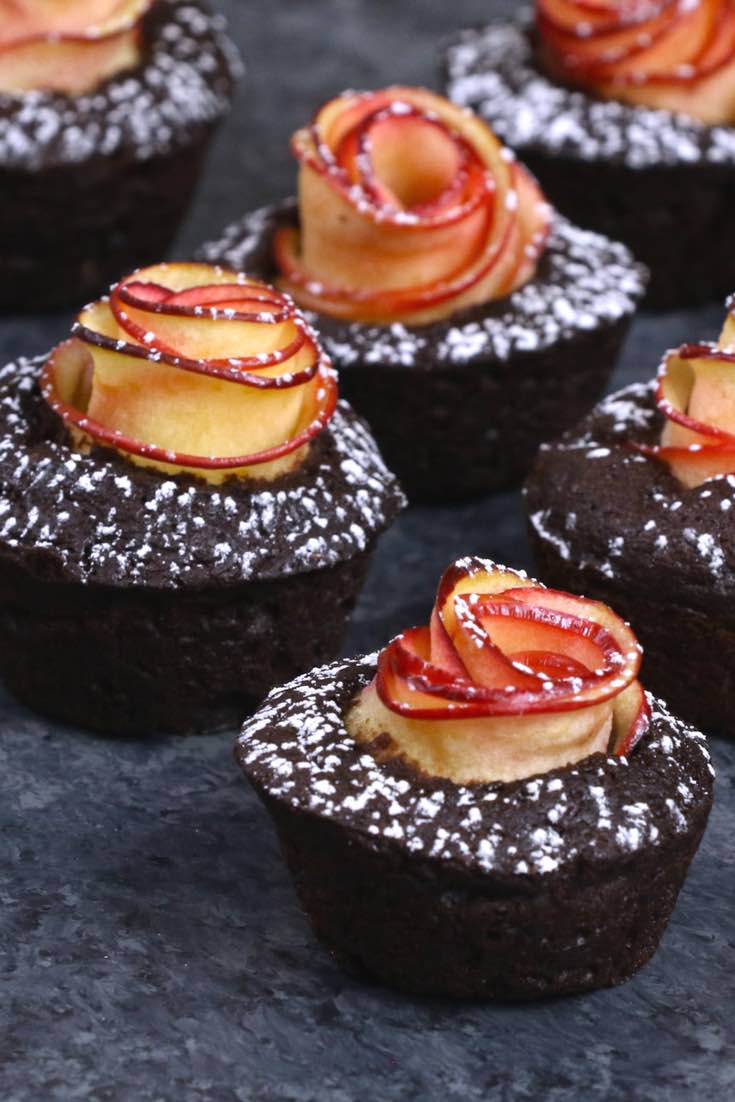 There Apple Rose Brownies are the fourth in our series in of apple rose recipes, and they are such a gorgeous accent on the traditional brownie! We love to serve them when guests stop by for a festive feel with the holiday season approaching. Just like our popular Slutty Brownies, you will find this Apple Rose Brownies a great hit in any party!
Some friends commented they're too beautiful to eat, but they manage to eat them all anyways…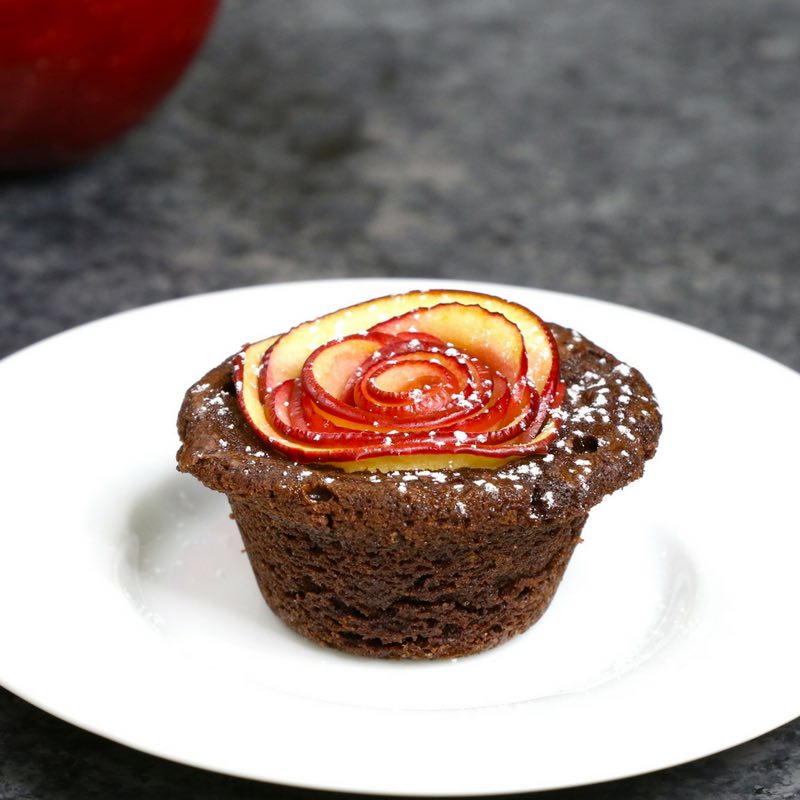 I know what you're thinking: this recipe is going to be difficult. Well, it's actually not too bad with fairly simple steps. Having a sharp paring knife or mandolin is helpful for the slicing the apples and the rest is covered in the recipe steps.
Count on about 20 minutes of preparation.
Apple Rose Brownies
A festive twist with a gorgeous apple rose combined with a chocolatey brownie
Ingredients
Apple Roses
2 medium red apples , Red Delicious recommended
2 tbsp lemon juice
4 tbsp unsalted butter, melted
4 tbsp brown sugar
Brownies
1 box brownie mix , or homemade
Ingredients called for on the mix box
powdered sugar, optional for serving
Instructions
Apple Roses
Using a sharp paring knife, slice the apple halves lengthwise to 1/8-inch thick pieces.

In a large microwaveable bowl, add apple slices and lemon juice, mixing well.

In a small bowl, mix brown sugar and melted butter together. Then add to the apple slices, stirring to coat.

Microwave for about 2 minutes or until the apple slices are pliable. Strain out any accumulated liquid.

Arrange about 5-6 apple slices in a straight row with an inch of overlap on each. Starting with one end, gently roll the slices together to make a rose.

Repeat previous step to make 10-11 more roses.
Brownies
Preheat oven to 350°F. Spray a 24-cup mini muffin tin with cooking oil, and set aside.

Fill each muffin tin 1/3 full if using brownie mix, or 2/3 full if using home made batter.

Place one apple rose in the middle of each brownie until it is half immersed.

Bake for 15 minutes or until brownies are cooked through.

Remove from oven and dust with optional powdered sugar. Serve and enjoy!
Nutrition Facts
Apple Rose Brownies
Amount per Serving
% Daily Value*
* Percent Daily Values are based on a 2000 calorie diet.
Please read our nutrition disclaimer.
© TIPBUZZ. Images and text on this website are copyright protected. Please do not post or republish without permission. If you want to republish this recipe, please link back to this post. This post may contain affiliate links. Read the disclosure policy here.