5 Minute Donut Mug Cake
We like eating food out of mugs, whether it's soup, cereal and milk or … dessert! With this 5 Minute Donut Mug Cake, we're talking about holding your dessert in your hands here, knowing there's something super-delicious inside the mug…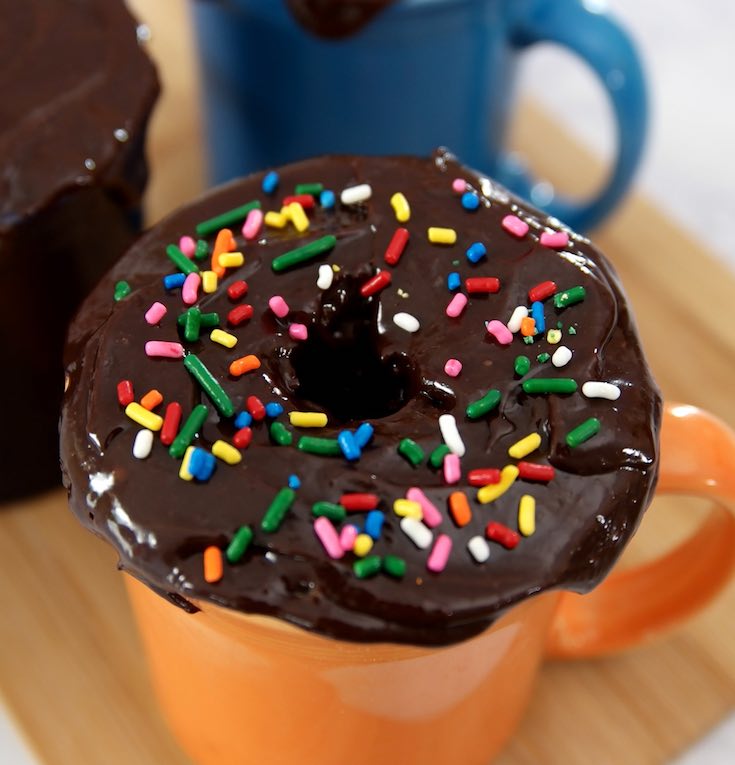 There is simply nothing easier and more rewarding. Mug cakes can be made in about five minutes without even turning on the oven. You simply mix up the ingredients in the mug and stick it in the microwave.
Even if you're a baking purist, you've got to admit it's pretty awesome to make something with so little effort. I mean, this would be the perfect college recipe you could make on a study break! Or maybe that's just the point – making it whenever you want to fit something quick into your day.
Mug cakes are so hot there's even a book The Greatest Mug Cakes in History dedicated to them. To be added to the summer reading list.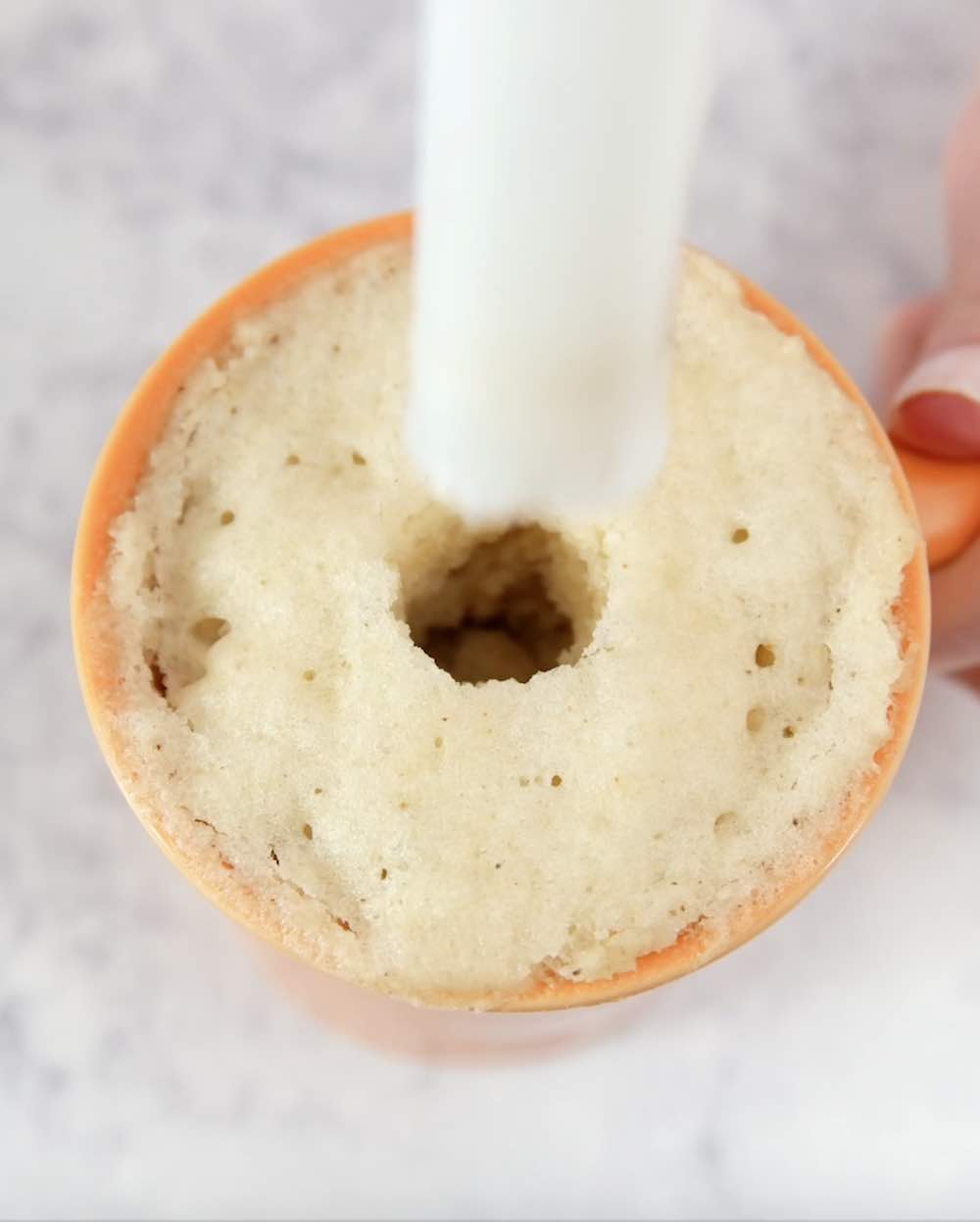 In this case, it's not just a regular mug cake, but a donut mug cake with chocolate glaze in a cup. And it's so easy to make you can get the whole job done in about 5 minutes. People will devour these cakes like nobody's business, so it's best to make a few of them!
The only equipment you'll need for this cake in a mug is a microwave. So you can enjoy a microwave mug cake in the heat of summer without turning on the oven. And if you have little helpers around, this is one of the best recipes for kids.
Just remember it's a one-serving recipe. You might want to double or triple it if there's a few of ya. Try to pick a nice, medium size mug, definitely not a tea cup or a jug. Watch our quick video tutorial to see how to make it:
5 Minute Donut Mug Cake
A mug cake that's a donut and made in the microwave
Ingredients
6 tablespoons all-purpose flour
3 tablespoons sugar
1/2 teaspoon baking powder
pinch nutmeg
3/4 tablespoons vegetable oil
3 tablespoons milk
1/4 teaspoons vanilla
1/4 cup chocolate chips
2 tablespoons heavy cream
sprinkles, optional
Instructions
In a medium size mug, whisk together flour, sugar, baking powder, nutmeg, vegetable oil, milk and vanilla. Microwave for 90 seconds on high power.

Meanwhile, add chocolate chips and heavy cream to a small bowl. When cake is done, place bowl in microwave for 30 seconds to melt chocolate. Stir until smooth.

Insert the large end of a baster into the cake to hollow out the center. Use a knife tip to help with removal if needed.

Frost the top with chocolate sauce and add optional sprinkles. Serve and enjoy!
Nutrition Facts
5 Minute Donut Mug Cake
Amount Per Serving
Calories 825 Calories from Fat 342
% Daily Value*
Fat 38g58%
Saturated Fat 18g90%
Polyunsaturated Fat 6g
Monounsaturated Fat 7g
Cholesterol 41mg14%
Sodium 291mg12%
Potassium 159mg5%
Carbohydrates 122g41%
Fiber 2g8%
Sugar 79g88%
Protein 11g22%
Vitamin A 550IU11%
Vitamin C 0.2mg0%
Calcium 220mg22%
Iron 3.4mg19%
* Percent Daily Values are based on a 2000 calorie diet.
Please read our nutrition disclaimer.
If you're looking for more mug cake idea, check out our Peach Cobbler Mug Cake recipe.
© TIPBUZZ. Images and text on this website are copyright protected. Please do not post or republish without permission. If you want to republish this recipe, please link back to this post. This post may contain affiliate links. Read the disclosure policy here.