Scrapple
Scrapple is a delicious dish hailing from the Pennsylvania Dutch. Made with pork trimmings, it a cross between a large sausage and meatloaf, resembling a terrine or pâté. This scrapple recipe is irresistibly crispy, flavorful and satisfying. Serve it as a side dish with breakfast, lunch or dinner!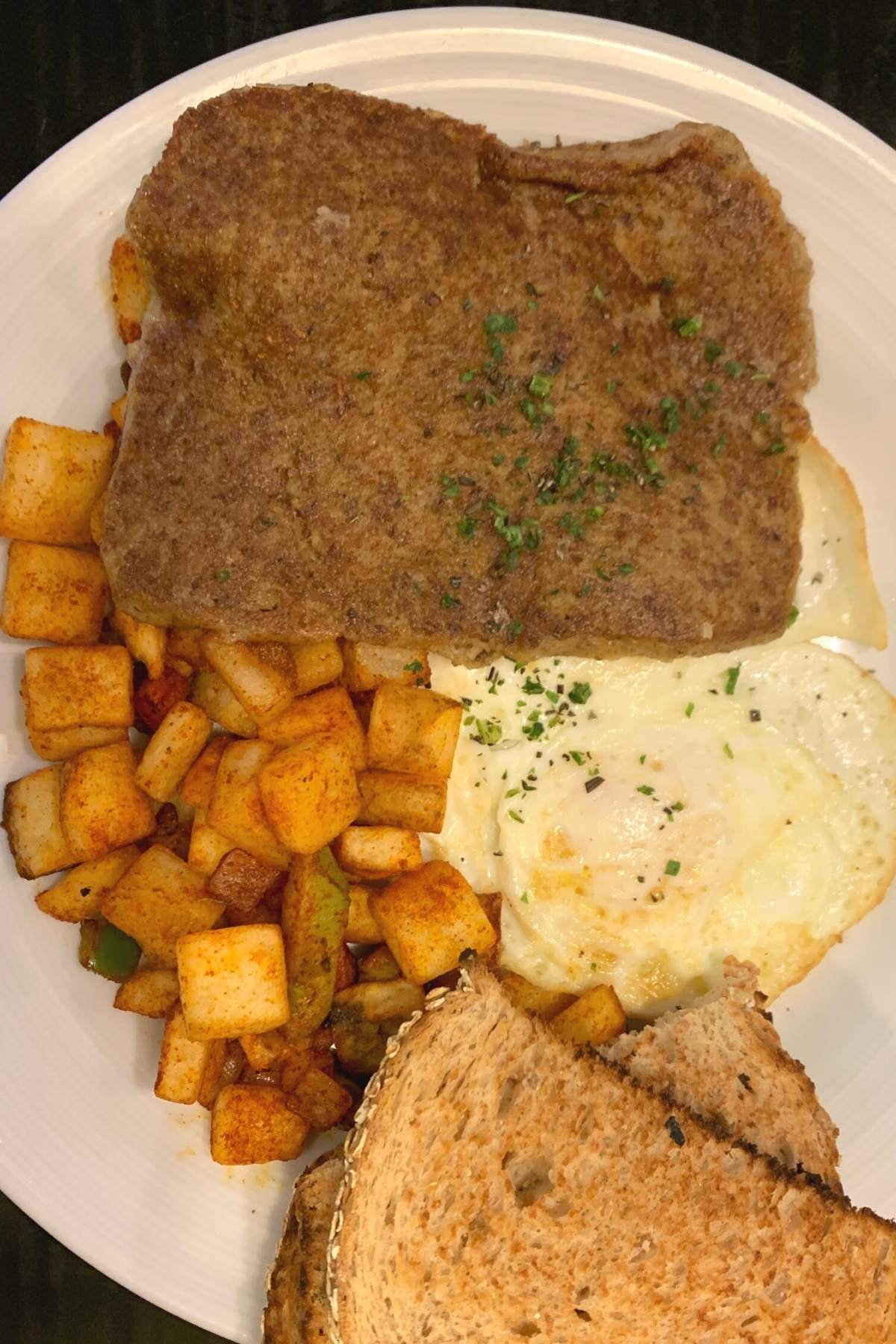 Whether you've tasted scrapple already or not, get ready for a delicious burst of flavor! You can serve it sliced for lunch in a sandwich or for dinner with various side dishes. However, my all-time favorite is fried scrapple with eggs for breakfast for a unique and memorable meal.
What is Scrapple?
Scrapple is an Amish and Mennonite dish known by the Pennsylvania Dutch as Pannhaas, reflecting an earlier tradition in Germany. The name reflects its main ingredient – pork scraps and trimmings. When combined with cornmeal, seasonings and other ingredients, they form a congealed loaf that reduces waste.
You can find it in grocery stores, diners and restaurants across the mid-Atlantic states of Delaware, Maryland, Virginia and Pennsylvania. Scrapple is traditionally cut into slices, which are pan-fried or baked so as to be served hot.
What is Scrapple Made Of?
Here are the scrapple ingredients commonly used:
Pork trimmings: Trimmings are the dish's foundation with pig knuckles/hocks being used most often. However, use whatever you can find including pig's head, pig tails, pig knuckles (hocks), shanks and/or pig's feet.
Pork shoulder: Make it heartier by supplementing the scraps with a nice cut of pork shoulder.
Cornmeal: Cornmeal is a requirement for thickening. You can use fine or medium cornmeal, white or yellow.
Vegetables: We recommend using onions, celery and carrots for this recipe. If you'd like, you can also toss in diced potatoes, peas or corn, to make something like a pork pot pie. 
Bay leaves: Bay leaves add that signature smoky taste.
Black peppercorns: Add a richer, more robust flavor by including whole black peppercorns.
Juniper berries: Juniper berries add a unique earthy citrus flavor taste.
Seasonings: Consider adding sage, thyme, cayenne and paprika along with salt and pepper as you like.
In addition, all-purpose flour or buckwheat flour is sometimes included for thickening and a smoother texture.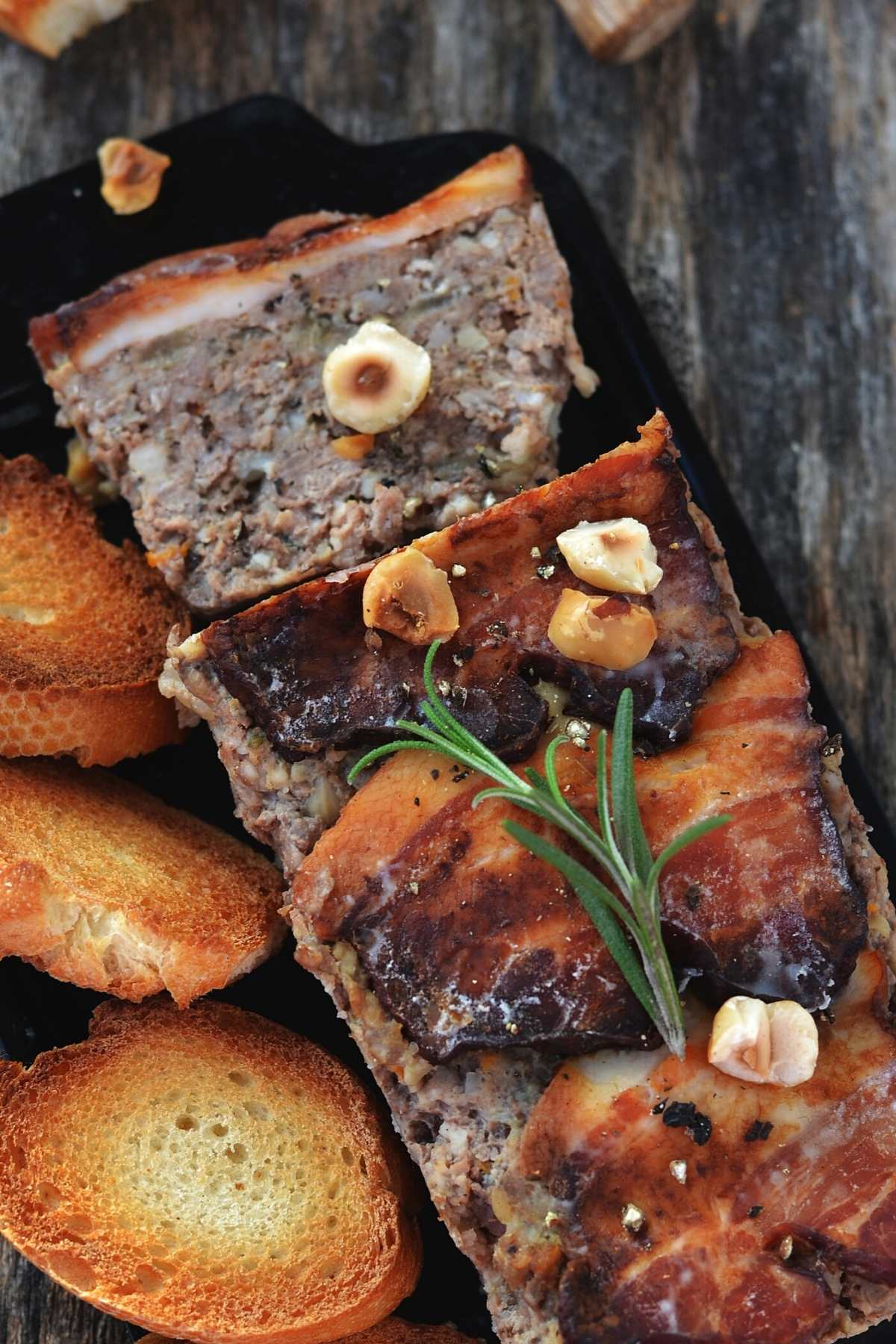 How to Make Scrapple
Scrapple is a nurturing dish that is well worth the effort to make. Start by boiling the pork trimmings in a large stock pot with vegetables and seasonings for about 3 hours. During the time, the scraps will start to fall off the bones.
After cooking, you can remove the scraps to a cutting board and chop them up. Discard the bones and cartilage. Now put the scraps back in the pot with the seasonings and bring to a simmer with about half of the cooking liquid. Slowly mix in the cornmeal, stirring until thickened to a mush.
Pour the mixture into a terrine pan or a loaf pan lined with parchment. Pack it down with a rigid spatula to force out the trapped air. Then let it cool completely for several hours before refrigerating.
How Long to Cook Scrapple
You will usually want to heat the slices before serving. Plan to pan-fry for 5 to 7 minutes or bake for 15 to 20 minutes at 350°F depending on size. For crisper edges, you can also dredge the slices in flour before cooking.
How to Ensure It Doesn't Get Soggy
Nobody wants to get a mushy or soggy scrapple, especially as it can fall apart during frying. There are several possible causes to consider:
Too much moisture (or not enough thickening)
Too much trapped air in the mixture
Not allowed to cool completely
Skillet not hot enough
To prevent it, make sure you thicken the mixture completely, adding some heaping tablespoonfuls of flour if needed to absorb excess moisture. Also, pack the mixture into the pan with a rigid spatula or placing a grill press on top to force out the air. Give it time to cool completely and make sure the frying pan is nice and hot with at least a teaspoonful of oil to get it sizzling!
FAQ
What Does Scrapple Taste Like?
Scrapple has a delicious meaty taste that can be compared to breakfast sausages, liverwurst or pâté. Thanks to bay leaves, sage and juniper berries, scrapple has a nicely seasoned, slightly smoky taste.You can enjoy it in place of bacon or sausages on your breakfast platter. 
Is Scrapple Healthier Than Bacon?
Scrapple is often considered a much healthier alternative to bacon. It has less sodium, calories and saturated fat, while providing you with more protein. One serving also provides you with a healthy dose of vitamin A.
What's the Difference Between Scrapple and Spam?
Spam is a brand of canned meat product made primarily from cured ham, whereas scrapple is usually made from uncured, fresh pork trimmings. Spam is also pre-cooked and ready to eat hot or cold, while scrapple is usually fried and served hot.
How to Make a Scrapple Sandwich?
Cut a 1/4 inch slice of scrapple and fry it  on both sides. While the second side is frying, go ahead and toast two slices of bread. Put the fried scrapple between the slices of toast for a satisfying sandwich that can be enjoyed for breakfast, lunch or dinner! You can even add a fried egg, cheese, lettuce and tomatoes for a fully loaded meal.
Where to Buy Scrapple?
Prefer the convenience of storebought? Habbersett Scrapple is considered by many to be one of the best store-bought options. You can purchase it by the pound on Amazon or on Habbersett's website. 
Homemade Scrapple
Scrapple is a delicious dish hailing from the Pennsylvania Dutch. Made with pork trimmings, it's a cross between a large sausage and meatloaf. A good slice of scrapple is irresistibly crispy, flavorful and satisfying. Serve it for breakfast, lunch or dinner!
Ingredients
4 pounds pig trimmings, knuckles/hocks, head, tails, shanks and/or feet
3 pounds pork shoulder, or pork butt
1 large onion, chopped
1 large carrot, chopped
3 stalks celery, chopped
4 large bay leaves
1 tablespoon black peppercorns
1 tablespoon juniper berries, optional
3 heaping cups cornmeal
1 cup buckwheat flour, or wheat flour (optional)
Seasonings
1 tablespoon salt, or to taste
2 tablespoons black pepper, freshly ground
2 tablespoons fresh sage, chopped, or 2 teaspoons dried sage
1 teaspoon dried thyme
1/2 teaspoon cayenne, or paprika
Instructions
Add the pig knuckles and pork shoulder into an 8-quart pot and cover with cold water. Add the onion, carrot, celery, bay leaves, black peppercorns and optional juniper berries.

Place the pot on high heat and bring to a boil, removing grey scum that appears on the surface using a skimmer or slotted spoon.

Cover the pot and reduce the heat to low. Simmer for 3 hours or until the meat is starting to fall off the bone.

Remove the pig knuckles and meat to a large cutting board. Use a fork to pick all the meat and skin off the bones. Discard the bones.

Pour the rest of the pot contents through a mesh strainer and into a bowl. Discard the solids and reserve the liquid stock.

Place the meat in a food processor and pulse several times until you reach a coarse consistency. (Alternatively, you can mince it yourself on a cutting board using a chef's knife.)

Place the empty pot over medium-high heat. Add 4 quarts of stock along with the minced meat. Bring to a boil.

Reduce the heat to medium-low and gradually add the cornmeal. Let the mixture bubble for 10 minutes until thickened, stirring continuously to achieve a thick pancake batter consistency. (You can add extra cornmeal or optional flour for extra thickening if desired, or add more water if it gets too thick.)

Stir in all of the seasonings: salt, pepper, sage, thyme and cayenne. Taste the mixture and adjust the seasonings as needed.

Pour the mixture into a terrine pan or small loaf pans lined with parchment to minimize sticking. Use a rigid spatula to pack the mixture in firmly to eliminate any air pockets.

Cool uncovered until it reaches room temperature. Then cover with plastic wrap and chill overnight to firm up completely. Slice and fry to serve.
Notes
How to Cook Scrapple: Ensure the scrapple has cooled completely and has ideally been refrigerated overnight to firm up. Cut into 3/4-inch thick slices using a sharp knife. Place a nonstick skillet over medium-high heat until hot. Add a teaspoon of canola oil to the pan followed by the slices. Fry until brown and crispy, about 3 to 4 minutes per side. Serve hot.
Nutrition Facts
Homemade Scrapple
Amount per Serving
% Daily Value*
* Percent Daily Values are based on a 2000 calorie diet.
Please read our nutrition disclaimer.
© TIPBUZZ. Images and text on this website are copyright protected. Please do not post or republish without permission. If you want to republish this recipe, please link back to this post. This post may contain affiliate links. Read the disclosure policy here.