Holiday Lemonade Cocktails
This post is sponsored by Mike's Hard Lemonade, but all opinions are my own
These refreshing Lemonade Cocktails are deliciously festive for the holiday season. Everyone appreciates crisp citrus flavors in the middle of winter, and these drinks are finished with Mike's Hard Lemonade, cranberries and mint to share some happiness. Plus video tutorial!
We all know the holidays can be stressful and party planning is no exception. Everyone loves an original cocktail, so spread happiness around with these holiday lemonade cocktails.
The best part? You can look like a pro bartender using homemade Mike's Hard Lemonade without all the usual planning, measuring and mixing.
Everyone loves these holiday lemonade cocktails. They're refreshing, smooth, colorful and festive.
They say Mike's is what laughter tastes like, and we're down with that. It's definitely the best flavored malt beverage out there, and puts everybody in a happy mood for the holidays.
How to make holiday lemonade cocktails
So here's the deal. It's easiest to start the day before to allow time to freeze. You'll need some ice cube trays, fresh cranberries, baby mint sprigs and a fresh lemon.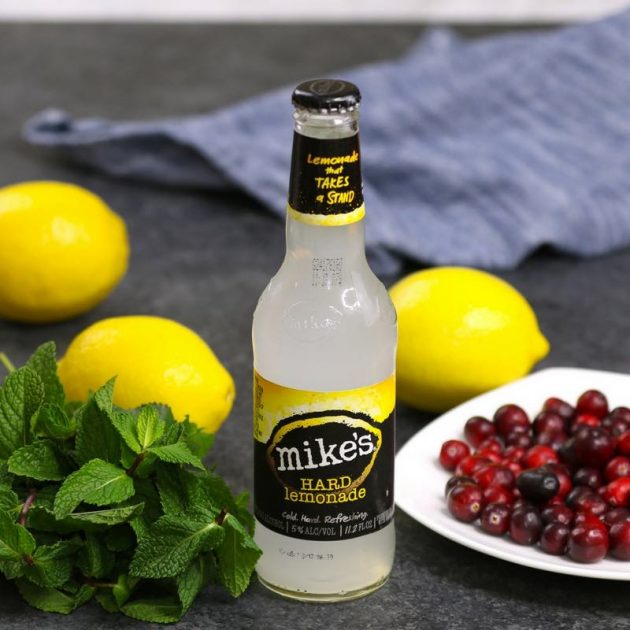 Using a toothpick, skewer or cake tester, poke a hole into each cranberry and then insert the mint sprig into it. These cranberries will add a very slight accent to the lemonade.
The next step is placing one cranberry-mint into each well of the ice cube tray. Then carefully pour water in to fill it up to about 1/8" from the top, ensuring the mint is submerged.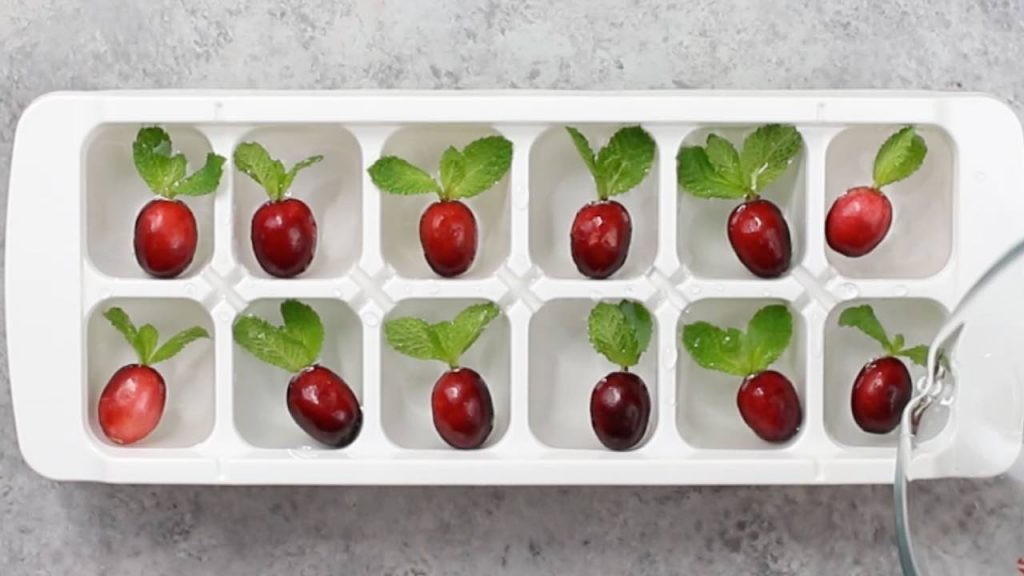 Cover with plastic wrap and freeze for at least 4 hours to freeze solid up to 24 hours max. Why does this matter? Well, the mint may start to lose its bright green color if frozen too long…
When it's time to serve, simply place several ice cubes into each serving glass. Pour in the Mike's Hard Lemonade and garnish with a lemon wedge.
This recipe works well with the original Mike's Hard Lemonade, and is just as good with their Strawberry Lemonade or any other flavors. Voila~!
Watch how to make holiday lemonade cocktails:
Holiday Lemonade Cocktails
These Holiday Lemonade Cocktails are an easy holiday party drink using Mike's Hard Lemonade, cranberries, mint and lemon wedges. So good! #MikesHard #DrinkOnTheBrightSide #ad
Ingredients
1 6-pack Mike's Hard Lemonade, Original
1 6-pack Mike's Hard Lemonade, Strawberry - optional
4 cups water , filtered preferred
1 1/2 cups cranberries , fresh preferred
24 baby mint sprigs
1 lemon , sliced into quarter wedges
Instructions
Place Mike's Hard Lemonade in fridge to chill. Set aside two large ice cube trays.

Wash cranberries and poke a hole in the end of each using a skewer.

Carefully insert a mint sprig about a ¼-inch or more into each cranberry.

Place one cranberry-mint piece into each well of the ice cube tray.

Pour water into each well to fill almost to the top, pushing mint down so it's submerged.

Freeze for at least 4 hours until the ice cubes are solid, to a maximum of 24 hours.
Serving
Arrange serving glasses, low ball or high ball according to your preference.

Unmold ice cubes and place 2-3 ice cubes in each glass.

Pour Mike's Hard lemonade and/or strawberry lemonade to fill each glass. Garnish with optional lemon wedges. Serve and enjoy
Please read our nutrition disclaimer.
MIKE'S IS HARD. SO IS PRISON. DON'T DRIVE DRUNK® PREMIUM MALT BEVERAGE ©2017 MIKE'S HARD LEMONADE CO. CHICAGO, IL
© TIPBUZZ. Images and text on this website are copyright protected. Please do not post or republish without permission. If you want to republish this recipe, please link back to this post. This post may contain affiliate links. Read the disclosure policy here.