Pitaya Bowl
A Pitaya Bowl is a healthy breakfast or snack with a refreshing, mild flavor. This smoothie bowl is made with dragon fruit, which is low in calories and provides a variety of health benefits including antioxidants, vitamins and fiber. It's easy to make in about 5 minutes!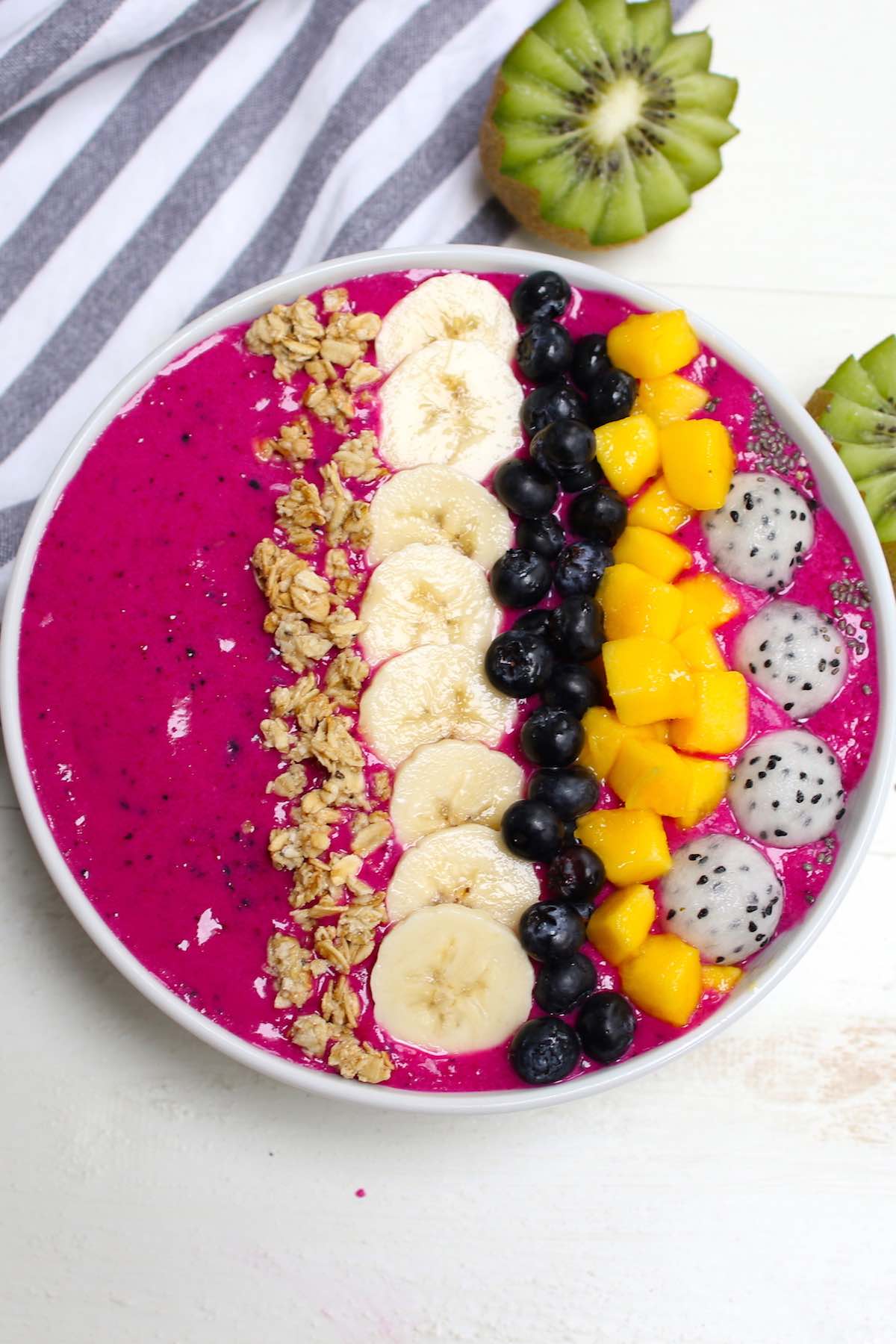 Pitaya bowls are popular smoothie bowls known for being nutritious and satisfying, while low in calories! The key ingredient in dragon fruit (pitaya), which creates a refreshing taste and bright magenta color while providing health benefits that include antioxidants, vitamins and dietary fiber.
Pitaya bowls and acai bowls in juice shops are expensive and include sweeteners, so homemade is always better! You can make this recipe in minutes whenever you need an easy breakfast or a snack. It's vegan and gluten-free with less than 100 calories per serving.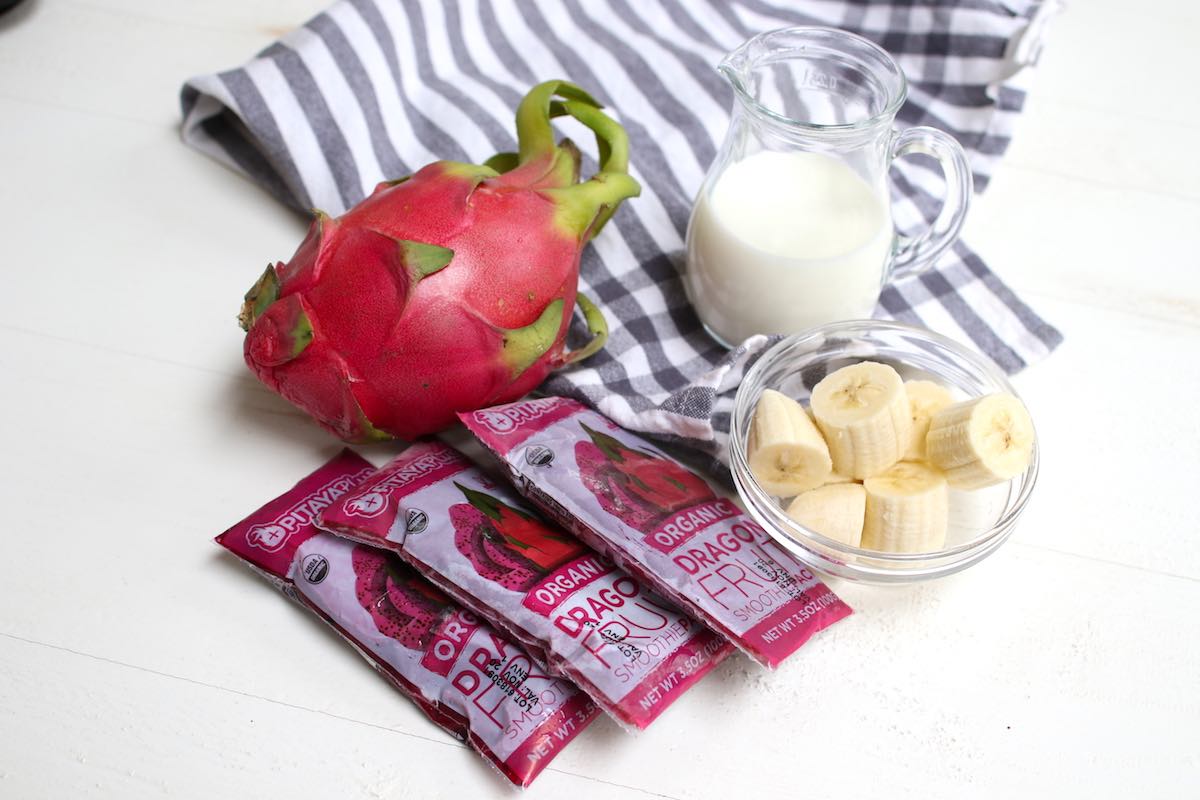 Ingredients
Dragon fruit is the key ingredient here. Since red dragon fruit is less common in North America, frozen dragon fruit is often the most convenient option. You can find it under the Pitaya Plus brand either as chunks or smoothie packs at health food stores or Whole Foods. Fresh dragon fruit is fine although you'll mostly find white-fleshed varieties in the U.S. (while nutritionally they're almost identical the look is less attractive in this recipe).
Banana – one large banana or the equivalent in frozen banana pieces. Note: use frozen bananas if you're using fresh dragon fruit to get a nice smoothie consistency.
Almond Milk – unsweetened almond milk or if you don't have any soy milk, coconut milk or cow's milk.
Toppings – granola, sliced banana, sliced kiwi, mango chunks, chia seeds and hemp seeds  all work well so pick your faves.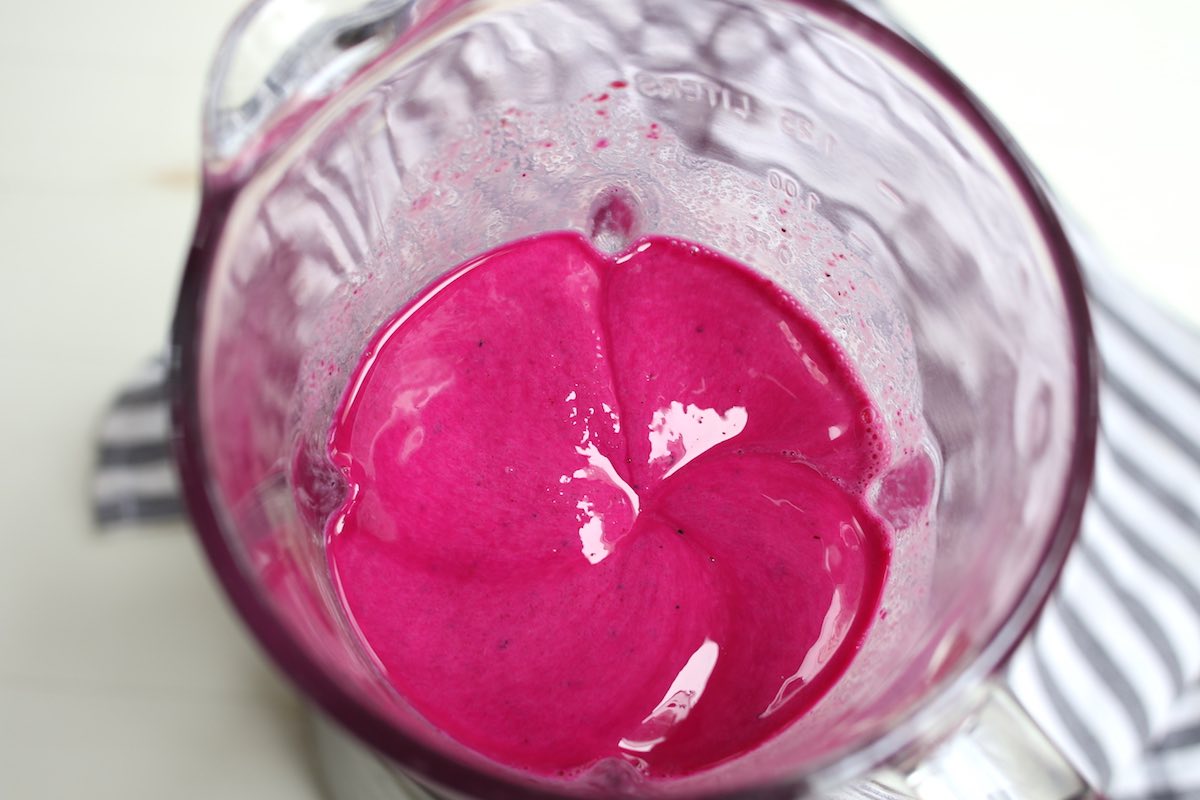 How to Make a Pitaya Bowl
To make a pitaya bowl, you need a reasonably powerful blender. Add the fruits and milk and process on full power for 15-30 seconds until smooth. Then pour the frozen puree into a serving bowl, using a spatula to flatten the surface if needed.
The last step is to add toppings, which add a complement of flavor and texture to this recipe. We used granola, chia seeds, fresh berries and sliced kiwi, banana and mango. Feel free to get creative as there are lots of possibilities.
It's best to eat the smoothie bowl within 10-15 minutes of preparation.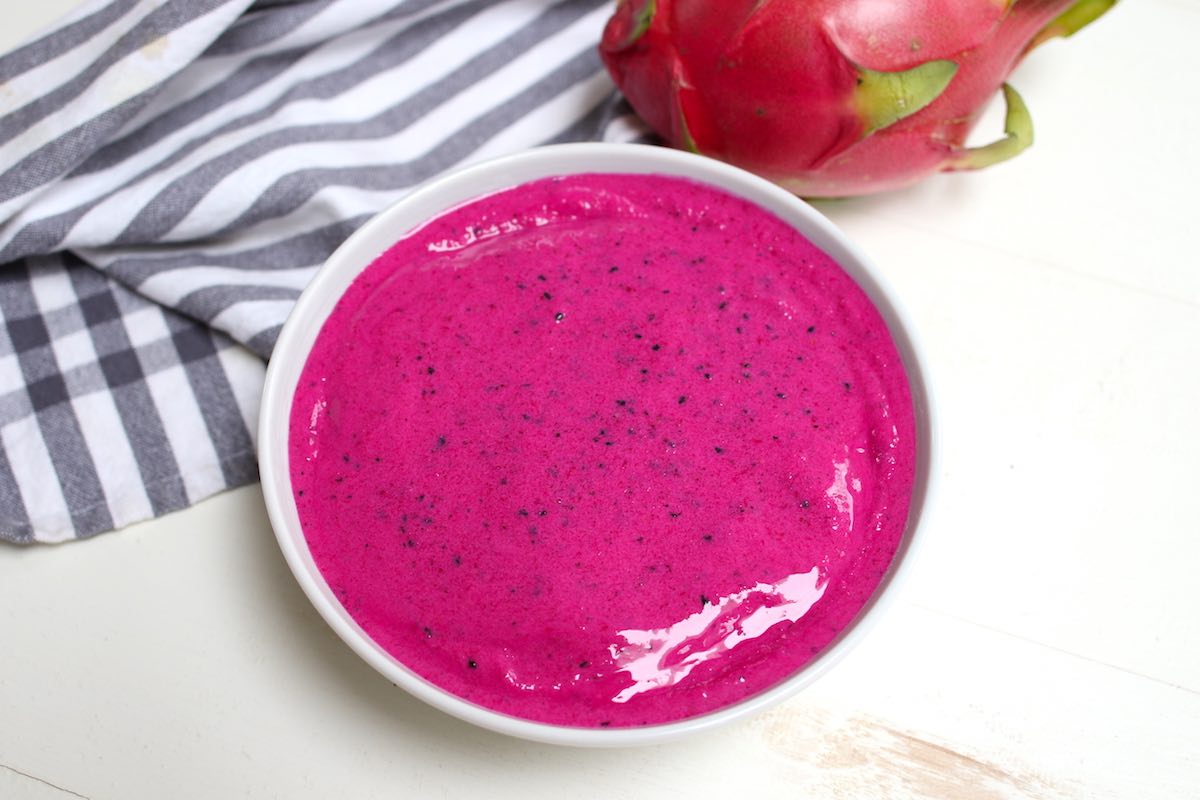 What is a Pitaya Bowl?
A pitaya bowl is made with dragon fruit, almond milk and other fruits, which are pureed and served in a bowl with toppings such as granola and fresh fruits.
They've become popular at juice shops such as Jamba Juice due to the health benefits of dragon fruit.
Pitaya Bowl vs Acai Bowl: These smoothie bowls are both nutritious and filling.  A pitaya bowl is made with dragon fruit, lending it a bright pink color and watermelon-like flavors. An acai bowl uses frozen açaí berries and is dark purple with blackberry-like flavors. The pitaya bowl has far fewer calories.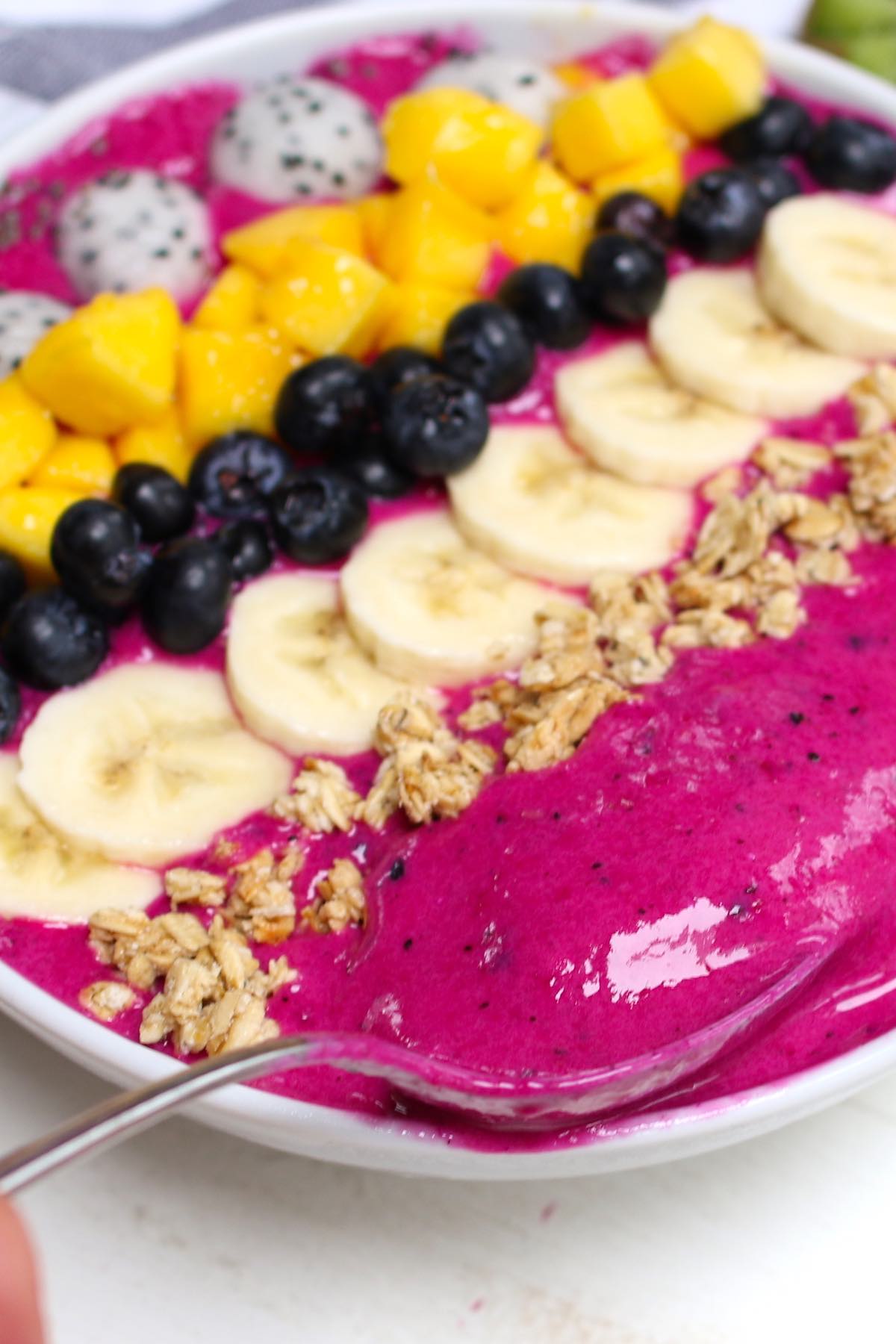 Pitaya Bowl
This Pitaya Bowl is an easy smoothie bowl that's full of delicious flavors and low in calories.
Ingredients
Smoothie Bowl
7 oz frozen dragon fruit, 2 packs, or 1 medium dragon fruit peeled*
1 large banana, peeled, or 3.5 oz or 100 grams frozen bananas
¾ cup almond milk, unsweetened
Toppings
granola
fresh fruits, such as kiwi, mango, banana, blueberries, strawberries
shredded coconut
seeds, such as chia seeds, hemp seeds
Instructions
Set aside two medium serving bowls. Prepare the toppings you like and reserve.

Add the pitaya and banana to the blender. Then pour in the liquid.

Close the lid and blend for 15-20 seconds until smooth. (You may need to pulse several times to break up all the chunks of frozen fruit.)

Pour the puree into the serving bowls.

Garnish the smoothie bowls with the prepared toppings. Serve immediately.
Notes
Recipe yield: 2 1/4 cups of smoothie
You'll find a high-speed blender such as a Vitamix helpful for this recipe.
* Frozen dragon fruit chunks or smoothie packs (Pitaya Plus or other brands) are convenient and inexpensive option when you can't find fresh red dragon fruit.
Make it vegan: You can substitute soy milk, coconut milk or coconut water for the almond milk.
Make it keto: Instead of banana, use berries (raspberries or strawberries are good choices) to get 9-10 grams net carbs per serving.
Nutrition Facts
Pitaya Bowl
Amount per Serving
% Daily Value*
* Percent Daily Values are based on a 2000 calorie diet.
Please read our nutrition disclaimer.
Recipe tools:

© TIPBUZZ. Images and text on this website are copyright protected. Please do not post or republish without permission. If you want to republish this recipe, please link back to this post. This post may contain affiliate links. Read the disclosure policy here.