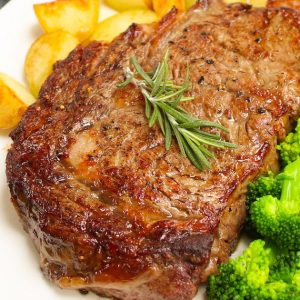 Print Recipe
How to Broil Steak
Broil steak the right way and enjoy tender and juicy results with any cut!
2-4

steaks

see note

1

tbsp

olive oil

2-3

tsp

coarse salt

black pepper

freshly ground, to taste
Pat dry steaks with paper towel to remove any excess moisture.

Rub steaks with olive oil, salt and pepper and place on a broiler pan (see note).


Position oven rack so that the steaks will be 3-4 inches from the heating element.

Preheat oven on "broil" setting at the maximum temperature for at least 5 minutes (see note).


Place the steaks in the oven.

Broil steaks for 3-12 minutes per side (see note). Keep the oven door closed or ajar according to the manufacturer's directions.

Using tongs, flip the steaks and broil for 3-12 minutes more. Check doneness using an instant-read thermometer.

Remove steaks to a serving platter and cover with foil. Let rest for 5 minutes to allow juices to recede into the meat.
Broil flank steak, sirloin steak, ribeye steak, or other cuts. Steaks should be 3/4 - 1 1/2 inches (2-4 cm) thick.
The oven's broil steak temperature setting will typically be 450-550°F (232-288°C).
Broil steak without cast iron skillet if possible, as accumulated fat close to the heating element can ignite.
Do not pierce the steak with a fork during cooking, as juices will escape and dry out the meat.
Check doneness by inserting an instant-read thermometer into the middle of the steak:

Rare: 125°F (52°C)
Medium rare: 130°F (54°C)
Medium: 140°F (60°C)
Medium-well: 150°F (66°C)

Note: the temperature will rise an additional 5°F (3°C) during resting.
Calories:
502
kcal
|
Protein:
45
g
|
Fat:
35
g
|
Saturated Fat:
14
g
|
Cholesterol:
138
mg
|
Sodium:
1280
mg
|
Potassium:
607
mg
|
Vitamin A:
0.7
%
|
Calcium:
1.6
%
|
Iron:
21.7
%