Instant Pot Shrimp with Honey Garlic Sauce
Instant Pot Shrimp with Honey Garlic Sauce is a fast way to cook frozen shrimp in an Instant Pot. Enjoy sticky and sweet pressure cooker shrimp that's ready in just 15 minutes! Serve with rice or pasta for a delicious weeknight dinner!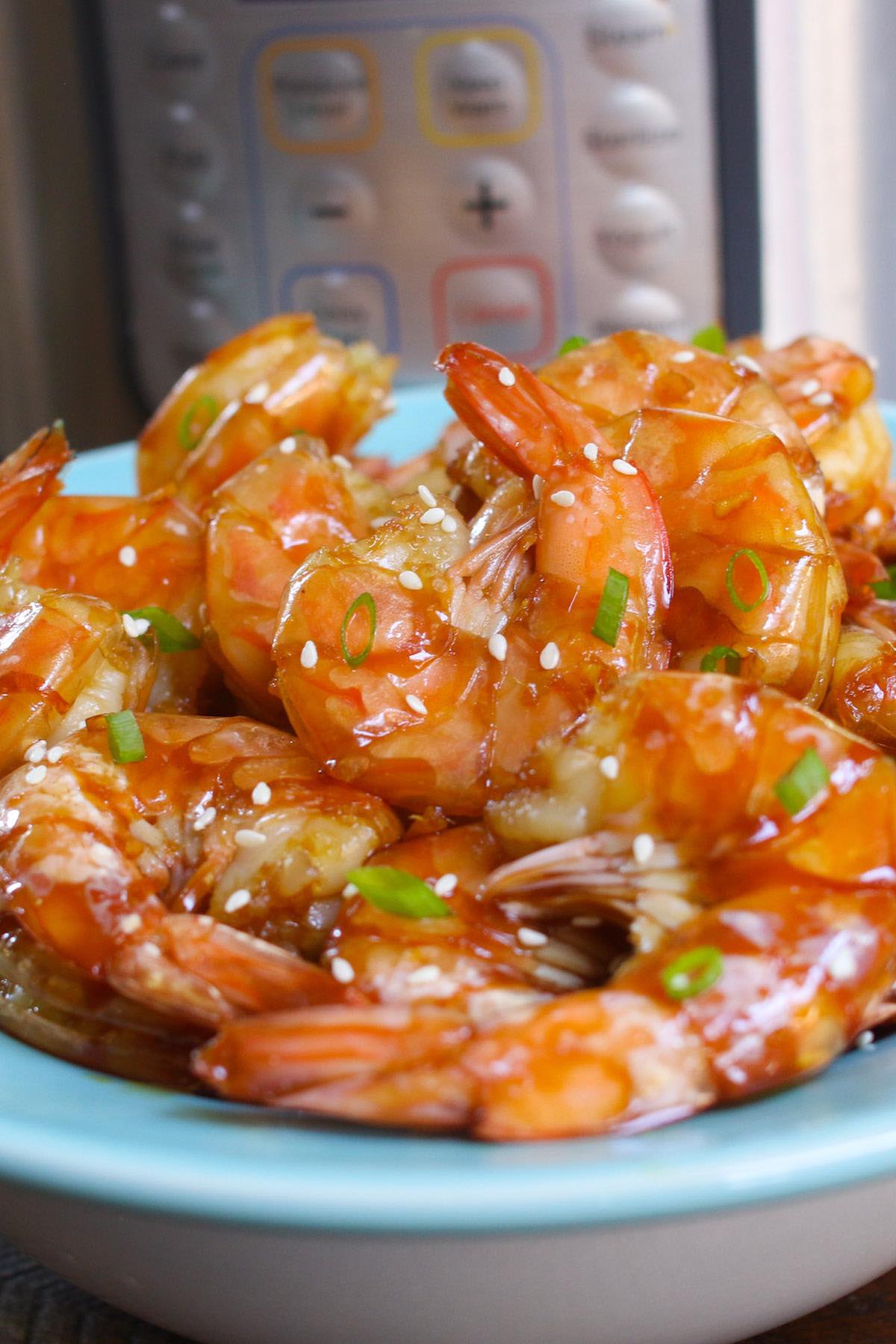 I never realized how easy it was to pressure cook shrimp until the day I forgot to take shrimp out of the freezer. Rather than thawing under running water, I put the frozen shrimp in the Instant Pot directly. The result? Perfect shrimp 15 minutes later!
This easy shrimp recipe is based on our popular Honey Garlic Shrimp. The honey garlic sauce infuses into the shrimp after pressure cooking with no need for marinating. If you're looking for easy Instant Pot recipes, this one is hard to beat!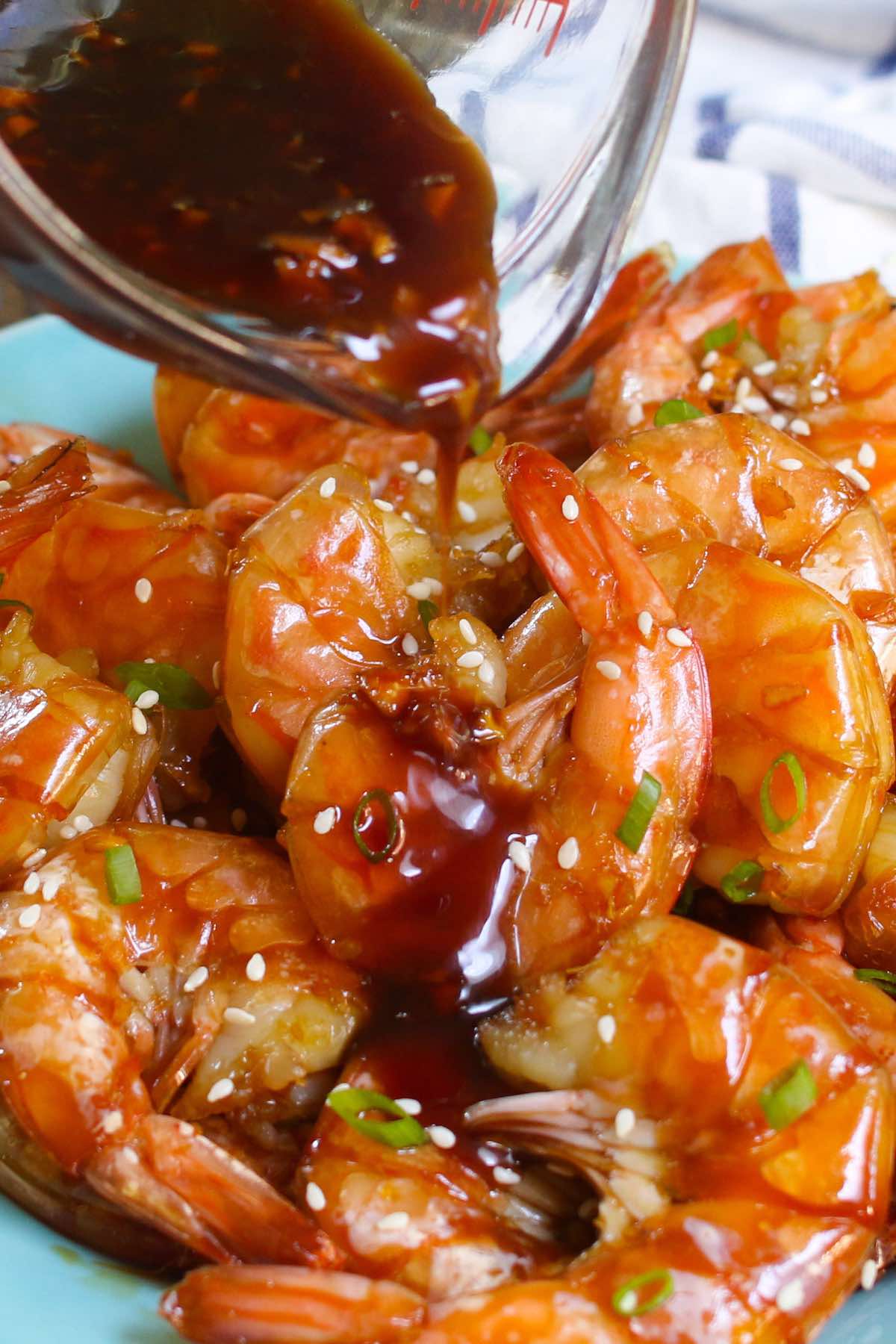 How to cook frozen instant pot shrimp
Shrimp are delicate and many of you commented that it easily becomes rubbery. Here's exactly what to do in order to avoid overcooking Instant Pot shrimp:
Use extra-jumbo shrimp: a count of 16-20 per pound is ideal (see shrimp sizes), and the shrimp will shrink during cooking to become bite-sized. Smaller shrimp risk overcooking!
Use frozen raw shrimp: they do better under pressure cooking than thawed shrimp.
Zero (0) minute method: set the Instant Pot to High Pressure for 0 minutes. As the pressure builds the shrimp get heated for about 10 minutes – just enough for frozen shrimp.
Quick Release: use a quick pressure release by carefully turning the knob on top, following the manufacturer's safety precautions.
This same method also works when preparing other shrimp dishes like Shrimp and Rice, Shrimp Pasta, and Shrimp Boil.
Frozen extra jumbo shrimp
Shrimp in steamer basket
Instant Pot High Pressure setting
Shrimp after pressure cooking
How long to cook shrimp in an Instant Pot
Here's the deal: while Instant Pot suggests a 1-3 minute cycle for fresh shrimp and a 2-4 minute cycle for frozen shrimp, those times are too long for one pound of shrimp! It actually takes ZERO (0) minute to get them cooked from frozen, as you can see from the photos on this post.
Only if you are filling the Instant Pot with 2-3 pounds of shrimp, you should increase the pressure cycle to 2-3 minutes.
Note: Even though we're using the 0-minute method, the pot still takes about 10 minutes to preheat, plus another minute for the quick steam release afterward. The shrimp keep cooking the entire time!
Reducing honey garlic sauce to thicken
Instant Pot shrimp coated with honey garlic sauce
Instant Pot Honey Garlic Shrimp
This Instant Pot Shrimp is a delicious dinner idea with sticky and sweet honey garlic flavors everyone will love.
Ingredients
For the Shrimp
1 lb frozen raw shrimp, (454g) extra jumbo size 16/20, shell on
1 cup water, (237ml)
Honey Garlic Sauce
2 tsp vegetable oil, (10ml)
1 tablespoon garlic, (8g) minced
1 tablespoon ginger, (8g) minced
1/3 cup soy sauce,

(79ml) low sodium recommended

1/4 cup honey, (59ml)
1/2 teaspoon cornstarch, (2.5g) mixed with 1 tsp water - optional
green onion, minced - optional
Instructions
Cook the Shrimp
Place a steamer basket into the Instant Pot. Add water and shrimp and then lock the cover.

Set the Instant Pot to Pressure Cooking or "Manual". Then set Pressure to "High" and adjust time to 0 minutes. The cycle will start after a few moments.

Wait for the pressure cycle to complete, about 10-15 minutes. You can get the honey garlic sauce ingredients ready during this time.

Once the cycle is complete, carefully open the Quick Release, observing the manufacturer's safety directions. Steam will come out of the vent along with some splatter.

When no more steam comes out, it will be safe to open the lid. Remove the steamer
and set the cooked shrimp aside. Drain the cooking liquid.
Make the Honey Garlic Sauce
Set the Instant Pot to "Saute".

Add the vegetable oil followed by the garlic and ginger. When fragrant 30-60 seconds later, add the soy sauce and honey.

Bring to a boil and let it simmer for a minute or two to thicken slightly, stirring continuously with a wooden spoon.

Optional: mix in the cornstarch-water slurry stirring constantly for a sticky sauce.

Add the shrimp to the sauce and toss gently to coat. Remove to a serving plate and garnish with optional green onion.
Notes
If you are doubling or tripling this recipe, then increase the cook time from 0 minutes to to 2-3 minutes.
Serve with pasta or rice and a green vegetable like broccoli. Or put it out on its own for a KETO Instant Pot recipe that works as an appetizer or main.
Make it a gluten-free: Use gluten-free soy sauce or substitute coconut aminos.
For thawed shrimp (any size): use your Instant Pot's Sauté function and cook as on a stovetop until tender.
Nutrition Facts
Instant Pot Honey Garlic Shrimp
Amount per Serving
% Daily Value*
* Percent Daily Values are based on a 2000 calorie diet.
Please read our nutrition disclaimer.
More Instant Pot recipes:
View all Instant Pot recipes
Editor note: Originally published Jan 18, 2018 and updated Aug 28, 2019
© TIPBUZZ. Images and text on this website are copyright protected. Please do not post or republish without permission. If you want to republish this recipe, please link back to this post. This post may contain affiliate links. Read the disclosure policy here.