Omelet Breakfast Baskets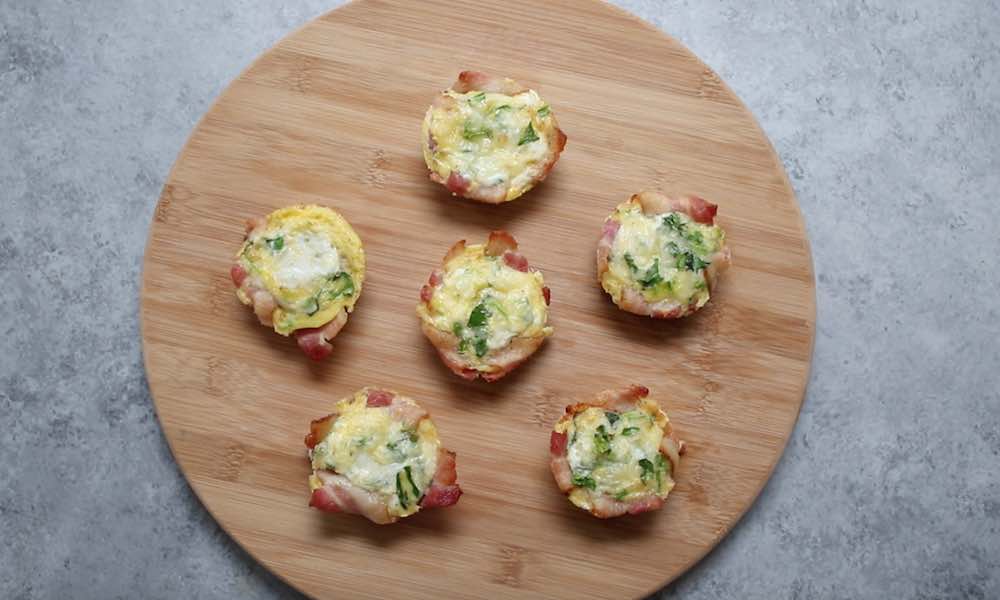 The other day we were talking about low carb breakfast ideas, and these Omelet Breakfast Baskets made the cut! They're super yummy, easy to make and will be ready in 25 minutes!
The bacon strips hold the eggs like a basket shape in the muffin tin. The flavor is mouthwateringly good with the bacon, egg and cheese flavors melting into each other.
There's also some spinach to give it a healthy and colorful kick!
Make these for a quick breakfast or brunch dish. They are also a delicious breakfast on the go if you're in a hurry. They pair well with sausages and fruit for a low carb breakfast.
But if that isn't your thing, then toast or hash browns are totally acceptable sides as well. They're fun to dip in ketchup, which is especially fun for kids.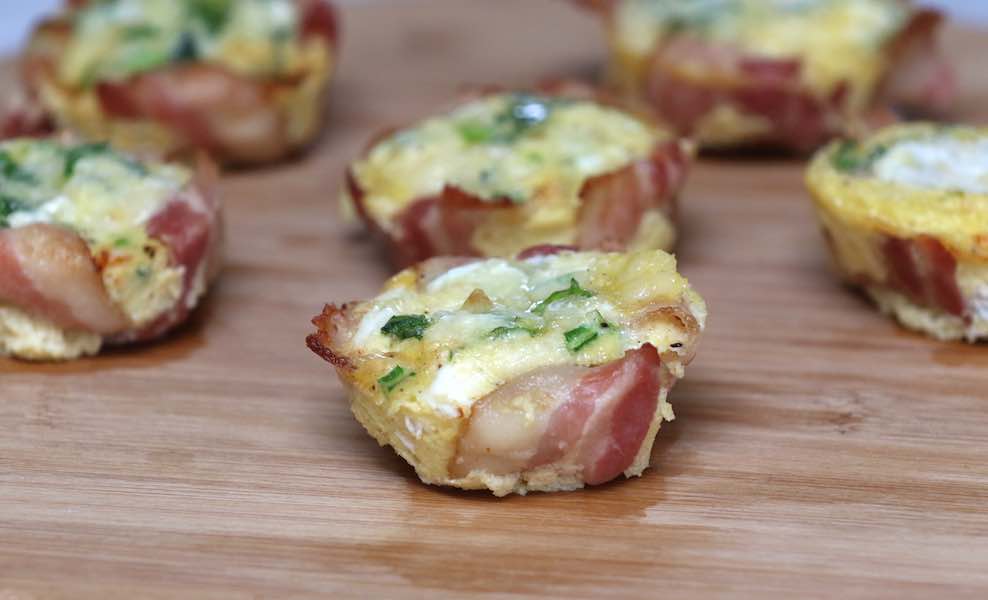 Watch our video tutorial to see how to make them:
Omelet Breakfast Baskets (with Video)
Baked omelet breakfast baskets with bacon on the outside and eggs, spinach and cheese on the inside
Ingredients
6 strips bacon
5 large eggs
1/4 cup heavy cream
1 cup spinach, finely chopped
1 cup mozzarella cheese, shredded
salt and pepper to taste
Instructions
Preheat the oven to 400F degrees. Set aside a 6-cup muffin tin.

Cut each slice of bacon into half. Lay two pieces of bacon crosswise in each muffin cup.

In a medium bowl, mix eggs, heavy cream, salt and pepper. Add spinach and mozzarella and mix.

Bake for 12-15 minutes. Serve warm and enjoy!
Notes
-For a lighter recipe, you can substitute in egg whites, low fat bacon and milk instead of eggs, bacon and cream.
Nutrition
Calories: 204kcal, Carbohydrates: 1g, Protein: 13g, Fat: 15g, Saturated Fat: 7g, Polyunsaturated Fat: 1g, Monounsaturated Fat: 4g, Cholesterol: 209mg, Sodium: 299mg, Potassium: 109mg, Fiber: 0.1g, Sugar: 0.5g, Vitamin A: 18%, Vitamin C: 2%, Calcium: 18%, Iron: 5%
When you're done with this recipe, check out Bacon, Egg & Cheese Breakfast Strata for another low carb recipe!
© TIPBUZZ. Images and text on this website are copyright protected. Please do not post or republish without permission. If you want to republish this recipe, please link back to this post. This post may contain affiliate links. Read the disclosure policy here.